LootGain is a site that claims you can make extra money at home easily.
With all the hundreds of sites that I have tested over the years, this is one of the most common claims that a site makes. So, before I take their word for it, I always make sure I test the site thoroughly first.
That way, I can figure out if it really does what it says it does and whether it is really worth it or not. In this LootGain review, I will show you what to expect from the site if you sign up. That way, you'll be able to determine if you should invest your time in it or not.
So, let's go ahead and take a closer look at LootGain, shall we?
Disclosure: Some articles on this website contain affiliate/sponsored links. Click for more info.
What is LootGain and what does it offer?
LootGain is a Get-Paid-To (GPT) site that will allow you to earn money in multiple ways. It is indeed a legit site since you will really earn rewards if you participate in the earning opportunities it offers.
But is it worth it, though?
Well, before you can decide if this site is a good fit for you, you must first understand how it works, and the best way to do that is to start by examining the earning opportunities it offers. That way, you'll know how much time and effort you need to invest in it.
For that, I have made a video that gives you an inside look and shows exactly how LootGain works. You can also read all the details below the video.
Click to Check Out Lootgain for Yourself
Option 1 – Offerwalls
The primary way to earn from this site is through the offerwalls it offers. In case you don't know what an offerwall is, it is an in-site advertising platform that is designed to promote websites and mobile apps. So, you can expect that all the offers found on these offerwalls will ask you to visit a website or use a mobile app.

It has a quite good number of offerwalls available. Also, LootGain is a relatively new GPT site, so there may be more offerwalls available by the time you are reading this review.
Now, as to how you can earn from these offerwalls, it's relatively simple. Just pick an offerwall you want to work on and click it.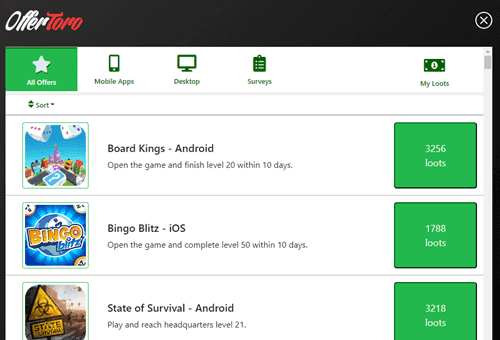 Then, you'll see something similar to the photo above. These are the actual offers you can work on to earn rewards. As mentioned above, most of the offers have something to do with websites and mobile apps.
Usually, you'll find offers that will ask you to register to a website or mobile app, answer surveys, or play a mobile game. Each offer has a set of instructions you need to follow. Make sure never to skip a step when working on an offer in an offerwall though because if you miss one, you'll never be able to complete the offer, and you won't earn anything.
That is why you need to make sure you understand what the offer is asking you to do before you actually start working on it. When you've successfully completed the offer, you'll earn the promised reward.
Each offerwall has a decent number of offers available, so you will more or less not run out of things to do to earn.
Lootgain pays quite well for the paid offers compared to many other GPT sites, so it is definitely a section you should make sure to check out if you end up joining.
Option 2 – Paid surveys
Another way to earn from LootGain is through the paid surveys they offer. To view the paid surveys, just log in to the site and go to the "Earn" section. Then, you can just filter the opportunities to display surveys.
This will allow you to see all the available paid surveys you can answer. There's also a decent number of surveys available at any given time, but take note that you won't always qualify for every survey available.
In case you don't know, when you answer a survey, you'll actually have to go through a qualifying process first. They do this to make sure you belong to the demographic that the survey is intended for so that they can gather relevant data.
If you qualify, you get to answer the actual survey. If you fail to qualify, you just move on to the next survey available. Just keep in mind that the surveys offered by LootGain will come from other survey providers, so don't be alarmed if it takes you to a different site when you answer a survey.
After you've completed the survey, you will receive a certain number of loot which was indicated in the survey offer.
Option 3 – Leaderboard contest
Technically speaking, this is not an earning opportunity because not everybody can earn from it. But let me explain how LootGain's leaderboard contest works, so you'll understand why I've decided to include it.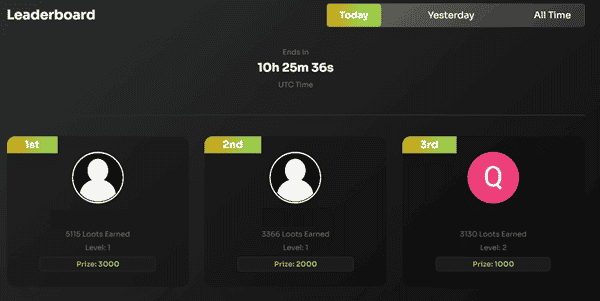 You see, LootGain rewards the top earners for the day through its leaderboard contest. At the time of updating this review, the 1st place will receive 5000 loot (the currency the site is using), and the 2nd place will receive 3000 loot. The 3rd place will receive 2000 loot.
These rewards have increased since I first started using the platform, and great to see they reward the active members when the platform grows.
The idea behind this contest is to earn as much loot as possible from their offerwalls and surveys. It's a way to incentivize very active members. You will see a countdown timer showing when the contest will end. Whoever earns the most from offerwalls after the timer expires will receive the prizes.
It's not a guaranteed way to earn, but it can be a nice goal you can set to maximize your earnings from the site. Anyway, you don't really have to do anything special to win. You just have to participate in the earning opportunities it offers.
Option 4 – Daily Check-In
This earning opportunity can only be claimed once a day, and it can be done in just a few seconds.

All you have to do is log in to the site and click the "Check-In" in the dashboard, and a pop-up window will appear. Then, all you have to do is click the "Claim" button, and you are all set. You will receive 10 loot just for doing so.
It's not much, but at least it's something, and considering the fact that it only takes a few seconds to do, it is something that you must not forget to do every time you log in to the site. You'll be able to claim the check-in bonus after 24 hours. You'll see a timer for when you will be able to claim your next daily check-in bonus if you click the "Check-In" button again.
Option 5 – Referral program
Lastly, you'll be able to earn additional rewards from LootGain's referral program. The idea behind this earning opportunity is also very simple. You invite people to join the site using your invite link.

When the person you invited clicks the link and signs up as a member of LootGain, they will become your referral. Then, as a reward, you will receive a 5% commission every time your referral earns. It's not much, but it is a passive way to earn.
The commission will be shouldered by LootGain, and it will not be deducted from your referral's earnings.
Click to Check Out Lootgain for Yourself
How do you get paid?
As explained above, you will earn loot from the earning opportunities the site offers. Think of loot as points you've earned, and you can use it to redeem various rewards.

You can use the loot you've earned to redeem various rewards like cash via PayPal, crypto, gift cards, and even a prepaid Visa card. The required number of loot you will need to redeem a reward will depend on the reward you will choose.
For example, if you choose to redeem Bitcoin, the minimum loot required will be 5,000. That will be worth $5 in Bitcoin. For LiteCoin, the threshold is quite lower (1,000 loot or $1). As for gift cards and the prepaid Visa card, you'll also need 5,000 loot to redeem the smallest amount ($5).
Also, one great aspect is that once your account has been verified (this will happen automatically if you just do the tasks honestly), it processes the payouts instantly.
Overall, the payment system of LootGain is quite straightforward, and I like the fact that it has a relatively low payout threshold. If you are interested in more sites that have a low payout threshold, I would recommend you check out the fastest paying sites as well.
How much money can you make?
The amount you can earn from LootGain will mostly depend on how active you are on the site. As mentioned earlier, you will virtually not run out of ways to earn rewards from the site. So, you can more or less earn on a regular basis.
The site also pays relatively well compared to other GPT sites. You can expect to earn around 500 to 2,000 loot for most of the offers. There will be offers that are worth more, but they do typically require a bit of time to complete.
LootGain does have a mechanism that will help you increase your earnings. As shown in the photo above, when you become a member of the site, you will actually be able to level up your account every time you earn.
And when your account levels up, you'll receive bonus loot which can help you boost your earnings. Plus, every level you gain will increase the loot you will earn when you reach the next level. In my opinion, this is a great way to motivate people to stay active on the site.
Overall, I would say the earning potential of this GPT site is pretty decent, and I like the fact that you'll earn something every time your account will level up.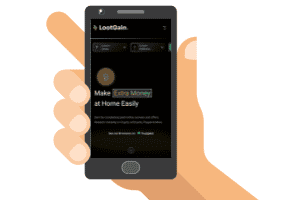 Can you use it on mobile?
LootGain has a mobile app for Android devices, so you can easily earn from your phone.
If you do not have an Android device, you can access the website from a mobile device using a mobile web browser. And the good thing is that the site is optimized for mobile use, so you won't have a hard time navigating it or reading all the content properly.
This can be very useful, especially if you are planning to work on offers that will require you to play a mobile game or use a mobile app. Plus, the site is not spammy. You will not encounter any pop-up ads when you use it, which makes the overall user experience quite pleasant, in my opinion.
Who can join LootGain?
LootGain is available more or less worldwide. But you have to be aware that some offers are only available in certain countries, so you can't expect that each country offers equal opportunities to earn.
This is really just the nature of GPT sites. There will be some countries where you'll find more offers, and there will be some with fewer offers.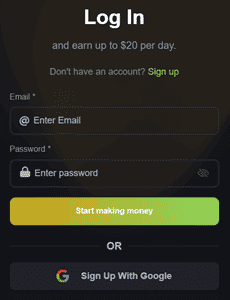 The registration is also very simple. All you have to do is fill out the sign-up form, or you can also just use your Google account to log in to the website.
After you've completed the registration process, you can immediately start earning. So, if you are looking for a site where you can earn immediately, this is one good option, in my opinion.
Can you get support?
If you have any questions about the site or your account, you can check out the FAQ page first. It discusses some of the basic topics you need to know about the site. It's not as comprehensive as you might hope, but it does cover the basics, as mentioned.
If you can't find the answers you are looking for, you can email their support team at support@lootgain.com. This is the only way to get in touch with their support department.
Overall, while they do provide a way for you to get assistance, I do wish they would provide more useful information on their FAQ page. That way, your chances of needing to get in touch with their support department would significantly decrease.
Final Verdict
LootGain is a legit GPT site that will allow you to earn rewards on a regular basis. It has a couple of good features, but it also has some limitations you need to consider.
Let me summarize its pros and cons to conclude this review so you can get an overview of what the site has to offer. Then, you can decide if you should go for it or not.

Pros:
The site is user-friendly
Offers convenient payment methods
Has a low payout threshold
Processes payments immediately

Cons:
Doesn't offer PayPal as a payment method as of the writing of this review
FAQ page doesn't provide a lot of useful information
In my opinion, LootGain is a decent GPT site. It offers easy ways to earn and it pays a decent amount.
Also, as I've mentioned earlier, the site is still fairly new, so you should expect it to add more opportunities in the future. Overall, I would say it can serve as a decent secondary site to earn from.
Now, if you are looking for other sites to earn from to get access to even more options, I would recommend you check out the top survey and GPT sites in your country instead. The sites on this list all have good earning potential, so you'll be able to earn a decent amount in no time.
How to join LootGain?
If you are interested in joining LootGain, just click the link below. It will take you to the registration page of the site. It takes only a couple of minutes to complete, and once you are done, you can start earning immediately.
If you have any comments, questions, or have any experience with LootGain yourself, I would love to hear from you in a comment below.