Are you interested in joining ModSquad? If so, you might be wondering if it is a legit site or a scam. Well, you've come to the right place.
I've recently encountered this site called ModSquad and since I'm always on the lookout for ways to earn extra cash online, I've decided to examine it to see what it has to offer. In this ModSquad review, I will share all you need to know so you'll find out exactly what to expect.
Then, you can decide if it is a good site to earn extra cash or if it is just a waste of time. So, let's go ahead and get this review rolling, shall we?
What is ModSquad and what does it offer?
At its core, ModSquad is a freelance site where you can earn by taking on projects. It is definitely a legit site because you will really get paid for working on those projects.
But the question is, is it worth your time?
Well, the only way to answer this question is to understand how it works so you will have an idea of how you can earn from it and how much time you need to invest. Let's start by going over how you can earn from ModSquad.
The earning opportunity – Projects
The only way to earn from ModSquad is to work on the projects it offers. In order to do this, you have to become one of their mods (I will explain later how you can apply to become a mod).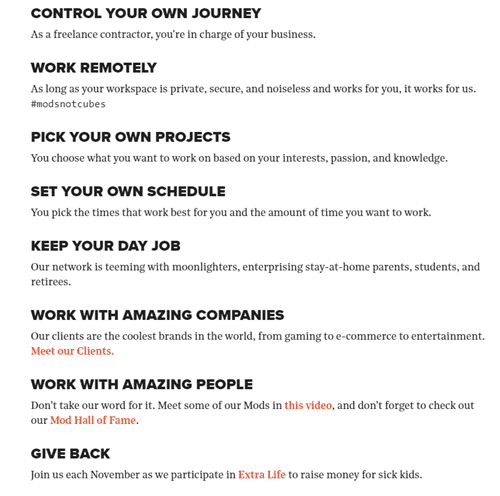 Once you become a mod (moderator), you will be given access to various projects. All you have to do is to pick a project you are interested in and apply for it. The types of projects available will vary but they will always be about one of the categories listed below.
Customer support
Content moderation
Trust and safety
Community management
Social media services
Customer support projects will involve providing support via phone, email, or chat. Content moderation pertains to moderating posts on websites or even blogs.
Trust and safety projects will usually involve analyzing and reviewing profiles of users and members, checking video and text-based content, investigating and reporting issues flagged by a system, and more. This is a more complicated project and requires specialized skills.
Community management is mostly about working as a forum moderator. And lastly, social media services will involve curating posts, manning the social media accounts of brands and companies, and more.
When you see a project you are interested in, all you have to do is apply for it. You'll be asked to submit a couple of requirements and then ModSquad and the employer will review your credentials. If they accept your application, you'll receive an email from ModSquad.
You'll then have to go through the onboarding process which will include choosing your schedule. Once you get accepted as a mod of a project, you have the freedom to choose when you want to work. This is one advantage I like about their earning opportunity.
As for the pay, you'll get paid by the hour and the rate will always be posted on the details page of the project, so you'll know it immediately. Some projects will also require you to go through a training process, so you'll have to do that before you start working.
When the onboarding process is completed, all that's left is to do the work. Take note that most projects will only last a specific period. But if your employer likes you and the work you've done, who knows, you might get hired as a full-time employee.
Recommended: Check Out the Best Freelance Sites You Can Join
How do you get paid?
For every project you work on, you'll get paid by the hour. But how will you be able to withdraw your earnings?
Well, ModSquad pays via PayPal every end of the month. And the good thing is that you don't have to reach a threshold to receive your earnings. ModSquad will automatically process the payment at the end of every month regardless of how much you've earned.
And since they process it automatically, all you have to do is wait for it to be credited to your PayPal account. It takes up to 5 business days for your earnings to show up in your PayPal account. But usually, it will show up within 2 to 3 business days.
The payment system of ModSquad is relatively straightforward and I like the fact that you don't need to reach a threshold to receive your earnings. If you are interested in more sites that have no or low payout threshold, you can check out the fastest paying sites.
How much money can you make?
The amount you can earn from ModSquad will mostly depend on the hourly rate of the projects you will work on. The average hourly rate will be around $10 to $15 which isn't that bad, in my opinion.
There will be projects that have higher hourly rates, but these will require special skills. Usually, these projects will require you to speak other languages. These are the most common higher-paying projects.
So, if you are multi-lingual, then these are the projects you should go for because they pay better. But overall, I would say the earning potential of ModSquad isn't that bad. It's not the best out there, in my opinion, but it's also not the lowest.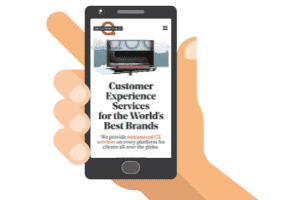 Can you use it on mobile?
The work that needs to be done on projects offered by ModSquad will require you to use a laptop or desktop. That's why there isn't really a need for them to have a mobile app you can download.
So, to answer the question above, no, you can't. Part of the requirement for becoming a mod is to have a laptop or desktop (or workstation as they call it). If you don't have one, then you will not be accepted as a mod.
Who can join ModSquad?
The site doesn't specifically say which countries it is available in, but from what I can gather, it is available worldwide. That means you'll be able to apply as a mod regardless of where you live.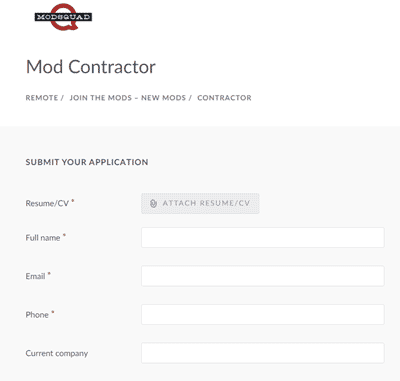 However, the registration process is not as easy as you might think. In fact, I would say this is the hard part of earning from this site. You'll have to go through several steps before you will become of their mods.
The first thing you need to do is submit your application. As you can see in the photo above, you'll have to submit your resume/CV. So, it's a bit more like applying for a job.
And as explained above, you also need to have a laptop or desktop since it's one of the requirements to become a mod. If you are planning to work on customer service projects, you also need to have a quiet room where you can work if ever a project will require you to make phone calls.
Once you've submitted your application, it will take more or less three business days to hear back from ModSquad. If they accept your application, you'll have to go through the next step which is the onboarding process.
The last part is to go through a background check. When you pass the background check, you are basically one of their mods. They don't really tell you if there's a fee you need to pay for the background check but based on my experience, there is usually a fee involved when it comes to background checks.
So, expect to shell out a bit of cash if you decide to become one of their mods. After you pass the background check, you will now be matched with projects you can work on. And as I've explained earlier, you just have to choose which one you are willing to work on.
As you can see, the application process takes some time to complete, so you can't expect to start earning within just a couple of days of submitting your application. This is one of the main drawbacks of this site, in my opinion.
If you are looking to earn immediately, then I suggest you find another way to earn.
Can you get support?
If you have any questions about the site or your account, you can check out the Mod FAQ page first. It discusses some of the basic topics you need to know about the site.
But if you can't find what you are looking for, you can go to the Contact page of the website and submit your inquiry.
You need to click the Jobs and Gig Questions button (refer to photo above) and it will open your default email client (Microsoft Outlook if you are using a Windows computer). Just type in your question and hit send.
Overall, I would say the site has a decent support system in place for its members since they offer a convenient way for you to contact the support team. But I do wish their FAQ page would provide more details about the earning opportunity it offers.
Final Verdict
ModSquad is a legit freelancing site that offers specialized jobs that are geared towards providing moderator services. It has a couple of advantages, but it also has a few drawbacks you need to consider.
Let me wrap up this review with a summary of its pros and cons to give you an overview of what the site has to offer. Then, you can decide if you should go for this or not.

Pros:
Available worldwide
Offers payment via PayPal
No payout threshold

Cons:
Limited earning opportunities offered
Takes a bit of time before you can start earning
Some jobs will require a certain set of skills
In my opinion, ModSquad is not for everybody. If you are comfortable working as a moderator/virtual assistant, and you are willing to go through a lengthy application process, then this can be a good place to find opportunities to earn. But if you are looking for simpler ways to earn that require less effort and time, then this is not for you.
The pay is decent, and they offer a convenient payment method (PayPal), but you do have to invest a bit of time. I would only suggest you go for this if you are prepared to put in the time and effort.
Otherwise, I would recommend you check out the top survey and GPT sites in your country instead. The sites on this list all have good earning potential and you will be able to start earning immediately.
If you have any comments, questions, or have experiences with ModSquad yourself, I would love to hear from you in a comment below.