Musifiq is a platform that claims you can earn money by listening to music. It's certainly an appealing offer, and if you are a music lover, you might be tempted to hit the sign-up button.
However, before you do, I recommend you keep reading this Musifiq review. It will reveal the full truth of what Musifiq has to offer so you will know exactly what to expect from it.
Then, you can properly evaluate if it is truly worth your time or not. So, let's go ahead and check out what Musifiq is all about, shall we?
What is Musifiq, and what does it offer?
Musifiq, at its core, is a social music platform where fans can listen to music and earn money at the same time. And yes, it is a legit platform since you can really earn money by listening to music uploaded by the artists on the platform.
 However, this fact doesn't automatically mean Musifiq is worth it. To find out if you should join this platform, you must first understand how it works. And the only way to do that is to take a closer look at the earning opportunities it offers. That way, you'll have a clear idea of how much time and effort is needed to earn from it.
So, here's how to earn from Musifiq.
Option 1 – Listening to music
Technically speaking, you can also earn from Musifiq if you are an artist and you upload your original songs to the platform. However, for this review, I will focus more on the fan's side of Musifiq because that's the opportunity that is accessible to most people.

To start earning, you just have to log in to the web-based dashboard or Musifiq's app (more on that later) and pick a song you want to listen to, and click it. It will automatically play the song, and once it is finished, you will receive 4 points as a reward.
You can keep playing the song to earn the same reward, or you can move on to the next song available. It's up to you since there's no limit to how much you can earn from each song. It's a simple way to earn, in my opinion.
However, the one thing I noticed with Musifiq is that most of the songs available on the platform are from artists who live in India. There aren't a lot of genres available, so you might not find songs that you will be interested in.
Option 2 – Watching music videos
The other way to earn from this platform as a fan is to watch music videos. It is also a very straightforward opportunity. You just log in to the dashboard or app and pick a video you want to watch.

Let the video play, and once it is finished, you'll also receive 4 points as a reward. And just like the songs on Musifiq, you can watch the same music video as many times as you like, and you will earn 4 points for every viewing.
Again, most of the music videos found on Musifiq are from artists in India, so you might not find ones that you will be interested in.
Recommended: Check Out the Best Ways to Earn by Listening to Music
How do you get paid?
As explained above, you'll earn points from listening to songs and watching music videos. But what can you do with the points you've earned, exactly? Well, you can convert them to cash and withdraw them to your bank account.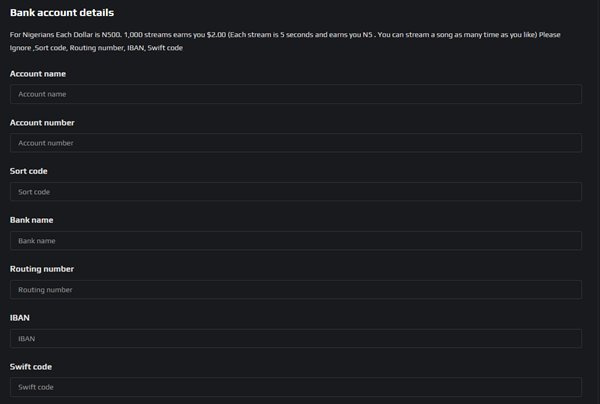 To withdraw your earnings, you must earn at least 2,000 points. That will be equivalent to $2. However, there will be a 3% service fee involved when withdrawing your earnings, so don't expect to receive the full amount.
Overall, the payment system of Musifiq is relatively simple. I like the fact that it offers a convenient payment method like direct bank transfer. If you are interested in more sites that also offer a convenient payment method, I suggest you also check out the top sites that pay via direct bank transfer.
How much money can you make?
Let me tell you right now that you will not earn a lot from Musifiq. As explained earlier, you'll only receive 4 points per song you listen to or the music video you watch. To put it into perspective, you'll have to listen to at least 500 songs (and/or music videos) just to earn $2.
And if each song is at least 4 minutes long, it will take you roughly 33 hours of listening just to earn $2. This, in my opinion, is not an efficient way to earn. You are better off investing your time on sites that pay better if your goal is to earn extra cash.
Plus, the songs found on Musifiq aren't really for everyone (since most songs are from artists in India). You might not enjoy listening to them since you might not understand them (unless you live in India).
If you are really intent on earning by listening to music, I suggest using the AAMusic app instead. It has a better song selection, so you will most likely find songs you can enjoy.
Can you use it on mobile?
As mentioned earlier, Musifiq has a mobile app you can download so you can earn using your mobile device. However, the app is only for Android users, so if you are an iOS user, then this is not for you. I suggest you check out the best money-making apps for iOS instead.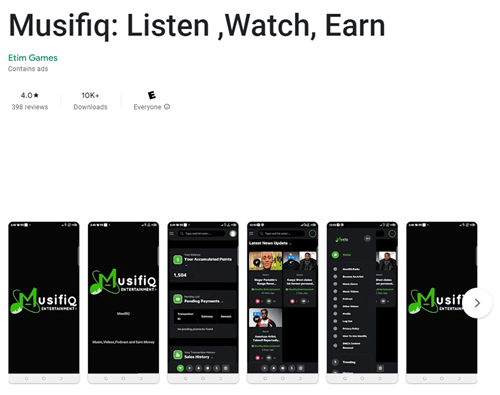 The app is relatively easy to use, and you won't encounter any annoying pop-up ads while using it. All the features available on the web-based dashboard are also available inside the app, so you can say that you don't really need to sit in front of a computer to earn.
Who can join Musifiq?
The site doesn't tell you exactly which countries it is available in, but from what I can tell, it is available more or less worldwide. However, as I've mentioned earlier, most of the songs you'll find on Musifiq are from artists in India, so I would say that this platform is mainly for people who live in India.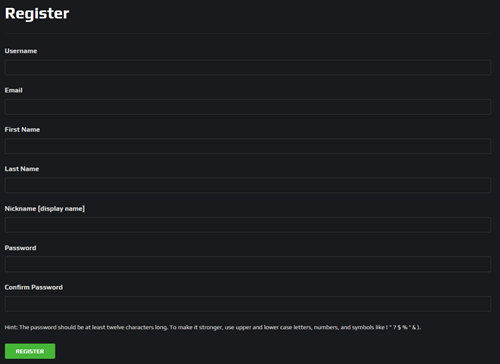 To sign up as a member, you just have to fill out the registration form. Once you submit the form, you can log in to the dashboard and start earning. That's a very straightforward process, in my opinion.
Can you get support?
If you have questions about the platform or your account, you can check out the FAQ section of the member dashboard. It discusses some of the basic topics you need to know about Musifiq. However, in my opinion, the FAQ section doesn't offer a lot of help, so you will most likely have to get in touch with the support department to resolve your issues or inquiries.
The problem is that Musifiq's website doesn't have any contact information or even a contact form you can use to submit your inquiry. I had to do some digging to find the contact information of its support department.
You can submit your inquiry via email at [email protected].  Overall, I would say the site provides poor support to its members since it doesn't provide any accessible way for you to contact support. You'd have to go to the app's Google page just to find the contact details.
Final Verdict
Musifiq is a platform that will let you earn by listening to music or by watching music videos. It doesn't offer a lot of upside, but it has a lot of major drawbacks, in my opinion.
Let me summarize its pros and cons to conclude this review so that you can get an overview of what it has to offer. Then, you can decide if it is truly worth it or not.

Pros:
Offers an interesting way of earning

Cons:
Low rewards
Doesn't offer good support
Only available to Android users
Limited song selection
In my opinion, Musifiq is not a platform that is worth your time. If you want to earn by listening to music, there are better options out there. I suggest you check out the best ways to earn by listening to music instead. These options offer better song selection and earning potential, in my opinion.
But if your goal is to earn extra cash, I recommend you check out the top survey and GPT sites in your country instead. The sites on this list all have good earning potential, so you will be able to earn a decent amount in a short period of time.
If you have any comments, questions, or experiences with Musifiq yourself, I would love to hear from you in a comment below.