There are more and more easy ways to earn some extra money online. That's good for you since you can now earn extra cash in many ways no matter your background or skills.
You can, for example, earn by joining a survey site or a Get-Paid-To site. Or you can join a community that pays you to participate in discussion boards among others.
One such site that offers the latter is called MyLot.com. This site promises to pay you for your valuable contributions. But is it a scam, or is it a legit way for you to earn extra cash?
Let me answer this question right away so we can move on to discuss the other features of the site.
No, MyLot is not a scam. It does indeed pay you for participating in discussions online and other activities. But we really can't tell if the site offers a good way to earn cash just by checking if the site is legit or not. We have to dig deeper.
This MyLot review will examine the other features of the site so you can decide if it is a site worth joining or not. So, let's go ahead and start this review.
What is MyLot and what does it offer?
As explained above, MyLot is basically a huge discussion board, blogging community, questions and answers hub, social network, and online hangout that pays you for your valuable contributions. Think of it as a place where you can share ideas and earn at the same time.
As to how well you can earn, to determine that we have to take a closer look at the earning opportunities it offers. So, here's how you can earn from MyLot.
Option 1 – Discussion boards
One way you can earn from this site is by participating in their discussion boards.
The premise is very easy. Any time you start a discussion, respond to a discussion, or comment in a discussion, you are making a contribution that is eligible for earnings.
So, all you have to do is log in to the site and pick a topic in their discussion boards you want to participate in, and well, participate. The thing to remember with this earning opportunity is, don't just participate for the sake of participating.
You have to make sure whatever you contribute is of substance. Otherwise, you won't get rewarded. Remember, MyLot will pay you for your valuable contributions, so it has to add value.
You also must ensure you follow their guidelines when participating in discussion boards.
There are a bunch of them, and you can find them in their Community Guidelines I suggest you read them before participating. The basic gist of their guidelines is to ensure everybody has a fun time on the site.
Option 2 – Paid offers
Paid offers are what you would usually encounter on Get-Paid-To sites. MyLot offers this kind of opportunity as well but to a lesser extent, meaning there won't be a lot of paid offers you can do.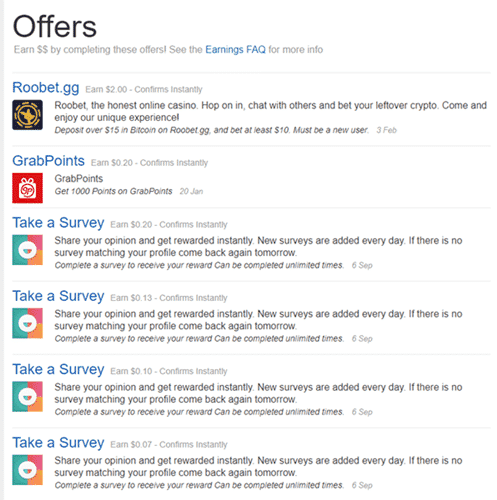 If this is your first time hearing about paid offers, they're basically small tasks you can do to earn rewards. Typically, you will be asked to answer a survey, register to a site, answer a quiz, or play a game.
Each offer will have a set of requirements you need to fulfill, so make sure to note them before you begin. You will also see how much you will earn once you complete the offer. Once you've completed the offer, the reward will be credited to your MyLot account instantly.
The offers won't come from MyLot but from other sites that have partnered with them. So, don't be alarmed if you are taken to a different site when you start an offer.
And just be aware that you can find the exact same offers on many GPT sites that are specialized in paid offers, and they will, in most cases, give you a lot higher earnings for the exact same offers – but more about the full earning potential later.
Recommended: Check Out the Top Survey Sites in Your Country
How do you get paid?
MyLot doesn't use a point system for its rewards. They will reward you with a specific amount for every activity you complete.
It's a convenient and preferable method since you don't have to keep mentally calculating how much you've earned.
You will only need to earn at least $5 to get paid. If your accumulated earnings are greater than or equal to $5 by the end of the month, you are eligible for payout the following month. These payments are made to everyone eligible on or before the 15th of every month via PayPal.
So, you don't actually have to request payment when you hit the threshold manually. They will process it automatically for you. The downside is that you will have to wait for quite a while to receive your payment.
The good thing is that it uses PayPal as a payment gateway, so it's very convenient. Plus, I do like the fact that they have a low payout threshold of $5. This makes it easier to reach.
If you are interested in more sites with a low payout threshold, I suggest you check out the fastest paying sites as well.
How much money can you make?
MyLot.com does not exactly outline the reward structure for its discussion boards, so there's no way to accurately gauge how much you will earn from this site.
In my opinion, it is never good when a site is not fully transparent about how your earnings are calculated. It seems like they have something to hide, and you need to know exactly what to expect before joining.
But in my experience, sites like this won't pay you much for every comment or activity you do.
A good example is their paid offers. If you look at how much you will earn for a paid offer, it will only range from $0.01 to $0.20 per offer. That's not much really. The reward you will earn from their discussion board will most likely be even lower.
So, to earn a significant amount from this site, you will have to spend a lot of time on it, which isn't very efficient, in my opinion. The best way to increase your earnings on this site is to make a lot of friends.
You follow them, and they might follow you back. That way, you can easily keep track of their discussions, and you will always find discussions you can participate in that will earn you rewards because, remember, you will only get paid if other members reply, like, or comment on your post/reply.
Overall, I would say this site has a low earning potential unless you've already built a massive following.
Can you use it on mobile?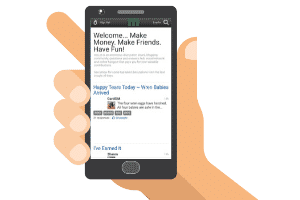 The good thing about MyLot is that you can use it on a mobile device. It doesn't have a mobile app you can download, but you can access the site from a mobile device using a web browser.
Their site is mobile-friendly and responsive. That means you can conveniently navigate through the site and read all the content properly without having to zoom in. This definitely helps a lot because, as already established, you will need a lot of time on this site to earn a significant amount.
Being able to access the site from a mobile device conveniently will allow you to participate in discussion boards even when you are standing in line in a bank, commuting to and from work, or even during your break time.
Who can join MyLot?
MyLot is available globally. That means you can sign up as a member regardless of where you live. You just have to be at least 18 years of age to be eligible.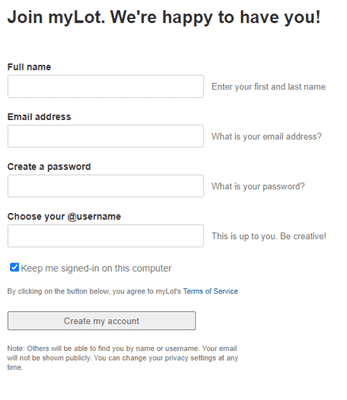 To become a member of their community, you just have to fill out their registration form. All it asks is your full name, email address, username, and password. That's it. Once you've provided that info, you are now a member of their community.
You just need to make sure that you have a verified PayPal account before you join their site because that is the only payment method they use.
Can you get support?
MyLot has very detailed FAQ pages for how their site works and their earnings program. These pages discuss in detail every topic you need to know about, which is a good thing. It will definitely come in handy if in case you have a question about their site.
However, the extent of the support they provide stops there. If you can't find the answer to your question on their FAQ pages, then you will be left hanging since MyLot doesn't provide a way for you to get in touch with their support team.
Their site doesn't have a contact form or even an email address you can use to send in your inquiries.
So, I would say they don't have good support for their members. Sure, their FAQ page is pretty comprehensive, but it would still have been better if they provided a way for you to get in touch with them.
Final Verdict
MyLot is a legit online community where you can earn extra cash by participating in online discussions and completing paid offers. It has a couple of good features, but it also has a few drawbacks.
Let me end this review with a summary of its pros and cons so you can get a better overview before deciding whether you should join this site or not.

Pros:
Available globally
Low payout threshold
Pays via PayPal

Cons:
Limited earning opportunities offered
Low rewards
Doesn't provide an option to get in touch with their support team
MyLot is a decent site to join if you don't mind spending a lot of time on it. You get paid automatically via PayPal if you reach their low threshold of $5.
But again, the important thing to remember here is that you have to invest a lot of time on this site to earn a significant amount. That's because they don't pay that well. Your earning efficiency on this site will only improve if you've built a huge following, and that will also take a lot of time.
It can be a fun way to earn if you like to be a part of online communities.
But if you are looking for more efficient ways to earn extra cash, I suggest you check out the top GPT sites instead. The sites on this list have better earning potential and also offer convenient payment methods.
Plus, you can also find a site you can join regardless of where you live.
If you have any comments, questions, or have any experiences with MyLot yourself, I would love to hear from you in a comment below.