Are you looking to earn extra cash quickly? If so, there's an app called Observa that claims you can do small observation jobs (hence the name) to earn extra cash. So, if you are looking for an interesting way to earn, this sounds like a great option, right?
But before you download the app, I would suggest you read this Observa app review first so you'll know exactly what to expect before you even install it.
This review will verify if the app is really legit or not. And then, it will reveal the full details of everything the app has to offer so you can decide if it is really worth joining or not.
So, let's go ahead and get a closer look at this app called Observa, shall we?
What is Observa and what does it offer?
Observa is a mystery-shopping app that will pay you for completing mystery shopping jobs. It is a lot like another app called SmartSpotter.
And yes, it is indeed a legit app that will really pay you when you complete mystery shopping jobs. Here's a short video explaining what the app is all about.
Now, to truly understand how the app works, we have to examine the earning opportunities it offers. This will also give you an understanding of its earning potential. So, here's how to earn from Observa.
Option 1 – Public opportunities
The only way to earn from Observa is by participating in their public opportunities. If it sounds weird to you, don't worry, it's just their term for their mystery shopping jobs.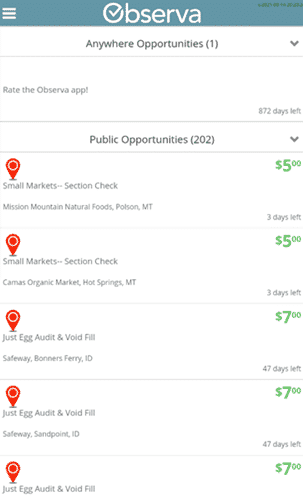 To view all the opportunities, you just have to log in to the app. By default, it will be set to map mode and you can identify opportunities through the red spots on the map. But, you can also set the view to list mode so you can see all the available opportunities near your location (refer to photo above).
Now, if you see an opportunity you want to take on, the first thing you need to make sure is you go to that location. You see, you will only be able to take on the opportunity if the app recognizes that you are really near the location.
That also means you have to enable the GPS of your mobile device when you take on opportunities. So, when you are near the location of the opportunity, just press it and you will see the full details. Press the "Accept" button when you are ready to work on it.
Take note that you only have two hours to complete each opportunity you take on. Plus, you can only accept one opportunity at a time. When you've finished, you have to submit all the necessary requirements.
You can submit it through the app. Just go to the opportunity you worked on and you should be able to upload the requirements through the details page. When you've done that, Observa will review your work and if everything is in order, you will receive the reward promised. This usually takes around 24 to 72 hours. So, you won't have to wait that long to receive the reward.
Most of the opportunities you will find inside the app will usually ask you to go to specific shops and take photos and write down your observations. You will seldom find opportunities that will ask you to make a purchase. So, you won't really have to spend money like on some other mystery shopping apps.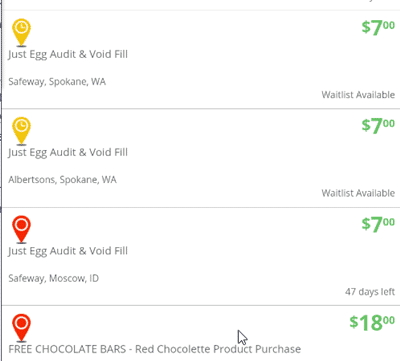 Now, if you see something similar to the photo above where an opportunity is marked yellow, that means there's currently someone working on the job. So, if you want to take on that opportunity, you will have to be waitlisted.
You have to wait for the member to finish doing it. You will receive a push notification from the app if the specific opportunity is available again. When that happens, you can take on the opportunity by pressing the accept button.
That's all there is to it. It might sound a bit complicated in the beginning, but when you get used to the whole process, it will be very easy for you to complete opportunities.
Option 2 – Referral program
Another way to earn from Observa is through their referral program. All you have to do is invite other people to join the platform by sharing your invite code.
Then, when they sign up as a member of Observa, they just have to provide your invite code. When they do that, they will become your referral. Then, when they complete a job, you will receive a 25% commission.
However, this will only be valid for the first 4 observations that your referral will complete. Afterward, you won't earn anything anymore. The reward rate is pretty decent, in my opinion, but the limit of 4 observations means the earning potential of this opportunity is quite low, in my opinion.
It will really push you to keep inviting other people to use the app if you want to maximize your earnings.
Recommended: Check Out the Top Survey Apps
How do you get paid?
Every opportunity you complete will pay you in US dollars or Canadian dollars (depending on where you live). Now, the good thing about Observa is, you don't actually have to reach a threshold to receive the payment.
The app will pay you immediately once they've verified your submission. As explained earlier, this can take up to 72 hours. They will process the payment via PayPal, or if you prefer, you can also use Coinbase.
But by default, they will be using PayPal. You will have to inform them if you wish to switch it to Coinbase and get paid in cryptocurrency like Bitcoin, Ethereum, LiteCoin, or Bitcoin Cash.
Their payment system is relatively simple and I like the fact that there's no payout threshold because you will be able to receive your earnings quickly.
If you are looking for more sites and apps that will allow you to receive your earnings quickly, I recommend you also check out the fastest paying sites.
How much money can you make?
The amount of money you can earn from Observa will mostly depend on your location. If you live in a city where there are lots of opportunities available, then you stand to earn a decent amount from the app.
In my experience, major cities usually have plenty of opportunities available compared to smaller cities. So, if you live in a metropolitan city, then you will be able to earn more from Observa.
As for the amount you can earn from each opportunity, the reward will usually range from $4 to $10. In my opinion, it's a pretty low rate compared to other mystery shopping apps. But since these opportunities don't really ask you to spend money, I would say it's only fair.
Overall, I would say the earning potential of Observa isn't that great. But if you live in a major city, you can possibly earn a decent amount from it. But there's another thing you have to consider though.
You have to remember that working on opportunities means you have to go to a specific location. That means you will have to potentially spend money on transportation and also time to get there. So, I would say that it would only be worth it to work on opportunities if you are already near the location anyway.
If you'd have to go out of your way just to reach the location, I would say that would be counterproductive since the app really doesn't pay that well. You might end up spending more on gas or end up getting extremely low pay per hour. So, always weigh the rewards you will earn with the possible expenses and time before you take on any opportunity.
Can you use it on a desktop?
Due to the nature of the earning opportunity of Observa, I don't really see any reason for you to work on it from a desktop or laptop. Yes, you can actually log in to their platform from a laptop or desktop. Their website has a login page. But the only thing you can do there is change your account settings.
As for the actual work that needs to be done, you will need to use a mobile device.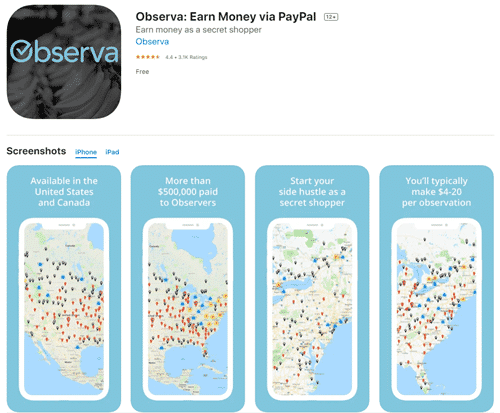 As for their app, it is available for both Android and iOS devices. So, compatibility shouldn't be a problem. Their app is also very user-friendly. You will easily get used to how it works. Plus, you won't encounter any pop-up ads, which is a good thing.
The overall user experience this app provides is pretty good, in my opinion.
Who can join Observa?
Observa is only available in the US and Canada. So, if you live somewhere else, then you will have to find another app or site to join. Also, you have to be at least 18 years of age to join the app.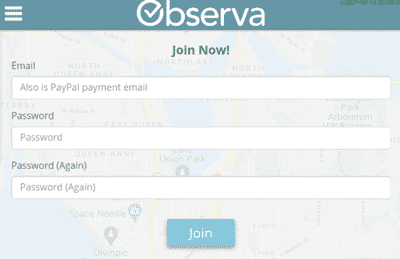 To register as a member, you just have to provide your email address and password. Keep in mind though that when you register, you have to use the same email address as you do for your PayPal account because they will automatically use it for the payments.
Once you are done with the registration form, you can log in to the app and start taking on opportunities. You don't even have to confirm your registration like on most other apps and sites.
Can you get support?
If you have any questions about the app or your account, or if you encounter any issues, you can first check out their Help page. You can find a few tutorials on that page. It also discusses some of the basic topics you need to know about the app.
But if you can't find the answers you are looking for, you can always send your inquiry to their support team. Just press the menu option inside the app and hit "Contact Support". It will open your email client and the email address of their support team will immediately be provided (support@observanow.com).
Overall, I would say they have a decent support system in place for their members since they provide an easy way for you to get in touch with their support team.
Final Verdict
Observa is a legit mystery shopping app that will pay you for completing the earning opportunities it offers. It has a couple of interesting features but it also has some limitations you need to consider.
Let me conclude this review with a summary of its pros and cons so you can get an overview of what the app has to offer. Then you can decide if this app is a good fit for you or not.

Pros:
Offers payment via PayPal
No payout threshold

Cons:
Limited earning opportunities offered
Low rewards
In my opinion, Observa is not a bad app. But it's also not a stand-out either. It's somewhere in the middle. It's a pretty decent app to earn from if you live in a major city. But if you live in a rural city, then chances are, you won't earn a lot from this app.
The best thing about this app, in my opinion, is that it doesn't have a payout threshold. I would say you should only join this app if you live in a major city and if you still need an additional app to earn from.
Now, if you are looking for primary sources of extra income, I would instead suggest you check out the top survey and GPT sites in your country. The sites on this list all have good earning potential and you will definitely find a site you can join regardless of where you live.
If you have any comments, questions, or have any experiences with Observa yourself, I would love to hear from you in a comment below.