Do you like playing mobile games? If so, then there's a platform called Octappush that promises to pay you for testing out new mobile games.
But is Octappush a scam or if it is a really legit opportunity to make some money? This is an important piece of information that needs to be addressed right away. So, let me clarify it right now.
No, Octappush is not a scam. It is indeed a legit platform that will pay you for testing unreleased mobile games. However, that doesn't really tell you if it is worth investing your time in or not.
To figure that out, this Octappush review will give you an inside look so you can judge if it is something you should pour your extra time into or not. So, let's go ahead and start this review, shall we?
What is Octappush and what does it offer?
Octappush is a mobile app that will pay you for doing remote playtesting. One thing to note, if you look for the app in the app store, it's actually named Paid Game Tester Platform.
Octappush is the company behind the app. It would still show up though even if you search for "Octappush". But the actual name of the app is different.
The platform is intended for developers who want to get feedback about the games they are planning to release. So, in essence, you are actually helping game developers improve their mobile games when you sign up for Octappush.
Now, to understand how the app works and how well you can earn from it, we have to take a closer look at the earning opportunity it offers. So, here's how you can earn from Octappush.
The earning opportunity – Testing mobile games
The only way to earn from this app is by testing mobile games that have not been released yet. The way the app earns is, developers pay them to get feedback about the mobile games they are developing. So, these developers submit their games to find out how they can improve it.
Octappush will then offer these games for testing to their members (you) in return for a small reward. But how does the testing process work exactly? Let's take a look.
The first thing you need to do is add any games that you've already installed on your mobile device to your profile. This will serve as their basis for what kind of mobile games they will ask you to test.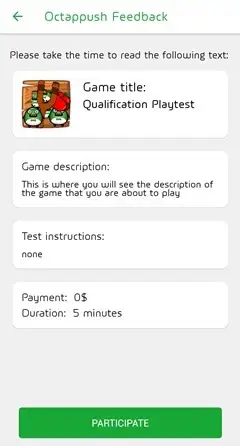 Once you've added the games to your profile, you will then have to take their qualification test. This is very important and I suggest you do this right away and I will explain why.
Their qualification test is designed to determine if your device can handle the testing process. It will ask you to do several steps including installing a trial game. Once you've installed the game, you are required to play it.
While you are playing it, Octappush will be recording your screen in the background. So, just keep playing the game until the app tells you to stop. Once you are finished playing the game, you will be asked to answer a short survey.
This survey will teach you how to provide feedback when doing the tests. Just follow the instructions given. After you've finished the survey, Octappush will then compile your answers and the video recording of you playing their test game. The app will then upload it for review from their quality assurance team.
You just have to wait for the result of the test. They don't really say how long you have to wait for the results. But don't expect it to be reviewed right away. But if you followed the instructions properly, there's no need to worry because it will be approved eventually. Just log in to the app from time to time to see the status of the test.
When you get approved as a tester, Octappush will send you an email if you qualify for a test. The instructions of what you need to do, as well as the reward you will earn will be in that email. So, make sure to check your inbox regularly for any opportunities.
The mobile game testing process will essentially be the same as the qualification test. You will have to install the game you will be testing and during your testing, your screen will be recorder. You will then have to provide your feedback and everything will be uploaded for review.
Their QA team will then review your work and if everything is in order, you will receive the compensation promised (I will discuss how you get paid next).
Recommended: Check Out the Top User Testing Sites
How do you get paid?
For every test you complete, you will earn a certain amount which will then be credited to your Octappush account balance. Once you've earned at least $15, you will be able to withdraw your earnings via PayPal.
This is the only payment option they offer. So, if you plan to become a member, I would suggest you make sure you have a verified PayPal account first before you sign up (I will explain later how you can register as a member).
Their payment system is very straightforward and I like the fact that they offer a convenient payment method. If you are interested in more platforms that offer a convenient payment method, I recommend you check out the top sites that pay via PayPal.
How much money can you make?
The amount you will earn for each test you complete will be around $5 to $10. In my experience, the simpler tests obviously pay less, and the more complicated ones pay the higher amount. So, the amount you will be able to earn from this app will mostly depend on how many tests you can complete.
Unfortunately, you don't really have control of how many tests you will get invited to participate in. But they do say their algorithm tries to choose testers that haven't done many tests. So, it tries to distribute the tests as evenly as possible to its members.
Also, Octappush has an internal scoring system that reflects how valuable the feedback you give is. So, if you give good answers (detailed and concise) in their surveys, you will have a better chance of getting invited to participate in more tests.
That's why if you want to maximize your earnings from this app, you have to make sure you are as diligent as possible when doing their tests.
Can you use it on a desktop?
Octappush is a mobile-only platform. And considering you will have to test mobile games, you will not find a need to use a laptop or desktop. Whether that's convenient for you or not, will be up to your personal preferences.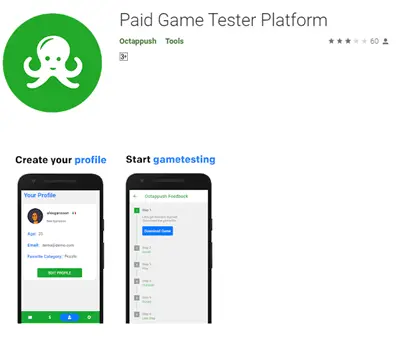 As for their app, it is only available for Android devices. So, if you are an iOS user, then this app is not for you.
Their app is relatively user-friendly but the testing process involves a few technical things you need to do. So, it would be a huge plus if you are well-versed with configuring your Android mobile device. But overall, you will still be able to complete any test even if you are just a "casual" (so to speak) Android user.
Who can join Octappush?
The good thing about this app is, it is available globally. So, you will be able to sign up as a member regardless of where you live. Their sign up process is also pretty simple.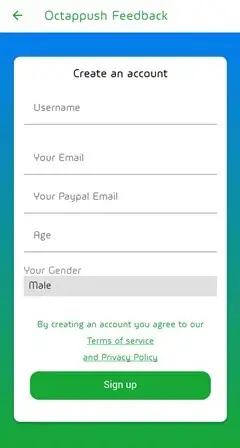 All you have to do is fill out their registration form. Then, Octappush will send you a confirmation email with a code. Just copy the code and input it in the required field to complete the registration.
As soon as you've done that, you can log in to the app and start the process of earning.
Can you get support?
The one main issue I found with this app is, they don't have a FAQ page inside the app that you can refer to if you have questions. They have a website you can visit but there's just not a lot of info there. So, it will still be pretty useless.
So, if you need assistance from their support team, you will have to email them at support@octappush.com since they don't have a contact form inside the app. I also had to do a bit of digging just to find this email address.
While I would say they have a decent support system in place since they provide a way for you to get in touch with their support team, it would have been better if they at least had a help section as a part of the app. This would make it a lot more user-friendly.
Final Verdict
Octappush is a legit user-testing app that will pay you for testing mobile games that haven't been released yet. It offers a few interesting features but it has certain drawbacks you need to consider.
Now, let me wrap up this review with a summary of its pros and cons to give you an overview of what the app has to offer so you can decide if it is really worth using or not.

Pros:
Offers a fun and interesting way to earn extra cash
Offers payment via PayPal
Available globally

Cons:
Limited earning opportunities offered
Their app is only compatible with Android devices
Relatively high payout threshold
If you have strong attention to detail and you enjoy playing mobile games in general, then this can be a good app to join. You get to try out mobile games that are not released yet and you get to influence how they will be improved.
However, don't expect to earn a lot from it because there aren't a lot of testing opportunities available. In my opinion, it can serve as a decent secondary app to use to earn extra cash.
But if you are looking for sites and apps that you can earn extra cash on a regular or daily basis, I would recommend you check out the top survey and GPT sites in your country instead. The sites and apps on this list all offer multiple earning opportunities that will allow you to earn a decent amount regularly.
If you have any comments, questions, or have any experiences with Octappush yourself, I would love to hear from you in a comment below.