Pi Network is a platform that claims you can mine cryptocurrency without investing any money into building a mining rig. All you need is your mobile phone.
I admit, it sounds like a very interesting premise, so you might be considering joining this platform.
But is Pi Network legit and really a way to potentially earn big money or is it a scam to stay away from?
I have tested it myself and let me reveal right away that it definitely has both pros and cons.
This Pi Network review will give you an inside look and show exactly what you can expect so you can easily find out if it is the right option for you or not.
Disclosure: Some articles on this website contain affiliate/sponsored links. Click for more info.
What is Pi Network and what does it offer?
At its core, Pi Network is a mining app that will allow you to mine a specific cryptocurrency without building a mining rig. I have reviewed a similar platform called TimeStope. Both platforms share a lot of similarities.
This platform was developed by Stanford graduates.
Pi Network is not a scam, however, let me tell you right now, it is a project that is still in development, so, if you are looking to earn cash right away, this is not the platform for you.
But if you are patient, it might give you very good opportunities in the future if you get in now.
To fully understand how Pi Network works, we have to take a closer look at the earning opportunities it offers. This will also give you an idea of how fast you can mine cryptocurrency from this platform.
I have, therefore, made a video that gives you an inside look and shows exactly how you can earn from Pi Network. You can also read all the details below the video.
Click to Join Pi Network (use code: PFSpi)
Option 1 – Mining
The main way to earn from Pi Network is by mining. And as they've promised, it is very easy to mine using Pi Network.
All you have to do is install their app on your mobile device (I'll talk more about their app later). Then, you just have to log in and press a button (refer to the photo below).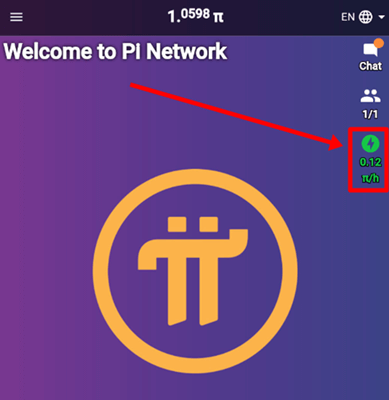 Once you are logged in, you just have to press the button with the energy logo. When you've done that, you can close the app and do something else. That's it, that's all you need to do every day.
You don't need to leave your device open and running to mine. It will also not affect your device's performance, drain the battery, or even use your network's data. Once you click the mining button, the app will continue to mine for 24 hours.
So you just need to make sure to come back and click it again the next day.
The cryptocurrency it will be mining is called Pi. As for the rate of Pi the app mines, it will be affected by several factors (which I will discuss next). The base rate will be 0.10 Pi per hour and it will increase if you take on additional roles in the network.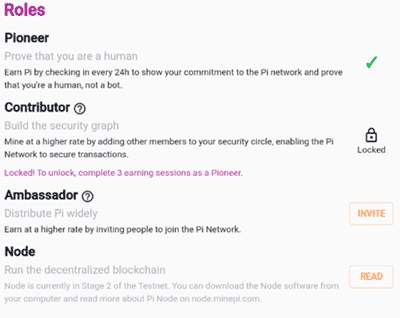 These roles will help you mine more Pi. When you become a member of the platform, you will start as a Pioneer. This is the basic role of a Pi miner. You can also become a contributor and ambassador. You can take on as many roles as you want provided you meet the requirements.
If you want to maximize your mining capability, you have to take on all the possible roles you can take on.
To become a contributor, you have to complete 3 mining sessions. That means you have to press the mining button for at least 3 days.
Then, you have to add 3 to 5 people that you trust in your circle. Once you've done that, you will become a contributor and your mining rate will be increased.
When you've successfully taken a new role, the bonus will be reflected immediately. You will see your new mining rate.
You just need to be aware that once the Pi Network mainnet has been launched fully, the rate of the mining will be calculated differently. But you can read all about these exact calculation inside the app.
Option 2 – Ambassador program
Their ambassador program is like the referral program you will encounter on most Get-Paid-To (GPT) or survey sites. You can invite other people to earn rewards.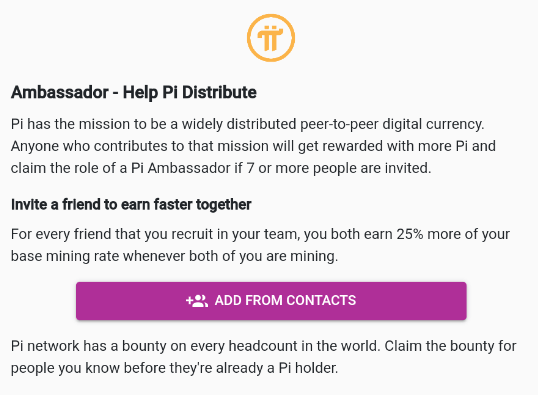 But in Pi Network's case, the benefit for becoming an ambassador of the platform is an increase in your Pi mining rate, specifically a 25% increase. So, how do you become an ambassador?
Well, all you have to do is share your ambassador code with people who want to join the platform. As of the writing of this article, ambassador codes are very important because you won't be able to register to the network without one (I will share one later so you can join if you want to). You can get your invitation code from your account settings.
Now, once the person you invited inputs your ambassador code during registration, they will become your referral and you will become an ambassador. Both you and your referral will then receive a 25% increase in Pi mining rate.
So, for example, if you managed to get 3 referrals, you will now receive a 75% mining bonus. To calculate the increase, you have to refer to the baseline of 0.1 Pi per hour. The final mining rate will become 0.16 Pi per hour (3 x 25% x 0.1).
It's a great way to increase your earnings and it's easy to sell due to the nature of the platform. However, the mining bonus will only be active when your referral is also mining. That's the one thing you need to keep in mind about their mining bonus.
Recommended: Check Out the Top Sites to Earn Bitcoin for Free
How do you get paid?
As I've mentioned earlier, you won't be able to take your earnings from the Pi Network out…yet. As of the writing of this article, their cryptocurrency Pi has no monetary value. But if you really think about it, Bitcoin was in the same boat as Pi right now.
So, if you will be joining this platform, what you are getting is the potential to earn. The one thing I can say about Pi is that it looks promising. As their site says, it is a user and planet-friendly cryptocurrency. The reason why they can claim it is planet-friendly is, it doesn't eat up a lot of electrical energy as some major cryptocurrencies do.
So, there's a potential for longevity and sustainability. If it does catch on, you can earn a lot of money if you are one of the people who joined their platform early.
But if you are looking to earn from cryptocurrency right now, I would suggest you check out the top ways to earn Ethereum for free.
Pi has now launched its first version of its mainnet which is definitely a great step forward and will take us closer to the point where we can get our Pi out or use them for something.
As of doing this updated review, the mainnet is, however, still a closed network to make it possible for all the members to verify their identity and get the earnings moved over to the mainnet.
Later once this has been done, the open network will be launched, and then you will be able to start using your Pi and potentially also take them out to crypto exchanges, if all goes well.
Can you use it on a desktop?
Pi Network is a mobile-only platform. So, you will really need to use a mobile device to start mining.
However, they are working on an option for computers as well so keep an eye out for that.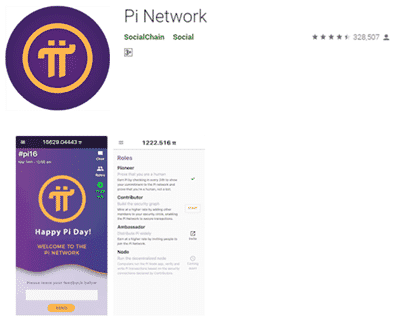 Their app is available for download on both Android and iOS app stores. So, compatibility won't be a big issue.
As for their app, it is very user-friendly. You won't have a hard time getting used to how it works. And the good thing about their app is, you don't really need to do anything special to mine. Just press a button once every day and you are good to go.
And as I've mentioned earlier, their app won't use up a lot of your device's resources. So, it's a safe app to install on your device.
Who can join Pi Network?
Pi Network is available worldwide. So, you can join their platform regardless of where you live. Joining the Pi Network is very easy. You just have to install the app on your device.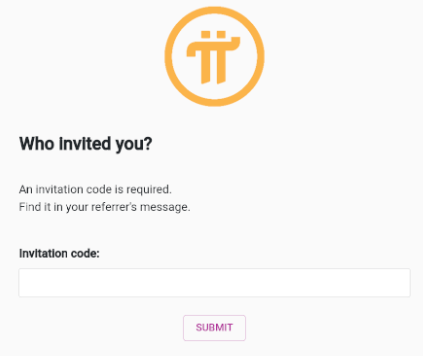 Then, when you open the app, it will ask you to register. You can sign up using your mobile number or your Facebook account. Then, as shown in the photo above, it will ask you for an invitation code. There's no way around it. If you want to join their platform, you will need an invitation code.
You can use my invitation code which is: PFSpi. All you have to do is input it after you fill out the sign-up form.
Once you've provided all the necessary info, you can log in to the app and start earning. Just bear in mind that all the information that you've provided must match your identification documents. Because when Pi Network reaches the point where you'll be able to earn money, you will have to provide documents that will match the identity you've provided when you registered.
So, you can't really register on the platform using a fake name. You have to use your real name. That's the one condition that you need to keep in mind if you plan to join their platform.
Also, it is a good idea to verify your phone number ASAP. Without doing that, you will also not be able to get the Pi paid out once the time comes.
Another thing you need to keep in mind is, you can only mine from one device. You can't sign in to your account on a different device so you can mine more Pi. You will get banned when if you do that.
Can you get support?
If you have any questions about the app or the platform, you can check out their FAQ page first. It discusses the basics of the app. If you can't find what you are looking for, you can ask their support team in their chat room.
Yes, the Pi Network app has a chatroom you can join. Just press the "Chat" option in the upper right hand corner and you can select the appropriate channel to join.
Their app and website don't have a contact form you can use, so you'll have to use the "Chat" function to get in touch with their support team.
Overall, I would say they provide a decent support system for their members since you will be able to get assistance in real-time using their chat rooms.
Also, if you join using my invitation code, there will be a chat channel specifically for my earning team called PFSpi's earning team and you can also ask questions here.
Final Verdict
Pi Network is a legit mining app that will allow you to mine their cryptocurrency without expending a lot of resources. It certainly has its advantages but it also has some limitations you need to consider.
Let me finish this review with a summary of its pros and cons so you can see an overview of what the platform has to offer. Then, you can decide if you should really join or not.

Pros:
Their app is very user-friendly
Their app will not eat up the battery life of your mobile device
You can mine crypto even when the app is closed
If you get in now, it might end up giving you a lot of earnings long-term

Cons:
Their cryptocurrency doesn't have any monetary value yet
In my opinion, Pi Network is an app worth using if you are looking to get into the cryptocurrency world. But, you have to set your expectations properly. As I've explained, their cryptocurrency (Pi) doesn't have any monetary value…yet.
But I do admit, it is promising. And the good thing about their platform is, it will literally only take a second to start mining. That's their number one selling point, in my opinion.
While it doesn't have any value right now, it is a promising cryptocurrency. If worse comes to worst, the only thing you will be losing is a few seconds of your day. And if it does make it, you will stand to earn a lot of money. So, it's really a win-win situation, in my book. But you have to join now to earn as much Pi as you can before the cryptocurrency starts getting traded.
Now, if you are looking to earn right away, I would recommend you check out the top survey and GPT sites in your country instead. The sites on this list all have good earning potential and you will be able to earn right away.
How to join Pi Network
If you are interested in joining Pi Network, just install their app and go through the registration process. Then, use my code PFSpi when it will ask for an invite code so that you will receive a mining bonus right away.
To download the app, just click the link below.
If you have any comments, questions, or have any experiences with Pi Network yourself, I would love to hear from you in a comment below.