Pinnacle Mystery Shopping is a website that claims you can earn money by working as a mystery shopper. So if you are looking for a way to earn some cash, you might be mulling over joining this site.
But the question is, is it legit or just another scam?
In this Pinnacle Mystery Shopping review, I will address that concern and more. This review will tell you everything you need to know, so you will know exactly what to expect before you even sign up.
Then you can evaluate if this is a site worth joining to earn extra cash, or not. So let's go ahead and examine what Pinnacle Mystery Shopping has to offer, shall we?
What is Pinnacle Mystery Shopping, and what does it offer?
As the name of the site suggests, Pinnacle Mystery Shopping is a website that will allow you to earn money by working as a mystery shopper. It is indeed a legit site since you will really be able to earn by taking on mystery shopping jobs.
So now the question is, is it worth joining?
Well, to answer this question, you must first understand how the site works. To do this, we have to take a look at the earning opportunity it offers so you will have a clear idea of how much time and effort is required of you to earn from this site.
So here's how to earn from Pinnacle Mystery Shopping.
The earning opportunity – Jobs
The only way to earn from this site is to do mystery shopping jobs. There are three types of jobs that will be offered to you – in-person, web, and phone jobs. But from what I noticed, the most common type of job available is the in-person job.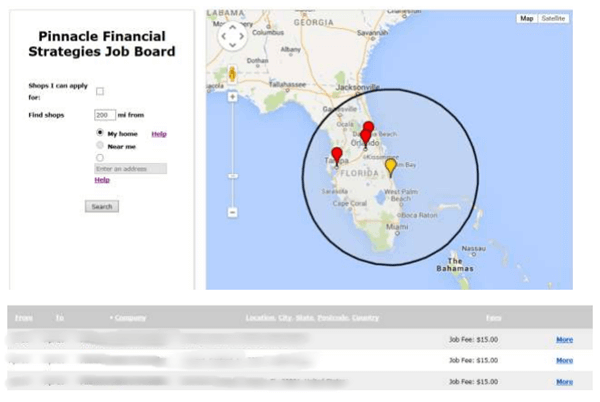 To view the jobs available, you just have to log in to the member dashboard. Once you are on the dashboard, just click the "Job Board" option in the menu. You'll have the option to view the jobs available in map mode or classic mode.
The map mode will look something like the photo above, while the classic mode will look just like a list. The jobs that will be displayed will be the jobs available in your current location. If you see a job you are interested in, just click it to see the full details.
The information displayed will include the start and end dates, the reward for completion, as well as location. If you want to work on a job, just click the apply button and follow the instructions. Then all you have to do is wait for confirmation from the site if your application was accepted or not. Keep in mind though, that some jobs will require certification before you can apply for them.
You will receive an email informing you that your application was accepted or rejected. It usually takes up to a couple of days before you can hear back from them. If you get accepted, all you need to do is perform the tasks required of you before the deadline of the job.
After you've performed the tasks, you will have to answer the survey that will serve as your report for doing the job. The survey must be answered within 12 hours of completing the tasks. Otherwise, the job will be canceled, and it will be given to someone else.
Each job will also require you to submit a POV (Proof of Visit). This can be a photo of the receipt from the establishment you visited, a business card, or something else. This requirement will also be stated on the Job Details page, so make sure to read the details of the job carefully so you won't miss any important information.
After you've answered the survey and submitted your POV, the site will review your submission. If it is approved, you will receive the reward, as well as your rating for completing the job. Your rating is very important because it is a major factor in determining whether you get accepted when applying for a job.
You will be rated from 1 to 10 depending on how well you did the job. Accuracy, writing, promptness, and dependability are major factors in determining your shopper rating. Points will be deducted for not following instructions, not submitting reports on time, inconsistent answers, not providing enough commentary, unclear comments, failing to submit the required proof of visit, etc.
In the following sections, I will discuss how your rating is calculated and how you can withdraw your earnings.
Recommended: Check Out the Top Mystery Shopping Sites
How do you get paid?
Every time you complete a job, you will earn a certain amount, and it will be credited to your Pinnacle Mystery Shopping account balance. The good thing about the site's payment system is that you don't need to earn a specific amount to withdraw your earnings.
The site will process the payments automatically every month. The cut-off date will be the 20th of each month.

Jobs completed and submitted by the 20th of a month will be paid via PayPal on the 10th of the following month. You will receive an email notification when the payment has been made to your PayPal account.
The payment system of Pinnacle Mystery Shopping is relatively straightforward, and I like the fact that it doesn't have a payout threshold. But the waiting period to receive your earnings is a bit long, in my opinion.
If you prefer to receive your earnings quickly, I suggest you check out the fastest paying sites instead.
How much money can you make?
As with most mystery shopping sites, the amount you can earn from Pinnacle Mystery Shopping will mostly depend on your location. If you live in a city where there aren't a lot of jobs available, then you will not be able to earn a lot from this site.
This is usually the case in small cities. But if you live in a metropolitan, then there will be plenty of chances to earn, so the earning potential will also be significantly better. As for how much the site pays per job, you will typically earn around $4 to $75 per job completed.
It's a wide range which is not what you usually expect from a mystery shopping site, in my experience. But the lower paying jobs will usually be those that will not involve going to a physical store.
It's a decent rate, in my opinion, so if you manage to complete several jobs a month, you can earn a decent amount from this site. Another factor that can affect your earnings is your shopper rating. As explained earlier, every time you complete a job, you will be rated from 1 to 10.
Your shopper rating will be the average of all your completed jobs. And as mentioned, the number of jobs you will be accepted into will also be mostly based on your shopper rating. So it is in your best interest to keep your shopper rating high to ensure that your acceptance rate will be high.
Another thing that can improve your acceptance rate is the number of shopper certifications you have. The site strongly recommends you take the MSPA certification to increase your chances of getting accepted when you apply for a mystery shopping job.
There are also some other certifications that will be made available to you on the member dashboard. So if you see a certification test on your dashboard, I highly suggest you take it to maximize your earnings from this site.
Overall, I would say the earning potential of Pinnacle Mystery Shopping is relatively decent if you live in a metropolitan area. But if you live in a small town, I suggest you find another way to earn extra cash instead.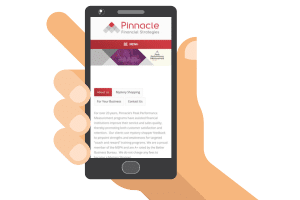 Can you use it on mobile?
The site doesn't have a mobile app you can download, but it is mobile-friendly, so you can still view the jobs available on your mobile device conveniently.
This can come in quite handy when you want to review the details of the job but you are not in front of your computer. Now if you are answering the survey for the job, I highly recommend you use a computer for more accuracy when typing.
Who can join Pinnacle Mystery Shopping?
You will only be eligible to join this site if you live in the US or Canada. If you live somewhere else, then this is not for you.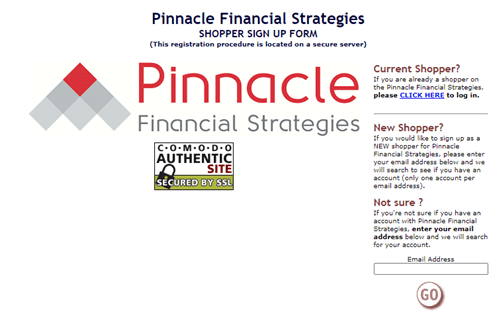 To sign up as a mystery shopper, just provide your email address. Then you have to fill out the registration form. It takes a few minutes to complete the form, and once you submit it, you will receive an email confirming your registration.
Just click the confirmation link in the email to complete the sign-up process. Then you can log in to the member dashboard to start earning. But before you can do that, you will have to complete your profile first.
This process can take a few minutes, and you can't skip it because it is a necessary step to enable the jobs you can apply for. The info you provide on your profile will be used by the site to determine which jobs you will be qualified for.
Can you get support?
If you have a question about the site or your account, you can check out the FAQ page of Pinnacle Mystery Shopping. It discusses most of the basic topics you need to know about the site. You can also check out the Help section in the member dashboard to view additional topics.
But if you can't find the answers you are looking for, you can use the contact form provided by the website. It is found at the bottom of the home page. You can also call the number provided on their contact details if you really want to speak to a representative immediately.
Overall, I would say the site does provide decent support for its members since it offers a couple of ways for you to request assistance.
Final Verdict
Pinnacle Mystery Shopping is a legit mystery shopping site that will allow you to earn by completing mystery shopping jobs. It has a couple of good features, but it also has certain limitations you need to consider.
Let me wrap up this review by summarizing its pros and cons to give you an overview of what the site has to offer. Then you can decide if this site is a good fit for you or not.

Pros:
Offers payment via PayPal
No payout threshold

Cons:
Availability of jobs will depend on your location
Long waiting period to receive earnings
Some jobs will require certification
In my opinion, Pinnacle Mystery Shopping is not a bad mystery shopping site, but it's also not that good either. It doesn't stand out among all the other mystery shopping sites. It does offer a convenient payment method, but you have to wait a month before you can receive your earnings.
I would recommend you join this site if you need another mystery shopping site to earn from. But if it's your first time joining a mystery shopping site, I recommend you check out the top mystery shopping sites instead since these sites have better earning potential, in my opinion.
Now if you are not eligible to join this site, or you are looking for simpler ways to earn extra cash, I suggest you check out the top survey and GPT sites in your country instead. The sites on this list all have good earning potential, so you will be able to earn a decent amount in no time.
Plus, you will definitely find a site you can join regardless of which country you live in.
If you have any comments, questions, or have any experience with Pinnacle Mystery Shopping yourself, I would love to hear from you in a comment below.