If you love to shop online, there's a site called RebateKey that claims you can earn up to 100% as cashback rewards when shopping online.
It's a very appealing claim, I admit, but the question is, is it legit or just a scam?
Well, if you continue reading this RebateKey review, you'll know the answer to that question and more. You will learn all the details of what the site has to offer, so you will know exactly what to expect from it.
That way, you can make an informed decision on whether joining this site is in your best interest or not. So let's go ahead and take a closer look at RebateKey, shall we?
What is RebateKey, and what does it offer?
RebateKey is a cashback site that will allow you to earn cashback rewards when you avail of the offers found on the site.
It is indeed a legit site since you will really be able to earn back a portion of what you spent when you shop from one of their partners.
However, this doesn't automatically mean the site is worth joining. To find out if you should join, you must first understand how it works. And the only way to do that is to examine the earning opportunities it offers.
That way, you can properly gauge if you can earn a decent amount from it. So here's how to earn from RebateKey.
Option 1 – Deals
The primary way to earn rewards from RebateKey is by taking advantage of the deals it offers.
There are two ways you can avail of the deals it offers. You can log in to the member dashboard and avail of deals that way, or you can install their browser extension and let it do the work for you.
Let's first discuss how you can do it through the member dashboard. When you log in to the dashboard, you will immediately be presented with all the current deals available. You can filter them according to category to make it easier for you to find deals you are interested in.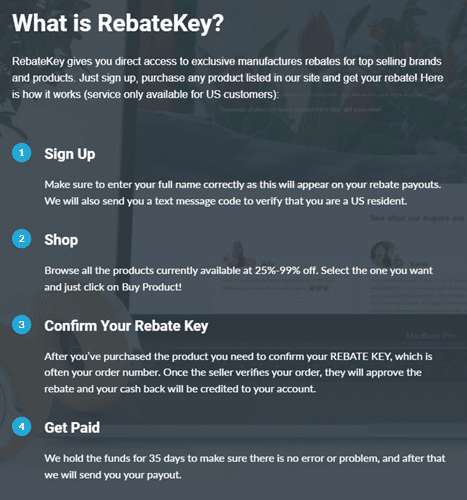 Once you see a deal you are interested in, just click it to see the full details. I recommend you read all the details so that you will be aware of how to receive the reward. When you are ready to proceed, just click the "Shop Now" button, and a new browser tab will be opened.
You'll be taken to the site where you have to make the purchase. Now, as shown in the photo above, to complete the deal, you just have to complete the purchase. Then you'll be asked to submit your "rebate key" to receive your cashback reward. More often than not, as shown in the photo above, the rebate key will be the order number.
Just copy the number and go back to the deal page and submit your rebate key. You'll be given up to one hour to do this. If you fail to submit the rebate key within the specified amount of time, you will not receive the cashback reward promised.
But if you are able to do this within the time allotted, then all you have to do is wait for the reward to be credited to your RebateKey account.
However, what will happen is that RebateKey will place your reward on hold for 30 days. After 30 days, the seller of the product you bought will be given 1 to 5 days to confirm or dispute your purchase.
If they neither confirm nor dispute the sale within 5 days, it will be considered a completed deal, and the cashback reward will be credited to your account.
This waiting period is implemented because members must first clear the refund period before being awarded the cashback reward. This is how cashback sites usually work, so don't be alarmed by the waiting period.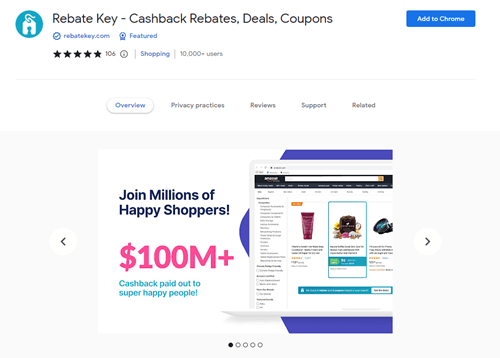 Later, I will discuss how you can withdraw your cashback rewards.
Now, if you use the Chrome extension, the process will be simpler. When you go to your favorite online shop, the extension will notify you if there is an existing deal from that shop.
If there is, all you have to do is complete the purchase like you normally would, and the extension will do the rest of the work, including submitting the rebate key.
Option 2 – Referral Program
The other way to earn from RebateKey is through its referral program. In case you don't know what this is, a referral program is an opportunity to earn by inviting people to join the site. To do so, you have to share your referral link with the person you want to invite.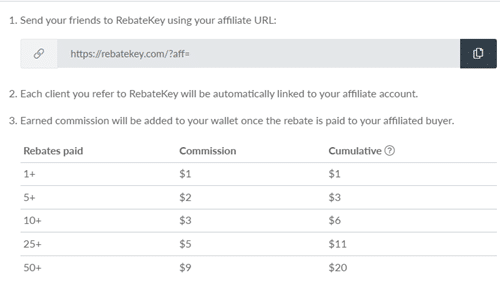 Once they click your link and sign up as a member of RebateKey, they will become your referral. But for you to earn your referral must complete a deal from RebateKey first. As shown in the photo above, you will earn $1 from the first deal your referral completes.
But the good thing about RebateKey's referral program is that it is structured in a way that you will earn more when your referral keeps completing deals. As shown in the photo above, you can earn up to $9 when your referral is able to complete at least 50 deals.
The rate isn't that high, based on my experience, but at least you get something from your referrals. But of course, you have to make sure the people you invite are really interested in earning cashback rewards from this site. Otherwise, you won't earn anything.
Recommended: Check Out the Top Cashback Sites
How do you get paid?
Every time you or your referral completes a deal, you will earn a specific amount. This amount will be credited to your RebateKey balance. You can view your balance when you go to the "Wallet" section of the member dashboard.

But how can you withdraw your earnings?
Well, as you can see in the photo above, you have three options. You can either convert your earnings to e-gift cards, withdraw them via PayPal, or have them mail you a check.
The good thing is that you don't need to reach a threshold to withdraw your earnings. RebateKey will process it automatically, depending on your preference. You can either withdraw your earnings via your chosen payment method weekly or monthly.
Just keep in mind that there will be a processing fee involved if you choose to receive your earnings via PayPal or check ($0.5 for PayPal, $1 for checks). If you choose either of the two, it's best to withdraw your earnings monthly to minimize the fees you have to pay.
Overall, I would say the payment system of RebateKey is relatively straightforward. I like the fact that it offers payment via PayPal since it is one of the most convenient payment methods available today. If you are interested in more sites that offer a convenient payment method, I recommend you check out the top sites that pay via PayPal as well.
How much money can you make?
The amount you can earn from RebateKey will depend on your online shopping habits. If you frequently shop online, you stand to earn a decent amount. If you don't, then you also can't expect to earn a lot.
Now as to how well the site pays, the cashback rates it offers are pretty varied. The range of cashback rates falls anywhere from 25% to 99%, which is actually quite a competitive rate, in my opinion. Plus, the site has partnered with a lot of sellers from popular online retailers like Amazon, Walmart, eBay, Etsy, and Shopify, so you will most likely find a deal you'll be interested in.
This is why I would consider this site as one of the better cashback platforms out there because you can easily find deals you'll be interested in. Overall, I would say the earning potential of RebateKey is relatively decent.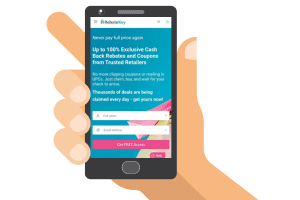 Can you use it on mobile?
The only downside of RebateKey is that it doesn't have a mobile app you can download, so you can shop conveniently from your mobile device. It's the sole reason, in my opinion, why it can't compete with other more popular cashback platforms, since most popular cashback platforms have their own mobile apps as well.
You'll need to use a computer if you want to conveniently avail yourself of the deals it offers. That being said, the site is optimized for mobile use, so you can still shop using your mobile device, but you have to be extra careful when copying the rebate key because it will be quite hard to do it on a mobile device.
Who can join RebateKey?
RebateKey is only available in the US, so if you live somewhere else, then this site is not for you. To sign up as a member, you have to be at least 18 years of age.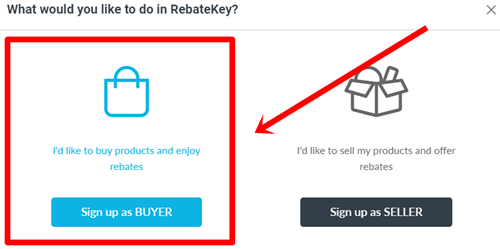 When you sign up, make sure to sign up as a buyer and not a seller (refer to the photo above). After you've clicked the button that says "Sign up as a buyer", you'll have to fill out the registration form. You can also just sign up using your Facebook, Google, Apple, or Amazon account.
After you've done that, you'll be asked to verify your address as well as your mobile number. You need to have a valid US address and mobile number to complete your registration, so don't even think about using VPN software to bypass this process because the site will be able to detect it.
When you are done with the sign-up process, you can log in to the member dashboard and start looking for deals you are interested in. You can also just install the Chrome extension if you prefer an easier way to avail of deals.
Can you get support?
If you have any questions about the site or your account, you can check out the FAQ page first. It discusses some of the basic topics you need to know. It's not as comprehensive as you might have hoped, so there's a good chance you'll need to get in touch with their support team if you have any questions.
Fortunately, the site does offer a couple of convenient ways to do that. You can submit a support ticket through the FAQ page, or you can just use the contact form provided by the site. To do the latter, just click the Help button found in the lower right-hand corner of the site, and click Contact Us.
Overall, I would say the site does provide decent support to its members since it offers a couple of ways for you to contact their support team.
Final Verdict
RebateKey is a legit cashback site that will allow you to earn cashback rewards from the deals it offers. It has a couple of good features, but it also has a few limitations you need to consider.
Let me conclude this review with a summary of its pros and cons to give you an overview of what the site has to offer. Then you can decide if this is a good fit for you or not.

Pros:
Offers payment via PayPal
No payout threshold
Offers a good number of deals from popular retailers

Cons:
Doesn't have a mobile app
Withdrawal of earnings via PayPal or check involves certain fees
Poor referral program
In my opinion, if you shop online frequently and you are eligible to join RebateKey, you should join this site if you want to earn cashback rewards. It offers decent cashback rates, plus it has a lot of deals available. You can potentially earn a decent amount from it.
You just have to be patient because it will take 35 days before the reward will be credited to your account. But that's how cashback sites/apps work, so it's not unusual, in my opinion.  
But if you are looking to earn without spending a single dime, I recommend you check out the top survey and GPT sites in your country instead. The sites on this list all have good earning potential, so you'll be able to earn a decent amount without buying anything.
Plus, you'll definitely find a site you can join regardless of where you live.
If you have any comments, questions, or have any experiences with RebateKey yourself, I would love to hear from you in a comment below.