If you are looking for ways to save money, there are plenty of sites you can join. One such site is called RetailMeNot and it promises you will be able to get all the best deals and offers by using their platform.
But how good is it really? And is it even legit or is it a scam?
Well, this RetailMeNot review will take a closer look at what their platform has to offer so you can determine if it is legit or not, and also so you can decide if it is worth joining.
It will check everything the site has to offer like how they handle their support, whether or not you can use it on a mobile device, and a lot more. So, let's go ahead and start the review.
What is RetailMeNot and what does it offer?
RetailMeNot is a platform that will allow you to save money by availing of cashback offers, discounts, and voucher codes. So, technically speaking, RetailMeNot is a cashback site.
And yes, RetailMeNot is indeed a legit cashback site that will reward you for availing of their cashback offers, among other things.
Now, let's take a closer look at the opportunities they offer that will allow you to save money so you can see if it then will be worth it or if you should join other sites instead.
Option 1 – Cashback offers
One way you'll be able to save money is by availing of their cashback offers. If this is your first time hearing about cashback offers, they are basically offers that will allow you to earn back a percentage of the amount you spend on a purchase from one of their partner stores.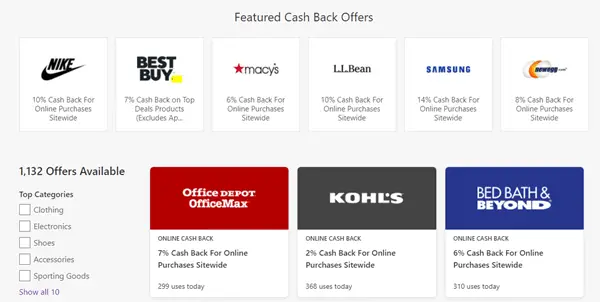 When you log in to their site, you will be able to get access to their cashback offers by clicking on the Categories button at the top of their dashboard and hitting Cash Back. You will then see all the cashback offers you can avail of.
To avail of a cashback offer, simply choose which store you want to buy from and click it. Then, you will see the requirements to avail of the cashback as well as the Shop Now button. It is important to take note of the requirements and make sure you meet them all.
Once you've taken note of the requirements, you can click the Shop Now button and it will take you to the website you will shop from.
Simply complete the purchase like you normally would. As long as you click the Shop Now button on RetailMeNot, the site will be able to track your purchase and award you with the cashback.

Now, there's also another way you can avail of their cashback offers.
If you are using Google Chrome, you can install their extension called Deal Finder. Their extension will allow you to avail of cashback offers (and other discounts or codes, which I will discuss next) without having to log in to the RetailMeNot.com.
Once you've installed the extension and provided all the necessary information (like your RetailMeNot login details), you can simply go to an online store and go about your normal purchasing routine.
If that online store has a RetailMeNot cashback offer or deal, the extension will apply that cashback offer or deal automatically.
So, it really does all the work for you, which is a nice bonus. Now, as for the cashback reward, it actually takes around 45 days from the purchase date before it will be credited to your RetailMeNot balance. So, don't expect to receive the reward right away.
The reason for this is, the stores need to make sure your purchase was not refunded or returned before they hand out the commission.
Option 2 – Discounts and codes
The other way you can save money with RetailMeNot is by availing of the discounts and voucher codes they offer. When you log in to the site, you will immediately see all the deals available.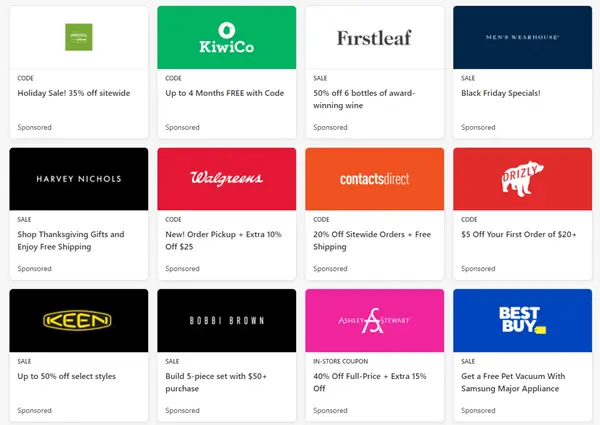 Some deals can be used for in-store purchases, while some deals can be used for online purchases. There are various deals available. Some will ask you to print out a coupon and then present it to the cashier upon check out.
Other deals will provide you with a code you can use to get a discount. There will also be deals that are similar to cashback offers because you'll have to click on a Shop Now or Go To Store button to avail of the discount.
Now, I did some digging about the discounts and codes they offer and found a surprising number of complaints claiming most of the discounts and codes they offer don't work.
RetailMeNot's explanation for this is that offers vary from merchant to merchant and they have no control on whether merchants will apply these discounts or codes.

It says in their terms of service that they are not responsible for providing any value for any coupons or deals and they are not responsible for the change of information, or that any merchant will honor or acknowledge any such coupons or deals.
So, there's a chance that you will really encounter this kind of issue when availing of deals and discounts because RetailMeNot doesn't give a guarantee that these deals and discounts will always be honored, which is a bit disappointing, in my opinion.
How do you get paid?
When you receive your cashback reward, it will be in US dollars and it will be credited to your RetailMeNot wallet. You can then withdraw it anytime using PayPal or Venmo, which is a mobile payment service owned by PayPal.
They do not indicate any threshold you need to reach to withdraw your earnings on their website, which leads me to believe that they don't have any payout threshold. You can simply withdraw your earnings anytime you want.
And if that is really the case, then their payment system is very convenient, in my opinion. I also like the fact that they offer PayPal as a payment method because it is a convenient payment gateway.
If you are looking for more sites that pay via PayPal, I suggest you check out the top sites that pay via PayPal.
How much money can you make?
With a cashback site like RetailMeNot, the amount of money you can make will mostly depend on how many cashback offers they have and how high their cashback rates is.
Ideally, a good cashback site has many cashback offers you can choose from so that there is a big chance you can find the products you were going to buy anyway.
And in my opinion, RetailMeNot does have a good number of cashback offers to choose from. In fact, during my testing, there were more than a thousand cashback offers I could choose from.
As for their cashback rates, it usually ranges from 2% to 10%, which is a decent rate, in my opinion. So, I would say they have decent earning potential for their cashback offers because you'll be able to earn back a decent amount from them.
The only problem is, this is really the only guaranteed way you'll be able to earn from the site. As mentioned earlier, there's no guarantee that the discounts and codes they offer will be honored.
So overall, I would say their earning potential is quite low because they offer limited earning opportunities.
Can you use it on mobile?
RetailMeNot has a mobile app you can download so you can avail of discounts, codes, and cashback offers even from your mobile device. And the good thing is, their app is available for both Android and iOS devices.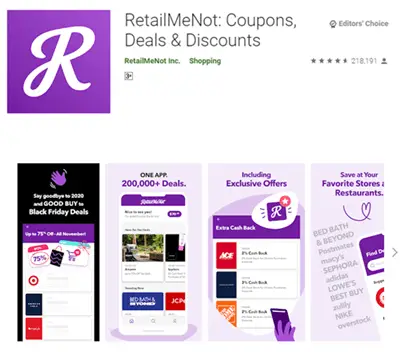 However, their app is not available in all countries. If the app is not available in your country, you can still access their website from a mobile device using a web browser.
Fortunately, their site is also mobile-friendly, so you shouldn't have a hard time navigating on it and reading all the content.
Who can join RetailMeNot?
You can join RetailMeNot regardless of where you live. You will be able to sign up as a member by providing your own login details or by using your Google, Apple, or your Facebook account.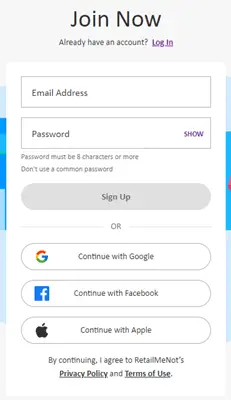 Once you are done with their registration form, all you have to do is confirm your membership by clicking the confirmation link that will be emailed to you.
But, even though RetailMeNot is available globally, the offers and discounts they have are mostly focused towards stores found in the US.
So, you won't be able to avail of offers that are exclusive to US residents (especially the in-store discounts). That's why if you don't live in the US, this site won't really be very beneficial for you.
Can you get support?
One thing I noticed about RetailMeNot's site is, although it looks gorgeous, there seems to be some information lacking. For example, as I mentioned earlier, it really isn't clear if they have a payout threshold or not.
They don't even specify which countries their site is available in. So, as a member, you are left with mostly assumptions, which isn't good, in my opinion.
They do have a FAQ page that discusses most of the basic topics, but as I've said, I wish they were a bit more transparent on certain things.
The good thing though is, they seem to be pretty responsive when it comes to addressing issues that members face. Not a lot of sites respond to customer reviews, but they seem to be doing that pretty consistently.
Plus, they also have a contact form you can use if you want to get in touch with their customer service. That's why overall, I would say they have a decent support system in place.
Final Verdict
RetailMeNot is a legit cashback site that will give you access to cashback offers, deals, discounts, and voucher codes to help you save money. It certainly has a couple of good features but it also has a few drawbacks you need to consider.
Let me finish this review with a summary of its pros and cons to give you a clear overview of what the site is all about so you can decide if it is really worth it or not.

Pros:
Has plenty of cashback offers
Offers payment via PayPal
Has a mobile app you can use

Cons:
Limited earning opportunities offered
There's no guarantee the discounts and deals they offer are always honored
Their site is not very transparent about some important details
Overall, I would say RetailMeNot is not a bad cashback site. However, they aren't also that good. There are better cashback sites out there. The fact that they offer deals and discounts that aren't guaranteed to be honored is what turned me off about this site.
I would only recommend you join this site if you really need to join another cashback site. Otherwise, your time is better spent somewhere else.
If you are interested in sites where you can earn without having to purchase anything, I recommend you check out the top survey and GPT sites in your country instead. The sites on this list all have good earning potential and they will allow you to earn without having to spend a single dime.
Plus, you'll be able to find a site you can earn from regardless of where you live.
If you have any comments, questions, or have any experiences with RetailMeNot yourself, I would love to hear from you in a comment below.