Are you looking for an app that will allow you to earn cash or crypto for free?
If so, there's an app called RevCash that claims it's a great way to earn crypto and various prizes.
However, before you go and download this app, I highly suggest you read this RevCash app review, so you will know if it is worth using or not. In this review, you will get a detailed inside look so you will know exactly what to expect from the app.
Then you can properly figure out if it is the right opportunity for you or not, so let's go ahead and examine everything RevCash has to offer, shall we?
What is RevCash, and what does it offer?
RevCash is essentially a GPT (Get-Paid-To) app that will reward you for completing short tasks. It is indeed a legit app since you will really earn rewards for doing the tasks. However, this doesn't automatically mean the app is worth your time.
To find out if you should use this app, you must first understand how it works, so you can get a clear picture of how much time and effort is needed to earn from it. The video below explains exactly how the app works and gives you an inside look. You can also read the full details below the video.
Recommended: Check Out the Top Survey Apps
Option 1 – Offerwalls
One way to earn from RevCash is to work on the offerwalls found inside the app. In case you don't know, an offerwall is an in-app/site advertising opportunity that is designed to promote certain apps and websites. To earn from offerwalls, you just have to pick an offer you want to work on.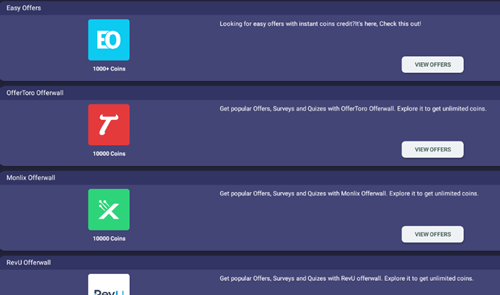 These paid offers are the short tasks I mentioned earlier. Usually, these paid offers will ask you to answer a survey or quiz, download a mobile app, play a game, or sign-up as a member of a certain website. Each offer will have a set of instructions you need to follow.
You need to make sure you follow all the steps/requirements provided to complete the offer and earn the reward. If you miss even just one step, you will not be able to earn the reward. That's why you need to make sure you read the instructions carefully first before you start working on an offer. When you complete an offer, you'll receive a certain number of coins as a reward.
While I was testing the app, there were a decent number of offerwalls available, so you will most likely not run out of ways to earn rewards.
However, the rewards from the paid offers are actually quite low compared to other GPT apps and sites, so it will take a lot of time to earn a significant amount from this earning opportunity (more on the full earning potential later).
Option 2 – Paid Surveys
RevCash also has an exclusive section for paid surveys. If you've been a member of a survey site or app before, then this opportunity will be very familiar to you.
The paid surveys found inside the app work the same way as the paid surveys from other GPT sites/apps or even survey sites/apps.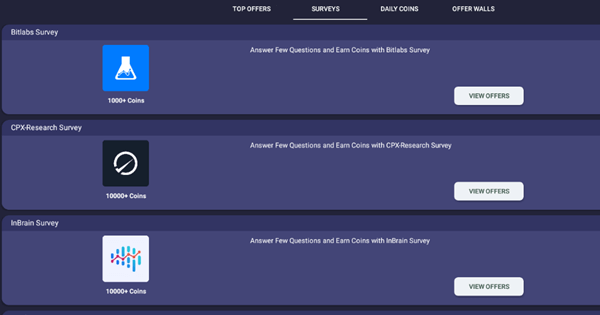 You'll have to go through a qualifying process first to find out if you are the right person to answer the survey. If you fail to qualify, you will not be able to proceed to the actual survey. If you do qualify, you get to answer the survey to earn the reward.
There's a decent number of surveys available, but just like the paid offers from offerwalls, they don't pay that much. Just like paid offers, you'll also receive a certain number of coins for completing surveys.
Option 3 – Watching Videos
You can earn more rewards by watching videos. This earning opportunity can be found in the Daily Coins section of the app (refer to the photo below).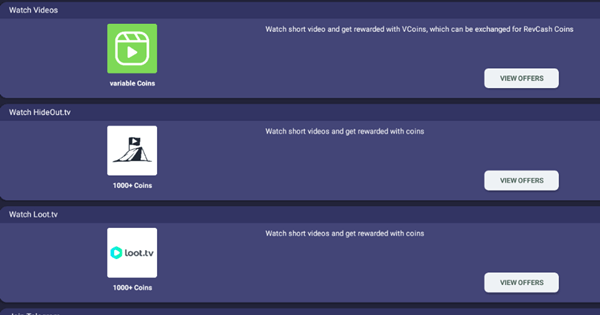 You can earn small rewards by watching videos from Hideout.tv, and Loot.tv. The idea behind this type of earning opportunity is that you'll actually get paid to watch the ads that are placed in the videos you will be watching.
The videos you will be watching don't really matter. It's the ads that will be shown when the video is playing that will allow you to earn rewards. Just keep in mind that the rewards you will earn from this earning opportunity will be quite small, so I suggest you only work on this when you don't have anything else to do on the app.
You will also earn coins from this earning opportunity, just like all the other earning opportunities the app offers.
Option 4 – Referral Program
Lastly, you can earn rewards passively through RevCash's referral program. You can invite other people to use the app by sharing your invite link with them. When they click the link and download the app, they will become your referral once they sign up as a member.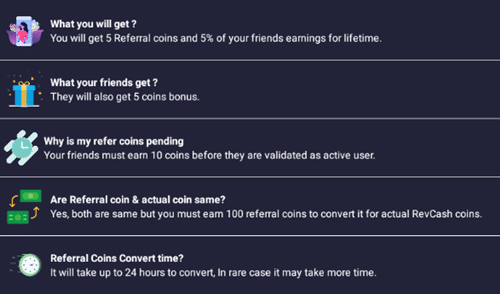 When they sign up, you will receive 5 coins as a reward. However, you'll earn additional rewards when your referral earns. You see, you will receive a 5% commission every time your referral earns coins using the app. It's not a very high rate, but at least it's a passive form of earning.
You also have to keep in mind that your referral must become a validated user for you to earn all the rewards the referral program offers. To do so, they must first earn 10 coins from offers, surveys, and videos. That's why it's important only to invite people who are really interested in earning from the app, which is a tough ask, in my opinion (more on this later).
Recommended: Check Out the Top Survey Apps
How do you get paid?
As explained above, you'll earn coins from all the earning opportunities the app offers. But the question is, what can you do with the coins you've earned? Well, you can exchange them for various rewards.

As you can see in the photo above, you'll have the option to convert your coins to cash via PayPal, or a prepaid Visa card. You can also convert your coins to Bitcoin or LiteCoin. There are also other payment options available depending on the country you live in.
The number of coins required to redeem a reward will depend on the payment option you choose. For example, if you choose PayPal as your payment method, you need to earn at least 500 coins to make a $5 PayPal withdrawal.
If you choose to convert your coins to Bitcoin, you'll need to earn at least 2,000 coins. This is equivalent to $20.
Overall, the payment system of RevCash is relatively straightforward, and I like the fact that it offers convenient payment methods like PayPal and crypto. If you are interested in more apps or sites that offer a convenient payment method, I recommend you check out the top sites that pay via PayPal.
How much money can you make?
The amount you can earn from RevCash will depend on how active you are as a member of the app. As mentioned earlier, you basically won't run out of things to do to earn rewards from the app. But as I've also explained earlier, the app doesn't pay that well compared to other GPT apps and sites.
You'll practically have to complete hundreds of offers or surveys just to earn a decent amount from this app, which is why I would say the earning potential of this app is bad. In my opinion, your time will be better spent on apps or sites with higher earning potential.
Can you use it on a desktop?
RevCash is a mobile-only platform, so you will definitely need a mobile device to earn from this app.
However, the app is only available for download on Android devices, so if you are an iOS user, I recommend you check out the best money-making apps for iOS instead.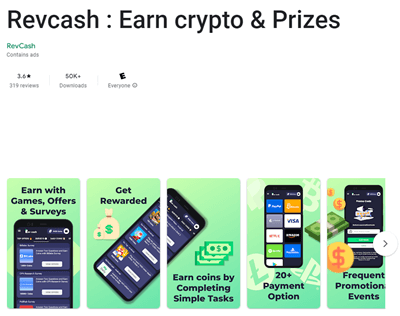 As for the app, it is relatively easy to use, so you will not have a hard time getting used to how it works. You also won't encounter any annoying pop-up ads while using it, which is good, in my opinion. The overall user experience it offers is fairly decent, which is what you want from a mobile app of this kind.
Who can join RevCash?
From what I can tell, RevCash is available more or less worldwide. To sign up, you have to download and install the app first.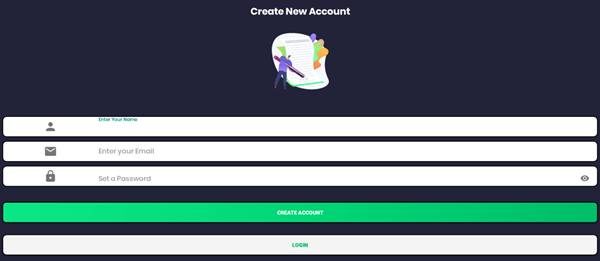 Then when you open the app for the first time, it will take you through the registration process. Simply fill out the sign-up form and submit it. Once you've done that, you will be logged in to the app, and you can start earning.
Can you get support?
If you have any questions about the app or your account, you can check out the Support section of the app first. It discusses some of the basic topics you need to know about the app, but if you can't find the answers you are looking for, you'll have to get in touch with their support team.
The problem is that the app doesn't have a contact form you can use to submit your inquiry. Fortunately, I was able to find the email address you can use to contact support. You can send your inquiry to [email protected] instead if you have questions about your account or the app.
Overall, I would say the app does provide the minimum required support to its members since it offers a way for you to get in touch with their support team. That being said, I do wish they would provide a contact form on their app, so people won't have to scour the internet to look for their contact information.
Final Verdict
RevCash is a GPT app that will reward you for completing short tasks. It has a couple of decent features, but it also has some glaring disadvantages you need to take into account.
To finish this review, let me summarize its pros and cons to give you an overview of what RevCash has to offer. Then you can decide if this is an app worth using or not.

Pros:
Offers payment via PayPal
Available more or less worldwide

Cons:
Very low rewards
Only works with Android devices
In my opinion, RevCash is not an app worth using for the sole reason that it doesn't pay well. You will have to invest a lot of time before you can earn a decent amount from this app. There are simply many apps that offer better earning potential than RevCash.
That's why if you are looking to earn extra cash, I recommend you check out the top survey and GPT sites in your country instead. The sites on this list all have good earning potential, so you will be able to earn a decent amount in a short amount of time.
Plus, most of these sites are mobile-friendly or have an app you can use, so you can still use your mobile device to earn rewards conveniently.
If you have any comments, questions, or have any experiences with RevCash yourself, I would love to hear from you in a comment below.