Rewardr is an app that claims you can earn cash by playing games and answering surveys. It sounds like a good deal because it offers an easy way to earn.
However, if you are interested in using this app, I strongly suggest you read this Rewardr review before you make any decision.
I'm always looking for ways to earn extra money from apps and websites and I have tested hundreds of them over the years to find out if they are really worth it or not. I have also tested this app thoroughly to find out exactly what it offers.
In this review, I will talk about whether it is legit or if it is just a scam. I'll also lay out all the features it offers. That way, you can make an informed decision after reading it. So, without further ado, here's what Rewardr has to offer.
What is Rewardr and what does it offer?
Rewardr is a Get-Paid-To (GPT) app that will reward you for completing offers. It is indeed a legit app since you will really get paid once you complete an offer.
But the question is, is it worth it? Well, the first step to answering this question is to understand how the app works. That way, you can properly gauge how much time and effort you need to invest in this app.
So, let's go ahead and take a closer look at the earning opportunities it offers.
Option 1 – Offerwalls
Offerwalls are a very common earning opportunity offered by GPT sites and apps. In case you don't know what an offerwall is, it is an in-site/app advertising platform that will allow you to earn by working on paid offers that are usually designed to promote another mobile app or a website.
These offers will ask you to play mobile games, answer quizzes and surveys, sign up for free trials, sign-up to websites, and more. But during my testing, the most common offers I could find on Rewardr were those that will ask you to play mobile games.

The first thing I noticed while testing the app was that they offered a good number of offerwalls. That's usually a good thing because that means you have a lot of opportunities to earn rewards. There were 17 offerwalls available when I was doing the testing.
That's on par with most of the popular GPT sites and apps today. Now, to start earning, just press any of the offerwalls listed. Then, you'll see a list of the paid offers available for that offerwall.
Just press the offer you are interested in, and you will see the full details of what you need to do to complete it. You will also see the reward you will receive for completing it.
Before you start working, I would recommend you read the instructions carefully and understand what the offer is asking you to do. I can't stress this enough because if you miss even just one step, you will not be able to complete the offer, and you will essentially be wasting your time.
Most people who complain that they weren't paid when they completed an offer missed a step or two. So, read and understand the offer before you start working.
After you've completed the offer, you will receive a certain number of points as a reward. Later on, I will discuss what you can do with the points you've earned.
Option 2 – Daily check-in
Once a day, you can claim free points just by logging in and pressing the "Daily Check-In" button.

When you log in to the app, just scroll all the way down to find the daily check-in button. Simply press it, and you will receive one point. The reward isn't much, but it only takes a second, so I would say it's still a good opportunity.
Option 3 – Referral program
You can also earn additional rewards through Rewardr's referral program. The idea is very simple. You invite people to use the app by sharing your invite link.

Once they click the link, install the app, and register as members, they will become your referral. Then, after they complete their first paid offer, you will earn $0.1 as a reward.
It's a very simple way to earn, but you have to make sure the people you invite are really interested in using the app.
I do have to say that the reward is very low compared to other referral programs, especially since there's an added condition that your referral must complete a reward.
Normally, based on my experience, if the site or app will ask the referral to do something before they reward you, you would at least earn maybe around $1 to $2. That's why I would say this kind of opportunity is not very profitable. In my opinion, it doesn't incentivize you to spend time inviting people to join.
Recommended: Check Out the Top GPT Sites
How do you get paid?
As explained earlier, you will earn points for every offer you complete. Then, you can use the points you've accumulated to redeem a reward.

You can convert your points to cash via PayPal. The conversion rate is 100 points = $1. To withdraw your earnings, you'll only need to have at least $1 in your account. That's a very low payout threshold, in my opinion.
You can also withdraw your earnings via Paytm or Google Pay. However, these options are only available in certain countries. Your withdrawal will usually be credited to your account within two to three business days.
The payment system of Rewardr is relatively simple, and I like the fact that it has a very low payout threshold because you can withdraw your earnings a lot quicker. If you are interested in more sites that have a low payout threshold, I would recommend you check out the fastest paying sites as well.
How much money can you make?
The amount of money you can earn from Rewardr will mostly depend on how much time you are willing to spend on it. As I've mentioned earlier, Rewardr does have a lot of offerwalls, so you will most likely not run out of opportunities to earn every day.
Now, as for how much money you can earn for every offer, it will be around $0.1 to $0.3, which is not that high, in my experience. But, as I've said, there are plenty of ways to earn, so you'll be able to earn regularly.
Overall, I would say the earning potential of Rewardr is pretty decent. You just need to be very patient to earn a significant amount because they don't pay that well.
Can you use it on a desktop?
Rewardr is a mobile-only platform, so you will need to use a mobile app to earn from it.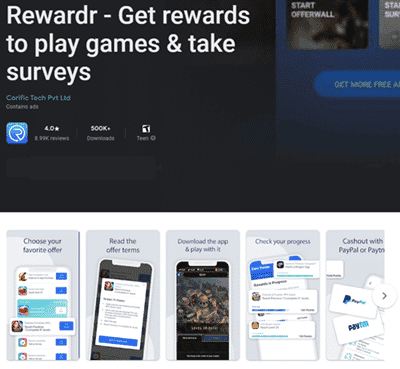 As for the app, it is only available for Android devices. If you are an iOS user, this app is not for you. I suggest you check out the best money making apps for iOS instead. The app is relatively easy to navigate, and you won't encounter any pop-up ads when using it, which is a good thing, in my opinion.
There are a lot of GPT apps that are very spammy nowadays, so it's good that this isn't one of them.
Who can join Rewardr?
Rewardr is available worldwide. You'll be able to sign up as a member regardless of where you live. Just make sure you have a PayPal, Paytm, or Google Pay account so you can withdraw your earnings.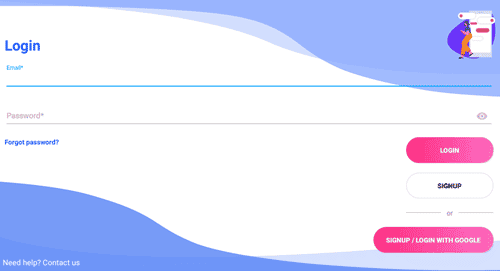 To register, you have to download and install the app first. Then, you can fill out the sign-up form, or you can use your Google account to register. After you've done that, you can now log in to the app and start earning. That's how easy their sign-up process is.
Can you get support?
If you have any questions about the app or your account, you can check the FAQ page first. It discusses most of the basic features of the app. They also have a tutorial video on the common reasons why your points are not credited. If you are interested in this app, I highly recommend you watch this video.
Now, if you can't find the answers you are looking for, you can just get in touch with their support team via email. You can send your inquiry to [email protected].
Overall, I would say Rewardr has a decent support system in place for its members because it offers a convenient way for you to get assistance in case you encounter any issues or if you have any questions. I also like the fact that they have a tutorial video.
Final Verdict
Rewardr is a legit GPT app that will allow you to earn by completing offers. It has a couple of good features to offer, but it also has a few limitations you need to consider.
Let me finish this review by summarizing its pros and cons to give you an overview of what it has to offer. Then, you can decide if it is truly worth it or not.

Pros:
Offers a passive way of earning extra cash
Payment via PayPal is available
Available globally

Cons:
Limited earning opportunities
High payout threshold
The app consumes more battery charge, so you will have to charge your device more than you're used to
You have to install the app manually
Rewardr is a decent app, in my opinion. You can earn some extra money from it if you are patient enough. It also offers PayPal as a payment option which is a very convenient payment method. I also like the fact that it has a low payout threshold.
But, in my opinion, it is best used as a secondary app to earn from because of the low rewards it offers. You will need to complete a lot of offers before you'll be able to earn a significant amount from this app.
If you are looking for a primary way to earn extra cash, I would recommend you check out the top survey and GPT sites in your country instead. The sites on this list all have good earning potential so you'll be able to earn a decent amount in a relatively small amount of time.
If you have any comments, questions, or have any experience with Rewardr yourself, I would love to hear from you in a comment below