Rewards Bunny is a site that claims you can shop and earn at the same time, so if you love to shop online, this might be a site worth considering.
The question is, is Rewards Bunny Legit or just a scam?
I will answer that question and more in this Rewards Bunny review. It will show you the full details of what the site has to offer so you can figure out if it is worth joining or not.
So let's go ahead and take a closer look at Rewards Bunny, shall we?
What is Rewards Bunny, and what does it offer?
Rewards Bunny is a cashback site that will let you earn rewards from shopping online. It is indeed a legit site since you can really earn cashback rewards from it. However, this doesn't mean the site is worth your time.
To determine if it is worth joining, you must first understand how it works. And the only way to do that is to examine the earning opportunities it offers so you can understand how much time and effort is required of you to earn. So here's how to earn from Rewards Bunny.
Option 1 – Cashback Offers
The primary way to earn rewards from Rewards Bunny is through its cashback offers. Once you become a member, you can avail of cashback offers in three ways.
First, you can log in to the website and immediately see all the cashback offers available. And let me just tell you right away that it does have a lot of cashback offers available, which is a good thing.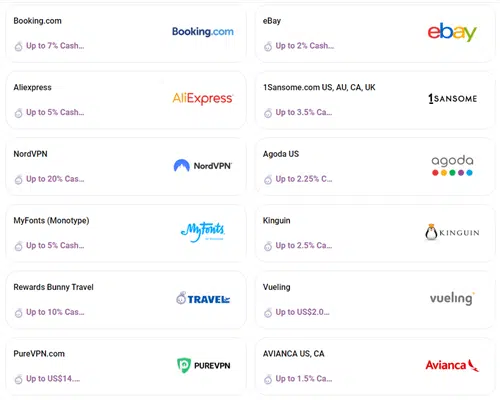 To start earning, just choose which store you want to shop from and click it. You'll then see the details of what you need to do to earn the cashback reward. Make sure to take note of the details before you shop. When you are ready, just click the "Shop" button and it will take you to the online store of the partner shop.
Simply complete the purchase like you normally would. Rewards Bunny will be able to track your purchase if you do it this way and award you with the appropriate cashback reward. Just keep in mind that the reward will be credited to your account after a month or so, depending on the refund policies of the partner store.
You see, the store will only grant the cashback reward once the purchase has cleared the refund period. They don't want to pay you and then later find out that you returned the item you bought and asked for a refund. Then they will end up losing money instead.
If you don't want to keep logging in to the site to avail of cashback offers, you can install the Rewards Bunny browser extension instead. The extension will do the work for you. Once it is set up, you can just go to any online store and shop like you normally would.
If the store has existing cashback offers for Rewards Bunny members, the extension will apply it automatically to your purchase. The extension will work with Google Chrome, Mozilla Firefox, Microsoft Edge, and Safari, so compatibility won't be an issue.
Lastly, you can use the mobile app (more on this later) to get cashback rewards from Rewards Bunny. If you love to shop using your mobile device, this will be a great option. Just open the app, and choose the store you want to shop from and press it.
You'll then be taken to the online store, and you just have to complete the purchase like normal. The reward will then be applied once the purchase is completed. But again, it will take more than a month or so for the reward to be credited to your Rewards Bunny account.
Option 2 – Tasks
Technically speaking, this opportunity will not allow you to earn money. However, these tasks will reward you with Carrots, which you can use to boost the cashback rewards you will get from cashback offers, so I decided to include it anyway since it can help you earn more.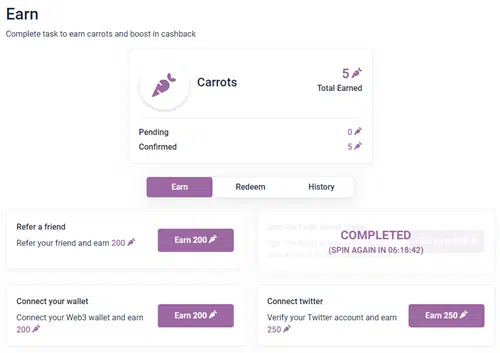 The tasks are very simple as you can see in the photo above. You can link your Twitter or Web3 wallet to earn carrots. You can also invite people to join the platform. Plus, you can play the spin-the-wheel game once a day to receive a random number of carrots.
But at the time of writing this review, you can't redeem the carrots to boost your cashback rewards. I'm not sure if they will implement it, and there's no info on their site about it, but you can still earn carrots immediately after sign-up.
Option 3 – Referral Program
Lastly, you can invite people to join Rewards Bunny and earn rewards at the same time. As explained earlier, you will receive carrots for doing so.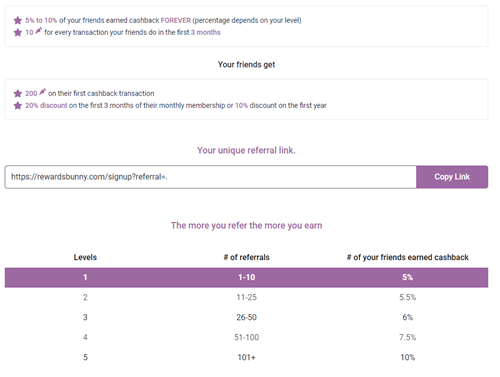 But aside from that, you can also earn money from this opportunity. All you have to do is share your invite link with the people you want to invite. They will become your referral when they click the link and register as a member.
You'll then earn a percentage of the cashback rewards they will earn. And as you can see in the photo above, the referral program is five levels deep, so if your referrals also invite people to join, you'll also earn from them.
It's a decent way to earn passively, in my opinion, but you have to make sure you invite people who are really interested in this cashback platform.
Recommended: Check Out the Top Cashback Sites
How do you get paid?
You will earn a certain amount for every cashback offer you complete. This amount will be credited to your account balance.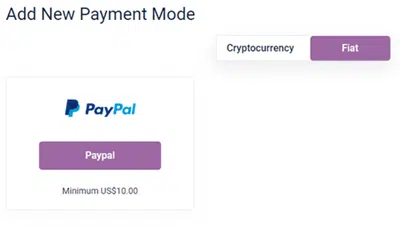 You then have two options to withdraw your earnings. As shown in the photo above, you can withdraw your earnings via PayPal once you've earned at least $10. You can also convert your earnings to cryptocurrency via Binance Pay or any mobile wallet. You also need to earn at least $10 to do so.
Overall, the payment system of Rewards Bunny is relatively simple, and I like the fact that it offers PayPal as one of the payment methods since it is one of the most convenient payment methods available today.
If you are interested in more sites that offer a convenient payment method, I recommend you check out the top sites that pay via PayPal as well.
How much money can you make?
The amount you can earn from Rewards Bunny will depend on how often you shop online. As I've mentioned earlier, there are a lot of cashback offers available, and most of them are from popular stores, so you'll most likely find offers you will be interested in.
As for the cashback rates offered, it is usually around 2% to 10%, which isn't that high, but in my opinion, it's still a decent cashback site since there are a lot of partner stores to shop from. This is how you can determine if a cashback site is any good.
If a cashback site doesn't have a lot of popular partner stores, then you'll most likely not find any interesting offers, and as a result, you will not earn anything. That is why I would say the earning potential of Rewards Bunny is relatively decent due to the fact that it has a lot of partner stores.
Can you use it on mobile?
As mentioned earlier, Rewards Bunny has a mobile app you can download so you can shop using your mobile device conveniently.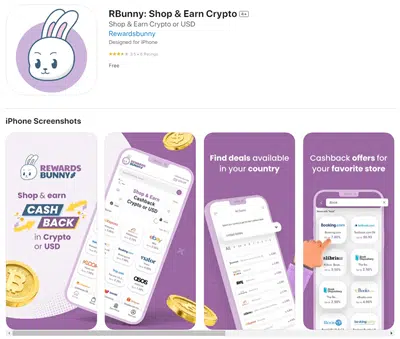 The app will work with both Android and iOS devices, so compatibility won't be an issue. The app is also relatively easy to use, which is all you can ask for from a mobile app, in my opinion.
By using the app, you don't have to sit in front of a computer if you want to shop online. You can comfortably shop online with your mobile device.
Who can join Rewards Bunny?
The site doesn't tell you exactly which countries it is available in, but from what I can tell, it is available more or less worldwide.
However, the number of partner stores you can shop from will depend on the country you live in. Based on my experience, the countries with the most shops available are the US, the UK, Canada, Australia, and some countries in Europe.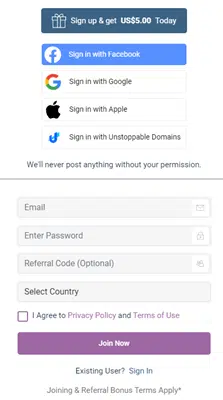 To sign up, you can fill out the sign-up form, or you can use your Google, Facebook, Apple, or Unstoppable Domains account. Once you finish the sign-up process, Rewards Bunny will send a confirmation email.
Just click the link in the email to confirm your registration. Once you've done that, you can start shopping to earn rewards.
Can you get support?
If you have any questions about the site or your account, you can check out the FAQ page, although I do have to say that it doesn't have a lot of useful information. The good thing, though, is that you can get in touch with their support team easily by using the contact form on the site.
Overall, I would say the site does provide decent support to its members since it offers a convenient way for you to request assistance. But I do wish they would provide more useful information on their FAQ page to lessen the instances you have to contact support.
Final Verdict
Rewards Bunny is a legit cashback platform. It has a couple of good features, but it also has a few drawbacks you need to consider.
Let me conclude this review by summarizing its pros and cons to give you an overview of what Rewards Bunny has to offer. Then you can decide if it is a good fit for you or not.

Pros:
Offers payment via PayPal
Has a decent number of cashback offers from popular stores
The app is user-friendly

Cons:
Low cashback rates
The FAQ page doesn't contain a lot of useful information
In my opinion, Rewards Bunny is a decent cashback platform. It has a good number of cashback offers from popular stores, so you will most likely find offers you will be interested in. The downside is that the cashback rates it offers are not that high compared to more popular cashback platforms.
But it does offer a convenient payment method like PayPal and crypto. I would recommend you join this site if you need another cashback site to earn from.
Now if you are looking to earn without spending a single dime, I recommend you check out the top survey and GPT sites in your country instead. The sites and apps on this list all have good earning potential, so you can earn a decent amount in no time. Plus, you don't have to buy anything to earn.
If you have any comments, questions, or have any experiences with Rewards Bunny yourself, I would love to hear from you in a comment below.