Is Samsung Global Goals worth your time? This is probably the question running through your mind right now. The good news is, you've come to the right place.
I've tested hundreds of ways to earn extra cash online and this is one of the apps that I have recently tested. I will share everything I have learned about this app in this Samsung Global Goals review so you will not exactly what to expect from it before you even install it.
Then, you can decide if this is the right opportunity for you to earn extra cash or not. So, let's go ahead and take a closer look at Samsung Global Goals, shall we?
What is Samsung Global Goals and what does it offer?
Samsung Global goals is a Get-Paid-To (GPT) app made by Samsung. It claims you can earn simply by viewing ads.
But is it worth it though?
Well, to figure out if this app is worth your time or not, you must first understand how it works. And the best way to do that is to examine the earning opportunity it offers.
I have, therefore, made a video that gives you an inside look and shows exactly how Samsung Global Goals works. You can also read all the details below the video.
Recommended: Check Out the Top Survey Apps
The earning opportunity – Viewing ads
The primary way of earning rewards from this app is by viewing ads. To do this, you just have to log in to the app and go to the earn section.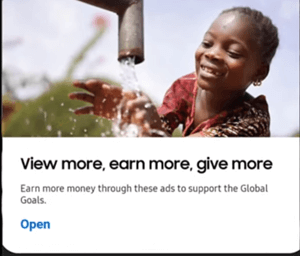 These ads will be in the form of a video and there are two ways you can watch them. The first one is through the app. Just press the section where you can earn and it will immediately show you the video ad you have to watch.
Typically, the video ad will last for about 30 seconds. You have to finish watching it. If you close the app before the timer of the video runs out, you will not earn the reward. When the close button appears on the top right corner of the screen, it is safe to close the video.
The other way to view ads is through your mobile device's lock screen. You have to enable this feature inside the app. When you've enabled it, then you don't have to open the app to view a video ad. Just go to your lock screen and you will see all the video ads you can watch to earn rewards.
To watch the ad, just press it and you will see the timer. Once the timer has finished, you will receive the reward. It will keep displaying video ads you can watch as long as there are still ads available.
I have tested a lot of apps that offer a similar way of earning and by far, this is one of the best, in my opinion. It's not annoying compared to other apps that display ads on the lock screen.
Recommended: Check Out the Top Survey Apps
How do you get paid?
You will earn a certain number of points for every video ad you watch. Consider this as the currency the app is using.
The term for their rewards will depend on where you live but they are all meant to represent what you've earned. And in some countries, it even just shows your local currency.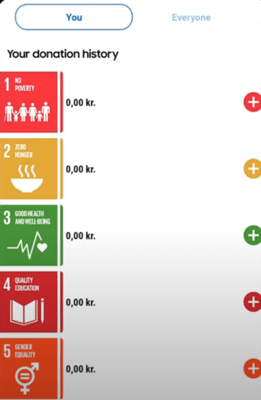 So, what can you do with your earnings? If you were hoping to earn cash from this app, then, unfortunately, you will be disappointed. The only thing you can do with the rewards you've earned is to donate them to any of the charities Samsung supports.
The Sustainable Development Goals, known as the Global Goals, is a plan to eliminate hunger, fight inequality, and clean up the planet. Samsung is partnering with this movement.
This is because the app was developed to support The Sustainable Development Goals which is the UN's plan to eliminate hunger, fight inequality, and clean up the planet. These are definitely noble goals, in my opinion, so they are worth donating to.
But as I've said, you can't earn from it for yourself, so it's definitely not for all. But if you are feeling generous, the good thing about this app is, that Samsung will match the amount you will donate to any goal/charity. So every charity associated with Samsung Global Goals will receive a significant amount.
You can also track all the donations you've made to the charities/goals that have partnered with Samsung Global Goals.
In the video earlier in this review, you can also see my payment proof when I donated, so you can see exactly how it works.
Now, if you are mainly just looking to earn extra cash for yourself, I would suggest you check out the top sites that pay via PayPal instead.
How much money can you make?
Based on my testing, the video ads you can watch to earn rewards will reward you with around $0.05.
That's actually significantly higher than what most other PTC (Paid-To-Click) sites and apps offer. Normally, you will only earn a fraction of a cent when viewing ads, so $0.05 is a significant amount to earn, in my opinion.

You can also further boost your earnings by enabling the Enhanced Ads feature of the app. By doing so, not only will you receive a higher reward, but the ads you will have to view will be related to your interests.
I suggest you do this to earn more. Plus, you might not get bored watching videos because most of them will be aligned with your interests.
But overall, while the app does pay a decent amount, the earning potential will still be quite low. You will literally have to watch hundreds of ads just to earn a significant amount.
Can you use it on a desktop?
Samsung Global Goals is a mobile-only platform. That means you will have to use a mobile device to earn. And since it is made by Samsung, then you can expect that it will work with all Android devices.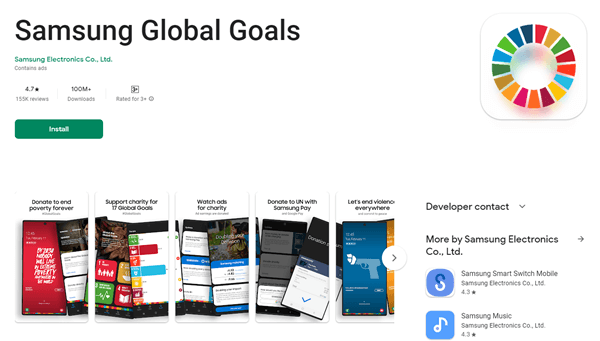 The app is relatively easy to use and the user interface is very intuitive. You will not have a hard time getting used to navigating it, which is all you can really ask for in an app like this, in my opinion.
Who can join Samsung Global Goals?
The site or even the app doesn't really tell you which countries it is available in. But I can definitely say it is available in many countries. The best way to find out is to search for it in the Google Play Store. If it is among the results, then that means you'll be able to use it. If it isn't, then you are out of luck.
To register as a member, simply download and install the app and then go through the registration process. Provide your login info and then you are done. You can now start earning. You can also use the other features of the app immediately.
Can you get support?
If you have any questions about the app or your account, you can check out the Help Center of the app. It discusses all of the basic topics you need to know about the app. It's pretty comprehensive so you'll probably find the answers you are looking for.
If you can't find the answers you are looking for, you can get in touch with the support team by using the contact form provided inside the app.
Overall, I would say that Samsung really has all the bases covered, which is to be expected because it is one of the leading companies in terms of mobile technology.
That's why I would say the app has a good support system in place for its members since you will easily be able to get assistance.
Final Verdict
Samsung Global Goals is a legit GPT app that will let you earn rewards by viewing ads. It has a couple of good features, but it also has some limitations you will want to take into account.
Let me finish this review with a summary of its pros and cons to give you an overview of what it has to offer. Then, you can decide if it is an app worth using or not.

Pros:
Offers a simple way to earn rewards
The app is user-friendly
Offers high rewards compared to other apps that offer the same kind of earning opportunity

Cons:
You won't be able to redeem cash or even gift cards with the rewards you've earned
If your goal is to donate to charity, then I would say you should go for this app. It supports some of the best causes in the world, in my opinion. But if you are just looking to earn extra cash or even gift cards, then this app is not for you.
It is really only designed to help charitable causes. That's why if you are looking to earn extra cash, I would suggest you check out the top survey and GPT sites in your country instead.
The sites and apps on this list all have good earning potential, so you'll be able to earn a decent amount on a regular basis. Plus, you will definitely find a site or app you can use regardless of where you live.
If you have any comments, questions, or have any experiences with Samsung Global Goals yourself, I would love to hear from you in a comment below.