There's an app called Shoppix that claims you will earn rewards simply by uploading a photo of your receipts. So, if you shop frequently, this sounds like a good app to use, right?
But is Shoppix App legit and really a way to earn, or is it just a scam that will waste your time?
This is a very crucial piece of information you need to know, so let me address this immediately.
Yes, Shoppix is indeed a legit Get-Paid-To (GPT) app that will really reward you for uploading photos of your receipt.
Now, the question is, is it really worth it or not? That's a whole different story, and to answer that, we need to consider a few things.
This Shoppix app review will reveal the full details so you will know exactly what the app has to offer so you can determine if it is really worth using or not.
So, let's go ahead and take a closer look at Shoppix.
What is Shoppix, and what does it offer?
As mentioned above, Shoppix is a GPT app that will reward you for uploading photos of your receipts. It's very similar to another app called ReceiptPal, with a few differences.
The one main difference between the two is that Shoppix offers other ways for you to earn rewards. And speaking of earning opportunities, let's now examine the earning opportunities it offers. This is the best way to understand how the app works and how much you can potentially earn from it.
So, here's how to earn rewards from Shoppix.
Option 1 – Uploading photos of receipts
The bulk of your rewards from this app will come from uploading photos of your receipts. The premise is really simple. You log in to the app and take a photo of your receipt. Just press the "Camera" button to start taking photos (refer to photo below).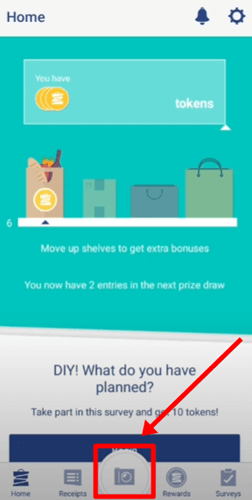 When taking photos of your receipts, you have to make sure all the items listed on the receipt are included in the photo. You also have to make sure the photo is not blurry, and the details are still somewhat readable.
You also need to make sure the date the receipt was issued is included in the photo. The reason for this is that you will earn bonus rewards for uploading the photo of the receipt on the same day it was issued. Also, receipts will not be approved if they are more than 7 days old.
As for the rewards you will get, every receipt you upload will be worth 25 tokens (the currency the app is using). But if you upload it the same day it was issued, you will receive an additional 5 tokens. So, all in all, you will receive a maximum of 30 tokens per receipt.
Once you've uploaded your receipt, it takes around 24 hours for it to be validated. When your receipt gets validated, it will be credited to your Shoppix account balance.
Take note that Shoppix will only accept receipts for goods or services paid for within the UK (including Northern Ireland).
Now, if you are wondering if you can also submit e-receipts, the answer is YES, you can. You can forward valid e-receipts for goods and services (including takeaways) purchased by you or any member of your household.
However, this is invite-only for select members. It used to be available for all members, but for some reason, they have changed this.
They do not explain more about which members they will invite to use this feature, so I cannot say what you need to do to get access to it, unfortunately.
You get 25 tokens per valid e-receipt with a 5-token bonus for forwarding on the same day as the purchase – the same as snapping paper receipts!
There are also bonuses for your first valid forwarded e-receipt and for each of the next 4 separate weeks, you forward a valid e-receipt in.
Option 2 – Surveys
For every receipt you forward (both physical and e-receipts), there's a chance you will trigger a survey. When I say trigger, what I mean is you will get invited to participate in a survey.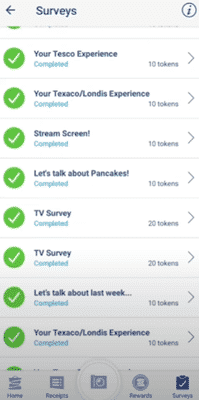 Every survey will be in a multiple-choice format. So, it's pretty easy to complete. The good thing about these surveys is that you will automatically qualify. You won't have to go through a qualification process like you normally would with surveys from paid survey sites.
So, if you get invited to answer a survey, that's a guaranteed reward, provided you complete the survey, of course.
For every survey you complete, you will receive a certain number of tokens (typically around 10 to 20 tokens). It will be credited to your Shoppix account balance.
Option 3 – Scratchcards
Scratchcards is another way to earn rewards from Shoppix. Think of this opportunity as a bonus for being an active member. You will receive electronic Scratchcards for completing surveys and snapping or forwarding receipts in consecutive weeks.
Shoppix will award one scratchcard for completing two consecutive weeks of receipt forwarding and two scratchcards for completing three or more consecutive weeks. Both winning and losing scratchcards will allow you to gain entry into a weekly prize draw with bigger prizes up for grabs.
As for what you will win with their scratchards, it will be around 0 to 50 tokens. It's not much, but at least it's something.
Option 4 – Weekly prize draw
As mentioned above, Shoppix also holds a weekly prize draw where you can win prizes. You can view the prizes by pressing the "See the prizes" button (refer to photo below).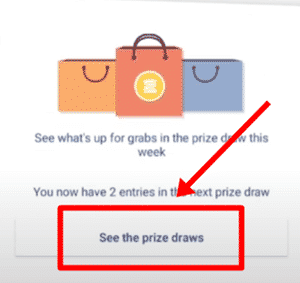 The prizes can vary from tokens to cash (the grand prize was £100 during my testing). The winner will be drawn every Monday at 8 am (GMT), and the recent winners are displayed in the rewards section.
This isn't really a sure way to earn rewards, but since you don't actually have to do anything special to join, you can just think of it as a nice bonus if you ever get lucky.
Recommended: Check Out the Top Survey Apps
How do you get paid?
As explained above, you will earn tokens for every earning opportunity you complete on Shoppix. You can then exchange the tokens you've earned for various rewards (refer to photo below).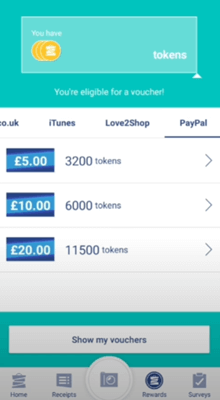 You can exchange them for gift cards from Amazon, iTunes, and Love2Shop. You can also choose to convert your tokens to cash via PayPal. The minimum amount you can withdraw/redeem is £5, and the maximum amount is £20.
The number of tokens required to redeem/withdraw your rewards will vary depending on the reward. For example, in the photo shown above, you will need 3,200 tokens to withdraw £5 into your PayPal account.
But as the amount gets higher, you will get better value for your tokens. So, it's wise to save up tokens until you are able to redeem the maximum amount. That would be the most effective way of using your token.
If you request a voucher, it should arrive within 2 hours. If you request a PayPal payment, it can take up to 7 business days.
The payment system is relatively straightforward, and I like the fact that the payout threshold is relatively low. If you are interested in more sites or apps that have a low payout threshold, I recommend you check out the fastest paying sites.
How much money can you make?
To be frank, Shoppix's earning potential is not that great. You won't earn a lot of money from it. Take note that you can only earn 30 tokens per receipt. To put it into perspective, that's roughly £0.01.
Plus, you can only earn for the first 30 approved receipts you've submitted in a week. So, there's a cap to how much you can earn per week.
That's why it will take quite a long time for you to reach their payout threshold, which actually makes their low payout threshold a bit irrelevant since you have to wait a long time to reach it, especially if you don't shop frequently.
But what I like about Shoppix is that you can actually turn something that you just typically throw in the trash bin into money. You just have to be patient enough to earn a decent amount.
That's why I would only recommend you use this app if getting receipts on a regular basis is possible or if you don't mind the long wait.
Can you use it on a desktop?
Shoppix is a mobile-only platform. So, you will need a mobile device to earn from this app. And considering the nature of how you can earn from it, you won't really need to use a desktop or a laptop.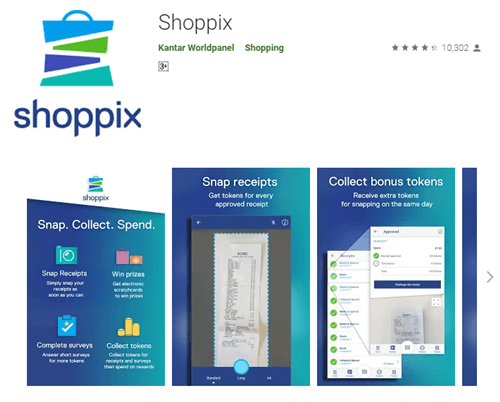 As for the app, it is available for both Android and iOS devices. So you won't have any problems with compatibility. And the good thing is that the app is very user-friendly. You will easily master how to use it.
Who can join Shoppix?
Shoppix is only available in the UK. So, if you don't live in the UK, then this app is not for you. To become a member, you have to be at least 18 years of age.
To sign up, just download the app and install it on your mobile device. Once it is installed, just open the app and go through the registration process, which is relatively straightforward.
When you finish the sign-up process, you can log in to the app and start uploading photos of your receipt. However, I would suggest you also set up your e-receipt forwarding details during your first log-in. That way, you can also start forwarding e-receipts right away.
However, there are so many great free platforms to earn from in the UK that you should only join if you really want to join as many platforms as possible. If you want to prioritize your time, there are just many better options, in my opinion.
Can you get support?
If you have any questions about the app or your account, I would suggest you check out the FAQ section on their website first. It's a pretty comprehensive FAQ page because it discusses most of the important topics you need to know about Shoppix.
But if you can't find the answers you are looking for, you can just email them at [email protected]. You can also get in touch with their support team through the app. Just go to the "Help" section.
Final Verdict
Shoppix is a legit GPT app that will reward you for uploading photos of your receipts. It has some good features, but it also has some limitations you need to consider.
Let me give you a summary of its pros and cons to finish this review so you can get an overview of what the app has to offer. That way, you can decide if this app is really a good fit for you or not.

Pros:
Offers a very easy way to earn rewards
Offers payment via PayPal
Their app is very user-friendly

Cons:
Limited earning opportunities offered
Low rewards
There's a cap to how much you can earn per week for uploading receipts
In my opinion, Shoppix is not a bad app to earn from, provided you set the proper expectations. As I've explained earlier, it's not an app where you will be able to earn a decent amount quickly.
But it does have its appeal. Since you will only be throwing your receipt in the bin anyway, why not earn from it before you throw it away, right? So, with that logic, I would say it can be a decent app to use, provided, of course, you are eligible to join. But as I've said, don't expect to earn a lot from it.
Now, if you are looking for primary ways to earn extra cash, I would instead suggest you check out the top survey and GPT sites in your country. The sites on this list all have good earning potential, and you won't have to wait that long to get paid.
Plus, you will definitely find a site you can join regardless of where you live.
If you have any comments, questions, or have any experiences with Shoppix yourself, I would love to hear from you in a comment below.