Do you frequently shop online? If yes, then there's an app called SocialGood that might be interesting for you.
This app claims you can earn cryptocurrency when you shop online. So, if you are a frequent online shopper and you want to get into the world of cryptocurrency, this might be your chance.
I say "might" because you first need to find out if it is even legit or if it is just a scam.
So, is Social Good legit and really worth it?
This SocialGood review will answer all these questions and more. I have tested the app, and I will share my findings, as well as my recommendations, at the end of this review. So, keep reading if you want to learn more about this app so you will know exactly what to expect.
What is SocialGood, and what does it offer?
SocialGood is a cashback app that will reward you for availing of their cashback offers and other earning opportunities.
And yes, it does reward you with cryptocurrency when you avail of its cashback offers. However, it is quite different than most other cashback apps I have tested, so you need to know exactly how it works to find out if it is the right opportunity for you or not.
Now, to get an idea of how the app works, we have to examine the earning opportunities it offers. That way, you'll know what to do to earn rewards. So, here's how to earn from SocialGood.
Option 1 – Cashback offers
The main way to earn from SocialGood is to avail of their cashback offers. To do this, you have to download and install the app (I will talk more about their app later). Then, just log in to the app, and you will immediately see all the shops that have cashback offers.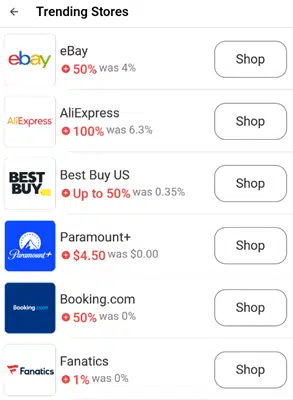 This is the important part of availing of cashback offers from SocialGood. You need to make sure you go through the app to get to the online store you will shop from. Because if you go directly to the store without going through the app, SocialGood will not be able to track your purchase, and it will not be able to award you with the cashback reward.
As for the exact process, it's actually pretty simple. Just press any of the stores you want to shop from, and you will be taken to that store. Before you can actually shop, SocialGood will display all the details for the cashback offers of the store. I suggest you read them first before shopping.
If your purchase from the store meets all the conditions, you will be eligible to receive a cashback reward. And just to make it clear, the reward you will receive will be SocialGood coins (SG). This is the app's own cryptocurrency. Later on, I will discuss what you can do with your SocialGood coins.
One thing you need to know is that the cashback reward takes about a month before it will show up in your SocialGood account. Your purchase needs to clear the refund period first before the app will actually award any cashback reward. That's usually how it goes with any cashback platform.
So, don't expect to receive your cashback reward immediately.
But one good thing about this option is that Social Good will give you access to deals on more than 1800 websites worldwide. Exactly how many of them you will have access to depends on the country you live in.
Just be aware that there are some additional requirements you need to live up to before you can start earning – I will describe this in the section "how much can you earn" a bit later in this review.
Option 2 – Referral program
The other way to earn from SocialGood is through their referral program. If you've been a member of other cashback apps/sites or even Get-Paid-To sites/apps before, then you will be very familiar with this opportunity.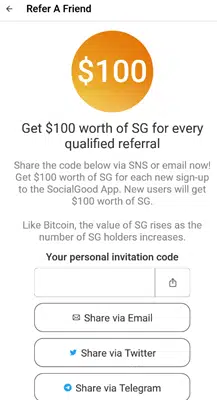 All you have to do is to share your invite code with the people you want to invite. Then, make sure to remind them to input the code when they register as a member of the app. When that happens, they will become your referral, and you will receive $100 worth of SG. Your referral will also receive the same amount as a bonus.
However, this bonus varies from time to time, so it might be different by the time you read this.
Also, before you receive the reward, your referral must make a purchase of a certain amount. This is to make sure the people you invite are really interested in the platform.
This opportunity is relatively simple to earn from, and the reward is even quite high for a referral program, which is kind of surprising, actually. So, it's really quite rewarding to get a lot of referrals. Also, I will include an invitation link at the end of the review so you can get your own joining bonus.
Option 3 – SG staking
Lastly, you can participate in the SG staking. If you don't already know, SG is their cryptocurrency, and staking is a method of investing cryptocurrency to earn a certain amount after a set period.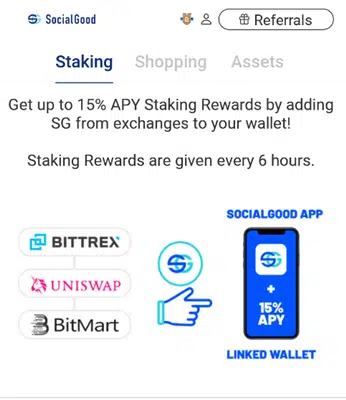 When staking SG, you can't really withdraw or add any amount until after the staking period is over. After the staking period is over, you can collect your staking rewards (up to 15% of the amount you placed on staking). Think of this opportunity as a passive way of growing your earnings on SocialGood.
Usually, what members do is, after they've earned SG from cashback offers and referrals, they place their SG for staking to increase their earnings further. You can also do that since it's a smart way to grow your earnings.
Recommended: Check Out the Top Cashback Sites
How do you get paid?
As explained above, instead of earning cash from cashback offers like you normally would with other cashback sites and apps, you will be earning cryptocurrency by SocialGood. And their crypto is also called SocialGood or SG as its abbreviation.
And since the app is using cryptocurrency, it means that you will also need a crypto wallet to withdraw your earnings. So, if you plan to become a member of SocialGood, you need a crypto wallet that supports SG since this is the only payment method they offer.
You can withdraw your SG to your crypto wallet anytime you want. You don't need to earn a certain amount to do so, like on most other platforms that offer this kind of earning opportunity.
Their payment system is relatively straightforward if you are already familiar with handling cryptocurrency. But if you aren't yet, I suggest you do your research first so you'll know what to do when it's time to withdraw your earnings.
However, SocialGood is planning to introduce a withdrawal fee at some point. When I first joined it, there was no fee like this, but now they are planning to introduce a 30% withdrawal fee if you move your SG tokens from inside the app to an external wallet.
This is a crazy high withdrawal fee, and I must admit I got quite disappointed when I read they were planning to introduce this, and I have not seen any other crypto-earning app with this high fees, so this is definitely something you need to consider.
Now, if you prefer to earn cash instead of cryptocurrency, I would suggest you check out the top sites that pay via direct bank transfer instead.
How much money can you make?
The amount you can earn from SocialGood will mostly depend on your shopping habits and how good you are at getting referrals.
The cashback rates are actually quite high, and they do have a lot of shows you can shop from.
And having a lot of partner stores to choose from will increase the possibility of that happening. But the number of stores depends on the country you live in, so I would say the earning potential of SocialGood isn't really that good overall.
But if your favorite online store is one of their partner stores, then you can benefit a lot from this cashback app (provided you are ok with earning cryptocurrency).
Just be aware that in a newer update, they have announced that they are also planning to introduce a registration fee of $100. So far, it has been possible to register for free, but it seems this will change, unfortunately.
Also, you need to activate your membership before you can start earning SG. To do this, you need to buy at least 200 SG (SocialGood's own crypto) and have them in a wallet connected to the app.
I think this will make it hard for the app to get a lot of new users as there are so many cashback apps you can use for free.
But this is something they do to try to secure the long-term value of their crypto, but it means that it is only an app you should use if you believe in the long-term potential of the project.
If you do, then it gives very good rates compared to many other similar options, but if you are looking to earn some extra cash here and now, you should use other cashback apps instead.
However, I had a bad experience when trying to activate my SocialGood account.
I followed the exact instructions inside the app and transferred money to get 200 SG according to their instructions. But I never received the SG.
I wrote their support about this, and their only reply was that their payment system had not detected my payment. And nothing they could do about this.
However, I never got my SG, and the crypto I transferred also seemed to be nowhere to be found. The support said that maybe I transferred to the wrong address, and they got lost. But I just copied the exact address they gave me and followed the exact instructions.
However, I have accepted that the money is lost. Luckily it was only around $7, so not a big issue. But it could have been a bigger amount, and just glad I did not try to get more SG.
So be careful which of the payment options you choose and test with a small amount if you decide to do this.
Can you use it on a desktop?
SocialGood is a mobile-only platform. So, you will need a mobile device to use it. Personally, I don't really have a problem with it being only a mobile-only platform since most people nowadays use their mobile devices to shop online.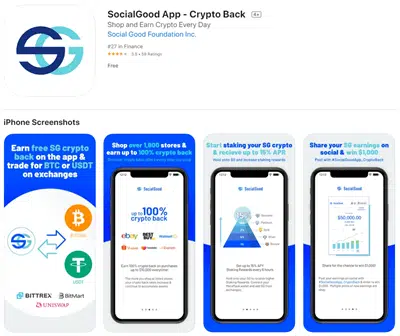 As for their app, it is available for download on both Android and iOS app stores. Their app is also very easy to use since the user interface is intuitive. You will easily get used to navigating the app. Overall, their app does provide a pleasant user experience, which is a good thing.
Who can join SocialGood?
SocialGood is available globally. You can sign up as a member regardless of where you live. The registration process is also fairly simple. All you have to do is download and install the app.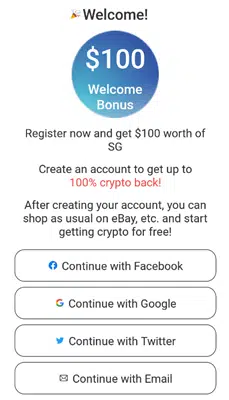 Then, when you open the app for the first time, it won't actually ask you to register. Instead, it will immediately take you to the cashback offers. But you can press the account icon on the upper portion of the app, and you will see the actual registration page (refer to the photo above).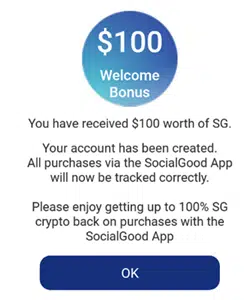 You can register using your Google, Facebook, Twitter, or your own email address. When you've done that, you will now be a verified member of SocialGood. Also, you will receive $100 worth of SG as a welcome bonus when you've made a purchase that costs a certain amount, which is actually a nice head start on your journey as a SocialGood member.
Just be aware that the joining bonus is subject to change, and it does change from time to time, so it might be different by the time you are trying to join.
When you've completed the registration process, you just have to select your region in your account settings, and then you can start shopping.
Can you get support?
If you have any questions about the app or your account, you can check out the FAQ page first. It is pretty comprehensive, and it covers most of the topics you need to know about the app.
If you can't find the answers you are looking for, you can sign in to the SocialGood Foundation support portal, which can also be accessed through the app. Then, once you are logged in, you can submit a support ticket.
As I mentioned earlier, I have been in contact with them, so they do reply. I was just not happy with the reply they gave me, but at least they got back to me.
Overall, I would say they have a decent support system in place for their members. I like the fact that they have a comprehensive FAQ page, but I do wish their contact form would also be accessible from their website.
Final Verdict
SocialGood is a legit cashback app that will reward you for availing of their cashback offers and using other earning opportunities. It has a couple of good features, but it also has some disadvantages you need to consider.
Let me wrap up this review with a summary of its pros and cons to give you an overview of what the app has to offer. Then, you can decide if you should go for it or not.

Pros:
High cashback rates
Their app is user-friendly

Cons:
Doesn't have a lot of partner stores
Doesn't offer any cash rewards
Has high withdrawal fee
Will start charging a registration fee
I never got the SG I bought
In my opinion, SocialGood isn't a bad cashback app, and when I first started using it, I thought it looked quite promising.
However, it isn't that great after having tested it for a while, and some of the changes they have made so they now, for example, charge a high withdrawal fee, makes it a less-than-ideal cashback app, in my opinion.
Also, the whole process of activating your membership is a bit complicated, especially if you are new to crypto. And I also lost a bit of money trying to activate my membership and, therefore, decided to just give up using the app.
But whether it is the right option for you or not really depends on your shopping habits and the rewards you prefer.
That's why I would only recommend you join this app if you are already using the stores it offers cashback offers for and believes the SG coin will grow in value over time. But if you are just looking to earn extra cash, I would instead suggest you check out the top survey and GPT sites in your country.
The sites on this list all have good earning potential, and almost all of them offer cash rewards. So, you'll have plenty of reward options to choose from.
If you have any comments, questions, or have any experiences with SocialGood yourself, I would love to hear from you in a comment below.