If you are looking to earn extra cash easily, there's an app called Streetspotr that claims you can earn by doing simple tasks. It sounds great, right?
Well, before you download this app, there are a few things you need to know. First, is this app even legit or is it just a scam? Before you join, you need to know if you will really get paid. You want to make sure you aren't wasting your time.
Secondly, if it is really legit, then is it worth joining or not? And to answer this question, you have to consider a few things. This is where this review comes in. This Streetspotr app review will tell you all you need to know so you can decide if it is really worth using or not.
So, let's go ahead and get started.
What is Streetspotr and what does it offer?
Streetspotr is a Get-Paid-To (GPT) app that claims you can earn by simply performing small tasks. It's quite similar to another app called BeMyEye. And yes, it is a legit app. But that doesn't really mean it's worth it.
In order to figure out if it is worth it or not, we first have to take a closer look at the earning opportunity it offers. That way, you can understand how this app works and you'll get an idea of how well you can earn from it. So, here's how to earn from Streetspotr.
The earning opportunity – Spots
The only way to earn from this app is by completing spots. This is what the app calls its tasks. Here's a short video explaining how it works.
To start earning, you have to make sure to enable your GPS on your mobile device. Once you've done that, you can log in to the app to find spots you can work on.
When you log in to the app, you will immediately see all the available spots you can work on. Just choose whichever one you want to work on and press it. You will then see the full details of the spot.
Usually, you will either have to take a photo of something (like a product or a location), buy a product and test it, or answer a short survey. Once you've completed what you have to do, you just have to submit your work. If you had to take a photo, you'll have to upload it on the details page of the spot.
Streetspotr will then review your work. It usually takes a maximum of seven days for them to finish the review. But sometimes, it gets reviewed faster. Once they approve your submission, you will receive the compensation (which will be in the form of your local currency).
Take note though that once you accept a spot, you will only have a maximum of 12 hours to complete it. The spot will be reserved for you and no one else can take it. If you are not able to complete it during that time, the spot will then become available for other members and you won't be able to re-apply for it.
As for the number of spots you can accept at any given time, it will depend on the StreetPoints you've earned. StreetPoints are like your reputation as a Streetspotr.
For every spot you complete, you will earn StreetPoints aside from the compensation. Here's a breakdown of how many spots you can reserve depending on your StreetPoints.
5 Spots with less than 300 StreetPoints
10 Spots with more than 300 StreetPoints
15 Spots with more than 500 StreetPoints
20 Spots with more than 1000 StreetPoints
So, when you start, you will only be able to reserve up to 5 spots at a time. But as time goes by, you can accept more spots.
That's why this app will become more profitable in the long run since you can reserve spots multiple times at any given time and therefore increase your chances of earning.
Recommended: Check Out the Top GPT Sites
How do you get paid?
The good thing about Streetspotr is, you won't have to reach a certain threshold to withdraw your earnings. So, you can withdraw your rewards as soon as Streetspotr confirms your Spot submission and credit the reward to your account.
The only way to withdraw your earnings though is via PayPal. I don't have any complaints about their payment method since I consider PayPal as one of the most convenient payment options around today. Plus, Streetspotr will also take care of the PayPal fees, so you can expect to receive the full amount when you withdraw your earnings.
The one thing I have a complaint with is that it will take up to 30 days for the payment to be credited to your PayPal account. It's quite a long wait, in my opinion. That's the one downside to their otherwise convenient payment system.
Now, if you are interested in other sites that offer a convenient payment option, I recommend you also check out the top sites that pay via PayPal.
How much money can you make?
The amount of money you can earn from Streetspotr will depend on your location. As for the spots, the compensation you will receive will range from €2 to €5, which is a decent rate, in my opinion.
As for spots that will require you to purchase a product, Streetspotr will actually reimburse you for the money you spent to buy the product (provided of course you successfully complete the spot). As you can see, they are quite generous with their rewards.
So, the only real thing that can affect your earnings on this app will be your location. The truth is, there will be locations where you won't find any spots and there will be locations where there are a lot of spots available.
In my experience, major cities offer plenty of spots while rural areas will only offer a few (if any). So, if you live in a major city, chances are, you will be able to earn a decent amount from this app. That's really where you can get the most out of Streetspotr.
But if you live in a rural area, there's are fewer chances to earn. Sometimes, you won't see any spots. That's really the nature of this kind of app, so there's no avoiding it.
That's why I would say the earning potential of this app will only be great if you live in a major city. Otherwise, you are better off finding another way to earn extra cash.
Can you use it on a desktop?
Streetspotr is a mobile-only platform. And based on the earning opportunity it offers, you won't really need to use a computer to earn from it.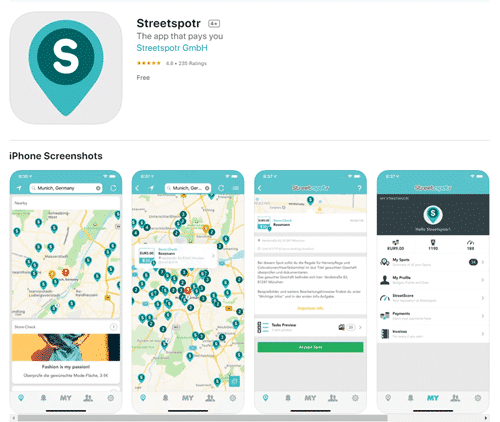 As for their app, it is compatible with both Android and iOS devices. So, you won't have any problems with compatibility. The app is also very user-friendly. You won't have a hard time getting used to how it works. You just need to make sure your mobile device has a stable internet connection when working on spots.
Who can join Streetspotr?
Technically speaking, you will be able to register as a member of Streetspotr regardless of where you live. However, spots are only available in Europe. So, if you don't live in this region, then this app is not for you.

To become a member, you have to be at least 18 years of age. Then, you'd have to download and install the app first. For the sign-up process, you can use your Facebook account or you can sign up using your email.
Once you are done with the sign-up process, you have to confirm your registration by clicking the verify link that will be emailed to you. Once you've done that, you can start working on Streetspotr.
Can you get support?
If you have any questions about the app or your account, you can first refer to their Help page. It has a comprehensive FAQ page that discusses most of the important topics you need to know about the app.
But if your question can't be answered by their FAQ page, you can send your inquiry to their support team using the contact form provided inside the app or on their website.
To get to the contact form through the app, just go to the Help page and click the message icon on the upper right-hand corner. You can also just email them directly at [email protected].
Final Verdict
Streetspotr is a legit GPT app that will pay you for doing simple tasks. It has its advantages but it also has some limitations you need to consider.
Now, let me wrap up this review with a summary of Streetspotr's pros and cons so you can get an overview of what the app has to offer. Then you can decide if this is an app that is really worth using or not.

Pros:
Offers an interesting way to earn
Offers payment via PayPal
No payout threshold required to withdraw earnings

Cons:
Limited earning opportunities offered
Availability of earning opportunity will depend on your location
Slow payment processing
Streetspotr offers a fun and interesting way to earn, and it also offers a convenient payment method. But, in my opinion, it will only be a decent app to join if you live in a major city. That's because you then will have plenty of opportunities to earn.
But if you live in a rural area, your earnings will be pretty limited since there won't be a lot of spots available. That's the one major downside of this app. And since it doesn't offer any other earning opportunity, you won't really be earning anything from it.
Now, if you are looking for good ways to earn extra cash regardless of where you live, I would suggest you check out the top survey and GPT sites in your country instead. The sites on this list all offer good earning potential and you can earn a decent amount regardless of where you live.
If you have any comments, questions, or have any experiences with Streetspotr yourself, I would love to hear from you in a comment below.