Tada (previously called ShopAtHome) is an app that claims you'll be able to earn rewards by shopping and scanning receipts.
But is it legit or a scam? This is an important concern, so let me address this right away.
Yes, Tada is a legit app since you will really earn rewards from shopping. But is it worth it though? Well, I've recently tested it to see if it is worth using or not, and I will share everything I have learned about it in this Tada app review.
That way, you'll know exactly what to expect before you even start using it. So, let's go ahead and take a closer look at Tada, shall we?
What is Tada and what does it offer?
Tada is a cashback platform that will let you earn rewards through cashback rewards. It used to be called ShopAtHome, but ever since the name change, it has become a completely different platform.
Also, if you are going to search Tada in your app store, you'll find another app that uses the same name.
This app is actually a ride-hailing app that is used by people in Singapore. So, make sure to download the right app (I will include a link to the app later).
Now, to fully understand what this app is capable of, we must examine the earning opportunities it offers. So, here's how to earn from Tada.
Option 1 – Cashback offers
One way to earn rewards from Tada is through cashback offers. Once you become a member of Tada, you have two ways to access their cashback offers.
You can log in to the app or use their browser extension.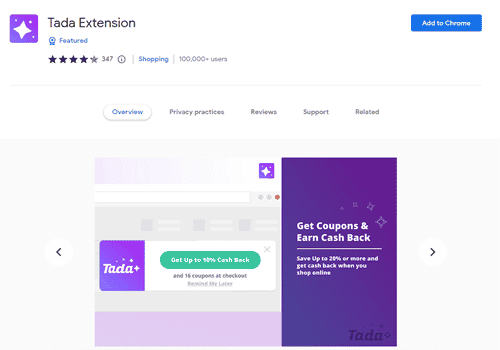 What you need to remember when you avail of a cashback offer from Tada is that you need to go through the platform to access the offer. But if you use the browser extension, you can shop online without having to go through Tada.
Once the extension is set up, just go to any online store, and if this store has partnered with Tada, you'll see a notification from the browser extension. You see, the browser extension will be able to identify if a store has an existing cashback offer on Tada.
So, you don't have to log in to the platform and search for the store to check if they have cashback offers available. The extension will do it for you. But if you use the app or the web-based platform instead, you have to click the link inside the Tada app or site to get to the online store and make a purchase.
That is why if you plan to register as a member, I highly recommend you also install the browser extension on your Google Chrome browser to make things easier.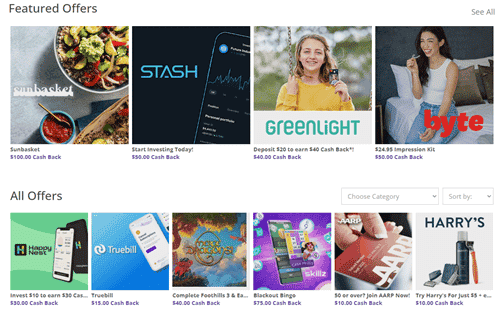 Now, every cashback offer has certain requirements you need to meet to receive the cashback reward. It is important that you always read the details of the offer to make sure you know the requirements.
Don't just purchase anything without checking the details because if you don't meet even just one condition, you will not receive the cashback reward.
While I was testing Tada though, I noticed that there were a lot of cashback offers displayed. However, when I clicked some of them, it would say the offer is not available. This happened mostly with the cashback offers that offered very high cashback rewards.
It's a bit unsettling, in my opinion, and I'm not sure if it's just a bug or glitch, or if Tada intended to do this to lure people to sign up. But regardless of what the reason is, it certainly makes the overall user experience slightly bad.
Option 2 – Scanning receipts
Another way to earn rewards from Tada is by scanning receipts. So, not only does Tada let you earn from online shopping, you can actually earn rewards if you shop from a physical store.
For example, if you do your grocery shopping from any of their partner stores, then you can upload the receipt and earn cashback rewards.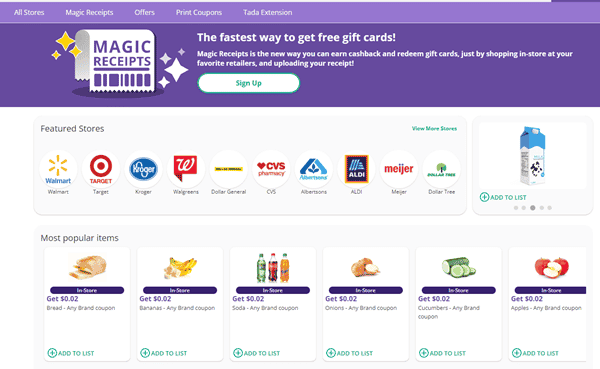 Here's how it works. When you shop from a physical store, you have to go to the app and add the products you want to buy in the virtual shopping list. Then, you have to take a photo of the receipt and upload it using the app once you've paid for it.
Tada will be able to recognize the items that offer cashback rewards immediately after you upload the receipt. You will immediately know how much you will earn. However, there's also a high chance that some of the items that you've indicated in your virtual shopping list will not be recognized by Tada for various reasons.
The good thing is that the app will let you know if they don't recognize the item. When that happens, you can file for a review, and Tada will check the photo of the receipt to verify the items. This process can take up to 10 business days to be completed.
If all the items on your shopping list are approved, you will receive the cashback rewards indicated. It usually takes up to three business days for the rewards to be credited to your Tada account balance.
The most important thing you need to remember when scanning receipts is to make sure the photo you take of the receipt will be clear, and all the items are readable. Make sure to also include the store name, date of purchase, and all other pertinent information.
Recommended: Check Out the Best Cashback Apps
How do you get paid?
Every reward you will earn from Tada will be stored in your Tada account balance. The question now is, how will you be able to withdraw it?
Well, if you look at their website, they say that you can cash out through PayPal or with gift cards. Technically, this statement is correct because you can really cash out through PayPal, just not how you would expect it.
You see, Tada is actually made by the same company that made the Swagbucks cash app. So, your earnings on Tada will actually be turned into Swagbucks points which you can then use to redeem various gift cards or make a PayPal withdrawal.
The threshold required to redeem any reward will be $5, which is relatively low, in my opinion. But that doesn't really mean you'll be able to withdraw your earnings quickly. I will explain why in the next section.
Overall, I would say the payment system of Tada is quite straightforward once you get used to the idea that you will be redeeming rewards from Swagbucks. I like the fact that it offers a convenient payment method like PayPal.
If you are interested in more sites that offer a convenient payment method, I would recommend you check out the top sites that pay via PayPal.
How much money can you make?
The amount you can earn from a cashback site/app will mostly depend on how often you shop and how high the site or app's cashback rates are. You have control over how often you shop, but as for how high the cashback rates of Tada are, that's something you have no control over.
And from what I observed when I was testing Tada, their cashback rates were in the 4% to 10% range, which isn't that bad, in my opinion. But it's also not that good. As for the rewards you will earn from scanning receipts, you will usually only earn $0.02 per item on the receipt, which is a fairly low reward.
That is why if you don't really shop a lot from their partner stores, then it will take quite a long time for you to reach their low payout threshold.
It does provide ways for you to boost your earnings, and that is through the joining bonus it offers. However, to receive this bonus, you'll have to earn a certain amount in cashback rewards within a certain span of time.  They say that you can earn up to $20 in joining bonuses. But as mentioned above, there are certain conditions you need to meet before you can earn these bonuses.
For example, you can earn up to $9 in total for uploading your first three receipts within 30 days of becoming a member of Tada. Plus, you also have to claim an offer that is worth more than $0.02 in cashback before you qualify for the said bonuses.
But as explained earlier, you will seldom find offers that are worth more than $0.02 in cashback, so it's kind of hard to qualify for the bonuses. That's why I would say they might look good at first glance, but if you actually find out how you'll be qualified to get one, you'll realize that it's receiving these bonuses is not as easy as you might think.
Overall, I would say Tada has a fairly low earning potential for a cashback app. There are plenty of other cashback sites and apps that have better earning potential.
Can you use it on mobile?
As explained above, Tada is actually a multi-platform cashback app. You can use the browser extension, the web-based member dashboard, and the mobile app to avail of the earning opportunities it offers.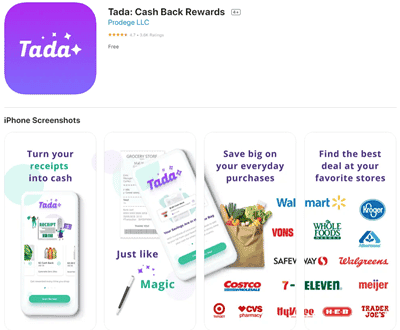 In this section, though, I will focus more on their mobile app, which is available for download on both the Android and iOS app stores. It is relatively easy to use. You won't have a hard time navigating it because the user interface is designed neatly and intuitively.
You will also not encounter any pop-up ads when using the app, which is a good thing because dealing with pop-up ads constantly can get quite annoying.
Who can join Tada?
Tada doesn't specifically indicate which countries it is available in. But, from what I've observed, most of the partner stores listed are stores in the US. But if you want to see if Tada is available in your country, all you have to do is look for it in your app store.
If it is included in the search results, then that means it is available in your country.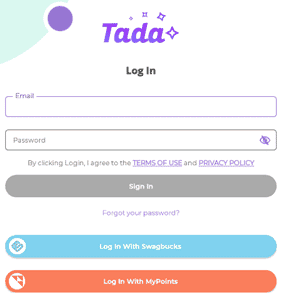 To sign up, you can just provide your email address and password. But if you sign up through the mobile app, you will actually be given the option to sign up using your Swagbucks or MyPoints account (refer to the photo above).
This is possible because Tada is actually made by the same company that made Swagbucks and MyPoints, and they have designed it to work with the other platforms. After you are done with the sign-up form, you can log in to the site or app and start earning.
Can you get support?
If you have any questions about the site or your account, you can check out the FAQ page first, which is accessible through the website or the app. The FAQ page discusses some of the essential topics you need to know.
Now, if you can't find the answers you are looking for, you can submit a support ticket through the customer support page, which is accessible through the app and site as well. Overall, I would say Tada has a decent support system because it offers an easy way for you to get in touch with their support team.
But I do wish their FAQ page would include updated information because, from what I've observed, the info provided is quite outdated.
Final Verdict
Tada is a legit cashback platform that will allow you to earn rewards by shopping and scanning receipts. It has a couple of good features, but it also has a few disadvantages, as well.
Let me end this review with a summary of its pros and cons to give you an overview of what Tada has to offer. Then, you can decide if you should go for it or not.
Pros:
Offers payment via PayPal
The app is user-friendly
Cons:
Low rewards
Not a great FAQ section
Tada, in my opinion, doesn't offer anything special as a cashback platform.
The main reason why I say this is that the rewards it offers are fairly low. It will take a lot of time before you will be able to earn a decent amount. There are simply better cashback sites and apps out there that offer more.
Now, if you are looking to earn without having to spend money, I would recommend you check out the top survey and GPT sites in your country instead. The sites on this list all have good earning potential, so you'll be able to earn a decent amount on a regular basis.
Plus, you will definitely find sites you can join regardless of where you live.
If you have any comments, questions, or have any experience with Tada yourself, I would love to hear from you in a comment below.