Test IO is a website that claims you can earn extra cash by testing websites and mobile apps.
If you have experience working as a tester or you are good at paying attention to detail, you might want to consider joining this site.
But is this site even legit or is it just a scam? And if it is legit, is it really worth joining?
In this Test IO review, you will learn everything you need to know about the site, so you can find out if you should sign up to become a tester or find other ways to earn online.
So, let's go ahead and get this review started, shall we?
What is Test IO and what does it offer?
Test IO is a user testing site that offers testing projects as a way for you to earn extra cash. It is indeed legit because you will really get paid for testing websites and apps.
Now, if you want to find out if it is really worth joining, the first thing you need to do is understand how the site works. And the best way to do that is to examine the earning opportunity it offers.
I have, therefore, made a video that gives you an inside look and shows exactly how you can earn from Test IO. You can also read all the details below the video.
Recommended: Check Out the Top User Testing Sites
Option 1 – Testing opportunities
The primary way of earning from Test IO is to take on testing opportunities. However, before you can start testing, you have to finish the two training courses available (refer to the photo below).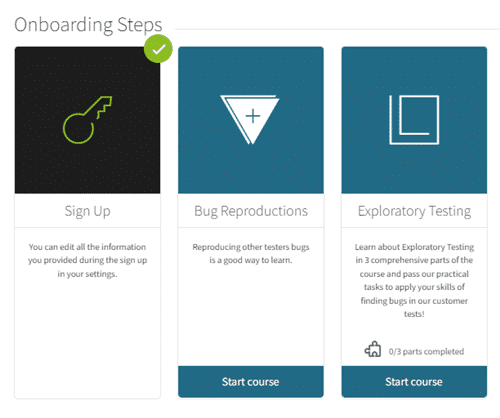 As shown in the photo above, you can take the bug reproduction training course so you'll know how to submit bug reports since it is one of the ways you can earn.
The other training course will teach you how to perform exploratory testing (which is one of the types of testing available on the site).
If you go through these training courses, you will more or less know what to do once you are offered opportunities to test.
Test IO offers three types of testing – exploratory, usability, and test case testing.
The exploratory testing by far is the simplest among the three because you will be given free rein (sort of) when testing. But there will be small limitations in regards to the areas and features that should be tested, and what type of bugs you should look for.
For usability testing, you have to follow a guide and then report suggested improvements or unexpected behavior during testing. From time to time, there will also be special usability tests where you will be required to verbalize your feedback of the site/app you are testing, answer a survey after you finish the test, submit a usability report, and answer specific questions in written form.
Lastly, the test case testing is the opposite of exploratory testing. In this kind of testing, Test IO will provide a number of test cases, each consisting of a set of three to thirty steps that need to be gone through one by one.
For every executed test case, you usually get a base payout and a payout for every completed step. Each bug you submit during one of your executions gives you a fixed bug pay out extra. So, the bug reporting course you took earlier will come in handy when doing this kind of testing.
You will immediately see the testing opportunities available to you when you log in to the member dashboard. You will also receive an email every time there is a new opportunity to test.
When you accept the testing opportunity, you will immediately see the reward you will receive when you complete it. You will also see the instructions you need to follow to complete the test. Make it a habit to understand what the opportunity is asking you to do before you actually do the test.
After you've completed the test, you will have to submit the deliverables (like the bug report, testing video, etc.). Then, Test IO will review your work and if everything is up to par with their requirements, you will receive the appropriate compensation and it will be credited to your Test IO account.
Later on, I will discuss how you will get paid.
Option 2 – Referral program
The other way to earn from Test IO is to participate in their referral program. The idea is really very simple – you invite people to join the site and become a tester and you will receive a reward.

In Test IO's case, to invite a person, you have to share your invite link with them. When they click the link and sign up as a member, they will become your referral. However, in order for you to earn from your referral, they must submit at least 5 accepted bugs (from testing opportunities).
When that requirement is met, you will receive €5 as compensation. As you can see, the reward is actually a decent amount. However, the requirement to receive the reward is quite steep. That means the person you have to invite must really be interested in becoming a tester and must actually perform tests and find verified bugs.
It's a bit hard to meet the requirement and it might take quite some time for you to receive them even if the person you invited is really interested in becoming a tester. So, you have to be a bit patient with this kind of earning opportunity.
Recommended: Check Out the Top User Testing Sites
How do you get paid?
Every time you successfully complete a test, you will earn a specific amount in Euros. It will show up in your Test IO account balance.
Then, payment will be made every 11th day of the next month. For example, if you've earned €50 in the month of March, the payment will be processed on the 11th of April or the day after if the 11th is a holiday.
You don't need to reach a threshold in order to receive the payment and you don't have to request it. It will automatically be processed on the 11th day of the next month.
Test IO offers different payment options depending on the country you live in. If you are a non-EU resident, you can get paid via Payoneer, Wise, or PingPong. If you are an EU resident, you can choose to get paid via PayPal or direct bank transfer.
Just keep in mind that if you choose to get paid via Payoneer, Wise, or PingPong, there are additional steps you need to do to get paid. You can refer to this payment guide for the exact steps you need to do.
Overall, their payment system is easy to understand and I like the fact that they process payments automatically, so all you have to think about is earning. I also like the fact that they offer payments via direct bank transfer. That's a very convenient option, in my opinion.
If you are interested in more sites that use a convenient payment system, I would recommend you check out the top sites that pay via direct bank transfer.
How much money can you make?
The amount you can earn from Test IO will depend on how often you get invited to participate in testing opportunities and how good you are at finding bugs.
Unfortunately, you really don't have any control over the availability of testing opportunities. The best thing you can do is fill out your profile so that Test IO has all the information it needs to qualify you for a testing opportunity.
As for the amount you can earn per test, it will really depend on the type of testing opportunity you work on. From what I observed, the highest paying type of testing is test case testing since you can earn a decent amount because you will be paid per bug you are able to find.
Typically, you can earn around €5 to €10 per testing opportunity you manage to complete. For test case testing that offers a lot of test case scenarios, you can earn more than €10 if you manage to find a lot of bugs.
Therefore, your skills as a tester will also affect the amount you can earn from Test IO.
Overall, I would say the earning potential of this site is pretty decent because it pays a decent amount. But this site isn't really for everyone because you won't earn a lot if you are not good at detecting bugs and finding errors.
In my opinion, it takes a bit of experience and a lot of skill to become a good tester, and you need both to maximize your earnings on this site.
Can you use it on mobile?
Test IO has a mobile app you can download so you can perform tests on mobile apps. The app is called testNow and it is compatible with both Android and iOS devices.
You will need to download this app if you are invited to participate in mobile testing opportunities. I would, therefore, recommend you just download and install it right away if you decide to become a member of Test IO since you will have to use it at some point.
The app is relatively easy to use, so you will easily get used to how it works.
Who can join Test IO?
The best thing about Test IO, in my opinion, is it is available globally, so you can register as a tester regardless of where you live. But, you have to be at least 18 years of age to register.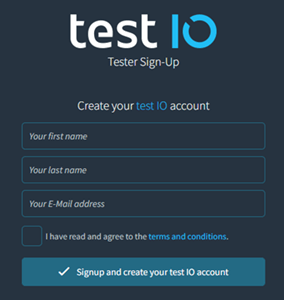 To sign up, you just have to provide your full name and email address. Then, Test IO will send you an email to confirm your registration and set up your password.
After you've set up your password, you can log in to the site. But, you can't start earning yet. As I've explained earlier, you have to take the training courses to learn how to perform Test IO's test.
When you've completed the courses, you just have to sit back and wait for opportunities to be sent your way. Test IO does say that it can take up to a week before you start receiving invites to participate in a testing opportunity.
This is one of the main disadvantages of Test IO. You can't immediately start earning.
Can you get support?
If you have a question about your account or the site in general, you can check out their knowledgebase. It contains a lot of the basic topics you need to know about the site. In fact, I highly recommend you check it out first before you start working on tasks.
I would especially recommend you check out the section regarding payments so you will know more about how you can get paid. If you encounter any issue that their knowledgebase isn't able to help you with, you can contact their support team instead.
To do that, you just have to log in to the tester dashboard and click the message icon on the lower right of your screen. Then, click the "Send us a message" button and fill out the form.
Overall, I would say they have a decent support system in place for their members since they offer a convenient way for you to get in touch with their support team. Plus, the knowledgebase is pretty comprehensive, so you will most likely find the answers you are looking for.
Final Verdict
Test IO is a legit user testing site that will pay you for taking on testing opportunities. It has a couple of good features to offer, but it also has some limitations you need to consider.
Let me wrap up this review with a summary of its pros and cons to give you an overview of what it has to offer. Then, you can decide if this site is a good fit for you or not.

Pros:
No payout threshold
Processes payments automatically
Available globally

Cons:
Limited earning opportunities offered
Earning opportunity requires a lot of skill and experience
There's a significant wait time before you can start earning
If you aren't good at finding bugs or errors, or you don't have any experience in user testing, you won't be able to maximize your earnings from this site, in my opinion. That's because the amount you can earn from Test IO will depend on how many bugs and errors you can find.
I'm not saying that it is impossible if you are just developing your skill in this field, or if you are just learning the ropes. What I'm saying is, if you decide to head into this kind of earning opportunity, you have to temper your expectations a bit if you are still a newbie.
Don't expect to earn a lot from this site if you are just starting out as a tester. Later, when you gain the experience and you have sharpened your skills, then you can expect to earn a decent amount from this site.
But if you are looking for a site where you can earn a decent amount immediately, I would recommend you check out the top survey and GPT sites in your country instead. The sites on this list all have good earning potential and you will be able to start earning immediately after you sign up.
If you have any comments, questions, or have any experiences with Test IO yourself, I would love to hear from you in a comment below.