Do you love trying out new mobile apps? If yes, then there's a site called Tester Work that promises you will be able to earn money by simply testing mobile apps. So, how true is this claim? Is the site legit or is it a scam?
Let's answer this question right away because it is the most critical aspect of the site you need to know about. Yes, Tester Work is indeed a legit site that will pay you for testing mobile apps and providing feedback.
Now, the next question is, if it will be worth joining? To answer this, there are a few factors we need to take a look at and consider. This Tester Work review will explain everything the site has to offer in detail so you can figure out if it is worth joining or not.
What is Tester Work and what does it offer?
In essence, Tester Work is a product testing site. But instead of testing products, you will be testing mobile apps. So, you will need quality assurance skills to earn from this site.
Tester Work is not like most product testing sites though. It's a bit more than that. So, let's take a closer look at the earning opportunity it offers so you'll know what I'm talking about. It's also a good way to understand the earning potential of this site.
So, here's how you can earn from Tester Work.
The earning opportunity – Testing mobile apps
Tester Work only offers one earning opportunity and that is through testing mobile apps.
With this opportunity, you actually have to act as a quality assurance specialist.
When you become a tester, you will receive emails about new testing projects. So, make sure to keep an eye on your inbox.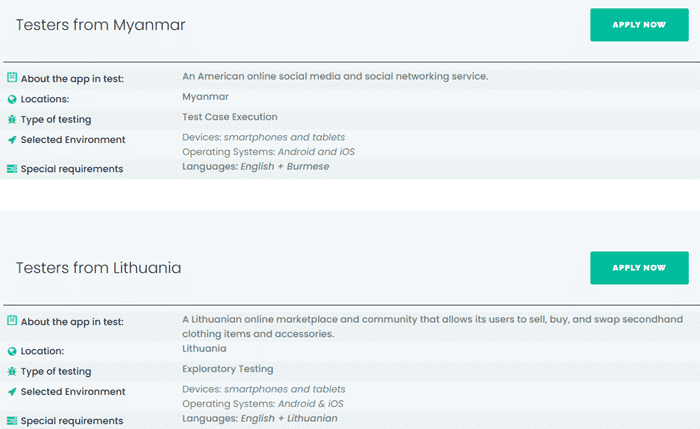 You will also see all the available projects when you log in to the site (refer to the photo above). As you can see in the photo above, each project will tell you the location, type of testing, device you need to do it on, and special requirements.
To start working on the project, you will have to click the "Apply Now" button. Then, you will see the rest of the instructions you need to follow.
Now, there are two types of testing that you can do. These are the functional tests and the functional exploratory tests.
The functional tests are tests you need to complete by following specific test scripts and/or functional specifications.
The functional exploratory test, on the other hand, will give you free reign. That means you don't need to follow specific test scripts. You just have to explore the app based on your own experience and background in testing.
As I've mentioned earlier, it's not your ordinary product testing site. The work you need to do is actually a bit more complicated compared to other testing sites.

Before you can start doing tests though, you will have to take their community test (refer to the photo above). Now, don't take this test lightly because to become a certified tester, you have to pass this test and you only have a maximum of two tries to do it.
This test will appear after the registration process. The first part of the test is like a tutorial. It will show you the terms you need to learn to become a tester.
Make sure to read the first two parts of the test because it will show you what you need to know about the test.
Because remember, you only have two tries. If you fail the second time, you won't receive any testing offers. So, effectively, you won't earn from this site. So, take this test seriously if you want to earn from this site.
However, in my opinion, the qualification test they give you is not very user-friendly and several aspects are not very clear.
This is a bit strange considering the site is all about user-testing, but it almost seems like they forgot to test their own qualification test with users. 🙂
Now, as mentioned, if you end up qualifying, you will be sent a notification email when there are available tests for you. In that email, you will know how much you will earn from each test (I'll talk about their rewards system next).
You are not required to do the testing at a specific time, but it does have a deadline (usually 48 hours).
So, you can test the app anytime. Just make sure to finish the test within the allotted time. Once you complete the test, you will have to submit your bug report.
This report won't be an ordinary report. You have to follow the guideline which can be found on their FAQ page. If you fail to follow the guidelines, you won't get paid.
So, make sure to learn that and apply it when testing. If everything is in order, you will receive the payment after the project is over.
How do you get paid?
For every successful app testing, you will earn a certain amount. But as mentioned above, you won't get paid until the project is over.
So, don't expect to receive your compensation right away. It typically takes around 12 to 14 days before the payment will be processed.
As you can see in the photo above, payments are made either through PayPal or via an Upwork contract.
I personally prefer getting paid via PayPal because it's a more convenient option. If you are interested in more sites that pay via PayPal, I recommend you also check out the top sites that pay via PayPal.
You will receive your payout in approximately two weeks (12 – 14 days) after the test cycle has finished. Bear in mind though that you have to earn at least $5 before you can receive your payout.
In case your payment is lower than the payout threshold, the transfer will be done once the threshold is reached. But in most cases, you will earn at least $5 for every successful app testing.
Another thing you need to take note of, there will be a transaction fee that will be deducted from the amount you will withdraw regardless if you choose PayPal or Upwork. So, don't expect to receive the full amount of your payout.
How much money can you make?
As mentioned above, you will usually earn at least $5 for every test you complete. Some tests are even worth more.
But don't be surprised if a test is worth less than $5. There are some tests that won't ask you to do a lot. So, naturally, you won't get paid a lot.
One thing I would like to say about their rewards is, even though you get paid a decent amount, the work you have to do to successfully complete it isn't that simple.
It can take quite a bit of time to finish because you have to be very meticulous and you have to follow the guidelines they have set.
It's not like other product testing sites where you can just try out the product and then provide feedback or a short report. You are actually paid to find crucial errors or bugs, which, in my opinion, should be worth more than a few bucks.
In fact, quality assurance specialists have good salary. So, in my opinion, the compensation doesn't really match the work required to be done.
In that regard, I would say the earning potential of this site isn't that good if you have to consider the type of work you need to do.
Can you use it on mobile?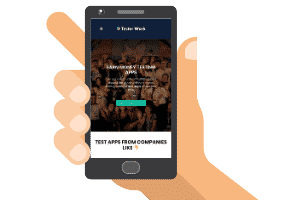 The site itself doesn't have a mobile app and I don't really see any reason for them to have one in all honesty.
Sure, the work you need to do requires you to have a mobile device (since you will be testing mobile apps), but as for the reporting you need to do on TesterWork.com, you can do that without an app.
You can also log in to their site from a mobile device using a mobile web browser if you want to check if there are available testing projects. And fortunately, you will be able to do that conveniently since their site is mobile-friendly. You won't have to zoom in to read the content or tap on links.
Who can join Tester Work?
You can become a tester regardless of where you live. All you have to do is sign up for their site through the registration form which can be accessed on their homepage.
(Pic of registration form)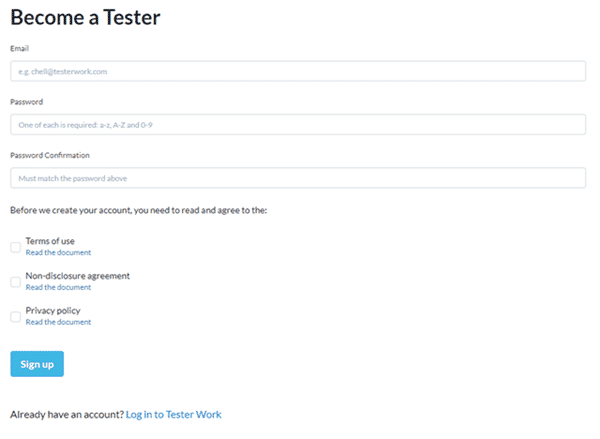 Just fill out the registration form and confirm your registration (they will send you an email with the confirmation link). Once you've done that, you can log in to the site and complete your profile. During your first log in, you will also be asked to take their community test.
And as explained earlier, you have to take this test seriously because passing it is the only way for you to become an earning tester.
So, before you start the test, make sure you've read and understood everything since you will only have two tries to pass the test. If you fail the second time, you can kiss your tester hopes goodbye.
Also, even though the site is available globally, the availability of testing opportunities will depend on your location. Some countries have more opportunities than others.
It will really just depend on whether Tester Work has clients looking for testers in certain countries. So, there's no guarantee you will be able to earn regularly on this site.
Can you get support?
I really like how Tester Work provides support for their members.
First, they have a very comprehensive FAQ page that discusses the basic topics you need to know about in detail. You will basically learn how to work on the site by simply reading their FAQ page.
So, I suggest you read it first before you sign up. If you have a question that was not answered by their FAQ page, you can send your inquiry via email to contact@testerwork.com. This is the email address of their support team.
Overall, I do think they provide good support for their members.
Final Verdict
Tester Work is a legit product testing site that will pay you to find bugs and errors on mobile apps. It offers a couple of good benefits but it also has certain limitations that you need to be aware of.
Let's finish this review with a summary of its pros and cons so you can decide if you should become a tester or not.

Pros:
Available globally
Offers payment via PayPal
Low payout threshold

Cons:
Relatively low compensation for work that needs to be done
Registration is easy but becoming a tester is a bit more complicated
Limited earning opportunities offered
I would say Tester Work is not for everyone. If you are tech savvy and you have quality assurance skills or if you are already a quality assurance specialist, then this site can be a good source of extra income.
However, the pay you get for the amount of work you need to do is just not good enough, in my opinion.
In general, the work you need to do is a bit complicated when you compare it with other product testing sites or even survey and Get-Paid-To (GPT) sites. If you are just looking for an easier and simpler way to earn, then this site is not for you.
I would suggest you check out the top survey and GPT sites in your country instead. The sites on this list all have good earning potential and offer a simpler way to earn. Plus, you will definitely find sites you can join where you can earn regularly regardless of where you live.
If you have any comments, questions, or have any experiences with Tester Work yourself, I would love to hear from you in a comment below.