Online reward sites have become very popular today as they are an easy and valid way of earning extra money.
One such Get-Paid-To (GPT) site is called Volutic. This GPT site promises to pay you simply for reading emails. Yes, you read that right. You get paid to read emails. It sounds too good to be true. So, is Volutic a scam or is it legit?
Let me address this question right away. No, Volutic is not a scam. It will pay you for reading emails. As to how good it is, that is a completely different story.
You need to understand exactly how it works as there are some important details you need to be aware of.
This Volutic review will give you an inside look and show what the site has to offer so you will know what to expect before deciding if you should join or not.
What is Volutic and what does it offer?
As explained above, Volutic is a GPT site that will pay you for reading emails. The way their site works is, advertisers buy an email newsletter and then they send that newsletter to you and share the revenue.
It's that simple. But to truly understand how well you can earn from this site, we have to examine the earning opportunities it offers.
I have made a short video that gives you an inside look and show exactly how you can earn from Volutic and what you need to be aware of before joining.
Option 1 – Reading emails
Once you become a member of Volutic, you will start receiving emails. You then have to read the emails but you will not get paid until you click the links included in the emails.
You can do it from your desktop, laptop, or even a mobile device.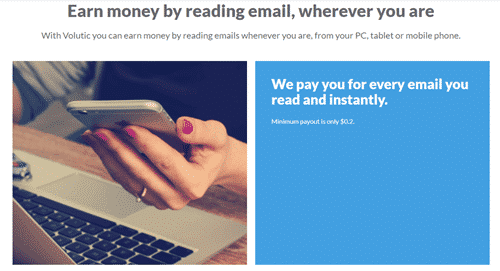 The links in the emails will take you to a certain ad on a website. You have to stay for a certain number of seconds (usually 30-60 seconds).
After you finish viewing the ad, you will receive the amount promised for reading the email and viewing the ad.
So, it's a lot like what you would do in a Paid-To-Click site. The only difference is, you will be doing it in your email instead of the actual PTC site.
If you don't like to receive this kind of emails, I suggest you don't use your personal email address when you sign up as a member.
You can just create a new email address for this site. That way, your personal email address won't be cluttered with ads and spam-like emails.
Because one thing you have to be aware of is that most of the emails you will get will have very exaggerated claims about how much you can earn to join certain sites the ads are for.
In fact, from what I have seen, most of the ads are for what I would call "get-rich-quick" type of offers.
And the problem with these is that they never deliver what they promise. So you have to be very careful about getting carried away by the seemingly promising opportunities the ads promise.
Do not believe any ad that says you can become rich online without effort and within a few hours.
And this is my biggest issue with Volutic – they are simply just not critical with the ads they send to you.
So if you just want to earn a bit by clicking the ads it is fine but you should NOT take any offers the offers they promote, in my opinion.
Anither issue is then the extremely low earning potential it has to click these ads but i will go more into the earning potential later.
Option 2 – Referral program
Another way you can earn from this site is by inviting other people to join the site. Volutic has a multi-tiered referral program you can take advantage of.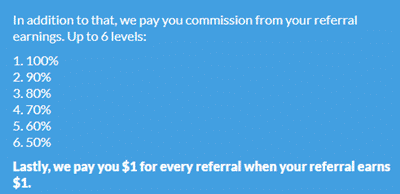 When you share your invite link with a person and they sign up as a member, they will then become your direct referral. Then, if these people will then pay it forward and invite other people to join the site, those people will become your level 2 referral.
As shown in the photo above, this will go up to 6 levels and you will earn a commission from their earnings, which will be shouldered by Volutic.
You will earn 100% of your direct referral's earnings. As the referral level goes higher, the percentage will decrease and will end at 50%. This is the beauty of a multi-tiered referral program. You will have a decent passive form of income.
Plus, as of this review's writing, you will earn $1 for every referral you make (direct referrals) once that person earns $1.
This kind of bonus will change from time to time. In my opinion, they really do make it a point that inviting people to join will be a beneficial endeavor for you.
Of course, you need to make sure the people you invite are interested in working on the site since the reward you will get will be dependent on how active your referrals are on the site.
At first sight, the referral program looks like a really great way to earn. But before rushing off to invite people to join, you need to know what the true earning potential is for any member.
Because you will only earn a percentage of what other people you invite earn, so you need to know the details of this before inviting others. So we will go into that in just a minute.
How do you get paid?
Now, on to a very important part of the review. You need to know how you will get paid because this is an important factor when deciding if you should join this site or not.
Volutic doesn't use a point system. They will reward you with money right away.
However, this is where Volutic becomes a bit more disadvantageous than most other GPT and survey sites.
In order to get paid, you will need to sign up for a FaucetPay account. FaucetPay is a micropayment wallet platform that will allow you to convert cryptocurrency to cash.
Recently Volutic also started offering Payeer as a payout method but, in my opinion, the payout methods are not very flexible.
At least it has a very low payout threshold as you will be able to cash out when you've earned only $0.2. However, even though it is so low, it will still take some patience to reach (more about later).
Just be aware that will be a 1.5% fee when you cash out. So not only do you get low rewards but you also have to pay a fee when you cash out. Overall the payout methods are just not good enough, in my opinion.
There are many sites that pay through PayPal and I personally prefer these as it is so much more convenient.
How much money can you make?
Let me just set your expectations properly. You won't get paid a lot for every email you read. Let's just make that clear. But since it really doesn't take a lot of effort to do, then you can't really expect more from it, in my opinion.
In fact, usually you will only get paid $0.0016 per link you click. And not until after you have waited for 30-60 second to watch the ad you are taken to.
So to earn just a little bit, you will have to read hundreds of emails.
In fact, you will have to open around 625 emails and open them and wait for the ads to load to just earn $1.
With the time it takes to wait for the ads, open the email, etc. it will take you a minimum of 5 hours to earn just $1.
And it will take you months as you will only receive a few emails per day.
That is extremely poor value for your time, in my opinion. So overall, Volutic has a very low earning potential.
Can you use it on mobile?
Right from the start, Volutic advertises that you can actually work on this site anytime and anywhere.
This can be done through the use of a mobile device. They don't have a standalone app but you will be able to access their website from a mobile device with the use of a mobile web browser.
And since their site is mobile-friendly, you won't really be having a hard time navigating through the site and reading all the content properly. This makes earning from this site a bit more convenient because you can just read emails on your idle time even when you are not in front of your computer.
Who can join Volutic?
The good thing about Volutic, in my opinion, is that it is available globally. You will be able to sign-up as a member regardless of where you live.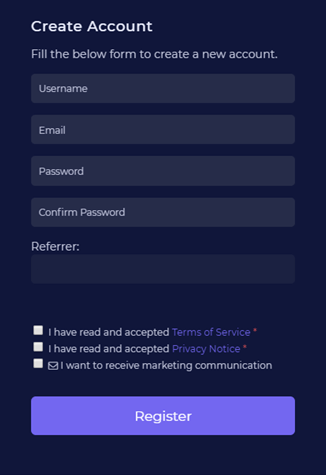 It does not take long to sign up but you then have to wait to start receiving the emails.
For me, I got the first email a few hours later.
In addition to the extremely poor earning potential, you need to be aware that if you have just 1 week of inactivity where you do not log in to the site and do not clicking any links in emails, your account will be closed.
If your account is closed, you will lose all your earnings.
1 week of inactivity is an extremly short period and this is something you have to remember not to lose all your earnings.
This is just yet another very poor condition for you as a member of Volutic.
Can you get support?
Volutic has a support page that contains their FAQ. So, if you have any questions about the site, you can first check out their FAQ section.
It's not as comprehensive as you would hope, but then again, the site is fairly straightforward. So, hopefully, you won't have as many questions or encounter any issues.
Now, if you can't find what you are looking for on their FAQ page, then you can submit your inquiry using the contact form provided on their Support page. This is the best way to get in touch with their support team.
Overall, I would say that Volutic does provide decent support to its members but it would have been better if their FAQ page discussed more relevant topics to lessen inquiries.
Final Verdict
Volutic is a GPT site that does pay you for reading emails and inviting other people to join the site. It offers a couple of decent qualities but it also has some rather glaring disadvantages.
So let's finish this review with a summary of its pros and cons so you can decide if this is a site worth investing your time or not.

Pros:

Cons:
Limited earning opportunities offered
Very low rewards
Limited payment options available
After 1 week of inactivity, you will lose your earnings
Promote poor offers in their emails
Volutic's strength, in my opinion, is that you will be able to earn with relative ease. So, their claim that earning is as easy as reading an email is kind of true. However, the fact still remains that you really won't be able to earn a significant amount from this site.
This is because they pay extremely poorly. You will have to spend hours and wait months to just earn $1. In addition to this, the offers they promote in their emails make a lot of exaggerated claims and are quite spammy, in my opinion.
So overall, Volutic is definitely not worth it, in my opinion, unless you have a lot of time to spare and are willing to spend hours and wait months to just earn $1.
If you are looking for better GPT sites that pay well and offer different and more convenient payment options, I recommend you check out the top GPT sites instead. The sites on this list have good earning potential.
Plus, you will definitely find a site you can join regardless of where you live.
If you have any comments, questions, or have any experiences with Volutic yourself, I would love to hear from you in a comment below.