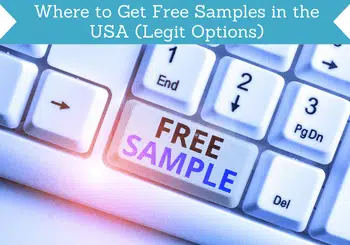 Everybody loves free stuff, right?
If you don't already know, there are plenty of websites where you can get free samples in the USA. So, if you live in the USA, I would recommend you keep reading if you want to get free stuff.
In this guide, I will talk about legit options to get free stuff. I will include a brief description of each option so you will know what to expect from each website. That way, you can easily choose which sites to join according to your preferences.
Keep in mind that all these options are free to join, so all you have to do is spend some time and a bit of effort to get your free samples.
What to expect from these sites
Before we talk about the actual sites you can join, let's first discuss a few things that are worth noting.
When you google "Free Samples in the USA", you will see plenty of websites offering free samples.
However, most of these sites actually come with strings attached. In my experience, sites that offer free stuff without anything in return are often spammy. Sure, you will be able to get free products, but you'd have to go through a lot of spam ads or product offers.
Sometimes, you'll even receive a lot of spam emails. But that's the least of your problems. The more unscrupulous sites will even sell your information to other parties. These are the sites you should really avoid.
The problem is, it's hard to identify these sites from the get-go. It's actually part of the reason why I decided to make a guide, so you'll know which sites are safe to join. So, without further ado, let's talk about the best sites you can join in the next section.
5 legit site where you can get free samples in the USA
I have tested a lot of sites that give out free samples and the sites below are what I found as truly worth it. First of all, you don't have to worry because these sites will never sell your personal information to any outside party.
While some of these sites will require a bit of effort on your end, the bottom line is, you will be able to get free stuff safely. That's really what matters, in my opinion.
Also, this list is not a prioritized list, so the sites are not listed according to which site is best. You can just join whichever site/s will fit your preferences.
#1 – PinchMe
PinchMe is a product testing site that will allow you to get free products by providing feedback and a few other things. It's actually one of the more popular product testing sites out there.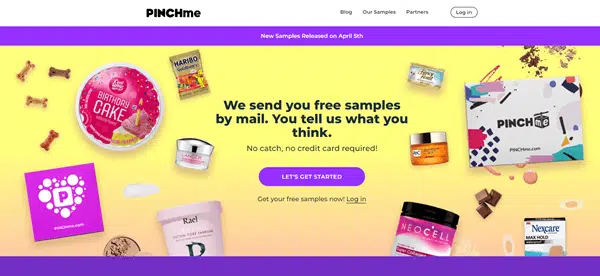 The idea is, once you become a member, you can receive free samples in exchange for providing feedback on the products you will receive. You have to log in to the member dashboard and claim it.
When the product arrives at your doorstep, you just have to make sure to follow the instructions provided by PinchMe and submit all the requirements it will ask of you. Typically, you'll have to answer a survey and provide more feedback regarding the products you received.
So, it doubles as a good way to try out new products and as a way to influence future products. Plus, the site offers other ways to earn rewards.
#2 – SampleSource
As the name suggests, SampleSource is a free-sample site that hands out free products to its members.
When you become a member of the site, you will be asked to complete your profile. Once your profile has been completed, you will be eligible to receive free sample offers from the site.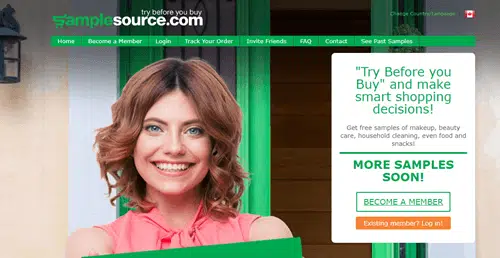 But, you have to log in to the site and claim the free sample. However, their free samples aren't always available though. They usually offer samples in the spring, summer, or fall. They don't send samples in the winter because they may freeze in the mail.
Most of the free samples you can get will be products related to beauty care, household cleaning, and food and beverages. It doesn't offer any electronic devices or clothing products.
#3 – Smiley360
Smiley360 is technically an online community that will allow you to try products and share your opinions. In return, you will receive rewards. Plus, you get to keep the products you tested.

The way it works is, you have to sign up for missions, which is really just the opportunity to try out new products. When you've accepted a mission, Smiley360 will send you a package containing several products that you have to try out.
You will need to provide feedback for all the products you received. If you fail to do so, you won't be able to qualify for missions in the future, so it is in your best interest to always provide feedback.
Before you can qualify for missions though, you have to answer their surveys so you can earn points. Once you've earned enough points, you can qualify for missions.
The products you can get from Smiley360 are really varied. It will all depend on the type of missions available at any given time.
#4 – Nike Product Testing
Nike has its own product testing program where you can get to try out their new shoes. If you are a sneakerhead, this is like heaven for you. However, be aware that you don't get to keep the shoes forever.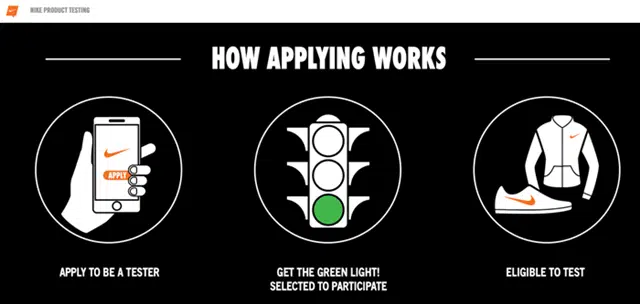 The first thing you need to do is apply to become one of their product testers. The selection process is a bit rigorous, so there's no guarantee you will get selected. But if you get lucky and get accepted as a tester, you will then receive sneakers from time to time.
But as mentioned above, you don't get to keep them. You do, however, get to use them for a month or two (depending on the requirements of how long you need to test them). In my opinion, it's still considered as getting free stuff because you get to use the pair for quite some time.
And if you love Nike, there's no better way to try out their products for free than becoming one of their testers because you can actually help influence the future products they will release. For a sneakerhead, that is a dream come true. Also, it's not just shoes you can test. You will also be asked to test other Nike merchandise from time to time.
#5 – Adidas Product Testing
It is also natural that if Nike has its own product testing program Adidas also has its own since the two brands are actually synonymous with shoes. The Adidas Product Testing program works almost the same way as its number one competitor Nike.
To become a tester, you will first have to answer some sort of survey. If you get accepted as a tester, the product will be mailed to you which usually takes about two weeks or more. Once you receive the product, you will be asked to test the product for a required amount of hours/mileage per week for the length of the test period.
During the testing process, you have to make sure you keep a detailed log of your daily activities when using the product. Then, you have to send the product back to Adidas. After that, you'll have to answer an online questionnaire to finish the process.
The testing process usually lasts for a month or two. You don't really get to keep the product but being able to use it for a couple of months almost feels like you've already gotten it for free, in my opinion. And as a bonus, you are actually helping Adidas make better products in the future, which is a win-win situation, honestly.
Final Thoughts
That wraps this guide on where to get free samples in the USA. As I've explained earlier, the sites listed above are legit and free to join. Plus, it is the safest way to get free samples without compromising your personal information or receiving spam emails.
I would recommend you join as many sites as you want depending on your preference to get access to more opportunities to get free samples. Anyway, you don't have to spend any amount in terms of shipping because it is all free. You just have to be prepared to spend some time and put in a bit of effort.
Now, if you are looking to earn extra cash instead, I would recommend you check out the top survey and GPT sites in your country. The sites on this list all have good earning potential and most (if not all) offer cash rewards.
If you have any comments, questions, or you know of any site where you can get free samples in the USA that you think belong in this guide, I would love to hear from you in a comment below.