PINCHme is a product testing site that claims you can get free products by providing feedback and doing a few other small tasks.
But is PinchMe legit, or is it a scam you need to stay away from?
Let me reveal right away that for all intents and purposes, PinchMe is a legit and safe product testing site that will reward you for providing feedback about the free samples they give to you.
However, I have tested MANY similar platforms, and while testing it, I spotted some things that are very important to consider before you join that you will likely not spot if you are new to product testing sites.
This PinchMe review will give you an inside look so you'll know all the details and will know exactly what to expect before you even join the site so you can decide if this is really the right opportunity for you or not.
What is PinchMe, and what does it offer?
As they say on their homepage, PinchMe is a place to discover and try new products for FREE.
But this site also offers other opportunities for you to earn rewards.
However, it is a bit different from how it seems at first, so you need to know the details before joining.
I made a video that gives you an inside look and shows all the details so you know exactly what to expect. You can also read the details below the video:
Recommended: Check Out the Best Product Testing Sites
Option 1 – Free samples
As mentioned above, you can receive free samples in exchange for providing feedback on the products you will receive.
As a member of the site, you will be eligible to receive free samples from time to time. You have to log in to the site and claim it.
But before you will receive any offers for free samples, you have to complete their bonus offer during sign-up.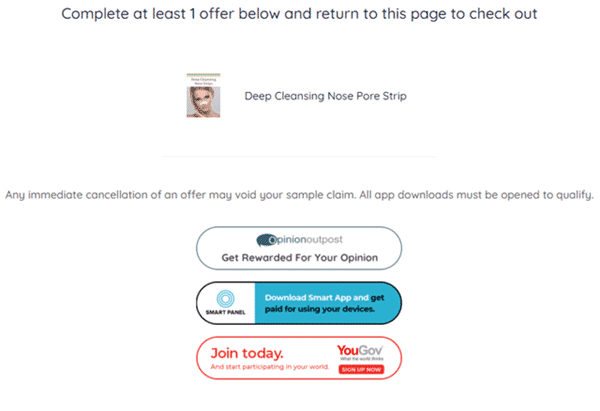 After you register, you will be offered a free product by simply signing up to any of the websites they advertise (refer to the photo below).
The sites they will ask you to sign up for will either be a survey site or a Get-Paid-To (GPT) site. But I also saw offers there that has nothing to do with free samples but that were promoting different events or similar.
This can be a bit confusing, and it seems PinchMe is mostly promoting the offers that will give them the highest commission during sign-up which was a bit disappointing to me.
The way their free samples work is, once a month, they will release a list of samples you can get for free. Simply choose which ones you want to get, then provide your mailing address. After a few days, you will receive the package from them (they will handle the shipping cost).
Just try it out like you normally would, and around two weeks after they have mailed your free sample, you will receive a feedback survey via email. Don't ignore this survey because this will be the only way to ensure you'll be able to receive more samples from them in the future.
Each free sample has limited stocks, and it's on a first-come-first-serve basis. So, it is important to claim your free samples quickly. They will usually announce when the free samples will drop. So, make sure to log in to the site from time to time to know when you can claim your free samples.
Option 2 – Special offers
PinchMe also has special offers you can avail of. Just log in to the site and go to the RewardMe section to see the list of special offers available for you.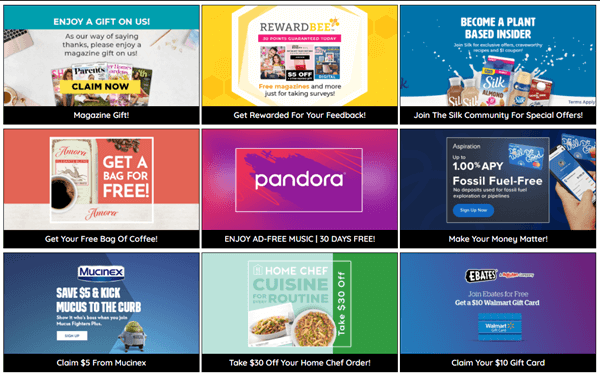 Some of these offers will ask you to register for a site, while some will offer you free products. But if it's the latter, the free offer will only be for the product you will be getting. You will still have to pay for shipping and other fees.
And also be aware that often it is just a free trial – if you do not cancel after the trial, you will be charged.
For example, in the photo shown above, when you click the Free Bag of Coffee offer, it will take you to the special offer landing page.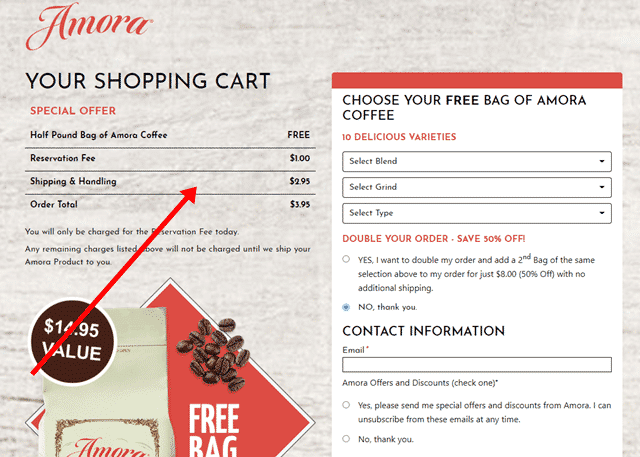 As you can see in the photo above, the bag of coffee will be free, but you will have to pay for a registration fee, as well as the shipping and handling fee.
And you will, at the same time, have registered for a paid subscription, where you will be charged the following month if you do not cancel.
So, it's not totally free, and there is a catch you have to be aware of. There will be money involved, and you can end up paying quite a bit for subscriptions if you are not aware of what it says in the fine print when taking offers.
So, before you avail of any offer, make sure to check out the details first.
Overall, the section is just a collection of offers they get paid to promote, and I am honestly not impressed by the offers.
I do not like that they make it look like you are getting all kinds of stuff for free or getting amazing deals when they are just promoting different offers and slightly twist the descriptions to make it sound better than it is, in my opinion.
Another example is an offer where they say you get a $10 gift card for Rakuten. Here, the text is "Claim your free gift card".
But how it really works is that Rakuten is a cashback site, and no matter how you sign up, you will get a $10 joining bonus once you have spent $25.
Rakuten is a great cashback site but I think they twist it when they say you can just claim a $10 gift card because that is not really how it works.
But they get paid to promote it, and personally, I do not like how many of the offers are twisted, in my opinion.
Option 3 – QwizMe
QwizMe is an opportunity for you to get additional rewards. You simply have to answer a few surveys that will usually take around two minutes to complete. Every survey you answer is worth 10 coins (I will talk about what to do with your coins later).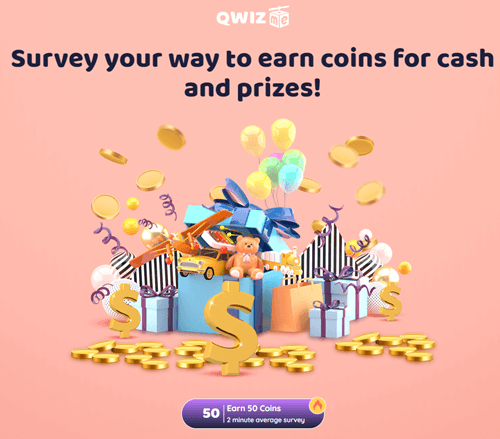 Answering surveys on QwizMe is a bit different from answering surveys on survey sites. You don't have to go through a qualification process. You just answer the actual survey right away. Plus, you can answer as many surveys as you want or until there aren't any surveys left to answer.
Answering a survey on QwizMe also entitles you an entry to their weekly and monthly prize draws, where you can win a mystery prize.
The weekly prize draws begin on Monday at 6 p.m. EST and end on Sunday at 11:59 p.m. EST. You will be notified via email if you ever win in their prize draw.
Option 4 – Referral program
You can also participate in their referral program. But, in my opinion, their referral program isn't very rewarding. Normally, for every referral you make, you will either receive a bonus reward or you will receive a percentage of what they will earn on the site.

But with PinchMe, all you will really get is another entry into a prize draw where you can win $500.
Here's how it works – for every person you invite, when they sign up to the site, confirm their email address, and complete their member profile, you will receive 1 entry into their prize draw.
So, if you are gunning to win the prize, you will have to invite a lot of people into the site.
I do wish, however, that they would disclose the information on when the prize draw is held. Because at the moment, there's no information on their site on when the prize draw happens.
Recommended: Check Out the Ultimate Product Testing Guide
How do you get paid?
Technically speaking, you won't get paid to test products. The products you will receive are the payment. So, if you were expecting to earn cash from this site, then you will be disappointed because you won't (unless you win the prize draw for their referral program).
But as mentioned earlier, their QwizMe offers rewards. As you already know, you will earn coins for answering surveys on QwizMe.

You can then use the points you've earned and exchange it for certain rewards. As shown in the photo above, once you've earned 1000 points, you can exchange it for a $5 gift card.
They don't tell you, though, what gift card you can exchange it for, which is a bit surprising because normally, on other online rewards sites, you can choose the kind of gift card you can redeem. This just goes to show that PinchMe is not your ordinary online rewards site.
If you hold on to your points until you've earned 10,000 points, you will receive a sample box worth $100. Again, the value is good, but you won't know what you will be getting.
If you prefer to choose the kind of reward you will get, I would instead recommend you check out the fastest paying sites. You will find sites you can join where you get to choose the reward you will get (and get it quickly).
What kind of samples can you get?
We've already established that you won't get to earn any money from this site. So, let's talk about the products you can possibly get from this site instead.
Usually, the samples that will be offered will be products from major brands that haven't been released yet.
You can receive cosmetics and other beauty products, health products like CBD oil, coffee, dog and cat treats, personal hygiene products, and cereal.
The samples being offered won't be limited to the ones mentioned above, though. So, in short, it really depends on whoever partners with PinchMe.
But overall, I am not impressed with PinchMe, and, in my opinion, they are not completely transparent about many of the offers they promote.
And if you are not aware of the offers you say yes to, maybe believing they are completely free, you can end up paying for several subscriptions and lose money instead of earning.
Can you use it on mobile?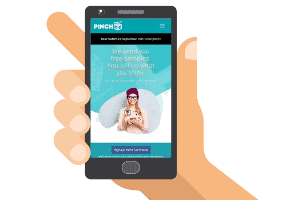 PinchMe doesn't have a mobile app you can download, and I do think you won't really need it considering the type of earning opportunity they offer.
Yes, you can answer surveys to earn rewards, but you can do that when you are at home in front of a laptop or desktop.
But if you really prefer to answer surveys from a mobile device, PinchMe does give you the convenience to do that because their site is mobile-friendly.
This means you will be able to read the content without having to zoom in. You will also be able to navigate through the site conveniently because the links are easy to click.
In my opinion, they did design the site with mobile users in my mind, which is good because it shows that they value the overall user experience of their members.
Who can join PinchMe?
Unfortunately, PinchMe is only available in the US. Plus, it only ships to the 48 contiguous states in America but not to Hawaii, Alaska, the U.S. Virgin Islands, or Guam.
So, if you don't live in the US or if you live in Hawaii, Alaska, Guam, or U.S. Virgin Islands, then this site is not for you.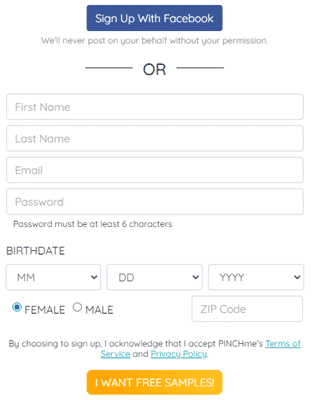 You have to also be at least 13 years of age to be eligible to become a member. To sign up, just fill out their registration form and submit it. You will then receive a confirmation email. Just click the confirm button on the email, and you are good to go.
Can you get support?
PinchMe does have quite a comprehensive FAQ page on their Support page. You will find most of the important topics listed there, as well as the most common issues you will encounter on the site.
If you have any inquiries about the site that can't be answered by their FAQ page, you can send your inquiries through their contact form. Overall, I would say that they do have a decent support system in place for their members.
That being said, I do wish they would have revealed more details about the site, especially regarding the rewards you can get from QwizMe.
Final Verdict
PinchMe is seemingly a product testing site that will send you free samples in exchange for your feedback. It has a few good features, but it also has some big drawbacks you need to take into account.
So, let's end this review with a summary of its pros and cons to give you a better overview of what the site is all about so you can decide if you should push through with signing up or not.

Pros:
Has a wide variety of free samples you can choose from
Their site is mobile-friendly

Cons:
No cash rewards
Limited earning opportunities offered
The referral program isn't very rewarding
The site lacks information about some important details
You have to make sure to read the fine print when taking offers not to end up being charged
If you live in the US (not in the states mentioned earlier) and you love free products, PinchMe might be worth considering.
However, I just think they twist things a bit too much and if you are new to this type of site, you might miss some important details and end up being charged instead of earning when taking certain offers.
So one thing I would wish is that PinchMe was more transparent about what you really get. And in my opinion, it is just not as great a deal as it first sounds like when you dig into the details.
Overall, I would suggest you check out the top survey and GPT sites in your country instead. The sites on this list all offer various ways for you to earn extra cash and give better opportunities.
Plus, you will be able to find a site you can join regardless of where you live.
If you have any comments, questions, or have any experiences with PinchMe yourself, I would love to hear from you in a comment below.