Yamgo is a website that claims you can get paid to do the things you already do on a daily basis.
So, if you are looking for a site to earn extra cash, you might be thinking this is a good deal, right?
Well, before you pull the trigger, I would recommend you read this Yamgo review, so you'll know more about the site. That way, you will know exactly what to expect from it before you even hit the sign-up button.
In this review, I will show you the full details of what the site has to offer so you can properly decide if it is a site worth joining or not. So, let's go ahead and get this started, shall we?
What is Yamgo and what does it offer?
Yamgo is a relatively new Get-Paid-To site that is built on the Hedera Hashgraph platform. It will allow you to earn by completing offers and participating in other earning opportunities.
It is indeed a legit site since you will get paid when you complete any of the earning opportunities the site offers.
And speaking of earning opportunities, before you can decide if it is worth investing your time into, you have first to understand how to earn from it. That way, you can gauge how much time and effort is needed to earn.
I have, therefore, made a video that gives you an inside look and shows exactly how you can earn from Yamgo. You can also read all the details below the video.
Recommended: Check Out the Top GPT Sites
Option 1 – Paid offers
The primary way to earn rewards on Yamgo is through their paid offers. If you've been a member of GPT sites before, then this will be very familiar to you, but if it is your first time joining a GPT site, then let me explain how paid offers work.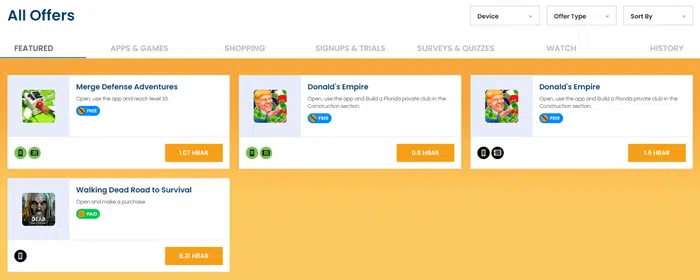 When you log in to the Yamgo member dashboard, you need to click the "Earn" link to view all the available paid offers. Once you are in the Earn section of the dashboard, you will see something similar to the photo above.
You just have to click any of the sections to view the available paid offers. During my testing, the category with the most paid offers was the App & Games category. To complete an offer, you just have to click the button that shows how much HBAR you will earn for completing it.
Then, you will see the instructions you need to follow to complete the offer. Make sure to follow all the instructions provided because if you miss even just one step, you will not be able to finish the offer and you will not earn the reward. Once you finish the offer, you will be credited the promised reward which will be a certain amount of HBAR.
The usual tasks you can find will ask you to use a mobile app or play a mobile game, sign up to a website or avail of a free trial, answer a survey, or watch a video.
There's also a decent number of offers available at any given time, so you will most likely be able to earn HBAR every day.
Option 2 – Boost
The Yamgo Boost is an opportunity for you to earn free crypto once per day.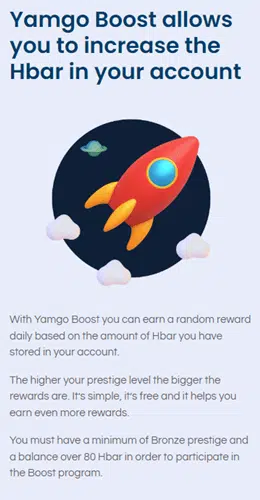 As the photo shows, the way it works is that you will receive a random reward once per day according to your prestige level. You do need to reach a minimum of Bronze in their prestige level in order to participate in this earning opportunity.
You don't need to do anything special to reach this because you can reach the Bronze level eventually as long as you keep completing paid offers. You see, Yamgo will always keep track of the number of paid offers you've completed and once you've completed the required number of paid offers, the prestige level will be unlocked and you will get all the benefits of that prestige level including receiving rewards from their Boost opportunity.
Another thing you need to keep in mind to receive this bonus reward is that you also need to have 80 HBAR in your account before you can start receiving the reward. So, you will need to reach this threshold to avail of the Boost bonus.
Option 3 – Watching videos
You can also earn by watching videos. From time to time, Yamgo will post videos you can watch. These videos are mostly educational so you need to pay attention when watching them. That's because at the end of the video, you'll have to answer a quiz.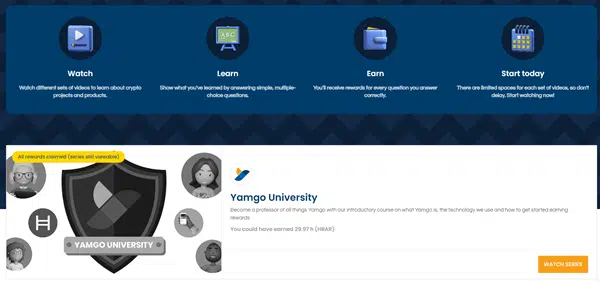 For every correct answer, you'll receive a certain number of HBAR. The thing, though, is that there will only be a limited number of members who can earn from this opportunity.
That's why if you see a video posted, I would recommend you watch it immediately so you can get the reward.
Option 4 – Referral program
Lastly, you can also earn through Yamgo's referral program. This kind of opportunity is very simple. You invite people to join the site by sharing your referral code.

Once your referral registers, they have to input your referral code. After they've done that, they will become your referral. The good thing is that both you and your referral will receive HBAR upfront as a reward, so it's a win-win situation for both parties.
Just make sure to remind the people you invite to input your code when they register. Otherwise, both you and your referral won't receive anything.
Recommended: Check Out the Top GPT Sites
How do you get paid?
I do have to tell you right now that this site will only allow you to earn cryptocurrency, specifically the HBAR cryptocurrency, which is the Hedera Network cryptocurrency. It uses the Hedera Hashgraph to power its transactions.
When you sign up on Yamgo, you will also have to create a Hedera Hashgraph account if you don't have one (more on this later). If you do have a Hedera Hashgraph account, you can just use your key to link your Hedera account to Yamgo.
Yamgo doesn't explain this process properly, so if you are new to crypto, this can get quite confusing. The main problem now is, the Hedera Network doesn't have any platform (at least one that I know of) that will allow you to convert your HBAR to cash.
So, the only option is to use a different crypto trading platform. Now, when I asked Yamgo's support team for help on this, they weren't very helpful. All they said was that you can transfer your HBAR to another Hedera account, and it will be up to you if you want to transfer your HBAR to another platform, and they said you have to do your own research on how to do this.
So, if you will just rely on what Yamgo offers, the only thing you can do is to send HBAR from one Hedera account to the other (refer to photo below).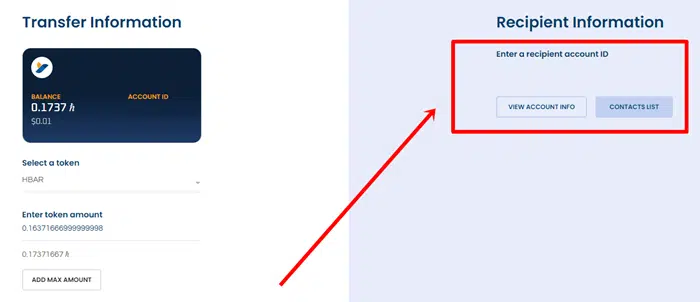 To do this, you just have to provide the account ID of the Hedera user and indicate the amount of HBAR you want to send. Once you've done that, just press "Create Transaction" to complete the transfer.
In my opinion, Yamgo's payout method is not very useful. It doesn't have a clear-cut way to convert your HBAR to cash.
So, if you are looking for sites that offer an easier way to withdraw your crypto earnings and convert them to cash, I would suggest you check out the top sites to earn Bitcoin for free instead. The sites on this list all provide a simpler way to withdraw your Bitcoin to any wallet and then convert them to cash.
How much money can you make?
It's quite hard to put an exact amount on what you can earn from this site because the value of HBAR is constantly changing. But, to answer the question above, it will mostly depend on how active you are on the site.
The amount of HBAR you can earn will depend on how much time you are willing to spend on Yamgo. As mentioned earlier, it does have a decent number of earning opportunities offered, so you won't run out of things to do to earn.
But just as a basis, the amount of HBAR you can earn from a paid offer will range from 0.5 to 1 HBAR per offer, which isn't a bad rate, in my opinion. But you have to keep in mind that you need to earn more than 80 HBAR before you can think about withdrawing your earnings.
That can take quite a while, in my opinion. That's why I would say the earning potential of Yamgo isn't that good. It will take a significant amount of time before you can earn a decent amount.
Can you use it on mobile?
Yamgo has a mobile app you can download so you can work on paid offers on your mobile device. The app can be downloaded from the Android app store. Unfortunately, it doesn't have an iOS version as of the writing of this review.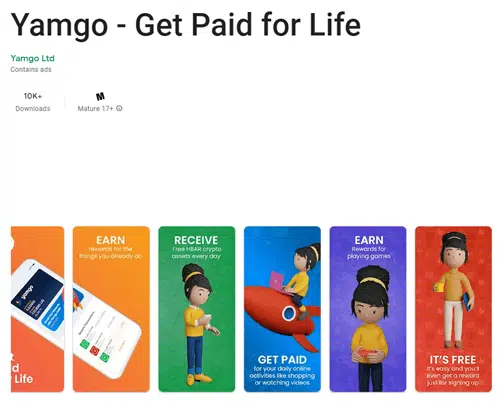 If you are an iOS user, I suggest you check out the best money making apps for iOS instead. As for the Android app, it is very easy to use. You won't have a hard time getting used to using it.
You will need to use the app when you are working on paid offers that will ask you to play mobile games or use another mobile app. So, if you want to maximize your earnings from this platform, I would suggest you also install the app.
Who can join Yamgo?
Yamgo is available more or less worldwide. You can sign up as a member regardless of where you live. But, you must be at least 18 years of age to register as a member.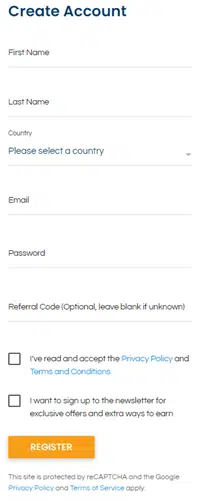 To register, you'll have to fill out the sign-up form. Then, Yamgo will send a confirmation email. Make sure to click the link in the email to complete your registration.
After you've completed your registration, you can log in to the member dashboard. However, during your first login, you will be asked to create a Hedera Hashgraph account if you don't have one yet. Just follow the instructions provided to complete this process.
If you already have a Hedera Hashgraph account, you can just provide your key and Yamgo will automatically link your Hedera Hashgraph account.
Once your Hedera Network account is created, you must take note of your Public, Private, and Mnemonic keys. These keys are like your bank account number, to put it in layman's terms. You can use these if you want to access your HBAR wallet.
Make sure to keep a copy of these keys because if you lose them, you will never be able to recover them. That's the downside of dealing with crypto. If you lose your key, you will never be able to recover it, so make sure to keep multiple copies of it.
Can you get support?
If you have any questions about the site or your account, you can check out the Help center. It discusses some of the important topics you need to know. But I do wish it would be more comprehensive because when I was exploring their Help page, I didn't really find a lot of useful information.
If you can't find the answers you are looking for, you can send your inquiry to their support team instead. Just click the message icon found in the lower right-hand corner of the website and type in your question, and you will receive an automated response that will guide you on how to get the answer you are looking for. If your question wasn't answered, you can chat with a customer support representative instead.
Overall, I would say the support system of Yamgo is pretty decent. It offers a convenient way for you to get in touch with their support team. But I wish their Help page would provide more useful information to reduce the need for you to contact their support.
Final Verdict
Yamgo is a legit GPT site that will allow you to earn crypto for participating in the earning opportunities it offers. It has a couple of good features, but it also has some limitations you need to consider.
Let me wrap up this review by summarizing its pros and cons to give you an overview of what the site has to offer. Then, you can decide if this site is worth your time or not.

Pros:
Available worldwide
No payout threshold

Cons:
Doesn't offer cash rewards
Their site doesn't provide a lot of useful information
The app will only work with Android devices
In my opinion, Yamgo is not a bad GPT site. However, it's not that good either. It will take you a significant amount of time before you can earn a decent amount.
Plus, you won't be able to earn cash from it and the crypto it uses isn't very popular. It will also take a lot of research to figure out how to take your HBAR from your Hedera account to a different crypto trading platform.
Unless you are specifically aiming to accumulate HBAR, then you are better off joining other GPT sites that offer more versatile payment methods.
If you are just looking to earn extra cash, I suggest you check out the top survey and GPT sites in your country instead. The sites on this list all have good earning potential, so you'll be able to earn a decent amount in no time. Plus, you will find a lot of sites that offer multiple payment methods.
If you have any comments, questions, or have experiences with Yamgo yourself, I would love to hear from you in a comment below.