ZoomBucks claims to be a site where you can earn free money easily and fast.
But is ZoomBucks legit and really a way to earn, or is it a scam site to stay away from?
I have joined to test it and to compare its options to the hundreds of other survey and Get-Paid-To sites I have tested.
Let me just reveal right away that it has potential but there are also some big minuses about this platform you need to be aware of before joining.
This ZoomBucks review reveals all the details so you will know exactly what to expect and can easily find out if it will be worth it for you or not.
What is ZoomBucks and what does the site offer?
ZoomBucks.com is actually a site that has existed for a long time. Or it used to exist and then had a four-year break and started again in November 2018.
It worried me a bit with the long break as there is, of course, no guarantee that will not happen again. But since it looks like it is the same company that is running GrabPoints, I decided to give it a go.
ZoomBucks is a GPT site (Get-Paid-To) as it has many ways you can earn.
I usually like GPT sites but there are also many poor sites like this so let's look into what ZoomBucks offers so you can see if it will be for you or not.
I have created a video that shows you exactly how Zoombucks works and gives you an inside look. You can also read all the details below the video:
Recommended: See the Top Paying GPT Sites Instead
Option 1 – ZoomBucks surveys and other surveys
Like most other GPT sites, ZoomBucks offers you to take paid surveys.
It offers surveys through what it calls survey routers. It used to also have a ZoomBucks survey section but now it just survey routers.
It does not really make a difference as the surveys in the Zoombucks survey section were from survey routers anyway.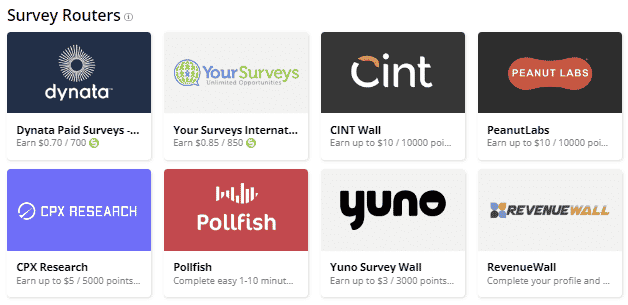 Anyway, survey routers can be a great way to earn by taking surveys. They usually give you access to many survey options.
And on ZoomBucks you can find quite a lot of survey routers and the rewards are quite good compared to other similar sites.
However, even though the rewards for their surveys are decent, there are some other things about ZoomBucks you need to be aware of before deciding to join or not, as I will get into later.
Also, you have to be aware that with survey routers it is very often you will not qualify for the surveys. That is not only on ZoomBucks but on sites that use survey routers in general.
But with a little patience, it can give you access to quite a good amount of surveys.
You have to log in to take the surveys. But as soon as you have joined, you will also start getting emails with reminders about taking surveys.
I think it is great getting reminders and survey invitations, but ZoomBucks sends out a bit too many of these, in my opinion. But that is, of course, a matter of personal preferences.
Option 2 – Watch videos
Another way you can earn on ZoomBucks is by watching videos. This is the exact same way you can earn on most other GPT sites.
You can find videos in many categories so no matter what you are interested in, you will find some entertaining options.
You will be able to watch videos through LootTV and HideoutTV.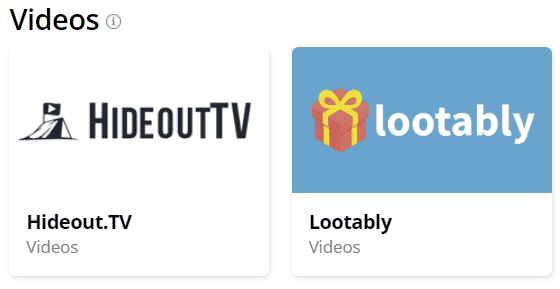 However, the video option gives really low rewards.
To get a reward, you have to watch 3 videos + ads after or before each video. Most videos are around 2 minutes and then the ads are 30-45 seconds.
Every time you have watched 3 videos and ads, you will earn 7 points.
This means that it will likely take you around 10 minutes to get a reward of $0.007, which is what 7 points are worth.
So you would have to watch videos and ads for more than 23 hours to earn $1. That is a very low reward, right?
It says in the video section that you can earn unlimited points, but you can also see that that does not really mean unlimited earnings.
You can, of course, just leave the videos running on a screen you are not actually watching but with that low a reward, you would probably spend more on the electricity than you would earn.
So the videos can be entertaining but as you can see, you should watch them just to earn.
Option 3 – Take online offers
You can find several paid offers and offer walls on ZoomBucks.

Here you can, for example, earn by taking paid trial offers, visiting websites, trying apps, taking cashback offers, and more.
Paid offers can be a great way to boost your earnings as some of them give really good rewards.
But you have to make sure to read the conditions for each offer. There are usually some conditions you have to live up to, to get your reward.
It can, for example, be to play a game for a certain period of time, to pay for a trial and your paid membership will then continue if you do not remember to cancel, etc.
But if you make sure to read the conditions so you know exactly what you are getting into and choose wisely, then you can find some good earning opportunities in the paid offers section on ZoomBucks.
Option 4 – Invite friends
You can get paid a bit to invite other people to join ZoomBucks.
This is to motivate you to tell friends about the platform and it is a promotional method used by many GPT sites.
It can usually be a nice way to earn a bit extra if you know some people that would be interested in joining.
The potential on ZoomBucks is, however, VERY small. The size of the reward depends on the country the person you invited lives in.

For tier 1 countries (US, CA, UK) you get 250 points. This is the highest you can get. This is the equivalent of only $0.25.
In some countries, you will only get $0.025 for inviting a friend.
Also, you have to be aware that you do not get the reward until the person you invited has earned 1000 points.
Overall, the refer-a-friend option is very poor on ZoomBucks compared to a site like PrizeRebel or compared to many other sites in general, where they give you real rewards that actually makes it possible to earn a bit if you invite others.
So not a great way to earn on ZoomBucks.
Recommended: See the Top Paying GPT Sites Instead
How do you get paid?
Now you know how you can earn on ZoomBucks. But it is also very important to know how you can then get paid.
Every time you earn, you earn points. The value of a point and the payout threshold depends on the reward you want which can be a bit confusing and not very user-friendly.
For some rewards 1 point is worth around $0.001 – that, for example, goes for PayPal rewards. You can get a $5 PayPal reward when you have earned 5150 points.
The value used to be better for PayPal when I first tested ZoomBucks where you could get $5 for only 5000 points. Also, the payout threshold used to be only $3. So these areas are where ZoomBucks has become worse but you have to accept that if you want to use it.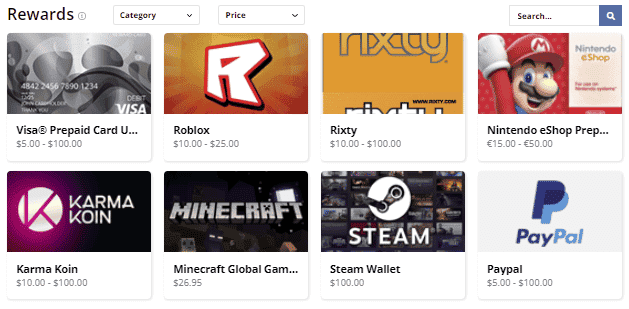 If you, for example, want to get paid in Steam gift cards, the payout threshold is $100 and you have to pay 101230 points for this. For a Roblox gift card of $10, you have to use 10,000 points.
So the ZoomBucks reward options are a bit confusing.
But overall the payout threshold is not very high. But to get the most value for your money, you just have to make sure to find the right rewards.
How much money can you make?
ZoomBucks gives quite a few ways to earn and some decent rewards for some of the options.
So overall it is possible to earn some extra cash on the side by using it.
However, it is, in my experience, not the site with the best opportunities and there are sites that are better and easier to use.
Overall, you should also be aware that GPT and survey sites, in general, are not a way to make a full-time income or become rich.
It can be a great way to earn some extra cash online and it is free and easy to get started, but you need to do it with the right expectations.
Can you use it on mobile?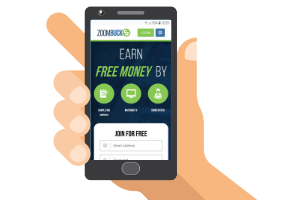 Being able to use a GPT and survey site on mobile is great as this makes it possible to earn on the go.
Therefore, it is, in my opinion, important that sites that offer these options can also be used on mobile.
ZoomBucks can be used on mobile. It does not have an app but the website is well-optimized for mobile devices so it is pretty easy to use even on smaller screens.
You just have to be aware that the surveys are offered through survey routers and not all of them are optimized for mobile. So if you take surveys on mobile, you might have to zoom in and out on the screen quite a lot.
Who can join ZoomBucks?
A good thing about ZoomBucks is that you can join more or less no matter your country. You just have to be at least 13 years old to join.
However, just because you can join from all countries does not mean it will have good opportunities in all countries.
So the number of opportunities will depend a lot on the country you live in.
Can you get support?
A very important aspect of any platform you join online is the ability to get support. This tells a lot about the credibility of the platform.
And it is important to know you can get help if you should run into problems with your account.
This is actually where I have a big problem with ZoomBucks.
I ran into a problem with my account, and I wrote their support. After a couple of weeks, I had not heard back from them. I tried to write again to give them another chance.
I still did not hear anything.
While writing this review the first time, it had been several months ago I contacted them and I had not heard back even though I wrote them again to remind them.
This is an extremely poor service and worries me a lot.
In my case, I luckily did not lose any money but if there was a reward issue or you did not get your money out in time and something happened, it is important to know that the support does not always answer.
This is just my experience and it might be different in other situations. But that they cannot answer even when writing again is a big issue, in my opinion.
Since I first published this review, I have also heard back from Zoombucks in a comment below it (you can scroll down to see it) so it does seem they have improved their support but you still just need to keep in mind that it might take a bit of patience if you need support at some point.
Final verdict
ZoomBucks has potential but it also has some big disadvantages, in my opinion.
So to give you a better overview before deciding if it is for you or not, let's finish this review by summing up the pros and cons.

Pros:
Free to join
Decent rewards for some earning methods
Optimized for mobile use

Cons:
Confusing point system
Support is not always answering
More or less the exact same as GrabPoints just with fewer options
Overall, ZoomBucks has some decent ways to earn. But there are several reasons it is a platform I do NOT recommend.
First of all, it basically offers the exact same things as GrabPoints that seem to be owned by the same company, and it even looks more or less the same. It just has fewer options. So no need to join both of them and GrabPoints is the better of the two, in my opinion.
Also, that the support did not answer when I needed their help is a huge concern to me. This definitely makes it a site I do not want to use anymore even though I eventually heard back from them in a comment below this review.
In addition to this, the point system they use is very confusing and not very user-friendly compared to many other sites.
For these reasons, I instead suggest you check out the best survey and GPT sites in your country. These all give better options and are more user-friendly, in my experience.
If you have any comments, questions, or have any experiences with ZoomBucks yourself, I would love to hear from you in a comment below.