Earning with your mobile phone/device is one of the most convenient ways available today. There are plenty of mobile apps you can download that let you earn rewards in exchange for doing tasks.
But that also means it makes it a little harder to find the best apps to download. Ideally, you will want an app that is legit and offers good earning potential.
So, if you've been doing some research and have encountered AppNana, you might be wondering, should you register or not? Well, to answer that question, there are several things you need to consider.
This AppNana review will help you figure out whether the app is truly worth your time or not.
What is AppNana and what does it offer?
As you already know, AppNana is a mobile-only online rewards platform. It promises to reward you with gift cards for completing their offers.
To put it simply, AppNana is a mobile app you can use to earn free gift cards. It sounds tempting, I know.
But in order to truly tell whether this app offers a good opportunity to earn rewards, we have to take a closer look at how you will be able to earn from it.
I have made a short video that will give you an inside look and show exactly how AppNana works. You can also read all the details below the video:
Option 1 – Paid Offers
The bulk of your earnings from AppNana will come from completing paid offers.
If you are not familiar with paid offers, think of them as small tasks that you can do and once you complete them, you will receive a reward.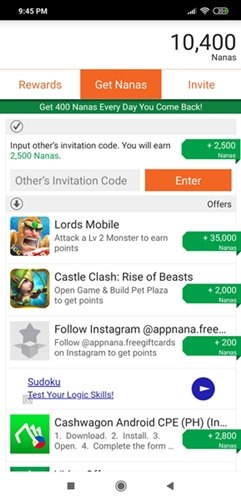 In AppNana's case, the paid offers will usually ask you to download, install and play a free mobile game.
Most game offers will ask you to play until you reach a certain kind of condition. Once you've done that, you will then receive the reward promised in the offer.
From time to time, you will also be asked to download another online rewards app and become a member. But mostly, the offers you will receive will be asking you to download mobile games.
The good thing about how their offers are set up is, you will know right away how many points you will earn and what you have to do to earn the reward. That way, you can prioritize which offers to take when you are strapped for time.
Option 2 – Video Offers
From time to time, you will also be able to earn points by watching video ads. If you've ever played mobile games, I'm sure you've encountered this already.
The premise is pretty simple. All you have to do is watch a video ad for its whole duration.
Once you've finished watching it, you will then be rewarded with a certain number of points. Keep in mind that you have to wait for the ad to finish before you can close it.
So, make sure to watch it all the way to the end. The ads usually last around 15 to 30 seconds each. So, it won't take too much of your time. Plus, you don't actually have to watch it, you can just let it run until it finishes.
Option 3 – Referral Program
You can also earn points for inviting people to join the platform and the good thing is, their referral program is pretty straightforward.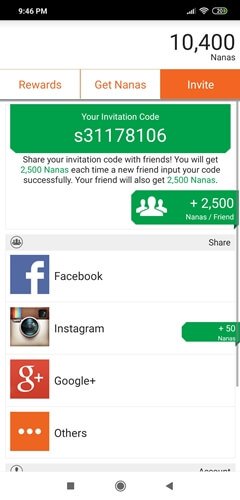 As you can see in the photo above, all you have to do is share your invite code with anyone who is interested in joining the platform. Once they finish registering, when they login to the app, they can input the invitation code you've given.
The good thing about their referral program is that both parties will earn the same reward. When a person inputs your invitation code, both of you will earn 2,500 points each.
That's all they need to do. They don't even have to complete any offer for the referral to be valid (as some apps and sites ask you to do).
Personally, I like referral programs that are structured this way because you will be guaranteed to receive something as soon as your referral completes the registration.
However, even though 2,500 points might sound like a lot it really is not as I will show you next. So do not expect to earn much from inviting friends.
Recommended: Check Out The Top Paid Survey Apps
How do you get paid?
AppNana uses a point system for their rewards. Every offer you complete or person you invite will earn you a certain number of points. You can then use the points you've earned to redeem rewards that you like.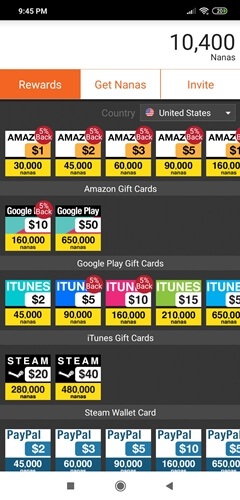 You can redeem gift cards from Amazon, Google Play or you can choose to redeem Steam Wallet codes instead. You also have the option to withdraw your earnings via PayPal.
Every reward will cost a certain number of points to redeem. To start redeeming rewards, you need to earn at least 30,000 AppNana points. That is if you want to redeem a $1 Amazon gift card.
If you want to withdraw your earnings via PayPal, you will need at least 45,000 AppNana points. That is equivalent to $2. There are several denominations you can choose from, so you can wait until you reach a certain amount you like.
Apart from the mentioned rewards above, you can also redeem other game-related gift cards. There are actually plenty of rewards that are game-related. So, if you are a gamer, this app might be for you.
How much money can you make?
With this type of app, there are a couple of factors that will affect how much money you will be able to make.
The first thing is, how many paid offers are available in a day. And based on feedback from members, there aren't a lot of offers available on a regular basis.
The other one is how well AppNana pays. Some of the offers available in AppNana will actually allow you to earn more than 30,000 points. So, that alone ensures that you will reach the threshold.
However, in my experience, these high-paying offers' availability is few and far between. Most of their offers will reward you around 2,000 points or less. The offers that pay more are those that usually require more time to complete.
So, those are the best offers to prioritize because they will allow for maximum time/money ratio.
Overall, they do have a decent earning opportunity and I like the fact that they have a low payout threshold ($1 for gift cards and $2 for PayPal).
But it can take quite some patience as you in most cases need to take quite a lot of offers to reach the threshold even though it is very low.
If you are interested in other sites with a low payout threshold, I suggest you also check out the fastest paying survey sites.
Can you use it on a desktop?
As mentioned at the beginning of this article, AppNana is a mobile-only platform. So, you won't be able to use it on a desktop or laptop. It will only be available for mobile devices.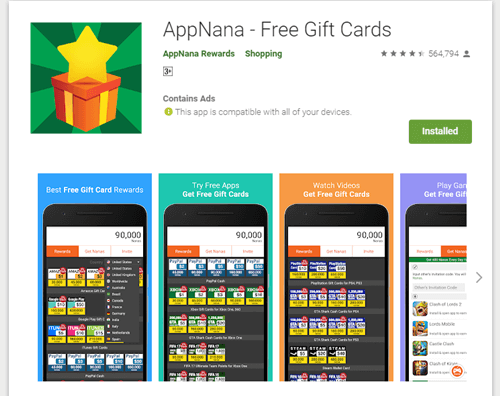 The good thing is, their mobile app is available for both Android and iOS devices. So, compatibility won't really be an issue.
Their app is also pretty user-friendly. So, getting used to how it works won't be a problem. This is a good thing because you will be able to earn conveniently anytime and anywhere.
Who can join AppNana?
The beauty of AppNana is it is available globally. Anybody can join the platform.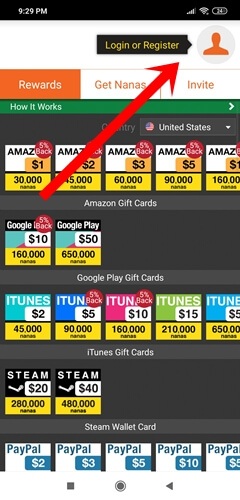 Plus, their registration process is quite easy. You simply have to provide your email address and password and you are good to go.
Of course, if you do hope to redeem rewards via PayPal, you will have to be at least 18 years of age or older to do so.
That's because 18 is the age requirement to register for an account on PayPal. But apart from that, joining AppNana couldn't be any easier, in my opinion.
Can you get support?
If you need to contact their support team, you can do so by logging on to the mobile app.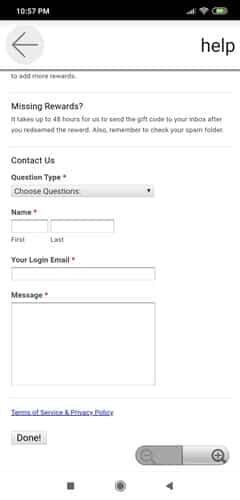 You have to scroll all the way down and click the help button to access their support page. You will then see their contact form (refer to photo above).
Just fill out the form with the question you want to ask and hit submit. It doesn't have an elaborate FAQ section that covers most of the important topics about the site.
But since it does offer a way for you to contact their support team, that, in my opinion, is enough for it to warrant a decent rating in terms of providing support for their members.
They could, however, stand to benefit more by providing a more elaborate FAQ page.
Final Verdict
AppNana is a legit mobile app that does reward you for completing their offers. It has some good points and some bad ones as well.
Here's a summary of its pros and cons to help you with your decision on whether you should become a member or not.

Pros:
Low payout threshold
Payment via PayPal is offered
Available globally

Cons:
Limited earning opportunities
Could use a more elaborate FAQ section to explain what the site does
Takes patience to reach the payout threshold even though it is low
In my opinion, AppNana is a decent mobile app you can use if you want to earn a few bucks and a few gift cards.
However, its real problem is, it doesn't offer enough earning opportunities to warrant it being a primary platform you can earn from. And in most cases, the rewards are just too low so it will take some patience.
It can serve as a decent secondary site to supplement what you can earn from other platforms that offer better earning potential.
If you are a gamer though, this is a slightly better app to use because of the rewards available and since most of the offers will ask you to play mobile games. So, you can say that this app is not for everyone.
But if you are looking for sites that offer better earning potential, I suggest you check out the top paid survey apps instead.
The apps on this list all have more earning opportunities offered which will lead to a higher earning potential. Plus, you will be able to find an app that will fit your needs.
If you have any comments, questions, or have any experiences with AppNana yourself, I would love to hear from you in a comment below.