Are you looking for ways to earn Bitcoin? If so, there's an app called BFast BFree that claims you can win Bitcoins in just a few seconds. It's certainly a very enticing offer, but is it legit or is it a scam?
Well, that's a very valid question to ask and this BFast BFree review will answer that question and more. It will not only verify if it is legit, but it will also check if the app is worth using if it really is legit.
It will show you everything the app has to offer so you will know exactly what to expect before you even install the app. That way, you can decide if it is really an app that you should invest your time in or not.
So, let's get started, shall we?
What is BFast BFree and what does it offer?
BFast BFree is a Get-Paid-To (GPT) app that will reward you for completing the earning opportunities it offers.
It is indeed a legit app since it will really allow you to earn Bitcoins. Now, the question is, is it worth using or not?
To answer that, we have to first take a look at the earning opportunities it offers so you will clearly understand how the app works. It will also help you get a snapshot of the earning potential of the app. So, here's how to earn from BFast BFree.
Option 1 – Watching videos
When you log in to the app, the first thing you will encounter is some sort of a grid with random numbers (refer to photo below).
If you just look at it, you won't actually know what you need to do with it. So, let me explain how this opportunity works.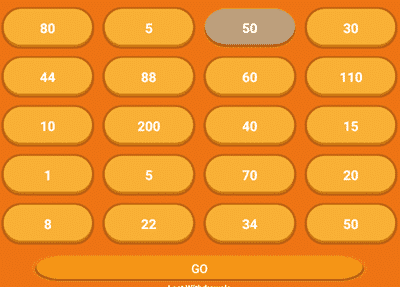 To start watching a video, you just have to click the "Go" button and the app will randomly choose a number. Once the app has chosen a number, a video ad will pop up. You just have to finish watching the ad.
When the close button appears in the upper right-hand corner of the ad, you can close it and you will see the number the app has chosen. That will actually be the number of points you've earned for watching the app.
It will then be credited to your account balance which will be shown in the upper part of your screen. So, there's really an element of randomness in this earning opportunity, which I find quite unique.
You can watch as many videos as you like to earn points, which is the one good thing about this opportunity, in my opinion.
Option 2 – Paid offers
If you don't want to keep watching video ads, you can also earn more points by working on their paid offers. Just press the percent symbol in the upper part of the dashboard and you will see all the available paid offers you can work on.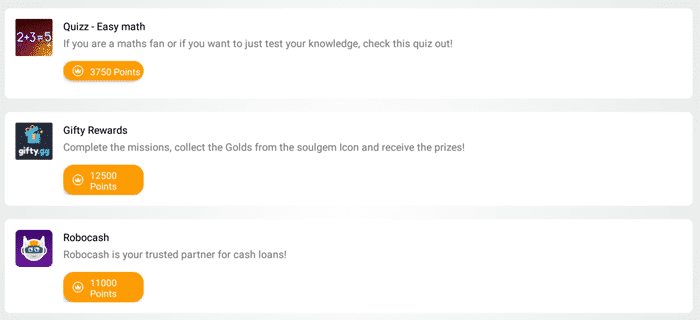 If you don't know what a paid offer is, it is basically a short task you can do to earn rewards. Typically, this task will either ask you to answer a survey or quiz, download an app, or register to a website.
To work on an offer, just press it to see the full instructions about what you need to do. Make sure to take note of all the steps because if you miss even just one step, you will not be able to complete the offer and you won't receive the reward.
Once you've completed the offer, the reward will be credited to your account balance. This opportunity requires a bit more of your time and some effort to complete but it does offer higher rewards than watching video ads. So, I would suggest you do this first before you watch video ads.
Option 3 – Promo codes
From time to time, BFast BFree gives out promo codes you can claim for additional rewards. The premise is really easy. Just follow their Facebook page and watch out for promo codes.

The key here is to input the code inside the app before it expires. You usually have a day to input the code before it expires.
To access their promo code section, just press the "Free" button beside the "Percent" button on their dashboard. Then you can type the promo code.
You do have to watch a video ad before you can input the code which can be a bit annoying, in my opinion.
Option 4 – Referral program
Lastly, you can also invite other people to join the app to earn a commission. This is called a referral program. This is also another common opportunity being offered on GPT sites and apps. But if you haven't joined a GPT app or site before, then let me explain to you how it works.
All you have to do is share your referral code with the person you want to invite. Then, remind them to input the code once they've installed the app and registered. Once they've done that, they will become your referral.
As for the reward you will get, you will receive a 5% commission every time they earn something through the app.
It's not much but it's a passive form of earning since you don't actually have to do anything to earn. You just need to make sure the people you invite are really interested in using the app. Otherwise, you won't really earn anything from it.
Recommended: Check Out the Top Survey Apps
How do you get paid?
For every earning opportunity you complete, you will earn a certain number of points. But what will you do with the points you've earned?
Well, once you've earned at least 5,000 points, you can claim it and deposit it to your Coinbase account.
The app will then convert it to the appropriate amount of Bitcoins. The only problem is, the amount of Bitcoins you will receive during redemption will vary depending on the exchange rate. So, you can't really tell the exact amount you have by just looking at the points you've earned.
But I can tell you this though, 5,000 points is only worth less than a cent. So, while it seems like it's a lot, it actually isn't.
Their payment system is relatively straightforward but it is also very limited. You will only be able to earn Bitcoins from it. Plus, you will also need to use a specific wallet to withdraw your earnings (Coinbase). So, it's not exactly the most versatile app out there in terms of payment options.
You also need to keep in mind that you can only withdraw your earnings once every three days. That's the limit. So, when you withdraw your earnings, make sure you withdraw it all in one go. Otherwise, you will have to wait another three days before you can withdraw again.
Now, if you are interested in more sites that will allow you to earn Bitcoins for free, I recommend you also check out the top sites that pay in Bitcoin.
How much money can you make?
Let me tell you right away, you won't earn a lot from this app. Even if you've earned thousands of points from their earning opportunities, you still won't earn a lot. You will have to earn millions of points before you will be able to earn a decent amount.
And that will really take a lot of time, which, in my opinion, is better spent on apps or websites that pay better. The time-to-money ratio of BFast BFree is simply too low to warrant it being a good option to earn from.
They also tell you this right from the start. If you take a look at their app page on Google Play, it will say "It takes a long time to earn enough points to cash out for a meaningful amount of Bitcoin."
So, take that into account before deciding.
Can you use it on a desktop?
BFast BFree is a mobile-only platform. So, you will really need a mobile device to earn from it. Now, as for their app, it is only available for Android devices. So, if you are an iOS user, then this app is not for you.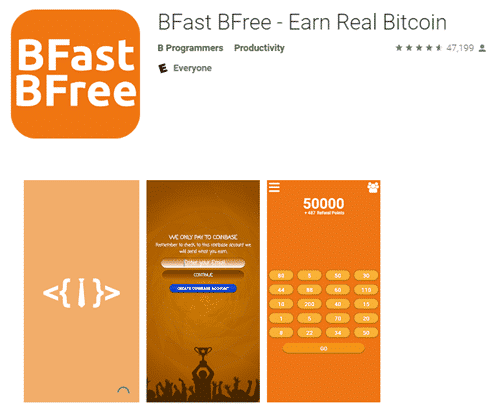 As I've explained earlier, their app isn't really very user-friendly. If it's your first time using an app like this, you won't immediately know how it works since the app does a poor job at explaining what it does.
It doesn't explain well how every earning opportunity works. You'd have to do some trial and error to figure out what some of its features do. Plus, it's also very spammy. You will have to keep watching a video ad every time you go to a different section of the app, which is very annoying, in my opinion.
Who can join BFast BFree?
The only redeeming factor about this app, in my opinion, is that it is available globally. So, you can register as a member regardless of where you live.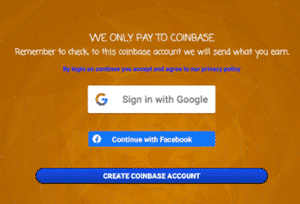 But as I've mentioned earlier, you have to have a Coinbase account if you plan to use this app because this is the only payment method it offers. If you don't want to make this Coinbase account, then don't use this app.
As for the registration process, you can use your Facebook or Google account to sign up. The process is relatively straightforward and once you are done, you can log in to the app and start earning right away.
Can you get support?
The app doesn't have a support section and it also doesn't have a website. The only thing it has is a Facebook page you can visit and message.
I had to dig around a bit to find an email address you can email for your inquiries. If you have any questions, you can email them at [email protected]. That's about the only contact information I can find for the app.
While they do provide a way for you to get in touch with their support team, I would still say they don't have a good support system in place for their members. It would have been better if they provided even just a support section inside the app – especially since the app really doesn't do a good job in explaining its features. That would have improved the overall user experience it provides.
Final Verdict
BFast BFree is a GPT app that will reward you for completing offers and watching video ads. It has one good feature to offer and a lot of drawbacks.
Let me finish this review by laying out its pros and cons so you can better understand why this is not a good app to join.

Pros:

Cons:
Limited earning opportunities offered
Very low rewards
Their app is not user-friendly
Limited payment options offered
As you can see, this app has more cons than pros, in my opinion. That's why I would say this app is really not worth using. There's really little reason to use it. There are simply far better options out there. You will only be wasting your time if you use this app.
I would recommend you check out the top survey and GPT sites in your country instead. The sites on this list all have good earning potential and they all offer multiple payment methods that are convenient to use.
Plus, these sites offer a good overall user experience. You will easily learn how to use them.
If you have any comments, questions, or have any experiences with BFast BFree yourself, I would love to hear from you in a comment below.