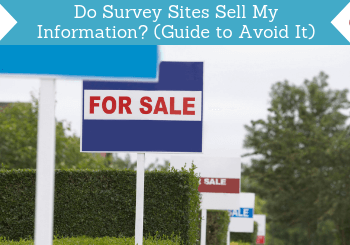 If you have ever joined a paid survey site, you will also know that you need to provide some personal information to join.
But will your personal information be sold, and result in you receiving a lot of spam? Or what do they do with this information?
This might be a concern you have before joining online survey sites.
I have joined hundreds of survey sites and below, I will answer these question from my experience so you know what to expect if you want to make money by taking surveys.
What information do survey sites collect?
When you join a survey site, you, of course, have to register with your name and email address.
After joining, you can on most survey sites fill out a profile with further information about yourself. It is usually some basic demographic information like your interests, if you have a car, if you have any diseases, are you married or single, what is the level of your income, what your media habits are, etc.
It is voluntary how much of the information you want to fill out, but at some sites, you will get a cash bonus for filling out all of it or get a bonus where the size depends on how much of the profile you have filled out.
In some cases a survey site might also ask you for address and phone number when you sign up – this is sometimes necessary to verify you are an actual person. But before giving any of this info, make sure to read the rest of this article as it is not always a good idea to give this.
Why do survey sites ask for demographic information?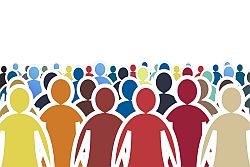 When a company wants to do a survey, it is to get statistical information about, for example, a certain topic, product or service.
To be able to use it for statistical purposes, it is necessary for them to know a bit more about people than just the email address. This is also a way to avoid fraud and secure the quality of the result.
The information is also to make sure that it is the right target group that answers. For example, does it not make sense, if you participate in a survey about allergy medicine if you do not have any allergies.
So this way, the information is also sometimes used to make sure that you will not be offered surveys that are not relevant for you.
Many survey sites are however not that great at using the information actively to screen which surveys you are initially offered. So at most sites, you will still sometimes be offered surveys that are not relevant to you, and then do not qualify for.
There are a few exceptions for this, and especially PaidViewpoint has understood to really use this profile information to screen which surveys you are offered. At PaidViewpoint you will therefore never be offered a survey that you do not qualify for. However, this site also does not offer you a lot of surveys.
But there are some things you can do to qualify for surveys more often – you will never qualify all the time, but with the right approach it can be less frustrating not to qualify.
Do the surveys sites then sell this information?
An important question many people have before joining paid survey sites is if your information is safe. Some people argue that survey sites are only meant to gather information and then sell it to third-parties.
I can, of course, not say that this never happens, but it is not fair to say that this is the purpose of survey sites. The people that say this is the only purpose of survey sites often have an ulterior motive and try to convince you to join their online money making opportunity instead.
Surveys actually provide a lot of useful information for companies, governments, and NOGs to improve their service and products and also a lot of information about the society and the opinions of the population in general that can benefit the whole society.
If you sign up for any of the legit survey sites, you do not have to worry about them selling your information.
But before joining a survey site, make sure it is not a scam site, as it will then, of course, be possible that they sell your information, or try to cheat you.
Will you receive a lot of spam after joining survey sites?
In general, you do not have to worry too much about this. I cannot guarantee that you will not receive a bit more spam.
But I have signed up for many survey sites, and I have not had a significant increase in spam mail I receive. If you are worried about receiving spam, look at the steps below to secure yourself as much as possible.
Many survey sites offer to send you an email when there is a survey available, so you will, of course, start receiving more emails. But how many depends on how many survey sites you sign up for.
And if you are on survey sites to share your opinion and get paid for it, it is also nice to know when there is an option:-).
What can you do to secure your information?
To secure yourself as much as possible you can follow the advice and tips below:
Tip #1 – Read conditions:
As mentioned earlier, you do in general not have to worry about the legit survey sites sharing your information.
But there are some sites that do. Most often you will be able to see this in their terms so if you are unsure of a site, check their conditions before signing up.
On a site like PaidSurveyDepot, you, for example, agree to receive emails from their marketing partners when you sign up.

You have no idea how many partners they will share it with and personally, I really dislike when sites use these kinds of methods. But it is also not as such a paid survey site but just one that collects sites to promote to you (called a survey aggregator).
None of the top recommended sites will have these kinds of terms. But if you have any doubts about a site, check their terms.
You can also check out all my survey reviews if you want to know more about a specific platform. In these reviews, I share all the details about the hundreds of sites I have tested.
Tip #2 – Join the respected sites
If you make sure to join the legit survey sites, you will also know that they will do their best to protect and respect your information and not misuse it.
This is the absolute best way to secure yourself when taking online surveys.
You can check out the list of the respected and top-rated survey sites in your country to get an overview of the best survey sites at the moment.
Tip #3 – Should you make new email just for surveys
I want to include this tip here because I often hear people saying that if you want to make sure not to receive any spam or keep the survey offers separate from the rest of your emails, you can create a new email that you use just for the purpose of survey sites.
This can be an option, BUT it is not necessarily a good idea. The advice often comes from people that have not actually taken a lot of surveys themselves.
Because if you do this, you have to be aware that if you want to get paid through PayPal or similar services, survey sites often transfer the money to the email that you are registered with.
So that can give problems if you register with a different email than the one you use for PayPal or similar services.
On some survey sites, you can easily choose to get paid out to a different address than the one you registered with but if you are planning to use a new email address just make sure to check the conditions for the site you are joining to make sure you can actually get your earnings out.
Tip #4 – Use common sense:
Like with any activity online, it is good to use common sense, and if something looks or sounds strange, then look deeper into it before joining.
And if you are asked to give away information you do not want to give away – do not give it away!
Final thoughts
In general, I would say that from my experience, you do not have to worry too much about survey sites selling or misusing your information. Just make sure to follow the advice above.
If you follow the advice, survey sites can be a great way to make some extra money and at the same time have your opinion heard.
And the best way to make sure to get the best opportunities and earn in a secure way is to join the legit survey sites in your country.
If you have any comments or questions, I would love to hear from you in a comment below.