Are you looking for a side hustle to earn extra cash? If so, you might be interested in becoming a Dolly Helper. The Dolly platform claims you can earn good money by working as a helper.
Now the question is, is Dolly Helper legit or a scam? In this Dolly Helper review, I will address that concern and more. It will show you how the site works so you will know exactly what to expect from it if you decide to become a helper.
That way, you can make an educated decision on whether this is a good opportunity for you to earn extra cash or not. So let's go ahead and take a closer look at this opportunity, shall we?
What is Dolly, and what does it offer?
Dolly is actually a website that offers delivery and moving services to its customers. So for you to earn from it, you will have to work as one of their delivery/moving guys called helpers. It is indeed legit since you can really earn money when working for them.
But the question is, is it worth joining?
Well, to answer this question, you must first understand how it works, and the best way to do that is to examine the earning opportunities it offers. Doing so will give you an idea of how much time and effort is required to earn while working as a helper.
I have therefore made a video that explains exactly how you can earn from Dolly and shows all the pros and cons. You can also read all the details below the video.
Recommended: Check Out the Best Gig Jobs and Where to Find Them
Option 1 – Working as a Helper
There are two ways you can earn from Dolly, and the first method I will discuss is to work as a helper.
Keep in mind that you should only choose this option if you own a qualified vehicle and you are able to lift 75 pounds or more.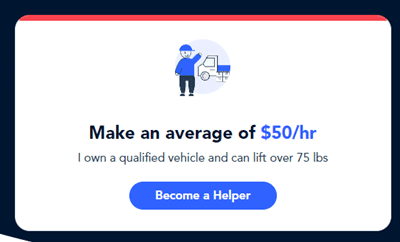 Qualified vehicles are trucks, cargo vans, box trucks, or SUVs with trailers. If you don't own any of the vehicles mentioned, then you can't work as a helper. You can instead choose the other method, which I will discuss later.
Once you are accepted as a helper, you will have to download and install the Helper app (I will discuss more about the app later) to see all the Dollys available in your area. Dollys are what the site calls their job orders.
What Dolly is actually doing is connecting independent contractors with local people and businesses who need help transporting or lifting heavy items.
So when you accept a Dolly, you will be expected to transport and lift items to a certain location specified by the customer. You will be paid by the hour when working on a Dolly. The rate will mostly depend on your location, productivity, and job availability, but the average rate will be $50 per hour.
When transporting items, Dolly will not reimburse your gas expenses, so you have to think about whether it will still be profitable to do this kind of earning opportunity. Based on my experience, Dollys that will involve traveling a long distance are not very profitable due to the gas expenses.
So keep that in mind when you decide which Dollys to accept when working as a helper.
Another thing you need to know is that you decide your schedule, and there's no contract or minimum hour requirement. So it's actually a versatile earning opportunity, in my opinion.
Option 2 – Working as a Hand
If you don't own a qualified vehicle, you can still earn from Dolly by working as a Hand. You'll still have to lift things, but you don't have to use a vehicle while working.
The process of finding Dollys to work on will be pretty much the same as helpers. You just log in to the app and look for Dollys that will ask for a hand instead of just a helper.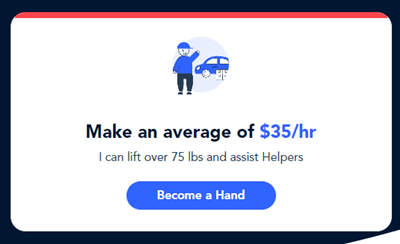 You'll mostly have to help customers lift things when they move. It has fewer responsibilities, but the pay is also lower. You will only earn an average of $35 per hour when working as a hand. But again, the rate will still depend on your location, job availability, and productivity.
This option, in my opinion, is great if you don't want to worry about gas expenses. You just have to be prepared to do what is asked of you, and you have to make sure you arrive on time.
Recommended: Check Out the Best Gig Jobs and Where to Find Them
How do you get paid?
As explained above, you will be paid by the hour when working as a helper or hand. Your earnings will be reflected in your Dolly account balance. Then Dolly will pay you twice a week via PayPal.
Dollys completed on Monday, Tuesday, and Wednesday payout on Friday, while Dollys completed on Thursday, Friday, Saturday, and Sunday payout on Tuesday the following week. You don't need to earn a specific amount to receive your earnings.
As long as you've earned something during that span of time, it will be sent to your PayPal account automatically.
Overall, I would say the payment system of Dolly is very convenient and straightforward. I like the fact that it uses PayPal as its payment method since it is one of the most convenient payment methods available today.
If you are interested in more sites that use a convenient payment method, you can also check out the top sites that pay via PayPal.
How much money can you make?
The amount you can earn while working as a hand or helper will depend on how often you accept Dollys. But the main factor that can affect your earnings, in my opinion, is the availability of helpers/hands.
If there are a lot of helpers/hands in your area, there will be fewer chances to earn. Keep in mind that Dollys are on a first-come-first-serve basis. You always have to assume that you are not the only helper/hand around, so getting to the job offers as quickly as you can is the best way to maximize your earnings from this platform.
As for how well Dolly pays, I would say their rates are competitive. But again, as I've explained earlier, if you decide to work as a helper, you have to weigh your gas expenses and the amount you can earn if you want to profit from this opportunity.
Overall, I would say the earning potential of Dolly is relatively decent. You just need to be smart when accepting Dollys to maximize your earnings.
Can you use it on mobile?
As explained earlier, when you work as a helper or hand, you will need to use the Dolly Helper app, so you will definitely need a mobile device if you are interested in this earning opportunity.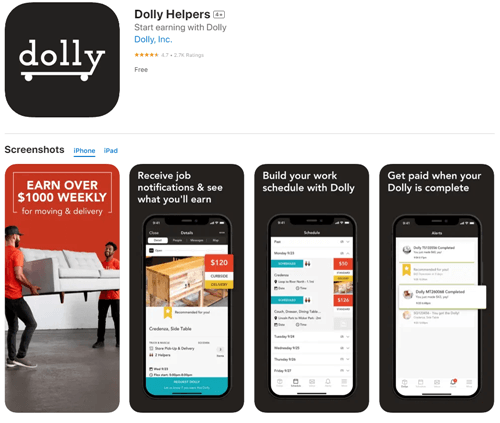 Fortunately, the app is available for download on both Android and iOS app stores, so you shouldn't encounter any compatibility issues. The app is relatively easy to use, which is all you really need from a gig economy app like this, in my opinion.
The app will also allow you to communicate directly with the customer, so you can straighten things out before you start working.
Who can join Dolly Helper?
If you want to work as a Dolly helper/hand, you have to be a US resident that is at least 18 years of age.
As mentioned earlier, if you choose to work as a helper, you have to own a qualified vehicle. It also goes without saying that you should have an active and valid driver's license, as well as existing auto insurance that matches the name and vehicle you sign up with.
If you want to work as a hand, you'll just need to provide a valid, unexpired U.S. government-issued identification. Aside from that, you also need to have a verified PayPal account whether you wish to work as a helper or hand.
Take note that Dolly is only available in certain cities. You will find out which cities it is available in when you apply as a helper or hand.

When you apply as a helper or hand, you will need to pass a background check first. This will involve a fee, so you must be willing and able to pay for this if you want to work as a helper or hand. After you pass the background check, further instructions will be sent to you. Just follow what the instructions are asking you to do to start earning.
The registration process is longer than most other gig economy platforms, so you need to be patient. You can't expect to earn immediately after applying.
Can you get support?
If you have any questions about the job or your account, you can check out the FAQ page first. It discusses some of the basic topics you need to know. If you can't find the answers you are looking for, you can send your inquiry via email, or you can chat with a support representative.
You can do this by clicking the message icon found at the lower right-hand corner of the website. You can also call their hotline if you really need to talk to a representative immediately.
Overall, I would say Dolly provides good support for its helpers since it offers multiple ways for you to request assistance.
Final Verdict
Dolly Helper is a legit opportunity to earn extra cash by helping people carry or move items. It has a couple of good features, but it also has a few drawbacks you need to consider.
Let me wrap up this review by summarizing its pros and cons, so you can get an overview of what Dolly Helper has to offer. Then you can decide if this opportunity is a good fit for you or not.

Pros:
Offers payment via PayPal
No payout threshold
Processes payments automatically

Cons:
Long registration process
You have to pay a fee for the background check
In my opinion, if you are willing to do the work required of you as a helper or hand, then joining Dolly Helper is a good way to earn decent money. You just have to be smart about accepting Dollys so you can maximize your earnings.
If you want to work as a helper, you need to figure out if the gas expenses involved will be significantly less than what you will earn. Otherwise, you are better off earning money another way.
Now if you can't lift heavy things, or you don't want to get out of your house to earn extra cash, I suggest you check out the top survey and GPT sites in your country instead. The sites on this list all have good earning potential, so you will be able to earn a decent amount in the comfort of your home.
Plus, you will definitely find a site you can join regardless of where you live.
If you have any comments, questions, or have any experience with Dolly Helper yourself, I would love to hear from you in a comment below.