There's an app called eSavvy that claims you can earn money talking about what you love.
The claim is a bit vague, in all honesty, but I understand why it can be appealing to some.
So is eSavvy a scam or legit?
This is the perfect question to ask before you join a platform, and I suggest you stick around and read this eSavvy review, so you will know the answer to that question among other things.
In this review, you will learn about all the features of the platform so you will know exactly what to expect. Then you can decide if it is truly worth your time or not.
What is eSavvy, and what does it offer?
eSavvy is a mobile app where you will get paid to share deals offered by stores with your friends. It's not as cut and dry as you might think, but the essence of how you can earn is to get people to buy the products you recommend.
To fully comprehend how this app works, we have to take a closer look at the earning opportunities it offers so you can gauge the amount of time and effort required to earn from it.
So, here's how to earn from eSavvy.
Option 1 – Sharing Deals
One way to earn from eSavvy is to share deals with your friends. To find deals you can share, just log in to the app. Then, you will see something similar to the photo below.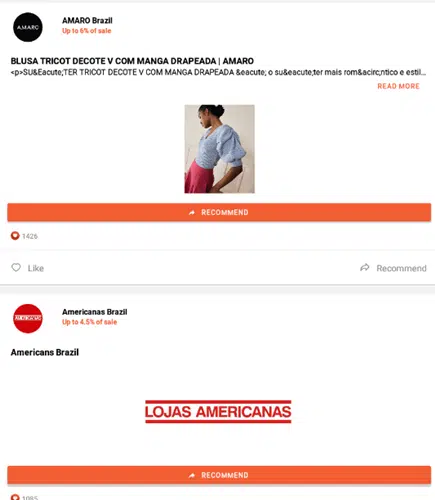 All you have to do is to pick a deal you want to share with your friends. Take note that the deals that will be shown to you will depend on your location.
When you see a deal you want to share, just press the "Recommend" button, and it will generate the link for you. Then, you'll be asked how you want to share it.

Just choose the method you prefer (Facebook, Twitter, Telegram, WhatsApp, or SMS).
After you've chosen the method of sharing, it will be shared, and when somebody clicks that link and buys the product in the deal, you will be compensated.
It's a lot like affiliate marketing, but the only difference is that you won't earn a lot from it because you can only earn up to 5% of the amount paid for the purchase. Plus, there aren't a lot of great deals that are worth sharing, in my opinion.
So it's kind of a tough sell since it's very hard to convince people to buy something that isn't really worth it. This is where the dilemma lies.
Personally, I wouldn't share the deals I can find inside this app with my friends. But it will still all boil down to your preferences. Later on, I will explain the implications of sharing worthless deals with your friends.
Option 2 – Referral Program
Another way to earn from eSavvy is by inviting other people to join the app through its referral program.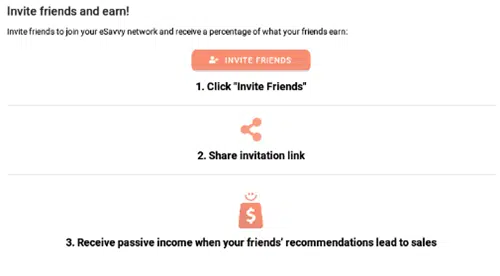 All you have to do is share your invite link with the person you want to invite. Then, when the person clicks the link and signs up as a member of eSavvy, they will become your referral.
However, for you to earn from your referral, they must recommend deals to their friends as well and generate sales.
Once they do, you will receive a 15% commission from any of the sales of your referrals. It's a passive way to earn rewards, but it will be reliant on how active your referrals are on the app.
And as I've explained earlier, it's kind of hard to generate sales when the products you are promoting aren't really worth it and don't come from prominent retailers. In other words, the deals lack appeal, which can lead to sales.
Recommended: Check Out the Top Passive Income Apps
How do you get paid?
Every time someone clicks your link and buys the product advertised in the deal, you will receive a commission of up to 5% of the total sale.
This will be credited to your eSavvy account balance. And as explained earlier, every time your referral gets a sale, you will also receive a commission.

Now, when you've earned at least $25, you will be able to withdraw your earnings via PayPal. This is the only mode of payment eSavvy offers, so if you are intent on joining this platform, you must have a PayPal account first.
The payment system of eSavvy is relatively straightforward, but the payout threshold is quite high, in my opinion. It will take a lot of sales to hit that amount, and it is something that is easier said than done because, as I've said earlier, there aren't a lot of deals worth sharing.
So you will really have to be very patient with this app. If you prefer a site or an app that will allow you to withdraw your earnings quickly, I suggest you check out the fastest paying sites instead.
How much money can you make?
The amount you can earn from eSavvy will depend on how many sales you can get from the links you will share as well as your referrals. But the main factor that will really affect your earnings is the number of appealing deals (good discount rates, the popularity of products offered, etc.) that can be found inside the app.
No matter how many links you share, if the deals aren't appealing, they will not convert to sales, in my opinion. And in this aspect, eSavvy falls short. That is why I would say the earning potential of the app is very low.
It will take a long time before you will be able to hit the threshold and withdraw your earnings. You are better off investing your time in apps or sites that offer guaranteed earnings.
Can you use it on a desktop?
eSavvy is a mobile-only app, so you will need to use a mobile device to earn from it. If you try to log in to the platform using their website, nothing happens. At least, that's what happened when I was testing it.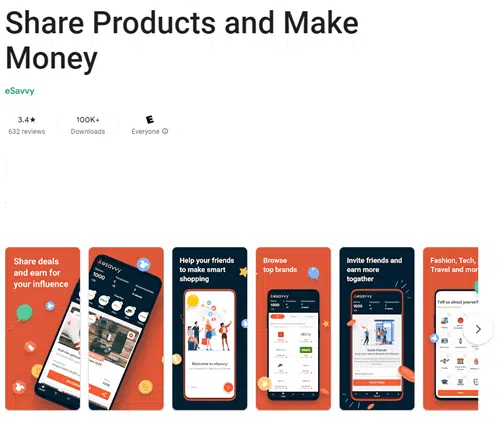 The app is only available for Android devices, so if you are an iOS user, then this isn't for you. I suggest you check out the best money making apps for iOS instead.
The app is relatively easy to use and you won't encounter any annoying pop-up ads while using it, so at least the user experience it offers is decent.
Who can join eSavvy?
eSavvy, as far as I can tell, is available worldwide, so you can register as a member regardless of where you live. However, you have to be at least 18 years of age to join.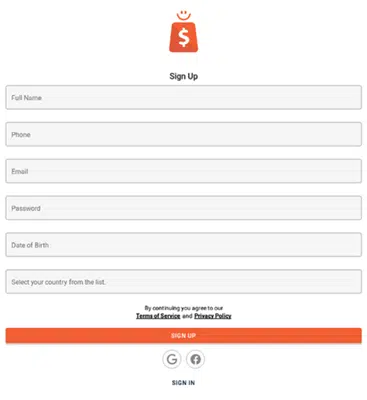 To sign up, you have to install the app first. Then, when you open the app for the first time, just go through the registration process by filling out the sign-up form. You can also choose to log in using your Google or Facebook account.
I personally created my own login details because when I tried to sign up as a member from their website using my Google account, nothing happened. So, just keep that in mind when you register.
Once you've submitted the sign-up form, the registration process will be complete, and you can now log in to the app and start looking for deals.
Can you get support?
If you have any questions about the app or your account, you can check out the Help & Support page first. It discusses a few of the basic topics you need to know. However, it's not the most comprehensive Help page, so you will most likely not find the answers you are looking for.
And when that happens, you'll have to get in touch with their support team. The problem is that the app doesn't have a contact form you can use to submit your inquiry. Their website also doesn't have any contact information, so I took a look at their app page.
That's where I managed to find their email address. You can send them an email at contact@esavvy.io if you have any inquiries. But overall, I would say the app offers bad support for its members because it doesn't provide any contact form either from its site or the app.
Their contact information is also very hard to find, so the uninitiated will have a very hard time contacting the support department, which is not what you want from any online rewards platform.
Final Verdict
eSavvy is an app that will allow you to earn by sharing deals with your friends or network. It has more disadvantages than advantages, so it's quite clear what my recommendation is for this app.
But let me summarize its pros and cons first so you can clearly see an overview of what eSavvy has to offer. Then, you will understand why it's not an app I would recommend.

Pros:
Offers payment via PayPal
Available worldwide

Cons:
Doesn't offer a lot of appealing deals
Low rewards
High payout threshold
Doesn't offer good support for its members
Let me just make it clear, eSavvy is not an app I recommend you use. You will only be wasting your time with this app because it is very hard to earn from it. It would have been viable if the app offered good deals from popular and reputable retailers, but I couldn't find any of that when I was testing the app.
All I could see were uninteresting deals from not-very-popular stores. So there's a very high chance that other people will also not be interested in what you are sharing and, therefore, will not buy what you are offering.
Plus, there's a small chance that people will think you are just sharing spam links and ignore you completely, which is not something you would want as an end result of using an online rewards app.
That is why if you are looking to earn extra cash, there are better ways to do it than eSavvy. I suggest you check out the top survey and GPT sites in your country instead. The sites and apps on this list all have good earning potential, and they all offer guaranteed earnings.
If you have any comments, questions, or have any experience with eSavvy yourself, I would love to hear from you in a comment below.