Cashback sites have popped up over the years mainly because online shopping has become the new norm for people. So naturally, it can be quite hard figuring out which cashback sites are worth your time without doing proper research.
It can be quite inefficient to do the trial and error just to find out if a cashback site is good or not. That's why reviews can be very helpful. This article will examine Extrabux to see if it is a viable option for people looking for cashback sites.
And the first thing you need to know is, is it legit? Let me answer it right away so we can proceed with discussing other important details the site has to offer.
Yes, it is a legit cashback site that does offer cashback rewards and other things.
But before you go ahead and join the site, I recommend you keep reading this Extrabux review so you can decide if it is for you or not because this might not be worth it.
What is Extrabux and what does it offer?
As explained at the beginning of this review, Extrabux.com is a cashback site that rewards you for availing of their cashback offers. But that isn't the only thing Extrabux offers.
To be able to understand how well you can earn from this site, we have to take a closer look at how you can earn rewards from it. So, here are the earning opportunities Extrabux offers.
Option 1 – Cashback offers
The only clear-cut way of earning rewards from Extrabux is by availing of cashback offers. When you become a member of the site, you can log in to the website and immediately view all the available cashback offers.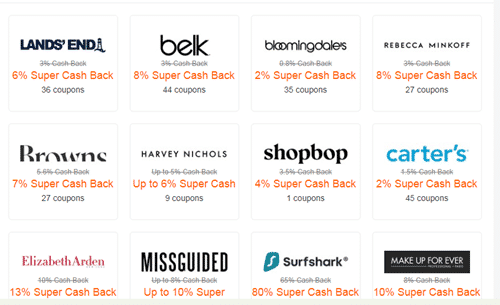 If you are new to cashback sites, you basically need to spend your own money in order to receive rewards. Cashback rewards are a form of rebate you will get once you complete a cashback offer.
So, the way this cashback offers work is, if you see an offer you like, all you have to do is click it and it will open a new browser tab taking you to the site where you can purchase the product. Once you complete the purchase, you will receive the cashback reward promised by the offer.
In order to avail of the cashback reward, you will need to go through the website and click the offer. But, they do offer an easier way for you to get rewards. That is by installing their Google Chrome extension.
When you do this, you will be able to still receive the cashback reward without having to go through Extrabux's website.
The extension will be able to track down the cash back rewards even if you go directly to a certain website that has partnered with Extrabux.
That makes it a bit more convenient because you don't have to keep logging in to the site just to buy something.
Option 2 – Coupons
Technically speaking, coupons won't really allow you to earn anything. Instead, it will allow you to save a few bucks.
And as the saying goes, "Money saved is money earned." That's why I have listed their coupons under the earning opportunities.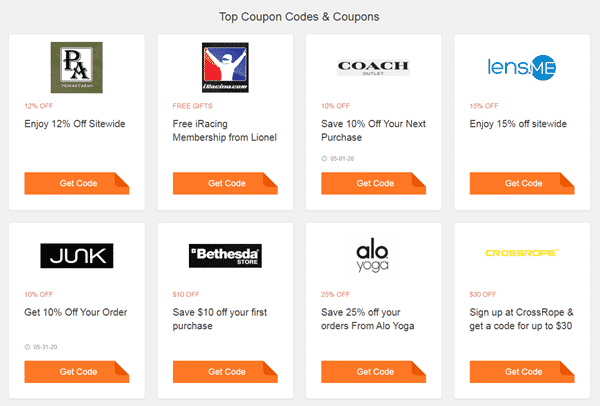 Extrabux uses coupon codes to help you save on your next purchase from one of their partner stores.
Each coupon has a certain condition you need to meet. For example, a coupon code will only be valid for your first purchase from a certain online store.
To get the code, you simply have to click the Get Code button and it will open a new window with the code in it. You can just copy it and go to the website to proceed with your purchase. During checkout, there will be a field where you can input the code you have copied.
If you meet the condition for the code, it will be implemented and the amount will be deducted from your total bill. It's a very simple process, in my opinion. Plus, there are typically a number of coupon codes you can use at any given time.
Option 3 – Bonus
Just like the coupons offered, their bonuses don't really count as an earning opportunity but I listed it anyway so you will be aware that they do offer bonuses.
You will receive bonuses from time to time if you meet a certain condition.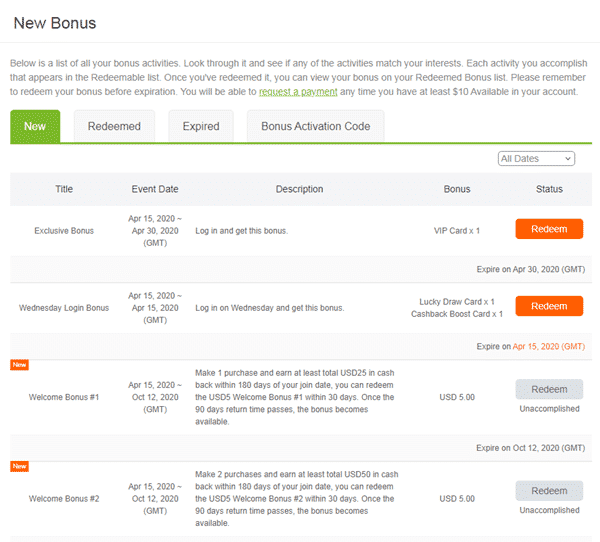 For example, in the photo above, it shows you are entitled to a bonus by simply logging in on a Wednesday. All you have to do to receive the bonus is click the Redeem button.
Most bonuses that will be awarded to you will be in the form of entries to their prize draws. But sometimes, there will also be cash bonuses. So, make sure to keep checking the bonus section to see what you have gotten.
Option 4 – Lucky Draw
Speaking of prize draws, Extrabux does hold a sort of raffle draw for its members. In order to join their Lucky Draw, you will need a Luck Draw card which you can only get from bonuses (as explained above).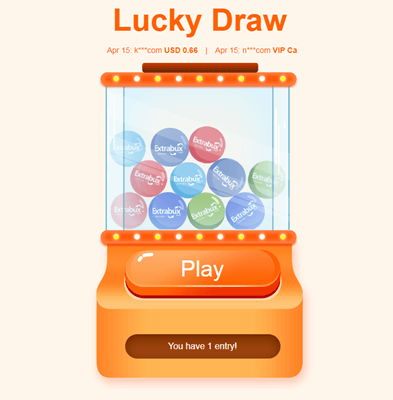 It's a very simple game really. All you have to do if you have a Luck Draw card is click the Play button. It will then award you with a prize randomly. You can win up to $66.66 cash bonus and many other card bonuses.
It's not really a reliable way to earn, but it's a nice addition to their site, in my opinion. Think of it as another bonus you can get. And if you are really lucky, you can earn a significant amount. Just don't expect a lot from it.
How do you get paid?
Every cashback offer you avail of will earn you a certain amount which will be reflected in your Extrabux account balance. You can then withdraw this amount in various ways.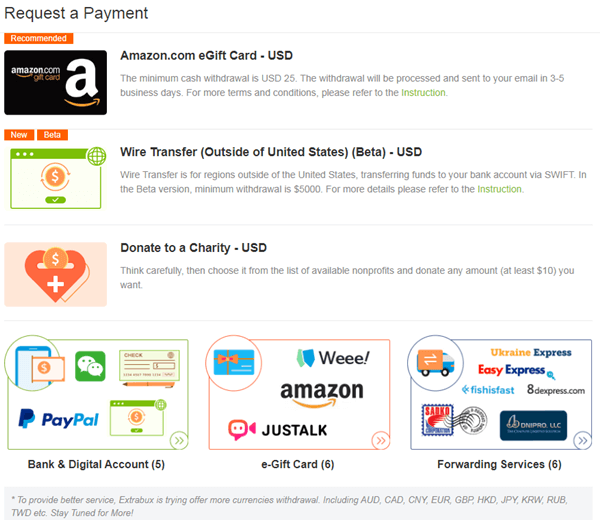 Once you've earned $10, you can withdraw it via PayPal or you can choose to receive a check that will be mailed to your doorstep instead. You also have the option to exchange your earnings for Amazon gift cards but that will require you to earn at least $25.
There are also other options like wire transfer but it will require a very high balance on your end ($5000), which is certainly more or less impossible to reach since it will take years to earn that amount unless you do an extreme amount of online shopping.
So, the only viable options, in my opinion, are PayPal, payment via check and gift cards.
If you choose cash payments, you can only withdraw in multiples of $10. For gift cards, it will be in multiples of $25. So, keep that in mind when withdrawing your earnings.
I do like the fact that they have a relatively low payout threshold of $10. It will be a bit easier for you to reach. If you are interested in more sites with a low payout threshold, I recommend you also check out the fastest paying sites.
How much money can you make?
With cashback sites, the amount you can earn will mostly depend on how often you shop. And in Extrabux's case, you will have to shop online.
They do have a decent number of online stores that have partnered with them. So, you will have an ample choice of offers to avail of.
The other factor that will affect your earnings on cashback sites is how well they pay. In other words, how high are their cashback rewards?
I would say that they do offer a decent cashback percentage. Cashback rewards typically range from 2-10%. But from time to time, you will see cashback offers with a higher cashback percentage. But it's not very common though.
That range isn't bad but it's not that good either. There are other cashback sites that offer higher cash back rewards. A good example is MyPoints.
So overall, I would say that Extrabux doesn't have a high earning potential. This is the reason why, in my opinion, this cashback site is not really worth it. There are simply better cashback sites out there with better offers.
Can you use it on mobile?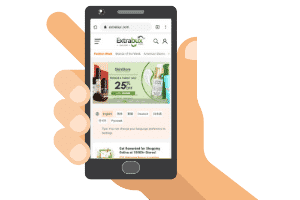 Extrabux doesn't have a mobile app you can download but it does allow you to use it on a mobile device through a mobile web browser. Fortunately, their site is mobile-friendly. So, you won't have to zoom in to read all the content properly.
This is a good thing because you will be able to earn rewards even when you are not sitting in front of a computer. However, using a laptop or a desktop offers added convenience because of their Google Chrome extension.
This will make it more convenient for you because you don't have to log in to the site just to avail of cashback offers. The extension will alert you if there are cashback offers available by simply going directly to the site of an online store that has partnered with them.
Who can join Extrabux?
Extrabux is available globally. So, you can sign up regardless of where you live.
However, there are certain countries where Extrabux can be more beneficial. If you live in the US, UK or Australia, you will have access to more offers.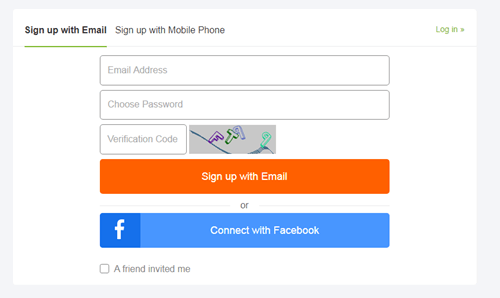 You have to be at least 18 years of age in order to become a member. You can sign up as a member in 3 different ways. The first method is by using your Facebook account. The other method is by providing your own login details (refer to the photo above).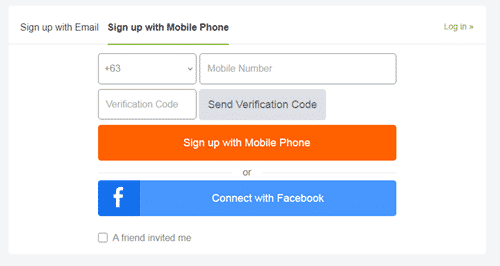 You are also given the choice to register using your mobile number (refer to the photo above). If you choose this method, you will have to input your mobile number and click the Send Verification Code button.
Extrabux will then text you the verification code which you will have to input in the Verification box to complete the registration.
Can you get support?
Extrabux does have a fairly comprehensive FAQ page that discusses most of the basic topics about the site.
This is a good thing, in my opinion, because it will help you understand how the site works. Plus, it will help lessen inquiries, so it will lighten the load of their support team even just a little.
In case you really need to talk to their customer support to verify cashback rewards or simply ask a question, you can also do that by going to their Contact Us page. You can use the contact form provided but make sure to choose the appropriate subject for your inquiry.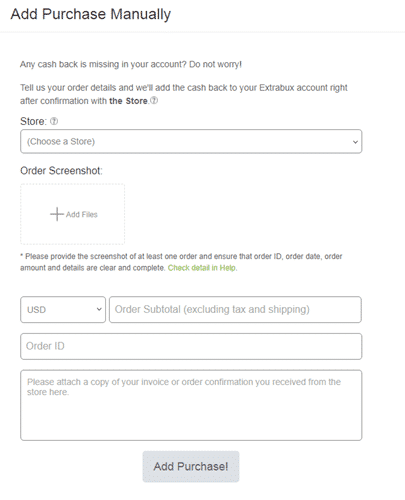 One good thing about how they provide support to their members is, they have a special form you can use if in case there is a cashback reward missing. This is the first time I've encountered this on a cashback site.
It certainly is refreshing because, in my experience, most of the inquiries being done on a site like this is about this issue. So, this is definitely something that they have anticipated and it does make it easier for you as a member to inquire about missing rewards.
That's why, overall, I would say that they do provide good support for their members.
Final Verdict
Extrabux is a cashback site that rewards you for availing of cashback offers as well as coupon codes. It has a couple of nice features to offer but it also has certain disadvantages.
Let me finish this review with a summary of its pros and cons so you can decide if this site is really worth using or not.

Pros:
Offers payment via PayPal
Has a relatively low payout threshold
Available globally

Cons:
Low cashback rewards
Some countries offer better opportunities than others
What I can say about Extrabux is, it's not a bad cashback site. But it certainly isn't one of the best ones either. It is somehow in that area where it's not that bad but it's not good either. So, in my opinion, this cashback site is not really worth it because there are simply better options.
That being said, it can still serve as a decent secondary site to earn cashback rewards from mainly because it offers a convenient payment option and it has a relatively low payout threshold. Just don't expect to earn a lot from it.
If you prefer to earn without having to spend your own money, there are actually plenty of sites that will allow you to do that. I recommend you check out the top survey and Get-Paid-To sites in your country.
The sites on this list all have good earning potential and offer several earning opportunities that won't cost you a dime. Plus, you will find a site you can join regardless of where you live.
If you have any comments, questions, or have any experiences with Extrabux yourself, I would love to hear from you in a comment below.