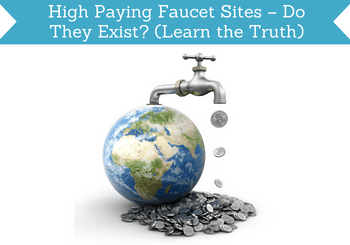 If you are reading this article then you've probably recently come across crypto faucet sites and are wondering if they are good options to earn crypto from. And if so, how do you find high paying faucet to make it worth your time?
Well, this guide will not only show you the truth about what these crypto faucet sites have to offer, but you will also learn about the best crypto faucet site you can join. And as a bonus, I will also show you more effective ways to earn free crypto.
So, stick around and keep reading this guide to know how you can build up your crypto assets without spending a dime.
What are crypto faucet sites?
In case you don't know, a crypto faucet is usually an app or a website that will reward you with small amounts of cryptocurrencies for completing short tasks or even just for clicking a button.
The reason why it is called a crypto faucet is it only "drops" a small amount of crypto, kind of like a faucet dropping small amounts of water.
Crypto faucets were developed as a tool to hand out free crypto to people to get them interested in investing in crypto. Think of it as giving them a small taste of what it is like to invest in crypto. If you let them taste a bit of what it is like having crypto assets, then there's a chance that they will dive in and become full-fledged crypto investors and thereby getting more people to pour money into the cryptocurrency industry.
It's actually a great idea to get people interested in cryptocurrency, in my opinion. But, you must have the proper expectations when you join any crypto faucet.
How much can you earn from crypto faucet sites?
You must know crypto faucet sites are not a get-rich scheme. As mentioned above, you will only receive a small amount of crypto every time you complete a short task or click a button to claim free crypto.
So, it will take you a lot of time to accumulate a significant amount of crypto. That's why you'll need to be very patient with these sites. Another thing you need to know is that when dealing with crypto faucets, you will usually encounter a lot of pop-up ads.
You see, this is how crypto faucets make money, so you really can't avoid dealing with ads. You just have to be patient and not mind closing these pop-up ads.
So, with regards to the question of whether high paying faucet sites exist, the answer is NO. There's no such thing as a high paying crypto faucet site, to be honest. If it a site makes this claim, it's most likely a scam you need to stay away from.
That being said, there's one crypto faucet that I can recommend to you, and I will talk about it in the next section.
Recommended: Check Out the Best Ways to Earn Free Crypto Daily
What is the best crypto faucet?
As explained above, you will not earn a lot from these crypto faucet sites, but that doesn't mean there isn't a crypto faucet site worth joining. I've tested a lot of crypto faucet sites and so far, the best one I've encountered is called Cointiply.
When it was first launched, it was mainly known as a Bitcoin faucet. But over the past couple of years, it has evolved into a Get-Paid-To site that will allow you to earn rewards in several ways.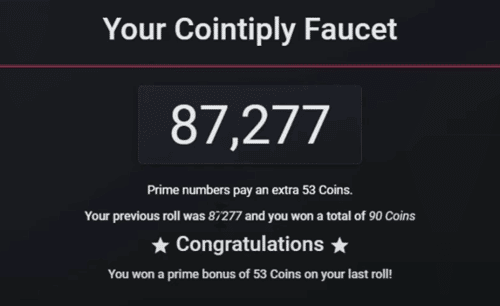 It still has its faucet feature, and the way it works is that you can claim free rewards every 60 minutes or so. How often you can do it, however, depends on your membership level.
All you have to do is log in to the site and go to the faucet section. Then you can claim a free reward.
You need to click the "Roll & Win" button, and it will generate a random number. When the result is displayed, you will know how many coins you will receive. The number of coins you will receive will depend on how active you are on the site.
So, participating in the other earning opportunities the site offers will actually yield a higher faucet reward. And best of all, doing this will only take a few seconds, so it doesn't really require a lot of effort and time.
Of course, don't expect to earn a lot from this opportunity. But what I like about this faucet is that you won't have to deal with annoying pop-up ads. All you have to do is click the button and solve reCaptcha, and you are good to go. You'll earn coins in just a few seconds.
The reward you will earn from this faucet, as mentioned above, is coins. You can then use the coins to redeem various cryptocurrencies.
Recommended: Check Out Full Cointiply Tutorial
More effective ways to earn free crypto
As you can see, you will not earn a lot of free crypto from faucet sites. But fortunately, there are more effective ways to earn crypto for free. I have tested a lot of ways to earn crypto online, and there are actually many sites that offer crypto rewards.
Most of the time, you'll have to work on GPT sites like Cointiply to earn rewards. You can then use the rewards you've earned to redeem various cryptocurrencies.
I say they are more efficient because you can earn a significant amount without investing a lot of time. Of course, you have to be prepared to invest a bit of time and effort because GPT sites will require you to work on short tasks to earn rewards.
If you want to earn Bitcoin, you can check out the best ways to earn Bitcoin for free. This article will show you several options to choose from to earn Bitcoin for free.
Now, if you prefer to earn Ethereum instead of Bitcoin, I've also tested several sites that offer this kind of opportunity. I have compiled them in this article of realistic ways to earn Ethereum for free.
I have also found free and easy ways to get LiteCoin without investing money. This list will show you a few options you can go for if you want to earn LiteCoin.
Final Thoughts
As explained earlier, there aren't any high-paying crypto faucet sites. They just don't exist because they are not designed that way. Crypto faucet sites are sort of just introductory sites that are made to get people interested in investing in cryptocurrencies.
In my opinion, it's not an effective way to earn free crypto even if you join the best one, which is Cointiply. It will take a lot of time before you can accumulate a significant amount of cryptocurrency.
Plus, as I've mentioned earlier, most of these faucet sites are very spammy, so you'll have to deal with many annoying pop-up ads.
If you want to accumulate a decent amount of crypto for free, you are better off joining sites that will allow you to earn crypto more efficiently. The articles I've mentioned above are a great starting point for finding great options you can go for.
If you have any comments, questions, or you know of any efficient way to earn crypto for free that is worth using, I would love to hear from you in a comment below.