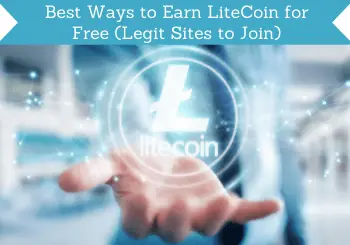 LiteCoin is one of the most popular cryptocurrencies around.
So, joining sites that will allow you to earn LiteCoin for free might be a good idea, provided, of course, you join legit and good sites.
There are quite a lot of sites that will pay you in LiteCoin, so it can take quite some time to narrow down your choices if you do it by yourself – because honestly many of the sites will not be worth it.
Here's where this guide to the best ways to earn LiteCoin for free comes in.
I have tested hundreds of free ways to earn crypto, and this guide will show you the best online rewards sites, and apps you can join that will pay you in LiteCoin. All the sites/apps are legit and free to join too. So, all you need to invest is your time and a bit of effort.
But if you are looking to earn Ethereum instead of LiteCoin, I would recommend you check out the top sites you can join to earn Ethereum for free.
Disclosure: Some articles on this website contain affiliate/sponsored links. Click for more info.
How to get paid in LiteCoin?
If you are new to LiteCoin, let me explain to you how you can get paid if you use free earning methods.
First, you have to earn LiteCoin from online rewards sites and apps. To do this, you have to participate in the earning opportunities these sites and apps offer (more about this below).
Then, you will be rewarded with currency (oftentimes in US dollars) or points that you can use to convert to any reward of your choosing (including LiteCoin). So yes, that means you can also redeem other rewards aside from LiteCoin (including cash).
Now, the one thing you need before you join any of these sites is that you will need to have a cryptocurrency wallet. This is what will enable you to withdraw your LiteCoin earnings. Your cryptocurrency wallet will also allow you to convert your LiteCoin into real money (if you choose to).
Personally, I use Binance as one of my wallets when I withdraw Litecoin as it is one of the most trusted and reliable platforms for this. But you can use any wallet you want to if you already have one.
Where can you get paid in LiteCoin?
As mentioned above, you can earn LiteCoin mostly from online rewards sites and apps. To be specific, you can earn from Get-Paid-To (GPT) sites and apps.
If this is your first time hearing about GPT sites, they are basically online rewards sites that will pay you for completing short tasks.
These short tasks will usually ask you to take surveys, watch videos, play games, complete offers, click ads, do social media tasks, and more. And once you've completed everything the task asks you to do, you will receive the compensation promised.
That's really all there is to it. Now, if you want to maximize your earnings from these platforms, I highly recommend you take advantage of all the earning opportunities these GPT platforms offer.
Since GPT sites and apps offer multiple ways for you to earn, then the best way to earn the most from them is to make sure you participate in all the different earning opportunities these platforms offer.
Also, I would recommend you join around 5 to 7 sites and apps to earn as much LiteCoin as you possibly can.
11 best sites that pay in LiteCoin
Let me be clear, the platforms I will include in this guide aren't the only sites that offer LiteCoin as a reward. Instead, they are really worth joining, in my opinion, since these platforms offer decent earning potential.
I will keep updating this list, so make sure to bookmark this page and check back from time to time for new opportunities.