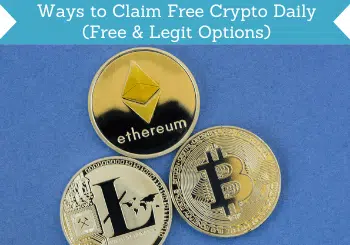 I've recently come across new methods to earn free crypto. So, if you are looking to get into the world of cryptocurrency without investing, I would recommend you keep reading this guide on the best ways to claim free crypto daily.
That way, you can find great options that will help you jumpstart or expand your cryptocurrency portfolio without even spending a single dime. In this guide, you will learn about free and legit options to earn free crypto by just clicking a few buttons.
I will include a brief summary of each option so you'll know what to expect from each of them, and you can then easily figure out which options are best for you.
Disclosure: Some articles on this website contain affiliate/sponsored links. Click for more info.
How much crypto can you earn?
Before we talk about the actual options you can choose from, let's first discuss the amount of crypto you can earn from these options. It is important to head into this kind of opportunity with the proper expectations, so you don't end up disappointed.
These options will not make you rich. After all, they will allow you to earn crypto for free with very little effort. You usually just have to log in and click a button and claim your free crypto. That's it, that's all you need to do.
Now, the one thing I have learned after years of testing sites that will allow you to earn something for free is that your earnings will always be proportional to the effort and time required to earn something.
If it takes very little effort and time to earn, you can expect that what you will earn will only be a small amount. But the keyword you always need to consider is that it is free, and you can do it daily in just a few seconds. Eventually, with enough patience, you will be able to earn a significant amount of crypto.
7 ways to claim free crypto daily
Now that you know what to expect in terms of earning potential, it's time we discuss the actual options to choose from. Keep in mind that this is not a prioritized list, so you can just choose which options to go for according to your preference.
And if you want to maximize your crypto earnings, I would recommend you join around 5 to 7 sites so you can gain access to more opportunities to claim crypto for free daily.
I will keep updating this list if I find new opportunities, so make sure to bookmark this page and check on it from time to time.