Do you want to turn your trash into treasure? Well, there's an app called HuYu that claims you can scan your receipts and get rewarded for doing it. It sounds like a great way to earn rewards, right?
Well, before you download this app, there are a few things you must know. And the most important question that needs to be answered is, is this app legit, or is it a scam?
Let me answer this right away so we can discuss more about the app. Yes, it is indeed a legit app that will reward you for taking photos of your receipts. Now, the question is, is this app worth it or not?
This HuYu app review will take a look at everything the app has to offer so you can gauge properly if the app is worth using or not. It will give you an inside look so you'll know exactly what to expect before you even sign up.
So, let's begin, shall we?
Important Update: HuYu app closing! (see best alternatives)
As of the 25th of March 2023, HuYu app closed, so it is no longer possible to use it to earn, and if you did not get your earnings out before it closed, you can not get them out now.
They have given no explanation as to why it closed down other than it was a business decision.
You can check out the best receipt scanning apps here instead.
What is HuYu, and what does it offer?
At its core, HuYu is a GPT (Get-Paid-To) app that will reward you for uploading a photo of your receipts. It's pretty similar to another app called Caddle. Here's a short video explaining what the HuYu app does.
Now, HuYu does offer a couple more earning opportunities. So, if you want to understand how the app works, we have to take a closer look at all the earning opportunities it offers. By doing so, it will also give you an idea of how well you can earn from it and if it will be worth it.
So, here's how to earn from HuYu.
Option 1 – Uploading receipts
The main earning opportunity this app offers is through uploading receipts. The premise is really simple, you take photos of your receipts and upload them inside the app.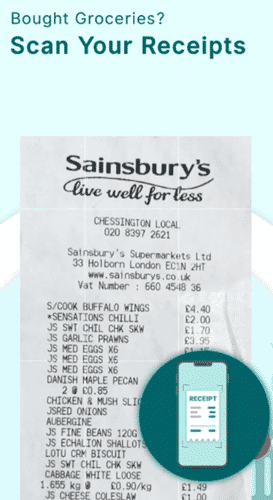 However, there are a few things you need to keep in mind when doing this earning opportunity.
First, the only receipts that will be accepted will be receipts from Tesco, Morrisons, Sainsbury's, Asda, Waitrose, Aldi, Lidl, and Co-op.
So, right off the bat, it will be a bit more limited compared to other receipt-scanning apps since those apps typically accept any kind of receipt. 
Secondly, you have to make sure you scan and upload the receipt within 7 calendar days of the date it was issued.
And lastly, you have to make sure the photo you upload is clear so that all the items and receipt details are readable. If it is blurry, there's a high chance your submission will be rejected.
If you follow all the guidelines, you should expect to receive 5 points for every receipt you upload. It will take a couple of days for HuYu to verify your submission, so don't expect to receive the reward immediately when you submit a receipt.
Also, it doesn't matter how many items are on your receipt or how much you spent, you will still earn the same number of points for every submission (5 points). So, keep that in mind when considering the earning potential of the app.
Option 2 – Forwarding digital receipts
Another way to earn rewards is by forwarding digital receipts. So, not only can you submit photos of physical receipts, but you can also submit your digital receipts to earn more rewards.
Again, there are a few things you have to keep in mind when forwarding digital receipts.
First, the receipts you can forward should only come from ASDA, Morrisons, Sainsbury's, Ocado, Tesco, and Waitrose. Any other digital receipt coming from stores not mentioned will not be accepted.
Secondly, just like with physical receipts, digital receipts that were issued within 7 calendar days will be the only ones accepted. For every approved digital receipt submission, you will earn 10 points. But take note; you can only submit 2 e-Receipts every 7 days. So, there's a limit to how many digital receipts you can earn from.
Option 3 – Paid surveys
Another way you can earn rewards from HuYu is through paid surveys. From time to time, you will be invited to participate in a survey.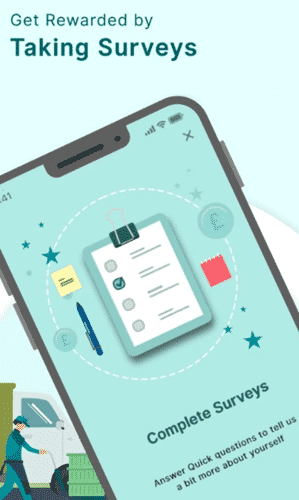 These surveys will only take a few minutes to complete. The way their surveys work is pretty much the same as the surveys you will encounter on survey sites and apps. You'll have to go through a qualification process first so that the app can determine if you are included in the group the survey is intended for.
If you pass the qualification process, you get to proceed to the actual survey. If you don't, then you just have to move on to the next available survey. As mentioned, their surveys aren't really that long, so don't expect to earn a lot from each survey.
Once you complete the actual survey, you will receive a certain number of points (which will be dependent on how long the survey is). All the surveys available will be displayed in the "Surveys" section of the app, so make sure to check this part of the app regularly so you won't miss any surveys.
Option 4 – Referral program
Their referral program isn't constantly activated, unlike other GPT sites and apps. Sometimes it's available, and sometimes, it's not. So, if it becomes available, I would suggest you grab that opportunity to invite other people to use the app so you can earn bonus rewards.
To invite people, just share your referral code with the person you want to invite. Make sure to remind them to input the code during registration so that they will be marked as your referral. After your friend has downloaded the HuYu app and scanned their first receipt, you will both earn points.
Just take note that only one referral code can be used by one friend. If you plan to invite a lot of people, you'll have to generate different referral codes for them (which you can do with their app). It's a bit of a hassle, but if you want to earn more rewards, you'd have to do it.
Option 5 – HuYu Snapshot
I personally wasn't able to test this feature because this wasn't available during my testing. So, I won't be able to give all the details about this earning opportunity, but I can still give you an overview, so you know what it is about.
So, let me just explain how it works. HuYu has a feature called Snapshot, where the app will invite you from time to time to share your browsing history with them. If you decide to opt-in, you'll have to download a program on your laptop or desktop and run it.
It will only take a few minutes for the program to run and get everything it needs. Once it's finished collecting what it needs, you can uninstall it, and you will then receive 150 points. You will only get invited to participate in this opportunity once in a few months.
So, if you want to maximize your earnings, I would recommend you opt-in to this when you get invited.
Recommended: Check Out the Top Survey Sites in Your Country
How do you get paid?
If you were hoping to get paid in cash with this app, then unfortunately, you will be disappointed. You can only earn gift cards from HuYu.
As mentioned above, you will earn a certain number of points whenever you upload or forward a receipt, answer a survey, participate in their Snapshot, and invite other people to join their app.
Then, to redeem rewards, you will have to use the points you've earned. You will have to earn a minimum of 500 points before you can start redeeming a gift card. To give you perspective, 500 points will only be worth £5.
The gift cards you can choose from will also be a bit limited. You can redeem Amazon gift cards as well as vouchers from their partner stores (the stores that they accept receipts from).
Their payment system is very simple, and I like the fact that they have a low payout threshold. But I do wish you would be able to earn cash as well. If you prefer to earn cash, I would recommend you check out the top sites that pay via PayPal instead.
How much money can you make?
Let me be blunt. You won't earn a lot from this app. You will only earn £0.01 per receipt you upload. It will literally take hundreds of receipts before you reach their payout threshold.
Plus, there's also the matter of the limitations for forwarding digital receipts (you can only earn from 2 digital receipts every 7 days).
Their paid surveys help you get to the threshold faster, but overall, it will still take a long time before you can reach their threshold. This is especially true if you don't shop from their partner stores frequently. In fact, I would only recommend you use this app if you shop from any of their partner stores.
In my opinion, the only value this app offers is that you get to convert receipts you usually just throw in the trash bin into money. You just have to be very patient with it. But if your goal is to earn a decent amount of cash online, there are better ways to do it.
Can you use it on a desktop?
HuYu is a mobile-only platform. So, you'll definitely need a mobile device to use it. And due to the nature of the earning opportunities of this app, there's really no need to use it on a laptop or desktop unless you are working on their Snapshot earning opportunity.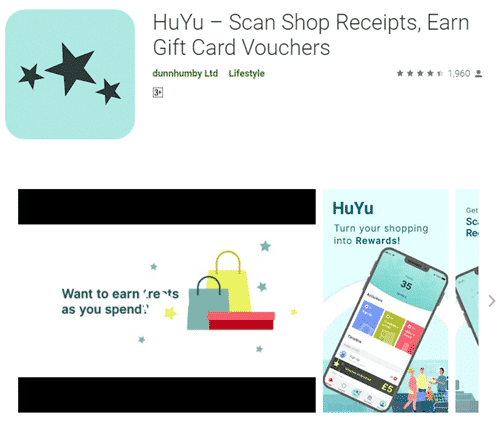 As for their app, it's available for both Android and iOS devices. So, compatibility won't really be an issue. Their app is very user-friendly, so you won't have any problems getting used to how it works.
Who can join HuYu?
In case it's not clear to you yet, HuYu is only available in the UK. They don't really mention this on their website, but if you look at the partner stores mentioned, they are all stores located in the UK.
So, if you don't live in the UK, then this app is not for you. If you are eligible, though, you have to be at least 18 years old to join. To become a member, you have to first download their app and install it on your device.
Once you launch the app, just follow the instructions for the sign-up process (you can sign up using your Facebook, Google, or Apple account). Once you complete the sign-up process, you can log in to the app and start earning. You will also receive a certain number of points as a sign-up bonus (the number will vary depending on when you register).
Can you get support?
HuYu does have a site where you can check out their FAQ page. Their app also has an FAQ section you can check out. So, if you have any questions, I would suggest you check out their FAQ page first.
If you can't find the answers you are looking for, you can contact their support team by emailing them at [email protected]. That's the only way you can get in touch with their support team.
Overall, I would still say they have a decent support system in place for their members, even though they don't really have a contact form provided on their website. The reason for this is that they do offer a fairly convenient way (via email) of contacting their support team, and they do a good job of letting their members know how they can get assistance.
Final Verdict
HuYu is a legit GPT app that will reward you for taking photos of your receipts and answering surveys. It offers a couple of benefits, but it also has certain limitations you need to keep in mind.
So, let me wrap up this review with a summary of its pros and cons to give you a better overview of what the app has to offer. That way, you can properly gauge if this app is a good fit for you or not.

Pros:
Offers a very easy way to earn rewards
Their app is user-friendly

Cons:
Limited earning opportunities offered
Low rewards
Only accepts receipts from a limited number of stores
Doesn't offer cash rewards
Among all the receipt-forwarding apps I've encountered, I would honestly say HuYu is one of the worst. The main reason why I say this is that it is fairly limited with what receipts it will accept. Usually, with other apps that offer this kind of earning opportunity, they don't really care which stores the receipts come from.
So, you'd basically be able to submit any receipt you have. That's why I would say the earning potential of this app is really low. I would only recommend you join this app if you shop frequently from one of their partner stores. And even if that is the case, I would say to not expect a lot from this app since they don't really pay that well.
That's why if you are looking for ways to earn extra cash online, I would suggest you check out the top survey and GPT sites in your country instead. The sites on this list all have better earning potential, and you will also be able to earn cash from these sites and not just gift cards.
Plus, you will definitely find a site you can join regardless of where you live.
If you have any comments, questions, or have any experiences with HuYu yourself, I would love to hear from you in a comment below.