Are you looking for a versatile app that will let you earn cryptocurrency? If so, there's an app called Legion Network that claims you can earn rewards and manage your cryptocurrency assets at the same time.
It sounds like a very useful app, right? But is Legion Network legit or is it just a scam?
I've personally tested the app to see what it is all about and I will share with you everything I have learned.
In this Legion Network app, I will explain all the details and features the app has to offer, and you will learn about both the pros and cons, so you will know exactly how it works and be able to determine if it is an app you should use or not.
Disclosure: Some articles on this website contain affiliate/sponsored links. Click for more info.
What is Legion Network and what does it offer?
Legion Network is an all-in-one app that will let you manage your crypto assets, and learn about NFTs, the Metaverse, Defi, and GameFi.
And as mentioned, you can also earn rewards in various ways. It is indeed a legit app since it really does what it claims it does.
Now, the question is, is it worth using? To answer that, you have to first understand how the app works and the best way to do this is to take a closer look at the earning opportunities it offers. Just to be clear, this review will focus on the free earning opportunities Legion Network offers.
I have, therefore, made a video that gives you an inside look and shows exactly how you can earn from Legion Network. You can also read all the details below the video.
Option 1 – Playing games
One way to earn from Legion Network is by playing the games found in the app. To view the games you can play, just open the app and press the "Arcadia".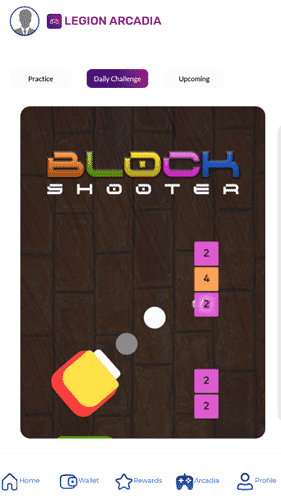 You will then see something similar to the photo above. Now, to earn from playing games, you have to take on the daily challenge for the specific game. However, I would recommend you do a practice run first in the practice mode because you will only have a limited number of attempts to complete the daily challenge.
When you feel confident that you can complete the daily challenge, then you can go ahead and go to the challenge mode. Each game will also allow you to buy more turns/tries to complete the challenge. However, doing so will cost you a certain amount. That is why I don't really recommend you do this unless you really know what you are doing.
The games they offer are more arcade-type games, hence the name Arcadia. They are fun and relatively easy to play.
As for the rewards you will earn, it will depend on the game you will play. To view the rewards, just choose any game and press the "Rules" to see how you can earn the rewards.
Usually, you just have to be among the top scorers on the game's leaderboard to receive the reward.
Option 2 – Daily tasks
Another way to potentially earn rewards is to work on their daily tasks. To view the tasks you need to just press the "Rewards" option and you will see something similar to the photo below.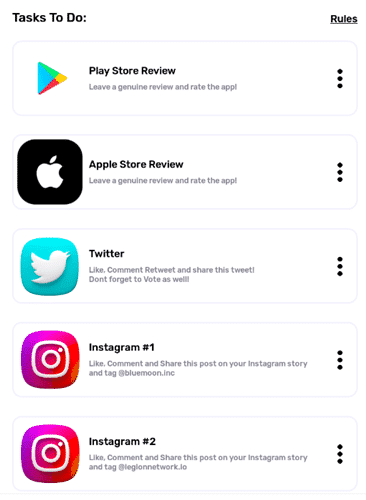 Most of the time, the tasks will ask you to leave comments or reviews on social media platforms or app pages, so they are relatively easy to do. After you've completed all the tasks, you will automatically be entered into their weekly giveaway.
During my testing though, the app didn't really explain what you can get from their weekly giveaway. The only thing that was clear to me was that there's no guarantee you will earn anything from this opportunity. The winner of their weekly giveaway will be randomly drawn from the pool of participants (those who were able to complete all the tasks).
I would recommend you don't prioritize this opportunity though since there's no guarantee you can earn from it.
Option 3 – Watching videos
Lastly, you can earn more rewards by watching the videos found in the "Empower" section of the app.
The nice thing about the videos you will be watching is that they will all be about certain crypto projects. So, not only will you be earning, but you will also learn more about up-and-coming crypto projects you potentially can invest in.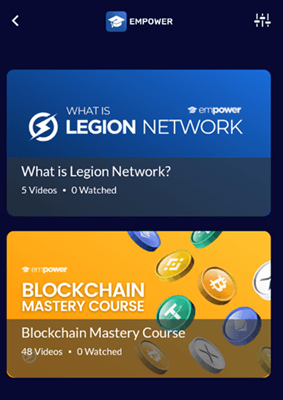 For every video you will watch, you will earn a certain number of LGX, which is the cryptocurrency Legion Network is using. Most of the videos you need to watch will only run between one to five minutes, so it won't take up a lot of your time.
You can even just let the video run in the background while you do something else. Although, I would really encourage you to pay attention to each video because you can learn a lot from these videos.
The one thing I noticed about the videos is that some of these videos don't really pay a lot, so it's not exactly the most efficient earning opportunity offered by the app.
But as I've mentioned earlier, these videos are actually informative, so if you are new to the world of cryptocurrency, watching these videos can really benefit you.
Recommended: Check Out the Top Apps to Earn Bitcoin for Free
How do you get paid?
As mentioned earlier, the reward you will earn from the earning opportunities Legion Network offers will be LGX, which is the app's own cryptocurrency.
As of the time of writing this review, LGX doesn't have a monetary value yet because it is a relatively new cryptocurrency and the minting and trading process has yet to start. That's why you shouldn't expect to earn money yet.
Once LGX has been minted, it will show up in your Legion Network account balance and you can view it in the "Wallet" section of the app.
The payment system of Legion Network is relatively easy to understand and I like the fact that it has its own wallet where you can store all your LGX coins. The downside is that it will take some time before this cryptocurrency will have a monetary value.
If you are looking to earn crypto that already has value, I would recommend you check out the best ways to earn Ethereum for free instead.
How much money can you make?
At the time of writing this review, it's hard to tell exactly how much money you can make from this app since their cryptocurrency still doesn't have any monetary value. Plus, the app is still in development and there will be more features added in the future.
That's why the earning potential of Legion Network could drastically increase or decrease depending on the new features they add and how the overall direction of the project goes.
That being said, as with most crypto projects, there is definitely potential in this app, in my opinion.
Can you use it on a desktop?
Legion Network is a mobile-only app, so you will definitely need a mobile device to use it since it doesn't have a web-based version of its platform.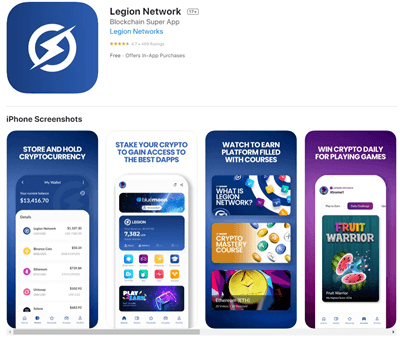 As for the app, it will work with both Android and iOS devices, so you shouldn't encounter any compatibility issues. The app is also pretty easy to use and you won't encounter any pop-up ads. Some features are still not available, but they do lay out the plans in the roadmap posted on their website.
I would suggest you check out the roadmap so you will have an idea of when to expect the new features of the app to be available.
Who can join Legion Network?
Legion Network doesn't indicate on its website which countries it is available in. But as with most crypto projects, it should be available in all countries where crypto trading is allowed.
The best way to find out if you can join this platform is to search for it in the app store. If you are able to download and install the app, that means it is available in your country. If it doesn't appear in your search results, then that means Legion Network is not allowed in your country.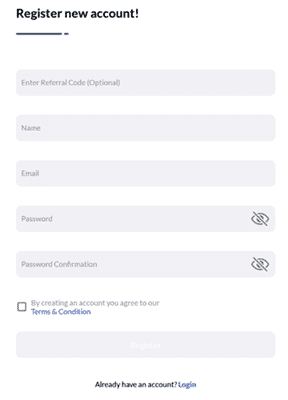 Signing up as a member of Legion Network is relatively easy. You just have to fill out the registration form and set up your PIN. Then, Legion Network will send you a confirmation email.
Just click the link in the email to complete your registration. Once you've done that, you can now log in to the app using your PIN and start working on their earning opportunities.
Can you get support?
The site and the app still don't have a FAQ page you can refer to if you have any questions about the app or your account. My guess is that it is still in development.
However, you can submit a support ticket if you have any inquiries about the app or your account. That is why I would still say it has a decent support system in place for its members since it offers a convenient way for you to get in touch with their support team.
Final Verdict
Legion Network is a legit cryptocurrency platform that offers a lot of features as well as opportunities to earn. It has a couple of good features, but it also has some limitations you need to consider.
Let me wrap up this review by summarizing its pros and cons so you can get an overview of what it has to offer. Then, you can decide if you should use this app or not.

Pros:
Offers simple and fun ways to earn
The app is user-friendly
You can earn new crypto for free

Cons:
Limited earning opportunities offered
Their cryptocurrency still doesn't have any monetary value at the time of writing this review
There are still plenty of features not available at the time of the review
In my opinion, Legion Network has the potential to be one of the more useful crypto platforms around. But as of the moment, that is all there is to it. If and when its cryptocurrency starts getting traded, you will have to check out how much it is worth to see if it is really worth using.
But it would be a good idea to start using it now so that you can accumulate as many LGX coins as you can before it starts getting traded.
Now, if you are looking for surefire ways to earn right away, I would recommend you check out the top survey and GPT sites in your country instead. The sites on this list all have good earning potential and you will be able to start earning after you register as a member.
How to join Legion Network?
If you are interested in joining this platform, you can click the join button below. It will take you to the registration page of Legion Network. It only takes a couple of minutes to complete. Just make sure to keep a copy of your PIN after you're done setting it up.
If you have any comments, questions, or have any experiences with Legion Network yourself, I would love to hear from you in a comment below.