At first sight, OneForma looks like a good site to earn extra cash from. It claims you can work wherever you want whenever you want. So, it definitely sounds very convenient, right?
Well, before you hit the sign-up button, there are a few things you need to verify first. And the most important thing to determine right away is if this site is legit? Or is it another scam?
So, let me just address this concern right away. Yes, OneForma is a legit micro-task site that will pay you for completing small jobs. However, that doesn't necessarily mean this site is a good way to earn.
This OneForma review will reveal the full details of the site so you'll know what to expect before you even join the site. This will help you understand if it is a site truly worth joining or not.
What is OneForma and what does it offer?
As mentioned above, OneForma is a legit micro-task site that will pay you for completing jobs. This is how you will be able to earn from this site in a nutshell. It's quite similar to Smart Crowd.
Now, in order to fully understand how the site works and how well you can earn from it, we have to examine the earning opportunities it offers in detail. So, here's how you can earn from OneForma.
Option 1 – Jobs
The main earning opportunity OneForma offers are the jobs you can do. When you log in to the site, you can see all the available jobs you can apply for by clicking the "Jobs" link in the dashboard menu.
You will then see the list of jobs per category. Simply click a category and you will see all the available jobs for that specific category.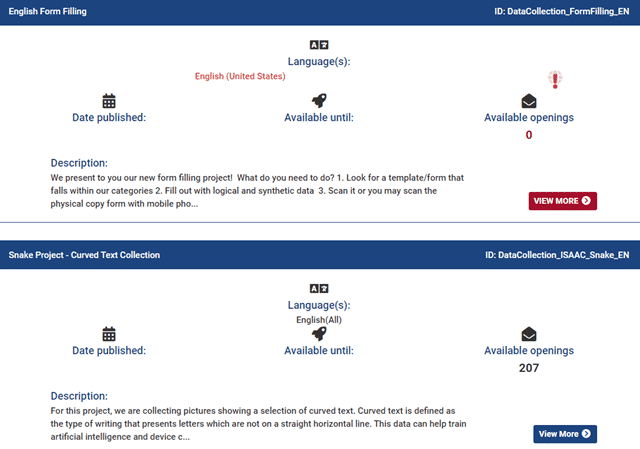 To work on a job, click the "View More" button. You will then see the instructions and requirements needed to complete the job. If you wish to do this job, you have to click the "Apply" button.
If the job doesn't require certifications (I will talk about certifications later), your application will be processed immediately.
A message will then appear saying you will have to wait a couple of days to find out if your application is approved or not. It will typically take 5-6 working days before you hear about your application.
So, don't expect to start working on jobs you are interested in right away. This is the only drawback to their system, in my opinion. You can check the status of your application by going to their "My Jobs" section.
The jobs available belong into these categories:
Data collection
Transcription
Internet judging
Translation
Testing
Full-time opportunities
The first five categories are really just short jobs you can do in exchange for a compensation.
Full-time opportunities, as the name suggests, are full-time jobs you can apply for. They pay more than the other categories but they require commitment.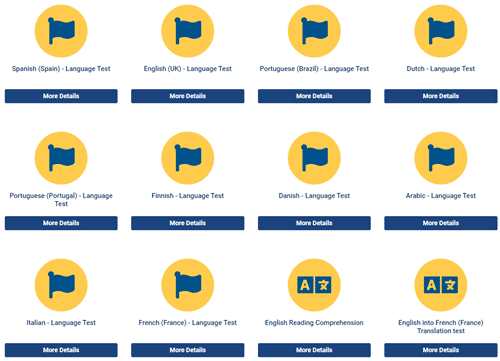 Now if you want to increase your chances of getting approved for a job you applied for, you can take the OneForma certifications they offer. As mentioned earlier, some jobs will require that you be certified for a certain skill (usually for certain languages).
Taking these certifications and passing them means you are basically widening your job qualifications. You are allowing yourself to be qualified for more jobs, which, in turn, will naturally result in more earnings.
And in order to get paid for the job you worked on, you will have to submit your work for verification. Once you've submitted your work, OneForma will then review it and if everything is in order, you will receive the compensation promised. Later, I will discuss you will get paid.
Option 2 – Referral program
OneForma also has a referral program you can take part in to earn bonus rewards. If you've already been a member of online rewards sites, then this earning opportunity will be very familiar.
But if this is your first time hearing about this kind of opportunity, the premise is really pretty simple. You invite people to join the site using your invite link. If they sign up using your link, they will become your referral and you will receive a bonus reward.
However, there really isn't any information on their website about what you will get for doing so, which is kind of unusual, in my experience. Typically, sites will tell you what you will get for getting referrals as a way to motivate you to do so.
But for some reason, OneForma doesn't really give much info about this earning opportunity. So, I don't blame you if you don't really take advantage of this opportunity.
If you want to learn how to get referrals, check out this guide on how to get referrals for survey and GPT sites.
How do you get paid?
Every job you complete will earn you a certain amount, which will be credited to your account.
They don't have an account balance section, but you will see how much you've earned when you check the "My Jobs" page.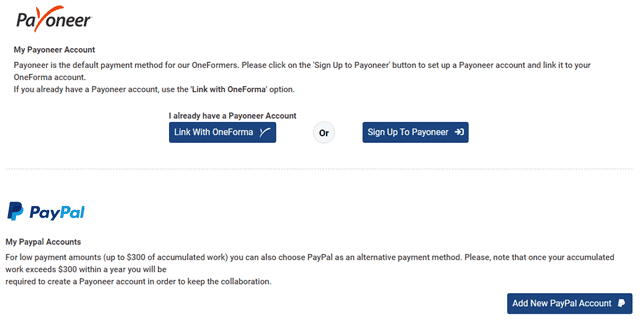 OneForma then processes payments twice a month. As you can see in the photo above, there are two ways you can get paid. You can choose to get paid via Payoneer or you can get paid via PayPal. They used to offer direct bank transfers as an option but has stopped doing so.
Payoneer is their preferred payment method and they recommend you choose this option too. For small payments (less than $300 accumulated in a year), you can select PayPal as an alternative. But if you plan to work on this site for a long time, I would suggest you use Payoneer because you will likely eventually earn more than $300 in a year if you keep doing jobs.
They issue all payments between the 15th and the 25th of each month and it covers all the work you have delivered successfully until the 25th of the previous month. The transfer might take a few days though, so don't expect to receive it right away.
If you haven't received payment by the 27th of any given month, feel free to send them an email (I will discuss later how to do this). I like that they don't require you to earn a certain amount before you can withdraw your earnings because it reduces the pressure of having to reach a threshold just to get paid.
If you are interested in sites that don't put too much pressure by having a high payout threshold, I would suggest you check out the fastest paying sites. These sites are a good option because you don't have to wait a month before you get paid, which is essentially what will happen with OneForma.
How much money can you make?
One good thing about OneForma's jobs is, they pay quite well. But they do require more effort and time on your end compared to the work you need to do on survey and GPT sites. So be prepared to invest a bit of time and effort on this site.
As for the amount you can earn, you will typically earn around $20 to $50 for most of the jobs they have, which is a good amount, in my opinion.
But you have to take into consideration that you won't earn this kind of amount every day. As explained earlier, you will have to wait a few days before you can start working on a job. So, if you were thinking you can earn a thousand bucks a month, you will be disappointed.
It's not impossible, but it is also highly unlikely. The more realistic amount you can earn will be around $50 to $100 a month, which would still be some nice extra cash, in my opinion.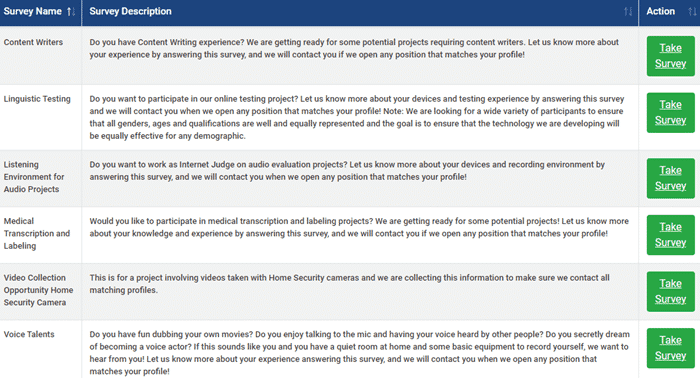 As you can see in the photo above, OneForma will invite you to answer a few surveys. These surveys aren't like the surveys you will encounter on survey sites (or even GPT sites).
That's because you won't get paid to complete these surveys. However, what these surveys do is, they will help you get more jobs because these surveys are basically designed to get more info about you and your skills.
If you want to maximize your earnings from this site, I would highly suggest you answer all the surveys that will be sent to you.
So, by answering these surveys, you are effectively widening your opportunities to do jobs. It's a lot like the certifications they offer. That's why I would suggest you set aside some time to work on their surveys and if you receive any new ones, you should answer them immediately.
Overall, I would say this site has good earning potential if you are prepared to commit to the work needed. The time-to-money ratio is pretty good. You will be able to earn a decent amount from every job you complete.
Can you use it on mobile?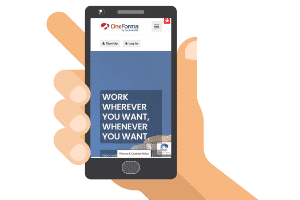 OneForma doesn't have a mobile app but you will be able to access their site from a mobile device using a mobile web browser. Their site is mobile-friendly so you shouldn't have any trouble navigating through the site and reading all the content properly.
That being said, due to the nature of the work you need to do, I don't really recommend you use your mobile device for completing jobs, unless otherwise stated.
Most of the jobs on OneForma will require the use of a computer in one way or another. So, it is best to just use your laptop or desktop when working on jobs, in my opinion.
Who can join OneForma?
OneForma is available more or less worldwide. All you have to do is complete their sign-up form (refer to the photo below).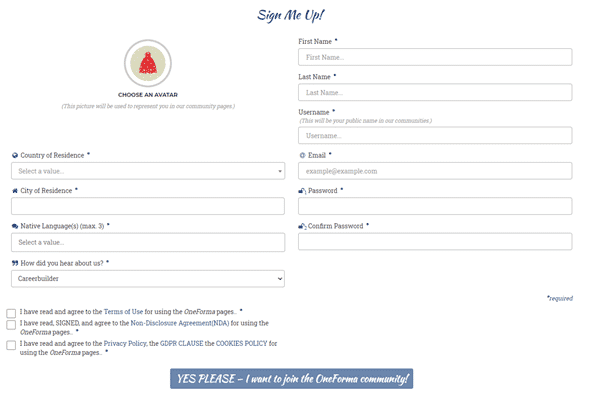 When you are done filling out the registration form, you will have to sign a couple of contracts (independent contractor and non-disclosure agreement).
I would suggest you read the contracts carefully before you sign it (yes, you can sign it without using any special program, you just use your mouse to affix your signature, which I found pretty cool).
Once you are done with the contracts, you will then receive a confirmation email. Simply click the link in the email to complete your registration. As soon as you've done that, you can log in to the site and start applying for jobs.
Can you get support?
Their site has a pretty extensive FAQ page. You will find most of the basic topics discussed on that page. They also have a forum you can check out for additional tips and announcements. So, if you have any questions about the site, you can check out both those pages first.
If you want to contest or verify the payments you have or haven't received, you can send them an email at [email protected]. Take note, this email address is only for payment concerns. For other concerns, you have to use the contact form provided on their dashboard.
Overall, I would say the site offers decent support for their members since they offer a couple of ways for you to get assistance. They also provide relevant information really well, which is a good thing.
Final Verdict
OneForma is a legit micro-job site that will pay you for completing jobs. It has a couple of good features but it also has some drawbacks you might want to consider.
So let's finish this review with a summary of its pros and cons so you can get an overview of what it has to offer and decide if this site is truly worth joining or not.

Pros:
Pays well per job
Offers convenient payment methods
Processes payments automatically
Available globally

Cons:
Takes quite a bit of time for you to receive payment
Takes a bit of time to get accepted for a job
It's not ideal to work on jobs using your mobile device
If you don't mind the long wait times, OneForma is a good site to join. You can earn a decent amount from their jobs. I also like the fact that they process payments automatically and that you don't have to reach a threshold to withdraw your earnings.
You just have to commit to the work because most of their jobs will require quite a bit of effort and time. If you prefer an easier and relatively effortless way of earning, I would instead suggest you check out the top survey and GPT sites in your country.
The sites on this list all offer simpler ways for you to earn and you will still be able to earn a decent amount. Plus, you will also find sites you can join regardless of where you live.
If you have any comments, questions, or have any experiences with OneForma yourself, I would love to hear from you in a comment below.