There are more and more online rewards platforms popping up these days. This trend isn't even limited to the desktop version. There has been a rise in mobile apps as well. That's why it is easier to earn online now.
The thing with this is, it becomes harder and harder to find the good ones. You will need to do proper research instead of just doing the trial-and-error method to find out if a site/app is any good.
Maybe you have during your research encountered PocketFlip and are wondering if you should use it.
So is PocketFlip a scam or really a legit way to earn?
Let me just reveal right away that it is a legit Get-Paid-To (GPT) app that will reward you for completing offers among other things. However, this doesn't automatically mean this app is worth your time. This PocketFlip review will examine exactly what the app has to offer.
That way, you can make an informed decision on whether you should download and use this app or not.
What is PocketFlip and what does it offer?
PocketFlip is a platform where everybody can get free rewards. All you have to do is collect free Coins inside the app and redeem them for rewards. But how do you collect these coins?
That will be through completing the earning opportunities the app offers. And in order to clearly understand how well you can earn from this app, we have to take a closer look at all the earning opportunities PocketFlip has to offer.
So, here's how you can earn coins from PocketFlip.
Option 1 – Paid offers
The main way you can earn coins on PocketFlip is by completing paid offers. Now, these paid offers are actually just small tasks you can do to earn rewards. If you've been a member of a GPT site before, this will be very familiar to you.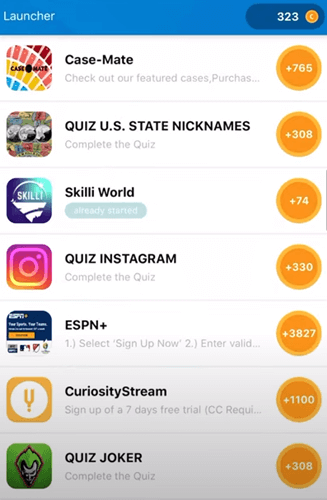 When you finish downloading the app and you've registered as a member, you will immediately see all the offers you can do once you launch the app. As you can see in the photo above, most of the offers you will be asked to do will involve installing certain apps.
These apps are actually apps that PocketFlip is promoting. Companies pay PocketFlip to promote their apps and PocketFlip does that by asking you to download their apps in exchange for coins. You will need to install these apps and use them for a bit or meet a certain condition to earn the coins.
But aside from downloading apps, other offers will also ask you to play games, answer quizzes and surveys. And just like installing apps, you will need to meet a certain requirement or condition to earn the coins promised.
One unique thing I noticed about their paid offers is, you will actually be able to report the offer if it isn't working.
For example, if you finished answering a quiz and it doesn't award you the appropriate number of coins, you can just report it and choose "Didn't receive coins" to inform PocketFlip that the offer is not working.
In my experience, not a lot of apps offer this type of convenience and, in my opinion, this is a good user-interface innovation.
Option 2 – Referral program
You will be able to boost your earnings from paid offers by inviting people to download and use the app.
A referral program is actually a form of passive income, which is a good thing especially if an app has a high referral reward.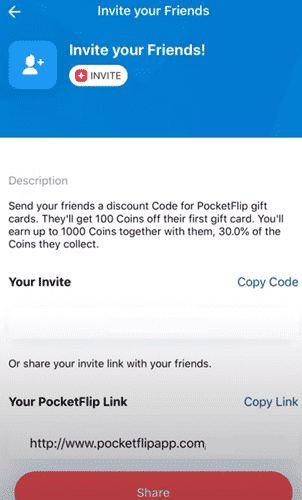 In PocketFlip's case, you will earn 30% of whatever your referral will earn. So, for example, your referral completes an offer worth 100 coins. You will receive 30 coins from PocketFlip.
It's actually a pretty high percentage because, in my experience, most sites and apps only give out around 10-20% referral commission.
Of course, you have to make sure the people you invite are really interested in the app because you won't earn anything if they don't become active on the app.
To invite a person to use PocketFlip, just share your invite code or link with them and remind them to use it when registering as a member.
How do you get paid?
As you already know, PocketFlip uses coins as its currency. So, every offer you complete will earn you a certain number of coins. You can then exchange the coins you've earned for certain rewards.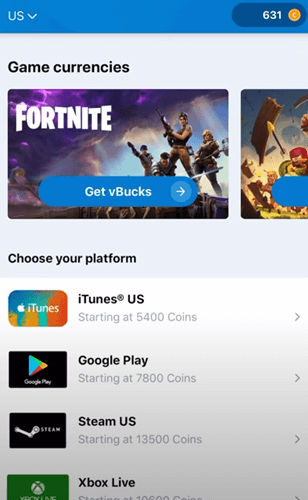 There are several rewards you can choose from but unfortunately, cash rewards aren't among your options. You can only redeem gift cards and video game-related items.
The smallest amount you can redeem is worth $5. That will be a $5 Amazon gift card which is worth 4400 coins.
One thing you need to take note of about PocketFlip's reward system is, the coin conversion rate isn't fixed. So, you really can't tell the exact value of a coin.
But I do like the fact that they have a low payout threshold of $5 because it is easier to reach.
There's a high chance you can redeem rewards monthly. If you are looking for sites that also have a low payout threshold, I suggest you check out the fastest paying sites as well.
How much money can you make?
Technically speaking, you won't be able to earn money from this app. But gift cards are like money, so to speak. And with an app like this, the number of gift cards you can earn will mostly depend on how much time you spend on it.
Their offers don't really give high rewards but it is not that low either. Some offers will allow you to earn 1000+ coins but it usually takes a while to complete it. The shorter tasks don't pay that well.
So, in terms of money-to-time ratio, I would say PocketFlip isn't a very efficient app. You will need to spend a lot of time in order to earn a significant amount. But, it can still serve as a decent secondary site to earn rewards, in my opinion. Just don't expect a lot from it.
Can you use it on a desktop?
PocketFlip is a mobile-only platform. So, you will really need a mobile device to use it. Unlike other apps, you won't be able to log in to PocketFlip from a desktop because their site doesn't offer that kind of option.
It makes sense though because as explained previously, they make a living by mostly promoting other apps. And you can't do that from a desktop or a laptop.
The good thing about their app is it is available for download on both Android and iOS app stores. So, compatibility won't really be a problem. You will also need to always have an internet connection on your mobile device to use this app.
I do like how they designed their app. It's very user-friendly and the user-interface is very intuitive. This will make it easier for you to earn rewards.
Who can join PocketFlip?
PocketFlip is not available globally. They don't mention this on their website so it's a bit confusing at first. The only way you can figure out if this app is available in your country is to go to the app store and search for it.
If you can't find it in the results, then it isn't available in your region. Based on feedback from members, this app is only available in the US, UK, Australia, Canada, Germany, Italy, France, and Spain. But then again, there really isn't any way to confirm that.
If it is available for download in your app store, then you will be eligible to become a member. Just download and install the app and it will take you to the registration process.
Can you get support?
One thing I noticed about their website is, apart from the basic explanation of how the app works, you won't really get anything out of it. It doesn't have any FAQ page as well. So, if you have any questions before downloading the app, you will have to contact their customer support to resolve them.
And to make matters worse, their site doesn't have a contact form you can use to get in touch with their support team. But you will be able to send your inquiries via email. Just send your email to hello@pocketflip.net.
Overall, I would say that they put little effort into how they handle support for their members. And their site also needs a lot of work because potential members won't really be very interested in joining, in my opinion, because there isn't a lot of useful info found on their site.
In my experience, potential customers can be converted once they have enough information so they'll know what to expect when and if ever they sign up.
Final Verdict
PocketFlip is a GPT app that does reward you for completing offers and inviting people to join the app. It offers a couple of good features but it also has certain disadvantages that are hard to brush.
Let me end this review with a summary of its pros and cons to help you decide if you should download this app or not.

Pros:
Low payout threshold
Has a very user-friendly app

Cons:
Low rewards
Cash rewards not available
The site lacks relevant information
PocketFlip lacks the allure of some of the best online rewards apps today. It doesn't offer any cash rewards. Plus, you won't be able to earn a significant amount without investing a lot of time because it has low rewards.
It just pales in comparison to some of the apps out there that pay better. There are simply better apps you can download if you want to earn using your mobile device.
That being said, PocketFlip can still serve as a viable secondary app to earn from. You just need to be a bit patient and not expect a lot from it.
If you prefer apps that pay better and offer cash rewards, I suggest you check out the top survey apps instead.
The apps on this list have good earning potential. Plus, you will definitely find an app you can use regardless of where you live.
If you have any comments, questions, or have any experiences with PocketFlip yourself, I would love to hear from you in a comment below.