If you frequently shop online, there's a site that you might be interested in joining.
It's called Slickdeals and it claims it has a large collection of deals and discounts from your favorite stores and brands. The question is, is their claim legit or is it just a scam?
I've decided to examine this site to find out if it does what it claims to do and I'll be sharing my experiences as well as what I really think about the site in this Slickdeals review. That way, you'll know what to expect before you even sign up as a member.
Then, you can decide if it is a site you should join or not. So, let's get the ball rolling, shall we?
What is Slickdeals and what does it offer?
At first glance, you might think Slickdeals is a site that offers digital and printable coupons you can use when shopping to save a bit of cash. But, that's actually not the case. Slickdeals is really a forum that allows its community to present good deals and discounts to its members.
And yes, it is indeed a legit site since it does what it claims to do which is to point you in the right direction. That is essentially what this site does.
Now, to fully understand how this site works, we have to take a closer look at the opportunities it offers. So, here's how you can profit from this site.
Option 1 – Deals
Let me just make it clear now. You won't earn anything directly from this site unlike Get-Paid-To (GPT) and cashback sites. Instead, when you become a member, you will just be made aware of great deals you can find on the internet.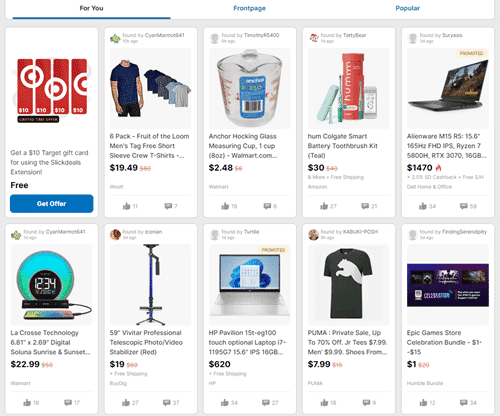 Let me explain how this works. When you log in to the site, you will immediately see recommended deals for you (refer to the photo above). If you notice in the photo above, there are two buttons below each deal.
One is for the thumbs up button which represents the number of people who gave an up-vote for this deal. The other is for comments regarding this deal. The latter is actually what is very useful, in my opinion.
That's because the comments will be regarding the deal being offered. So, you will mostly find feedback on what the offer is and/or the product that is being offered. These comments can actually help you decide whether this deal is worth it or not.
The deals that are presented to you are the deals that have the most up-votes by fellow members of Slickdeals. But, you can also just look for other deals by category. You don't have to rely on the recommended deals.
Each deal will also contain the link to where you can actually avail of the offer. It will be in the "See the Deal" button of the deal page. So, if you are interested in that deal, just click that button.
Take note that some deals posted on the site will be limited. So, if you try availing of the deal and it's not allowing you, then chances are, the deal has expired or the maximum number of participants for that deal has been reached.
On the flip side, you can also promote your own deals. You can actually submit deals you've found on the internet. So, if you want to contribute to the community, you can do that. You won't gain anything from it though, and you are also not required to submit a deal in order to fully utilize the site. Just think of it as an opportunity to pay it forward.
Option 2 – Offer drops
This is the opportunity where you will have the chance to win a prize. This opportunity is called offer drops.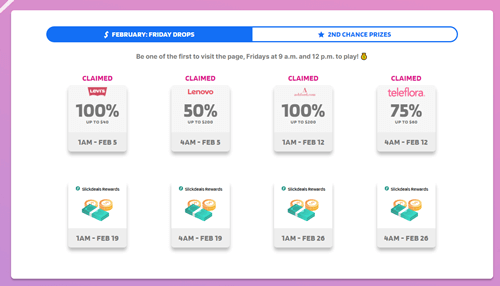 The way it works is, at certain times during the week, there will be limited offers released for members of the site. The idea is, you have to be logged in to the site during that time. Then, when the offer drops, you just have to click the Claim button for that offer.
You have to click the claim button as quickly as you can since it is a limited offer. Only a few members can claim each offer.
Now, if you are wondering what these offers are, usually, you can claim big discounts for specific brands or products. When I say big, what I mean is you can claim up to 80% discount or $200 off for certain products. That's some huge savings, in my opinion.
And sometimes, they do giveaways too. During my testing, they offered free Nintendo Switches (portable game consoles) to a limited number of members. By far, this is the more interesting opportunity the site offers, in my opinion.
While it may require some effort since you will have to be present when the offer drops, it can still be worth joining because the offers are actually quite useful, in my opinion. But again, it's not something you can rely on because there's no guarantee you can claim the offer since you will be competing with the other members of the site.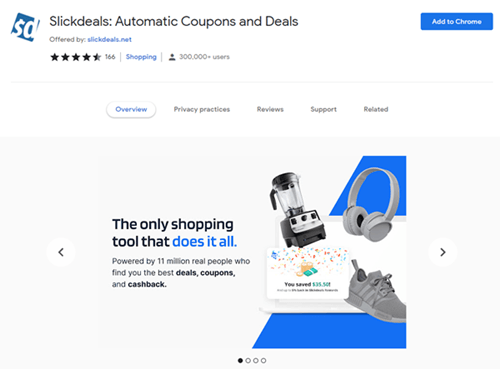 Before you can participate in their Offer Drops though, you have to install their Google Chrome extension. This is the one requirement you need to meet to join their Offer Drops. Their browser extension will also allow you to browse deals without having to log in to their website.
Now, if you fail to claim any of the Offer Drops presented but you attempted to claim one, you will still have a chance at winning cool prizes through their 2nd Chance Prize draw. All the members who attempted to claim an offer drop but failed to do so will be automatically be entered in this prize draw.
You can win various prizes like a PlayStation 5, graphics cards for computers, and more. The date of the prize draw will also be announced on the Offer Drops page. So, make sure to check out that section of the website regularly.
Recommended: Check Out the Top Cashback Sites
How much money can you save?
The amount you can save from the deals presented by Slickdeals will vary. But most of the popular deals and coupons you can find on the site will allow you to save around 5% to 10%, which is not bad, in my opinion.
But as I've explained earlier, that's all you can really get from this site. It's not as beneficial as a true cashback site, in my opinion, since there's really no guarantee you will be able to avail of all the deals shown on the site.
This is why I would still recommend you join a cashback site instead because you are guaranteed to earn something.
Now, if you are looking to earn without spending any money, I would recommend you check out the highest paying survey sites instead.
Can you use it on mobile?
Slickdeals has a mobile app you can download and it has all the features that their web-based platform offers. So, if you prefer to find deals on the go, you are better off downloading their mobile app instead.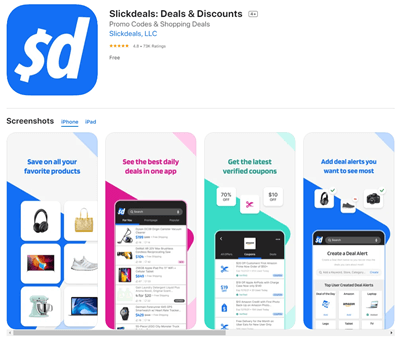 Their app can be downloaded from the Android or iOS app store. So, you shouldn't encounter any issues with compatibility.
The user interface of the app is intuitive, so you will easily get used to navigating it. But just like their web-based platform, you will still encounter ads, which is the only thing that really ruins the whole user experience Slickdeals offers.
However, I do have to say that their ads aren't really annoying to deal with compared to some other sites. It is bearable, in my opinion.
Who can join Slickdeals?
Slickdeals is available in many countries but it isn't available in Switzerland, the UK, or countries in the European Economic Area. So, if you live in any of the regions mentioned, then this is not for you.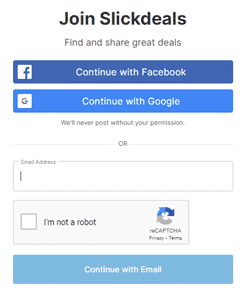 To sign up as a member, you can use either your Facebook or Google account. You can also just sign up with your own email address and password. After you've registered, you can now log in to the site and view all the available deals.
But, as explained earlier, if you will be using the web-based platform, you will have to install their browser extension first if you want to fully utilize all the features of Slickdeals. So, make sure to do that during your first log-in. It will only take a few seconds to install.
Can you get support?
If you have any questions about your account or the website in general, you can check out their FAQ page first. It discusses most (if not all) of the basic topics you need to know when you become a member of the site. It's fairly comprehensive, so you will mostly find what you are looking for.
And since it is mainly a forum, you can also check out their community forums for tips and advice on how to use the site.
But if you encounter any issues that were not solved by their FAQ page or their community forums, you can submit a request to their support team. You can access their form on their FAQ page as well.
Overall, I would say the site has a decent support system in place for its members since it offers a convenient way for you to get in touch with their support team.
Final Verdict
Slickdeals is a legit forum that will show you decent deals and discounts you can avail of. It has a couple of interesting features, but it also has some limitations you need to consider.
Let me finish this review by summarizing its pros and cons to give you an overview of what the site has to offer. Then, you can decide if it is a good fit for you or not.

Pros:
The app is user-friendly
The sign-up process is very simple

Cons:
Limited earning opportunities
Doesn't offer any real earning opportunities
Doesn't offer any cash rewards
The site contains ads
Slickdeals, in my opinion, is a useful site because you can definitely find good deals. But if you are mainly looking for websites to earn from, then this site is not for you since it really doesn't offer any ways of earning actual rewards.
All you will be getting from this site are deals and coupons. If that is enough for you, then, by all means, you can sign up for this site. But if you are looking for primary sites to earn from, I would recommend you check out the top survey and GPT sites in your country instead.
The sites on this list all have good earning potential and you will be able to earn rewards on a regular basis without having to spend a dime. Plus, you will definitely find a site you can join regardless of where you live.


If you have any comments, questions, or have any experiences with Slickdeals yourself, I would love to hear from you in a comment below.