Have you ever wondered if it is easy to get into the cryptocurrency world? Well, Sperax Play claims you can earn cryptocurrency with a touch of a button.
But is it really a legit way to earn crypto? Is it really that easy?
It is one of the lesser-known crypto apps out there, so you won't find a lot of information about it. That's why I've decided to find out for myself, so I've joined and tested it and I will compare it with the many other crypto platforms that I've already tried.
I'll share my experiences in this Sperax Play review so you will know exactly what to expect. Then, you can decide if it is an app worth using or not. So, let's go ahead and dive into the app called Sperax Play, shall we?
What is Sperax Play and what does it offer?
Sperax Play is essentially a cryptocurrency wallet that offers a couple of features that will allow you to earn cryptocurrency as well. And yes, it is a legit app that really offers a simple way for you to earn cryptocurrency.
But that doesn't really mean it is an app worth using. To find out if that is really the case, you must first understand how the app works. And to do that, we have to take a closer look at the earning opportunity it offers.
So, here's how to earn from Sperax Play.
The earning opportunity – Mining
The only way to earn from this app is to mine their cryptocurrency. I've also encountered this kind of earning opportunity from Pi Network. Both offer almost the same kind of mining process.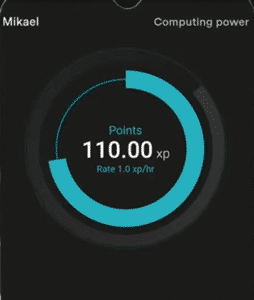 To start mining, all you have to do is log in to the app and go to the Earn XP section. When you press that option, you'll see something similar to the photo shown above. Then, all you have to do is press that button to start mining.
It will then mine at the rate that is indicated. In the photo shown above, I was mining at 1 XP per hour. The app will continue mining for 24 hours at the indicated rate.
Make sure to always take note of the time you started mining. That's the best way to fully maximize your earnings because you can log back into the app when it's time to mine again.
That's how simple it is to mine. You literally just have to press a button once every day in order to earn. And the good thing is, the app will not consume your device's battery because it will not run in the background. Once you close the app, it will not drain your battery, but you will still keep on mining.
Now, if you are wondering how their mining rate works, well, it will increase every time you invite a person to use the app. You just share your invite link with the person you want to invite, and when they download and start mining, you will notice that your mining rate will also increase.
So, just to be clear. If you want to increase your mining rate, you will have to invite people to use the app.
Recommended: Check Out the Best Passive Income Apps
How do you get paid?
As explained above, you will earn XP (which is really the term they use for the points you will earn when mining). However, during my testing, you couldn't yet exchange the points you've earned for any rewards.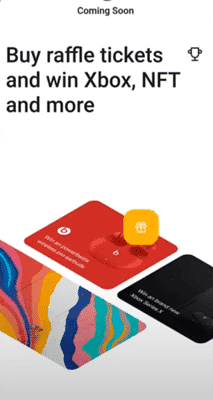 But they do say that soon, you can use your points to redeem tickets for their raffle draws where you can win various prizes like gaming consoles, NFTs, and more. And further down the line, you can exchange your points to SPA (Sperax), which is the actual cryptocurrency the platform uses.
So, it does have monetary value. But it's not quite clear yet how the exchange rate from XP to SPA will be.
The app doesn't offer any other payment method, so if you aren't really interested in earning cryptocurrency, I highly recommend you check out the top sites that pay via direct bank transfer so that you can earn cash instead.
Also, you should only do this if you are patient because there is no guarantee when you will be able to actually get something for the XP you earn.
How much money can you make?
The amount you can earn from Sperax Play will mostly depend on how many people you can invite to use the app. That's because your mining rate will increase every time you manage to invite people to become a member of Sperax Play.
As long as you don't miss a day of mining XP, you will eventually earn a decent number of XP. But it's quite hard to actually put an exact estimate since they haven't really released the actual XP to SPA conversion rate. So, you can't really determine the monetary value.
But what I can say though is, the value of the SPA has significantly increased in the past couple of months, which is a good sign. So, this cryptocurrency is promising. But, it's still a speculative investment, in my opinion.
But since it really doesn't require any effort or time to mine, then I would say why not give it a go.
If you are interested in earning SPA, I would recommend you start mining now so that by the time Sperax Play will allow you to convert your XP to SPA, you've mined a decent amount.
Can you use it on a desktop?
Sperax Play is a mobile-only platform. So, you will definitely need a mobile app to start mining. It doesn't have a web-version, and based on how their earning opportunity works, you don't really need one.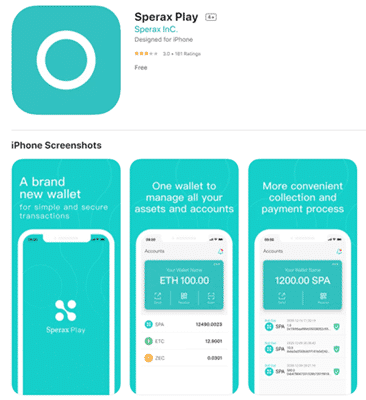 As for their app, it is available for download at the iOS and Google app stores. So, compatibility won't be a problem.
Their app is very easy to use. The user interface is intuitive. You will easily get used to navigating the app. And as I've explained earlier, it will not drain your battery faster because the app is not using any of your device's resources to mine.
Who can join Sperax Play?
Their website really doesn't explain which countries it is available in. And seeing as it handles cryptocurrency, then expect it to not be available in all countries because there are some countries that have specific rules about cryptocurrencies.
The best way to find out if it is available in your country is to search for it in your app store. If it pops up among the search results, then you will be able to download and install the app. If it doesn't, then that means it's not available in your country.
When registering, the one thing you need to keep in mind is, you need to take note of the passphrase you've generated because you will need it in the future. You will also need it to use the app. Because, unlike other apps where you will already be logged in once you have finished with the sign-up process, with Sperax Play, it's a bit different.
After you've finished signing up, you will have to input the passphrase in the app to log in. That's the only difference in their registration process.
Can you get support?
Their website doesn't really have any information about the app. All it has are links to where you can download the app and some info about the company. So, if you have any questions about the app or your account, their site will be pretty useless.
You will have to log in to the app and go to the support section to check out their FAQ page or submit your inquiry. But overall, I would say the app has a decent support system in place for its members since they offer a convenient way for you to communicate with their support team.
Final Verdict
Sperax Play is a legit crypto wallet that offers a way for you to mine cryptocurrency. It has a couple of good features, but it also has some limitations that you need to keep in mind.
Let me conclude this review with a summary of its pros and cons to give you an overview of what the app has to offer. Then, you can decide if it is a good fit for you or not.

Pros:
Offers a convenient way to earn
Their app is user-friendly

Cons:
Limited earning opportunities offered
Doesn't offer any reward redemptions at the time of writing this review
In my opinion, Sperax Play can be worth considering if you are patient. That is, if you would like to delve into the world of cryptocurrency. If you are just looking to earn extra cash, then this isn't for you since they don't offer that yet.
The reason why I say it might be worth considering is, it doesn't really require a lot of effort and time to mine. You can do it in a matter of seconds and your mobile device's battery life won't really be affected. So, you effectively won't lose anything if you decide to use it.
That's why I would recommend you use this app if you want to get in on the SPA cryptocurrency action.
Otherwise, I would recommend you check out the top survey and GPT sites in your country instead. The sites on this list all have good earning potential and they will allow you to earn extra cash immediately.
How to join Sperax Play?
If you are interested in joining, you just have to click the button below. It will take you to their website which contains the download links for the app. I suggest you do this on your mobile device so you can do it all in one go.
You can use this code huwwo2 during sign-up to increase your mining rate as well as mine.
If you have any comments, questions, or have any experiences with Sperax Play yourself, I would love to hear from you in a comment below.