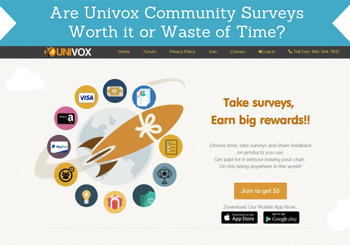 If you are interested in doing online surveys for money, you might have heard of Univox Community.
But are Univox Community surveys worth it or just a big waste of time?
I have thoroughly tested the site myself, and in this Univox Community review, I will share my experiences with you, and give you all the details so you can easily decide, whether it is a site you want to join or stay away from.
What is Univox Community and what does it offer?
Univox Community was founded in the beginning of 2011, so it has been around for a while, which can be seen as a good sign.
It is it a platform that first of all offers paid surveys, but it also offers a few other options, so let's go over all the opportunities.
Paid surveys:
Paid surveys are the main way to make money on Univox Community. However, in my experience it does not have as many daily opportunities as many other sites. It can however vary from country to country, so you might have more opportunities than me.
But do not expect a huge amount of surveys in general. The surveys that are there pay decent in relation to time for a survey site, so if you are in a country where Univox offers many surveys, it can make a little extra money.
Contests:
In addition to paid surveys, Univox Community regularly offers contest. These are free to participate in. To find out which contests that are available, you have to keep an eye on the forum section of the website.
New contests will be announced here. It can for example be a quick little quiz or a challenge where you have to write a bit more. In general, the contests do not take long to participate in, and they are of course free. The rewards depends on the contest, but they are usually between $1-$5, so not huge rewards.
"Surprise me" contests:
There is also another kind of contests on Univox Community called the "surprise me" contest. Regularly, a few winners are chosen that will receive a little extra reward. The rules are not completely clear, but the winners are supposedly chosen based on survey activity. So if you are active on the platform, there is a greater chance you will win. Again, do not expect it to be a huge reward, but a little extra reward is also nice once in a while. But you do have to be quite active to get near this reward.
Community:
As the name suggest, Univox is trying to create a community and not just a place where people do surveys. One of the ways this is done, is by having a live chat and a forum where people can post questions and communicate. Personally, I do not find it very successful  and I am not impressed with how it has been attempted to make it into a community. The options the site has as a community, I do not find very interesting. But that is of course a matter of opinion, and maybe you like it. It does however not seem like a very active community in this sense the word is usually understood.
Invite a friend:
You can invite friends and get a little bonus, if they join. You will get $1 for each friend that joins and do at least 1 survey or attempts 10. After that, you will get 10 cents every time your friend takes a survey. Many survey sites have this kind of referral programs, and it can be a nice way to make a little extra.
But the program on Univox is not very good compared to the program on sites like for example PrizeRebel or ClixSense. The rewards are not very high for the invite a friend option on Univox Community, and also it does not offer that many opportunities in general, so it will be difficult to get many friends to join and participate actively in my opinion.
How do you get paid at Univox Community?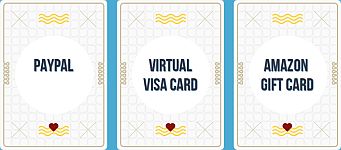 Every time you do a survey, you will earn points. These points can then be exchanged for cash to PayPal, Virtual Visa, or Amazon Giftcards. So the reward options are pretty good, and personally I prefer sites that have PayPal as an option, as it is such an easy way to get paid.
You will be able to request a payout once you have reached 2500 points. That is equivalent of $25. This is actually a pretty high payout threshold for a survey site, and I personally prefer it lower.
If you attempt to do a survey and do not qualify, you will still get 5 points. It is equivalent of 0.05 cents, so it is not a lot, but better than nothing:-).
When you join, you can fill out some initial profile information about yourself. It will take you around 10 minutes to fill out, and you will get 500 points for it as a joining bonus. That is a pretty good joining bonus for a survey site.
To be able to eventually request a payout, you have to remember to apply for an approval of your account. It can take up to 15 days. You can do it under the tab "redeem points". It does however not say anything about how they decide whether you are approved or not. So if you are interested in using the site, make sure to apply for the approval and ask them why if you are not approved. If not, you can end up spending time collecting points, and then not get the money out because you have not been approve
Also, you have to be aware that your points can expire, if you are not active. There is no information on the site about how long you have to be inactive for your points to expire. So if you are using the site, I will recommend getting a payout as soon as you can, so you do not end up suddenly losing the points.
What kinds of memberships does Univox Community have?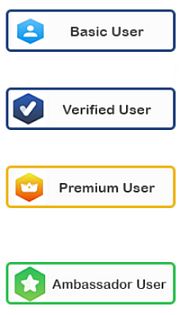 At Univox there are 4 levels of users. You will start as a basic user, and can get a higher level when you have more activity. The 4 levels are: Basic, Verified, Premium, and Ambassador.
It is not easy to find out exactly what the advantages of each level are, and how you get to the next level. But the more active you are, the higher level you will eventually get. The advantages I have been able to find are that you get a lower payout threshold at higher levels, it does not take so long to get paid, you will get more survey invites, and you will have higher chances of winning the contests.
So it could seem that it can be worth getting the higher memberships. The challenge is however to find enough opportunities as a basic member to eventually get to the next levels.
How much time do you have to spend to make money on Univox Community?
Most surveys on Univox Community take between 10-25 minutes. But to be honest, I have only been offered very few surveys. So I cannot give a certain statistics about how much time you need to spend to make something of real value. It depends very much where in the world you live, but for me, there are very few surveys. And according to the chat on the website, it looks like I am not the only one with this problem.
It will for sure not be able to make you a full time income, and if you want to do paid surveys, there are in my opinion many sites that have a lot better opportunities.
Univox Community app – take surveys on the go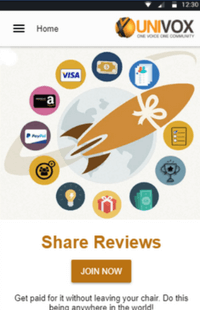 Univox Community has its own app you can download and thereby be able to take surveys on the go.
In general, I love when survey site have an app, or if they are optimized to be used on mobile devices. It is very practical and a great way to earn whenever you have a little extra time throughout the day.
For an app to be of good use, it is however important that the survey site itself has good opportunities. If it does not, an app and the possibility to take surveys on the go does not make any difference, and will still not make the site good.
With the limited opportunities on Univox Community, an app does not make much difference in my opinion, and it has not changed my overall experience of the site. The app does not give you extra opportunities. It just simply makes it easier to take the surveys on your mobile – but if there are no surveys for you on the platform, there will also be no surveys in the app.
But if you like Univox Community and already know it gives a good amount of surveys in your country, then the app can be worth considering and be away to get easy access to the surveys.
In which countries is Univox Community available and who can participate?
Univox is available in 17 countries. The site does however not mention which countries that is. Usually, survey sites have a FAQ section where you can find information about things like this before you join. But Univox does not have such a section, and it is in general difficult to get much information about the site before you join, which is a bit strange in my opinion.
So you kind of just have to test to see, if your country is allowed, if you are interested. You have to be 13 years old to join.
Final thoughts – boring and uninspiring
Univox Community is definitely a legit site to join, so you do not have to worry about that aspect. But is it worth joining or waste of time? Let's sum up the pros and cons to give you a better overview:

Pros:
Good reward options
Good joining bonus

Cons:
High payout threshold
Not very user-friendly
Not transparent info about how the site works
Limited opportunities for many countries
For me Univox Community has been a waste of time, and I have not been able to really do any surveys. This is very dependent on where you live, so it might be different for you.
But in general, I find Univox Community a bit boring and uninspiring.The attempt to make the site into a community does not really work, and it just makes the site more confusing to navigate on and to use. There is a high payout threshold, very few surveys available (for me anyway), very low referral bonus for inviting friends, and in general it is not a very user-friendly platform.
The only positive aspects for me are the fairly high joining bonus and that you can get paid through PayPal. But what good does that do, if you never get to the high payout threshold?
If you want to make some extra money doing surveys, I would instead suggest to check out my list of the top paying survey sites, and see if any of those fits you better.
If you have any comments, questions, or have any experiences with Univox Community yourself, I would love to hear from you in a comment below.
Univox Community Overview
Money/time ratio

Frequency

Usability
Summary
Univox Community is a paid survey site where you have to be lucky to make money on surveys. There are however opportunities, if you live in the right countries. But in general, there are not many available surveys, and the site is not very user-friendly compared to many other survey sites.