If you've been looking for an easy and simple way to earn online, there's a good chance you've already encountered a site called Wintub. This site promises to pay you quite a lot for watching videos online.
It sounds like a really easy way to earn, right?
But is Wintub legit and really an easy way to earn or is it a scam to stay away from?
You need to make sure of this before joining so you do not end up wasting your time.
This Wintub review will give you an inside look and show you everything the site has to offer so you will know exactly what to expect and can decide if it really is the right opportunity for you or not.
And let me just reveal right away that there are some very important things you need to know before joining.
What is Wintub and what does it offer?
As mentioned above, Wintub is a site that will pay you for watching videos. And at first glance, it does look like a legit Get-Paid-To (GPT) site that does pay you for watching the videos they provide.
But before we can conclude whether it is legit or not, let's take a closer look at how you can earn from this site.
I have made a video that gives you an inside look and shows exactly how it works and what you need to be aware of before joining. You can also read all the details below the video.
Recommended: Check Out the Best Sites to Earn Online Watching Videos
Option 1 – Watching videos
The main earning opportunity Wintub offers is video watching. This kind of earning opportunity is relatively simple. You watch a certain video for a certain amount of time to earn the reward.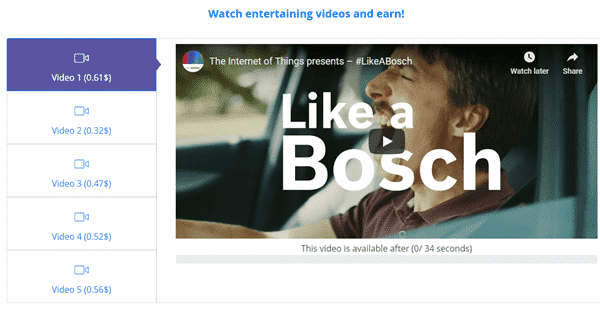 Their system is fairly easy. You click the play button for the video and a timer at the bottom will start.
You will have to watch at least 34 seconds of the video to earn the reward. Once the timer reaches 34, it will display a "Complete" message.
Simply click the "Complete" button to claim the reward. Now, when you click the button, it opens up a few pop-up windows that can be very annoying.
You need to close these pop-up ads to get back to the page. Once you've closed the pop-up ads, it will display a message telling you you've earned the reward.
And I will say this right away, the site is very spammy. Every time you click on something on their dashboard, a pop-up window will appear. Now, your anti-virus software may or may not pop up during this time saying there's a virus detected. Every time I encounter this kind of thing from a GPT site, I always find it alarming.
Normally, pop-up ads from GPT sites don't really trigger my anti-virus software. But when I did my tests on this site, my anti-virus kept notifying me that a malware has been detected. So, it's something you have to consider and definitely know in advance.
Option 2 – Referral program
Another way you can earn rewards from Wintub is by inviting other people to join the site. This is called a referral program and can usually be found on most online rewards sites.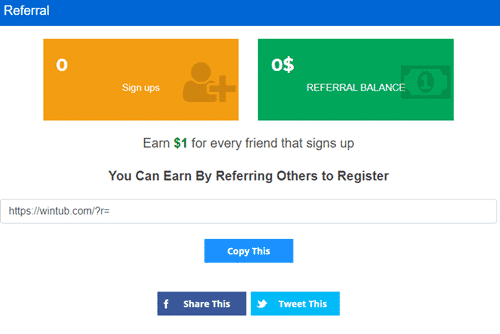 Their referral program is also very simple. To earn a reward, you just have to share your invite link via Facebook, Twitter, or email. You can also just direct message your invite link to the people you want to invite.
Once they sign up for the site using your invite link, you will earn $1. Usually, with other GPT sites, there are additional requirements that need to be met (like completing a short task or earning a certain amount, etc.).
But with Wintub, you get rewarded right away. I will leave it up to you whether that is a good thing or a bad thing after reading the rest of this review.
Recommended: Check Out the Best Sites to Earn Online Watching Videos
How do you get paid?
Every video you watch and referral you get will earn you a certain amount which will be credited to your Wintub account balance.
You will then have the option to withdraw your earnings via PayPal, Western Union, WebMoney, or Payoneer.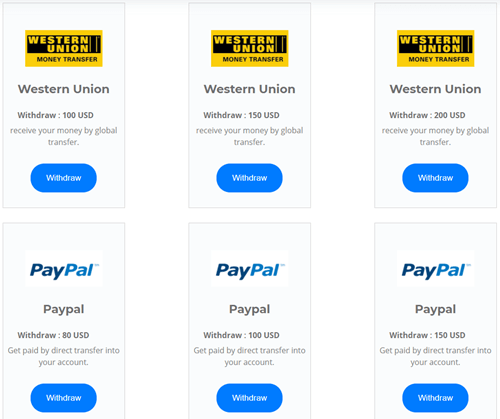 However, you will only be able to withdraw your earnings once you've reached their threshold, which will depend on the payment gateway you will use. For PayPal, WebMoney, and Payoneer, the threshold will be $80. For Western Union money transfers, it will be $100.
In my opinion, the threshold is very high, especially considering they only offer a couple of ways for you to earn rewards. If you prefer a website with a low payout threshold, I suggest you check out the fastest paying sites instead.
And a threshold this high is in itself a deal-breaker on a site like this, in my opinion. It will take A LOT of time to be able to get paid – but more about the full earning potential next.
How much money can you make?
Considering Wintub has a very high payout threshold, it is important to determine how well the site pays for every video you watch so you can get a clear picture of how fast you can reach their very high threshold.
Normally, you will earn around $0.5 to $0.6 per video you finish watching. That's actually quite a good amount if you compare it with other video-watching sites. However, there have been plenty of complaints saying that the amount you will earn for every video starts to drop off once you've already earned around $50 in total.
Users have complained that the reward will drastically drop to around $0.02 to $0.03 around that time. The alarming thing here is, that the complaint is pretty common. And this is also what I have experienced myself after spending quite a lot of time testing it to make sure how it works.
In fact, I have heard from MANY visitors here on my website and viewers on my YouTube channel, and I have never heard from one single person that actually was able to get paid from Wintub.
You can watch the video below to see more about my results after testing Wintub for a few months and then below the video read more about why you in general how to be very careful about joining it:
Red flags you need to be aware of
Aside from the complaints presented above, there are a couple of red flags on Wintub you need to be aware of before you decide if it is worth your time or not.
Red flag #1 – Their site is spammy and possibly contains malicious software
The first thing you will notice when you log in to Wintub's user dashboard is, that it is very spammy. Not only will you see a couple of ads on the right side of the page, but it will always open several pop-up ads every time you click on a link on their dashboard.
Not only that, as mentioned earlier, if you are using anti-virus software, you will keep getting notifications telling you that the page is infected with a virus. Normally, when that happens, it means there was malware attached to the page and the anti-virus just blocked it.
I have never encountered this issue with legit GPT sites even when they also have pop-up ads. So, it's definitely something you need to be concerned about.
My advice would be that if you decide to use Wintub, make sure you have a good antivirus software installed.
Red flag #2 – Doesn't have a valid support email address
When I examine a site, I normally do a bit of digging when the only support option a site offers is an email address (yes, Wintub doesn't even have an FAQ page). This is to make sure the email address they provide is working.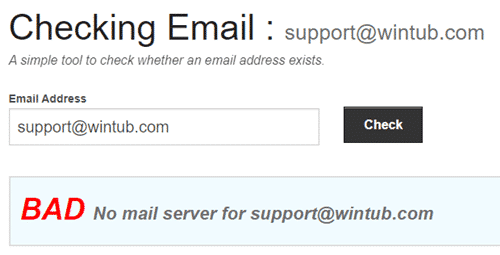 So, I ran some tests and found out that the email address they provide (refer to the photo above) is not working. There are plenty of email checkers you can find on the internet and I've tested the email with most of them and I always get the same result.
This goes to show that the email address they've provided is not working. And that's a big thing because if you have any inquiries or if you encounter any issues with your account, then you don't have any way to get in touch with their support team.
Red flag #3 – Unrealistic high earnings
I have tested hundreds of sites where you can earn by watching videos and let me just make it completely clear – you will NOT find a legit site that will actually pay you $0.50+ per video.
Any site that claims this I have come across will not pay you.
It is simply not realistic and if you want to earn by watching videos online, you need to do it with realistic expectations so you do not end up wasting time on sites where you will never get paid, as there, unfortunately, are quite a few of those.
Final Verdict
Wintub is a GPT site that claims to pay you for watching videos. It does have a convenient option to earn but there are a few things about this site you need to be aware of.
So, let's finish this review with a summary of its pros and cons so you can get a better overview of the site and you can decide if it is worth joining or not.

Pros:

Cons:
Very high payout threshold
Limited earning opportunities offered
Has some alarming complaints about their reward structure
Site is very spammy and possibly contains malware
Doesn't offer support
You will not be able to get paid
With the alarming complaints and red flags this site has, I do NOT recommend you join this site. The payout threshold is very high and the site is very spammy. Plus, it doesn't offer any reliable way to get in touch with their support team.
Overall, you will be wasting your time, in my opinion, and you should not expect to ever be able to actually get paid.
There are simply far better options you can choose from if you want to earn some extra cash online for free. For a list of great sites, you can earn extra cash from, I recommend you check out the top survey and GPT sites in your country instead.
The sites on this list all have good earning potential and they all offer good support for their members. Plus, you will definitely find a site you can join regardless of where you live.
If you have any comments, questions, or have any experiences with Wintub yourself, I would love to hear from you in a comment below.