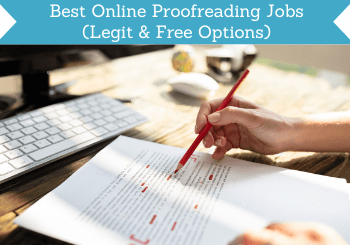 Are you looking for online proofreading jobs to earn extra cash? If so, you've come to the right place.
There are a lot of sites that offer this kind of earning opportunity so it can take quite some time to go over them one by one to find the best one to join.
I have tested quite a number of them, so I'll be able to provide you with a list of great options to choose from. These are legit and free options so you'll be able to work on these proofreading reading jobs and earn some cash without spending a dime.
I will include a brief summary of each option so you'll be able to determine which option/s suit you best.
Skills needed to do proofreading jobs
Before I discuss what the options are, it is important to head into this kind of earning opportunity with the proper skills required to perform the job. That's because proofreading is not for everyone.
Proofreading doesn't necessarily require you to have a specific education, but you do have to have excellent grammar skills and an eye for detail. That's because proofreading is usually the final step to creating written content, be it on paper or the internet.
Keep in mind that your job is to carefully check for errors in a text before it is published or shared. What you will be doing is fixing minor spelling and punctuation errors, typos, formatting issues, and inconsistencies.
So, you won't really have to concern yourself with the topic of what you will be proofreading. This makes the job a bit easier, in my opinion, but as I've mentioned earlier, you have to have an eye for detail to spot these mistakes, and your knowledge of the English language (or any language required for the job) should not be less than excellent.
That's why proofreading jobs are really just for people who like reading, are great at grammar, and have an eye for detail. If this is not you, then proofreading jobs aren't your best option to earn extra cash. I would suggest you check out this guide on how to earn an online full-time income instead.
How much can you earn?
What's good about proofreading jobs is that they usually pay a decent amount. Remember that this kind of job requires some time and a fair amount of effort to do, so be prepared to invest a bit of your time if you want to earn.
The amount you can earn will vary from job to job and also, to a certain extent, country to country. But based on my experience, jobs usually start at around $10 per hour. That being said, there are also jobs that offer a higher rate, like $50 or more.
These jobs, however, will require a certain level of skill and reputation as well. Just like with any job, you get paid more if you are considered an expert in the field, so if you've already built your reputation as an excellent proofreader, it's not outlandish to demand more pay.
That's also usually the structure that sites that offer this kind of opportunity employ. They usually pay more experienced proofreaders a higher amount. So, your expectations in terms of earnings should also match your experience as a proofreader. That way, you won't get disappointed when you start working on proofreading jobs.
7 best online proofreading jobs
Now that you know what to expect when you head into this kind of earning opportunity, it's time we discuss the actual options you can choose from. Keep in mind that the list below is not a prioritized list, so the first option is not necessarily the best option for you.
It will all depend on your preferences and skills as well. And if you want to maximize your earnings from doing online proofreading jobs, I highly recommend you choose multiple options so you can gain access to more opportunities to earn.
I will keep updating this list if I find new options that are truly worth your time, so make sure to bookmark this page and check on it from time to time for new opportunities.
#1 – Kibin
Kibin is a site that specializes in providing proofreading services to its customers. It offers a variety of services and resources to help clients improve their writing, from everyday class assignments to high-stakes letters and proposals.

As a Kibib proofreader, you'll take on various jobs posted by the site. Once you become a proofreader, all you have to do is log in to the member dashboard to find jobs being offered.
What you need to take note of with this site is that there isn't always an opening for a proofreader position, so it's fairly hard to get on this platform. If you are interested in joining Kibin, you'll have to regularly check if there's an available spot as a proofreader.
#2 – Scribe Media
Scribe Media is a site that helps entrepreneurs, executives, and experts write, publish, and market their books.
What's great about this site is it offers both full-time and project-based opportunities, so if you are in the market for a full-time job, this can be a great option.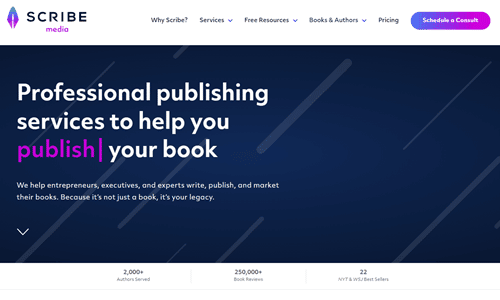 Some jobs can be done remotely, so you can just do the work at home. However, there are also a fair number of jobs that are location-specific. They also offer jobs that don't necessarily require any proofreading.
They pay a decent amount, but the site isn't ideal for people just dipping their toes in the proofreading industry. That's because most proofreading jobs will require the services of an expert proofreader.
#3 – Babbletype
Babbletype is a market research transcription site that offers various services to its clients, including proofreading. Aside from proofreading, you can also take on transcription or translation jobs.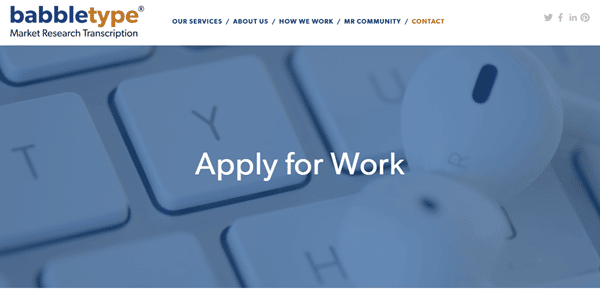 They do hand pick the people who can join their team, so it's not very easy to join. You'll have to go through a rigorous application process. But if you have the skills to back up your application, then you can stand to earn a decent amount from this site because they pay fairly well.
#4 – Fiverr
Fiverr is a freelance site that offers plenty of opportunities for freelancers to earn. It's not a site that exclusively deals with proofreading jobs, but it does have a fair number of proofreading jobs available at any given time.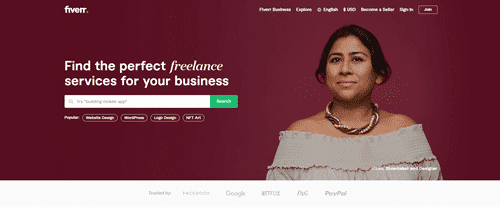 It's a great site to join because you don't need to be a very experienced proofreader to join. That being said, this is one of the sites that use the reputation system I mentioned earlier. If your reputation as a proofreader isn't that high yet, it's hard to expect to get paid a good amount.
That's why you need to be very patient if you decide to join this site because it will require some time to build your reputation. But once you successfully maintain a good reputation, it can open up full-time opportunities where you can earn a good amount of money.
#5 – Proofreadingservices.com
As the name suggests, Proofreadingservices.com specializes in offering proofreading services to its clients. But aside from that, it also offers transcription and translation jobs, so your earning options are quite flexible.
It offers full-time and part-time positions, so it's also very flexible regarding the type of jobs you can do. You can earn around $19 to $46 per hour for taking on the jobs they offer.
This, in my opinion, is a pretty good rate, especially if you are just starting out as a proofreader. You get to work flexible hours, so you won't be tied down if you decide to take on jobs. All the jobs they offer are also done remotely so that you can work anywhere.
#6 – Gramlee
Gramlee is a site that offers article editing services for its clients. Every time a client requests their services, Gramlee will match them with the appropriate editor with the skills required to do the project.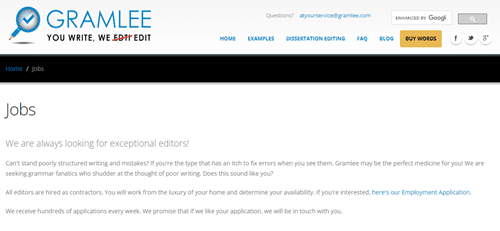 Aside from proofreading, you can also take on editing jobs. So, there are more opportunities to earn if you ever run out of proofreading jobs to work on.
They aren't very particular about where you live. As long as you have an internet connection and you have the skills to provide quality services, then you are eligible to join. Just note that it can take some time to get accepted as a proofreader because they receive hundreds of applications per week.
#7 – Edit Fast
Edit Fast is a site that offers jobs for professional editors, proofreaders, copy editors, writers, and indexers. So, if you have the skills, you can potentially earn a good amount from this site because they offer a good number of jobs.

What's great about this site is it's a particularly good site to join if you are just a budding proofreader. The application process isn't as rigorous as the other proofreading sites, so it's fairly easy to join.
You'll get paid via PayPal, which is a very convenient payment method (I might add). Just keep in mind that Edit Fast does take a 40% cut from your earnings, which is the main downside of this site. But if that doesn't bother you, then this can be a good site to start your proofreading career, in my opinion.
Final Thoughts
So these are the best online proofreading sites you can join to earn extra cash. As you can see, most of the options listed above can potentially provide you with full-time opportunities (as well as part-time ones). 
And as I've mentioned earlier, they are all free and legit options. So, you can just sign up and start earning once you get accepted. As I've suggested earlier, you should pick multiple options to maximize your earnings from proofreading. By doing so, you'll gain access to more job offers.
Now, if you are looking for a way to potentially build a full-time income from home completely on your own terms, then you can check out the simplest and safest way for a beginner to build a profit-ready online business.
If you have any comments, or questions, or you know of any online proofreading jobs that you think belong on this list, I would love to hear from you in a comment below.