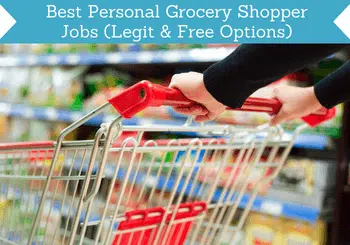 Are looking for an interesting way to earn some cash?
If so, I recommend you keep reading this article. It will show you the best personal grocery shopper jobs you can do to earn extra cash.
All the options included on this list are 100% legit and free to join, so all you need to invest is your time and effort.
I will include a brief summary of each option, so you can easily identify which will fit you best.
What is this kind of job and why is it a good option to earn?
If you are not familiar with this kind of earning opportunity, then let me explain to you how it works.
There are websites that offer this kind of service, so people don't have to do their grocery shopping. They just let people do it for them. In return, the grocery shopper will get paid to provide the service.
What will essentially happen is that the members will choose the products they want to buy, and then you, as a personal grocery shopper, will go to the store and buy the products they have chosen.
Sometimes, these goods have to be delivered to their home, but sometimes, they will just pick it up after you are finished shopping.
Once the service has been provided, the customer will reimburse you for the amount you spent shopping, and on top of that, you will be paid the service fee.
More and more people avail of this kind of service for various reasons. It can be that the person just doesn't have the time to do the grocery shopping themselves, or they can't go out of their own home. That is why it is a good option to earn money.
Who is this earning opportunity for?
If you are looking for a flexible way to earn some cash, then this is the right opportunity for you. You can work at your own time and pace.
You can just accept jobs if you have the time or if and when you need the extra cash. The best thing about this earning opportunity, in my opinion, is that you are not required to work all the time.
If you have something going on certain days, you can just decide not to accept any jobs and still have the opportunity to earn on other days.
Aside from that, in most cases, you need a vehicle because you might have to deliver the products to your customer's house. It would be quite inconvenient if you have to commute to the customer to deliver their order, not to mention very cost inefficient.
Also, you have to have good time management skills because you will essentially be scheduling the jobs you will accept. You have to have a good grip on how long it will take to complete each order.
When working as a grocery shopper, you need to use a mobile device capable of running the apps you will need to accept job orders. Your mobile device must also be connected to the internet while you are working because customers might contact you if they need to give you additional instructions.
And lastly, you must be in good physical condition to carry the grocery bags and walk from one grocery aisle to another. Think of it this way, if you get tired of doing your own grocery shopping, then you don't have any business doing it for others.
How much can you earn?
Before we talk about the actual options you can choose from, let's first discuss the earning potential of this kind of earning opportunity. It is important to keep in mind that this is not a way to get rich.
The amount you can earn will not compare to the amount you can earn from a full-time job. That being said, you can still earn a decent amount of money from this opportunity, especially if you provide good enough service because if customers like the service you provide, they might give you a tip.
Working as a personal grocery shopper involves making sure your customers are happy with the service you provide. That's because they will rate you after you complete the job, and the higher rating you get, the more jobs you can receive in the future.
So, if you want to maximize your earnings, you have to do the grocery shopping like you would for yourself.
4 Best personal grocery shopper jobs
Now that you know what to expect from an opportunity like this, it's time we discuss the actual options you can choose from.
Keep in mind that some of these options are likely not available in your city. If this is the case, then you can just use these options as inspiration and look for local companies that offer the same service.
This is not a prioritized list, so just choose whichever option suits you best. The video below also shows you exactly what the options are, and you can read the full details below the video.
Recommended: Check Out the Best Gig Jobs to Earn Extra Cash
#1 – DoorDash
DoorDash is an online food ordering and food delivery platform. You can apply as a dasher to earn extra cash. It is available in the US, Australia, and Canada.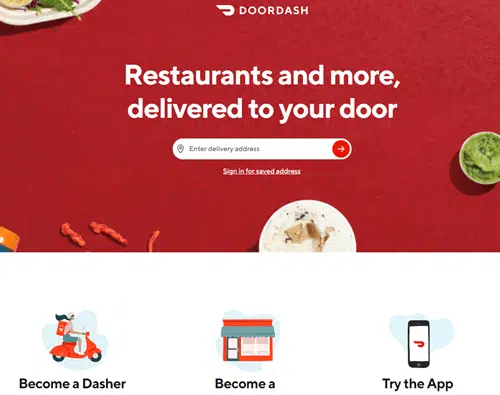 To sign up as a dasher, just go to the website and input your zip code to start the registration process. As mentioned earlier, this is one of the platforms where you can work whenever you want.
The most important detail you need to know about DoorDash is that you get to keep 100% of the tip that will be given to you by your clients. So, if you always provide good service as a dasher, there's a higher chance you can earn more through tips.
#2 – Grubhub
Grubhub is another food delivery platform where you can work as a delivery guy to earn extra cash. But aside from ordering food from restaurants, there are also plenty of customers that will ask you to do their grocery shopping for them.

Grubhub is only available in the US, so if you live somewhere else, then this option is not for you. To get started, you need a car or bicycle (in certain cities). You must also have a valid driver's license and car insurance if you are a vehicle owner.
You will need to submit a photo of a valid state ID so that Grubhub can verify your identity. You can work whenever you want, so it's a very flexible way to earn.
#3 – Gopuff
Gopuff is a platform that focuses more on delivering grocery items. So, if you are just looking to do grocery shopping instead of also ordering food from restaurants, this is the most ideal option for you, in my opinion.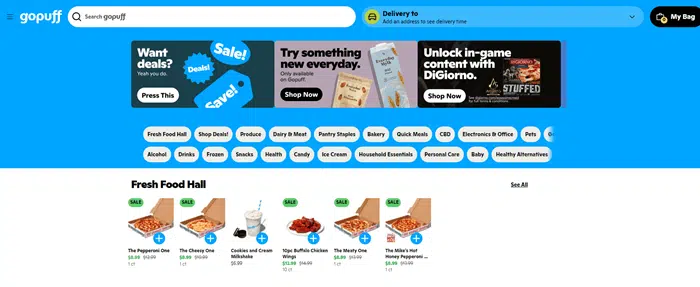 To become a Gopuff delivery partner, you need to sign up first. It will only accept applicants who live in the US since Gopuff is only available in the US. They do have different platforms for people who live in Spain or the UK.
Gopuff will also let you keep 100% of the tip you receive from your customers. Plus, if customers order during busy times or peak hours, you will get paid extra.
#4 – Instacart
Instacart is a company that operates a grocery delivery and pick-up service in the United States and Canada. You can work as one of their personal grocery shoppers, where you will shop from popular retail stores like Costco, Walgreens, Best Buy, and more.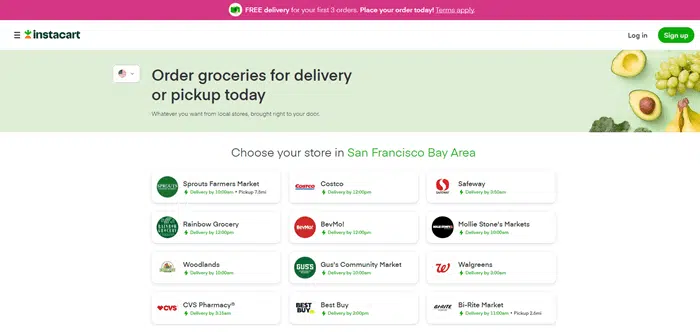 What's great about Instacart is that you can work part-time or full-time (provided there are positions available). Plus, this is one of the platforms where you don't necessarily need to own a car to work as a personal grocery shopper. You can just shop for clients and have them pick up what they ordered.
Final Thoughts
As you can see, it is very possible to earn money by working as a personal grocery shopper. There's quite a big demand for this kind of service, so you will be able to earn decent money from it.
Just make sure you head in with the proper expectations because this opportunity will not make you rich. I will keep updating this guide if I find more options that are worth it, so make sure to bookmark this page and check on it from time to time for new opportunities.
Now, if you are looking to earn a full-time income without having to leave your own home, I suggest you check out how you can earn a full-time income through online methods instead.
If you have any comments, questions, or know of personal grocery shopper jobs that are not on the list, I would love to hear from you in a comment below.