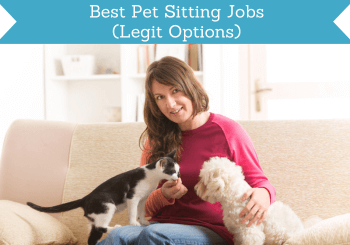 Pet sitting can be a great way to earn extra money if you are looking for a side hustle. However, getting started can be a pain, especially if you don't know where to start.
This is where this guide can help you. It will show you the 5 best pet sitting jobs to earn from, so you don't have to look for sites to find pet sitting jobs. I will briefly describe each site, so you can easily identify which suits you best.
All the sites I will include in this guide are legit. You just have to go through the sign-up process before you can start working and start earning.
Who is this job for?
Before we talk about the options you can choose from, you must first understand who it is for, so you will know if this is the right opportunity for you.
Pet sitting might sound easy to do, but there's more to it than taking care of pets.
This job is only for people who are patient, compassionate, and energetic. Taking care of pets is no easy task especially if the pets you are taking care of are not your own. You need to have a good understanding of animal behavior, plus you also need to have basic first-aid skills for pets.
Of course, it is a given that you have to also be an animal lover if you want to work as a pet sitter. All these qualities will allow you to do a good job.
If you don't have any of the characteristics mentioned above, I suggest you look for another way to earn extra cash, because you will not succeed as a pet sitter, in my opinion.
What to expect from this job?
In terms of earning potential, let me make it clear that pet sitting is usually not a full-time job, so you can't expect to earn a full-time income from it. While there may be some outliers, like pet sitting for celebrities and rich people, these will not be your usual clients.
You'll usually just take care of pets for normal people who have a day job, so the amount you will earn won't be a lot. That's why this type of earning method is really just a way to earn extra cash and not a source of full-time income.
And to start working as a pet sitter, you will usually have to submit a few documents to verify your identity (like a photo of your driver's license or any government-issued ID). You'll also have to undergo a background check which will usually involve some fees. That's why you often have to shell out some money before you can start working as a pet sitter.
Some sites that offer this kind of job will also require a monthly fee. Based on my experience, sites that offer premium membership will allow you to get a few benefits, like being recommended as a pet sitter to clients, having your name appear at the top of the list when clients search for pet sitters, and more.
Another thing you need to remember when working as a pet sitter is that you can choose which jobs you can accept. If you think the job is not worth it, you can just find other jobs available. Just keep in mind that you need to find the right balance between accepting and rejecting jobs, or you might end up not earning anything from this opportunity at all.
5 best sites that offer pet sitting jobs
Now that you have a clear idea of what pet sitting entails, it's time we discuss the actual options you can choose from. Keep in mind that this is not a prioritized list. You can just choose whichever option will suit your preferences.
I will keep updating this list if I find more sites that are truly worth it in the future, so make sure to bookmark this page and visit it from time to time for new opportunities.
#1 – Wag
Wag is a dog-walking platform that caters to both pet lovers and pet caretakers. If you love dogs, you'll be able to find pet sitting jobs on this platform. But aside from that, you can also just work as a dog walker.

You also have the option to take care of pets in your own home. To work as a pet caregiver, there is an initial fee of $29.95 you have to pay. This will be for a background check fee. Once you've cleared the background check, you can start accepting jobs.
Whenever you complete a job, you will be paid a certain amount by the pet owner. Payments are processed every Wednesday and paid out every Friday. Every payment will be made through Stripe Connect.
Wag is only available for people who live in the US. It has a mobile app that will work with Android and iOS devices, so you can accept pet caregiver jobs using your mobile device.
#2 – PetBacker
PetBacker is a gig-economy platform where you can earn extra money by providing various pet services. Among the services you can offer are pet sitting, pet boarding, pet walking, pet grooming, and more.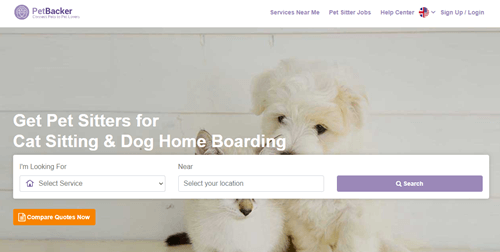 You will get paid once the service you offer has been completed. You also have control over how much you will be paid for the services you offer. The payment methods this platform offers will depend on the country you live in, but the most common option is PayPal.
PetBacker is available globally. You can register as a member more or less, regardless of where you live. You will have to provide documents to verify your identity. When you've done that, you can start listing the services you are willing to provide.
PetBacker has a mobile app you can use, and it will work with Android and iOS devices.
#3 – Holidog
Holidog, as the name suggests, is a site that will allow you to earn by taking care of pets. You will have to provide pet-sitting services to the clients. These services can include boarding, walking, or you can also visit the client's home to take care of the pets.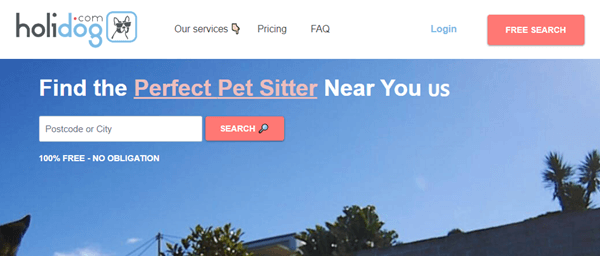 You will receive the payment directly from the pet owner, so it's up to you and the pet owner to negotiate the exact terms. It is only available in certain countries, namely the US, UK, France, Belgium, Germany, Australia, Austria, Netherlands, Switzerland, Spain, Italy, Brazil, and New Zealand.
It doesn't have a mobile app, but the site is mobile-friendly, so you can access the member dashboard conveniently using a mobile device.
#4 – Rover
Rover is another pet-sitting platform that will allow you to earn extra cash by providing pet-sitting or dog-walking services to its members. You can offer boarding and walking services, as well as doggy day-care and house-sitting to clients. You can also do drop-in visits.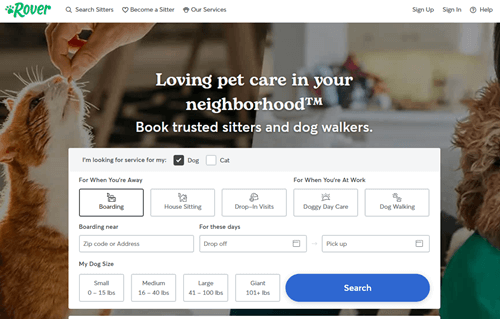 Once you've completed a service, the client will pay Rover for the services rendered. Rover charges a service fee of 20% for each booking. Your share will be credited to your Rover account balance. You can withdraw your earnings via PayPal, or if you live in the US, you can also get paid via check.
Rover is available in several countries, namely Canada, France, Germany, Italy, Netherlands, Norway, Spain, Sweden, the United Kingdom, and the US. The app is available for Android and iOS devices, so compatibility won't be a problem.
#5 – Care.com
Care.com is essentially a gig economy site that will allow you to earn extra income by taking on part-time jobs. Among the jobs you can offer are pet-sitting, walking, boarding, grooming, and others.

Aside from pets, you can also take care of senior citizens, kids, and even houses. For every job you successfully complete, you will earn a certain amount depending on the agreed-upon rate. The client will pay Care.com for the services you have done, and Care.com will deposit your share of the earnings to your bank account.
There won't be any fees involved during this process, and Care will deposit the compensation regardless of the amount. It is available in 19 countries. You'll have to go through a background check after applying as a caregiver.
For this, you can go for the free option during the first year, but for the succeeding years, you'll have to pay a small amount. Care.com has a mobile app you can download, so you can view and accept jobs conveniently using your mobile device.
Final Thoughts
That concludes my guide to the best pet-sitting jobs and where to find them. As you can see, there are definitely legit options you can go for. But before you apply as a pet sitter, you need to check yourself if you are indeed the right person to do this job.
Pet-sitting jobs aren't easy. You have to possess the right qualities and skills to do it properly. If you've got what it takes, then you can go for it. I suggest you go for multiple options so you can have access to as many jobs as you want. That, in my opinion, is the best way to maximize your earnings as a pet sitter.
I will keep updating this list if I find more sites that are worth it, so make sure to bookmark this page and visit it regularly for new opportunities.
If you have any comments, questions, have any experiences, or know of other pet-sitting jobs not listed in this guide, I would love to hear from you in a comment below.