One way to earn online is to solve captcha. If you are kind of just getting your feet wet with earning online, it can seem like a good choice because earning is very easy. You just have to solve captchas.
One such site that offers this kind of opportunity is CaptchaTypers. But is CaptchaTypers legit and really a way to earn or a scam to stay away from?
It is important to verify the legitimacy of a site before you join it. So, let me answer this question right away. Yes, CaptchaTypers is a legit site that will pay you for solving captchas. However, this really doesn't tell you if this site is worth joining or not.
To figure that out, we have to weigh in a few things and this CaptchaTypers review will help you do exactly that. It will reveal all the details you need to know about the site so you can figure out if it is worth joining or not.
What is CaptchaTypers and what does it offer?
CaptchaTypers, as explained above, is a captcha solving site that will pay you for well, solving captcha. It is quite similar to 2Captcha.com.
Now, if this is your first time hearing about captcha sites, I suggest you check out this guide on how to earn money solving captcha.
For you to understand how well you can earn from this site though, we have to take a detailed look at the earning opportunities it offers.
This will give you a clear picture of the earning potential of this site and it will also help you understand how the site works and if it even is the right option for you.
I made a video that will give you an inside look and shows exactly what CaptchaTypers offer. You can also read all the details below the video:
Option 1 – Solving captcha
The main method of earning from this site, as you can probably guess, is by solving captchas. To solve captchas, you have to download a program (refer to the photo below).

This program is only available for Linux and Windows computers. So, if you are using a Mac computer, then, unfortunately, this won't work. And as you can see, their mobile app is also only for Android devices (I will talk about their app later).
Once you've downloaded and installed the program, you can start earning. Just log in to the program using your employee ID (I will discuss how to create this later).

To start solving captchas, just click the play button. It will then open a new window that will display the captcha you need to solve. It will look like the photo shown below.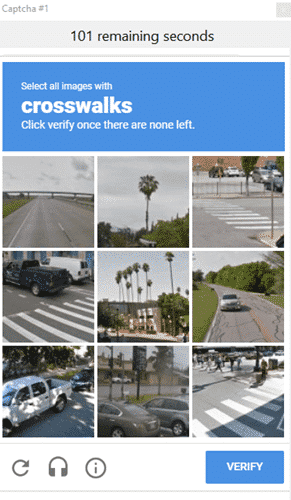 Most of the captchas you will have to solve are reCAPTCHAs. This means you will just have to select the right boxes in a set of images to solve it. Just keep solving until you feel like stopping.
The unique thing about this captcha site is, typically, in other captcha solving sites, you will have to answer around 1000 captchas before you get paid.
But with CaptchaTypers, it's a bit easier. You will get paid for every captcha you solve.
So, it's less daunting, in my opinion, because you don't have to think about how many more captchas you need to solve to get paid.
If you are going to solve captchas on a mobile device, the process is still the same. The only difference is, the user interface will be different from the computer program. But overall, it's still the same process.
Option 2 – Referral program
CaptchaTypers also has a referral program where you can earn a commission for what your referrals earn.
All you have to do is share your invite link with the people you want to invite and once they sign up to the site using your link, they will become your referral.
You will then earn a 10% referral commission for reCAPTCHAs solved by your referrals. This commission will be shouldered by CaptchaTypers and will not be deducted from the earnings of your referrals.
It's a fairly decent way of having a passive source of income from the site, since all you really have to do is invite people to join.
Afterwards, you can just sit back and let them do the work for you. Of course, you have to make sure the people you invite are really interested in joining this site.
As you can see, the only way for you to earn from them is if they solve captchas. So, if you want to take full advantage of their referral program, you have to find people that are really interested in earning from this site.
How do you get paid?
For every captcha that you solve, you will earn a certain amount. It will then be credited to your employee balance. Once you've earned $1, you can then request for a payout through different payment options.
CaptchaTypers offers PerfectMoney, Payza, BTC, Neteller, ADVCASH, and direct bank transfers. If you choose to withdraw your earnings via Neteller though, you will need to earn at least $5. For the other payment methods, the threshold is only $1.
A thing to note about their direct bank transfers is, it is only available in India and Vietnam. So, if you are not a resident of those countries, then this option is not available for you.
Also, keep in mind that payments are made only from Monday to Saturday from 10 am to 6 pm server time. So, remember that when it is time to withdraw your earnings.
I like the fact that you only need $1 to withdraw your earnings. It's easier to reach even though it can still take some patience as we will go more into below.
If you are interested in other sites with a low payout threshold, I recommend you also check out the fastest paying sites.
How much money can you make?
If you read the guide on captcha sites I linked to earlier in this review, you know that this kind of site usually doesn't offer good earning potential.
The reason for this is, their rewards are quite low. This is to be expected though since it really requires little effort to earn.
The general rule of online rewards sites is, the reward you will receive will also be in proportion to the time and effort needed to complete the work. So, as you know, it really doesn't take a lot of time and effort to solve a captcha. That's why I would say, the pay you will receive is within the industry standard.
To give you an idea of its earning potential, I was able to earn $0.0012 for one captcha solved. So, if we compare that with sites that require you to solve 1000 captchas to get paid, it's actually more or less the same. You would still receive more or less $1.2 for solving 1000 captchas.
So, to put it bluntly, if you want to earn a significant amount from this site, you will literally have to solve thousands of captchas.
And that will definitely take some time – so it is not a way to make fast money.
Can you use it on mobile?
As mentioned earlier, CaptchaTypers has a mobile app you can download so you can solve captchas on your mobile device.
However, their app is only available for Android devices. So, if you are using an iPad or iPhone, then you are out of luck.

Installing the app is a bit more complicated though since you will have to download an APK file. This isn't the regular way you would install an app on an Android mobile device. If you plan to use this app, I suggest you read up on how to install APK apps on an Android device.
Once you've installed the app, you can then use the same login details you used for the software. This, in my opinion, is what sets them apart from other captcha sites. Most captcha sites don't have a mobile app.
Although their app is only for Android devices, it can still be a big help because you can still earn even when you are not in front of a computer.
Who can join CaptchaTypers?
Like most other captcha sites, CaptchaTypers really doesn't care where you live. You will be able to register as a member regardless of where you live. As long as you have an internet connection, you can become a member of this site.
Their sign-up process is a bit different than on most sites though. First, you will have to sign up on their website the regular way. You have to fill out their registration form and then confirm your membership.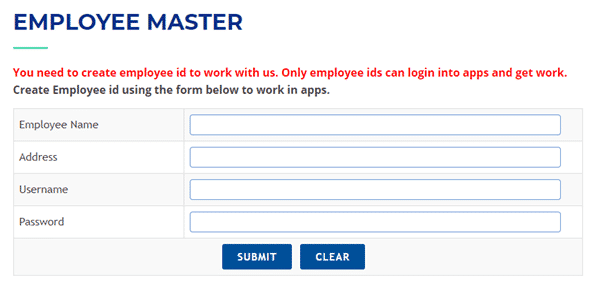 Once you've done that, you then have to create an employee profile which will require another set of username and password. You can't use the same username. This is what you will use to login to their software or mobile app.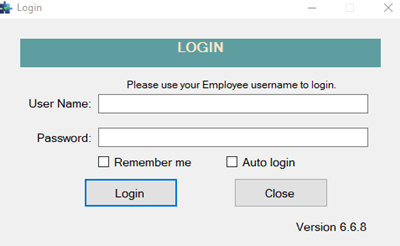 So, when you start up your CaptchaTypers program, when it asks for your login details (refer to the photo above), make sure to provide the login details for your employee profile and not the one you used to sign up for the site.
So it takes a bit of effort to sign up and get started.
Can you get support?
CaptchaTypers does have a page dedicated to explaining what you need to do to earn. So, if you read that, most of the basic questions you have in mind will be answered.
If you have any further inquiries, you can check their FAQ page first. It discusses most of the basic topics you need to know about the site.
If you can't find the answers you are looking for or if you are experiencing technical problems with the software or app, you can email them at support@captchatypers.com.
So, I would say, they offer decent support options for their members since they provide a way for you to get in touch with their support team.
Final Verdict
CaptchaTypers is a legit captcha site that will pay you for solving captchas. It has a few good features but it also has limitations that you have to consider before joining.
So, let's wrap up this review by summarizing its pros and cons to give you a better overview of the site and help you decide if it's a yay or nay.

Pros:
Offers a very simple way to earn
Offers several payment options
Low payout threshold

Cons:
Limited earning opportunities offered
Low rewards
Not available for Mac and Apple users
In my opinion, CaptchaTypers is a decent captcha site. You can easily earn extra cash, it offers several payment options, and it has a low payout threshold.
However, if you decide to join this site, it is important to set your expectations right.
Keep in mind that you won't be able to earn a significant amount from this site without investing a lot of time because the rewards are simply very low. Plus, it is only available on Linux and Windows computers, as well as Android devices. So, compatibility is a bit limited.
Now, if you are looking for a better way to earn extra cash online, I would suggest you check out the top survey and GPT sites in your country instead. The sites on this list offer various earning opportunities and generally have good earning potential.
Plus, you will be able to find a site you can join regardless of where you live and you do not have to install any software to get started.
If you have any comments, questions, or have any experiences with CaptchaTypers yourself, I would love to hear from you in a comment below.