Gaintplay is an app that claims you'll be able to earn by completing simple tasks. It's a tempting offer, I admit.
However, I would advise you not to sign up just yet and read this Gaintplay app review first.
I have tested the app and have compared it to the hundreds of other online earning methods I have tested.
In this review, you will learn about everything it has to offer, so you'll know exactly what to expect from it before you even become a member.
It's a great way to identify if this app is really worth it. Then, in the end, I will share my recommendations. So, let's go ahead and get this ball rolling, shall we?
What is Gaintplay and what does it offer?
Gaintplay is a GPT (Get-Paid-To) app that will allow you to earn by completing short tasks. It is indeed a legit app since you will really get paid when you complete the said tasks.
Now, in order to figure out if it is worth it, you first have to understand how the app works so you can properly gauge how much time and effort is required to earn from it. And the only way to do that is to examine the earning opportunities it offers. So, here's how to earn from Gaintplay.
Option 1 – Offerwalls
One way to earn from Gaintplay is by working on their offerwalls. In case you don't know what an offerwall is, it is an in-app/site advertising platform that is designed to promote other mobile apps or websites.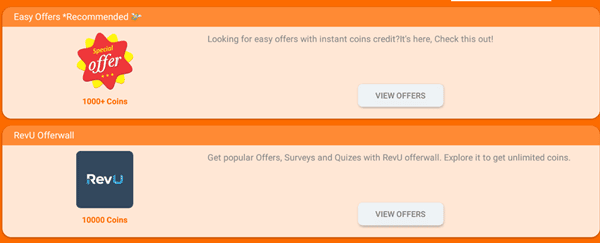 When I was testing the app, there were about 9 offerwalls available. While that may sound like a lot, it pales in comparison to more popular GPT sites and apps which usually have around 15 to 20 offerwalls available at any given time.
But still, with this number of offerwalls available, you won't run out of things to do to earn rewards.
Every offerwall has a set of paid offers you can work on to earn rewards. These paid offers are actually the short tasks I was referring to earlier.
Most of the paid offers found on their offerwalls will ask you to play a mobile game or download a mobile app. To start earning from this opportunity, you just have to pick an offerwall and press it. Then, you'll see all the available paid offers.
Every paid offer then has a set of instructions or requirements you need to follow or complete. Make sure to remember all the steps or instructions provided because if you miss even just one step or requirement, you will not be able to complete the offer and you will not earn any rewards.
After you complete an offer, you will receive the promised number of coins (the currency the app is using) as a reward. Just a heads up though, most of the offerwalls have paid offers that will ask you to either gamble a certain amount of money or make an in-app purchase. While these paid offers have the highest rewards, in my opinion, they aren't the best way to earn rewards.
I would personally stick with the offers that will not ask you to spend any money even though they don't offer high rewards. At least, you won't have to spend a dime to earn.
Option 2 – Paid surveys
Another way to earn from Gaintplay is to answer paid surveys. Just keep in mind that Gaintplay only acts as a survey router. So, the surveys you will answer will come from other survey providers that have partnered with Gaintplay.

When I was doing my testing, there were five survey providers to choose from. To earn from this opportunity, just choose which provider you want to use and press it. Then, you'll have to provide your basic info like name, age, and email address.
After this step, you'll find out if there are available surveys for your area. You will not always find any surveys available though. The availability of surveys will depend on where you are located.
If there is a survey available, just press it and you will then have to go through the qualifying process. You will have to answer a set of qualifying questions. If you qualify, you get to proceed to the actual survey. If you fail to qualify, you will just have to move on to the next available survey.
Once you are able to complete the survey, you will receive the promised number of coins as a reward. It's a fairly straightforward process, but as you can see, there's no guarantee you will earn from all the available surveys.
Option 3 – Watch videos
You can also earn rewards by watching videos. However, I do have to warn you that this earning opportunity isn't the most efficient earning opportunity provided by the app because the rewards you will earn will be very small.
In fact, I would even go as far as saying it isn't worth it for the time you have to invest.

To watch videos, just log in to the app and press the "Daily Free Coins" and you will see the options to watch videos. There will be a couple of options to choose from. You can watch videos from Loot.tv or Hideout.tv.
To start watching videos, just press any of the options and it will take you to the site that hosts the videos. You will have to create an account for the platform if you don't have one yet. But if you do have one, you just have to log in.
Once you are logged in, just choose which video to watch and press it. You'll have to keep watching the video until it finishes. But what you need to know is that you don't actually get paid to watch the video. Instead, you will be paid to watch the ads that will be shown before, in the middle, or after the video.
That is why it is important to finish the video completely because if you stop midway, you will not earn the reward. But as I've mentioned earlier, watching videos to earn rewards isn't really very efficient because you can only earn around 5 to 10 coins per video which is a very small amount.
So, I would only recommend you spend time on this opportunity if you have nothing else to do.
Option 4 – Referral program
Lastly, you can earn additional rewards through Gaintplay's referral program. All GPT sites and apps offer this kind of earning opportunity. If you are not familiar with this, then let me explain to you how it works.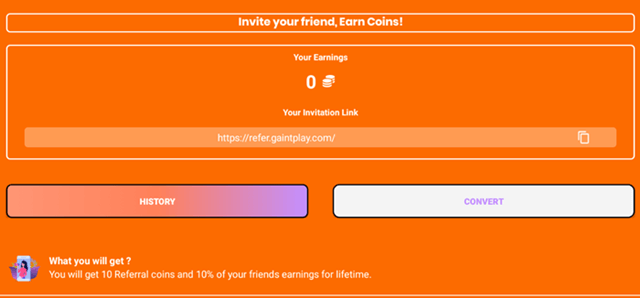 The idea is to invite people to use the app. To do so, you will have to share your invite link with the person you want to invite. Then, when they click the link and install the app, they will have to go through the registration process (which I will discuss later).
Once they've completed the registration process, they will become your referral, and you will receive 10 referral coins. Aside from that, you also get to receive 10% of whatever your referral will earn from the app.
Just take note that the referral coins you will earn will only be converted to the actual coins you can redeem for rewards when you've earned at least 100 referral coins. Your referral will also receive five coins for using your invite link but only when they've earned at least 10 coins from the app.
It's a decent way to earn additional rewards, in my opinion. You just need to make sure you invite people that are interested in earning from the app.
Recommended: Check Out the Top GPT Sites
How do you get paid?
As explained above, you will earn coins from the earning opportunity Gaintplay offers. You can then use the coins you've earned to redeem various rewards.

You can convert your coins to cash via PayPal as soon as you've earned 500 coins. That will be worth $5. You can also convert your coins to Bitcoin or LiteCoin. For Bitcoin rewards, you need to earn at least 300 coins to redeem $3 worth of Bitcoin. For LiteCoin, you only need to earn 100 coins to redeem $1 worth of LiteCoin.
You can also choose to convert your coins to a prepaid Visa card. The threshold you need to reach for this reward will be 500 coins ($5) just like the PayPal option.
Overall, the payment system of Gaintplay is quite simple to understand and I like the fact that it has a relatively low payout threshold so you don't have to wait a long time to withdraw your earnings.
If you are interested in more sites and apps that have a low payout threshold, you can also check out the fastest paying sites.
How much money can you make?
The amount you can earn from Gaintplay will depend on how active you are. As mentioned earlier, the app does have a decent number of earning opportunities available at any given time. So, you can more or less earn on a regular basis.
Just keep in mind that the availability of some earning opportunities will depend on the country you live, so the earning potential will not be the same for every country.
As for how much you can earn from every earning opportunity, how much you can earn will vary from country to country. When I tested it, it was possible to earn around 10 to 100 coins from paid offers. For paid surveys, it ranges from 50 to 100 coins per survey.
There will be paid offers that are worth 2,000 coins or more but these offers will usually ask you to spend money. Overall, I would say the earning potential of Gaintplay is not that good because the rewards are a bit low.
But, as mentioned, you'll be able to earn pretty much on a regular basis which is the best upside of the app, in my opinion. You just need to be very patient if you want to earn a significant amount.
Can you use it on a desktop?
Gaintplay is a mobile-only app, so you will need to use a mobile device to earn from it. As for the app, it's only available for Android devices, so if you are an iOS user, then this is not for you. I would suggest you check out the best money-making apps for iOS instead.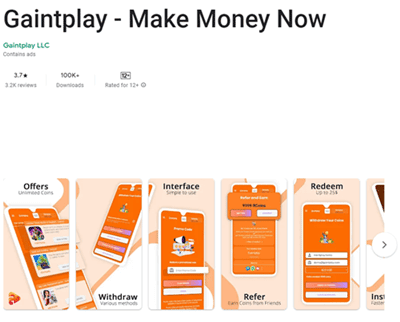 The app is very easy to use. It is also not spammy. You will not encounter any pop-up ads while using it, which is quite refreshing, in my opinion, because there are a lot of GPT apps nowadays that are quite spammy.
The overall user experience this app offers is pretty solid, in my opinion.
Who can join Gaintplay?
Gaintplay is available more or less worldwide. You just have to be at least 18 years of age to join. To sign up, you have to download and install the app first.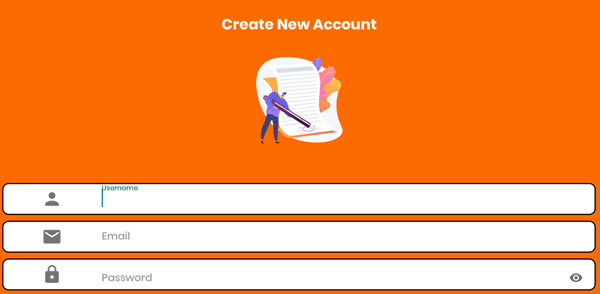 Then, when you open the app, just press the "Create Account" button and provide your username, email address, and password. After you've done that, you can now log in to the app and start earning. It's as simple as that.
Can you get support?
If you have any questions about the app, you can check out the support page. It discusses some of the basic topics you need to know about the app.
But if you can't find the answers you are looking for, you can just send your inquiry via email at [email protected]. Overall, I would say the app has a decent support system in place for its members since they offer a convenient way for you to communicate with their support team.
However, I do wish their support page would be a bit more useful to minimize the chances of having to get in touch with their support team.
Final Verdict
Gaintplay is a legit GPT app that will allow you to earn by completing short tasks. It has a couple of good features to offer, but it also has a few limitations you need to consider.
Let me end this review by summarizing its pros and cons to give you an overview of what the app has to offer. Then, you can decide if you should use it or not.

Pros:
Offers payment via PayPal
Available more or less worldwide
The app is not spammy

Cons:
Low rewards
Their support page isn't very useful
Only available for Android users
In my opinion, Gaintplay is a decent GPT app to earn from. But, you could say it doesn't have the quality that would classify it as a cut above others. That's why I would only recommend you use this app if you need an additional app to earn from.
You need to be very patient because this app offers low rewards. You will need to spend a lot of time working on the earning opportunities it offers to earn a significant amount.
So, if you are looking for primary ways to earn, I would suggest you check out the top survey and GPT sites in your country instead. The sites on this list all have good earning potential, so you don't have to invest a lot of time to earn a decent amount.
If you have any comments, questions, or have any experience with Gaintplay yourself, I would love to hear from you in a comment below.