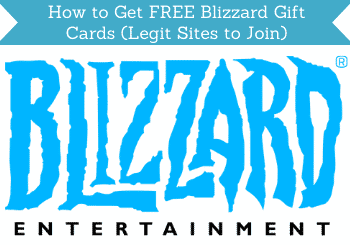 If you are a gamer, you are probably familiar with Call of Duty, World of Warcraft, Overwatch, StarCraft, and Diablo. That's because these are some of the most iconic game titles and they all share one common thing: these titles are owned by Blizzard.
Now, these games aren't exactly cheap. Plus, every title has their own in-game purchases that I'm sure you, as a gamer, are really interested in. But the problem is, you might not have the budget.
Fortunately, you can still make those in-game purchases from your favorite Blizzard games without spending your own money.
This guide will show you how to get free Blizzard gift cards you can use to buy a game made by Blizzard or purchase in-game currency for your favorite Blizzard game.
All of these sites are, of course, legit and 100% free to join.
Disclosure: Some articles on this website contain affiliate/sponsored links. Click for more info.
How to get free Blizzard gift cards?
First, let me explain how Blizzard's system works. They use a gaming platform called Battle.net.
This is sort of like Steam, but with one key difference – all the games you can play will be from Blizzard and all its subsidiaries.
You can even say that this guide is also about how to get free Battle.net gift cards because essentially, that will be the platform you will be using the gift cards on. Now, to earn the gift cards from Blizzard, you can join Get-Paid-To (GPT) sites that offer this kind of reward.
If you are new to GPT sites, they are basically a type of online rewards site where you can earn rewards by doing micro-tasks and paid offers. You can then use the reward you've earned to redeem Blizzard gift cards.
There are also other gift cards you can choose from and most of them will also allow you to convert your rewards to cash via PayPal or some other payment gateway.
So, as you can see, it's really a relatively easy way to earn gift cards for Battle.net/Blizzard. All you really need is to know which sites to join to earn the said rewards and this guide will help you with that.
How many gift cards can you get?
Most GPT sites offer the same type of earning opportunities, but the actual tasks/offers and rewards you will earn will vary.
But if you want to maximize your earnings and make the best out of your time, I would suggest you join all the sites that will be listed below. This is the best way to earn the most rewards but still have enough time to do other stuff you want to do with your day.
You see, with great GPT sites, you won't run out of things to do to earn rewards. This is one of the benefits of joining one. You will be able to earn rewards on a regular basis.
All the sites I will be listing down offer good earning potential and are, as mentioned, free to join. You just need to invest a bit of your time and some effort.
5 best sites to get free Blizzard gift cards
This is not a list of all the sites you can join to earn free Blizzard gift cards. Instead, this will be a list of the best sites you can join to make the most out of your precious time. After all, the goal here is to earn enough Blizzard gift cards to buy what you want from their store.
I have carefully selected the sites on this list based on their time-to-money ratio, earning potential, payment methods offered, payout threshold, and how easy they are to use. I will keep updating this list if there are any new good sites to join so make sure to bookmark this page.