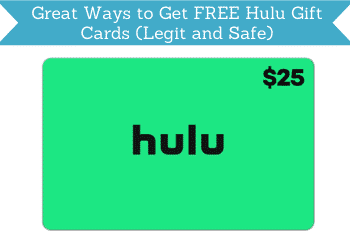 ​The way we consume movies and TV series has changed in the past couple of years. The rise of video on demand subscription services has overtaken many other media-services providers.
One such company that provides this kind of service is Hulu. This US-based company will give you access to its database of videos you can watch for a monthly subscription fee. Since it is a subscription-based service, you will really have to pay to enjoy it.
Luckily, there are ways to get free Hulu gift cards. You can then use these gift cards to pay for your monthly subscription. To get these gift cards, you can join certain websites that offer this as a reward.
The problem is, which sites should you join?  It can be very inefficient to join an online rewards site and then later find out it doesn't offer that kind of reward or it isn't offering an efficient way for you to earn rewards.
This article will help you figure out the best sites to join so you can earn free Hulu gift cards. It will list 8 of the best and legit sites where you can get these gift cards completely for free.
Disclosure: Some articles on this website contain affiliate/sponsored links. Click for more info.
How to get free Hulu gift cards?
As explained above, you can get these gift cards and codes from certain online rewards sites called Get-Paid-To (GPT) and survey sites.
These sites will reward you for completing tasks or answering surveys. You will then receive some type of currency or points you can use to exchange for gift cards or gift card codes from Hulu.
What's good about these sites is, aside from Hulu gift cards, you can also redeem other rewards. And yes, you can earn cash on most of them.
Just remember that all the sites listed on this article are all free to join. So, you won't need to pay any membership.  You just need invest your time and some effort.
And remember, Hulu is only available in the US, Puerto Rico, and US Military bases. So, if you don't live in any of those areas, don't even bother to get a subscription. You can instead try Netflix, which is a global company.
If you want to enjoy Netflix for free, you can check out the best ways to get free Netflix gift cards instead.
How many gift cards can you get?
As with all GPT and survey sites, the number or amount of rewards you can get will depend on how active you are. To put it simply, the more offers, surveys, tasks and other activities you do, the more rewards you will get.
Theoretically speaking, there is no limit to how many Hulu gift cards you can get. But as you may have already figured out, it will really depend on how much time you are willing to spend on these sites.
The sites you should join are those that offer the best money/time ratio. In other words, these are the sites where you can earn the most for as little time investment as possible. This will be the main qualifying aspect I will base my list on.
And as a general suggestion, I recommend that you join several sites if you want to get as many Hulu gift cards as you can since they all offer different opportunities.
Joining around 5 to 7 sites is the perfect number to earn a good number of gift cards for Hulu and still have enough free time to spend on other things.
Now, before I list down the sites you can join, expect that the threshold required in order to redeem Hulu gift cards will be a bit higher than the other rewards offered. This is because a standard Hulu subscription will usually cost more than most of the minimum rewards offered by sites.
8 best sites to get free Hulu gift cards
This article will not list all the sites where you can earn free Hulu gift cards. Instead, it will be a list focused on the best sites you can join to earn Hulu gift cards so you will only find sites that are actually worth it.
I will keep updating this list if there are any new good sites to join. So make sure to bookmark this page.