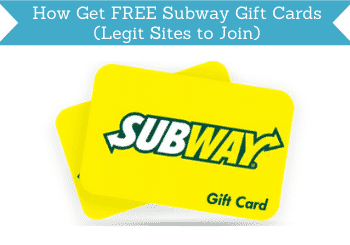 Some say Subway makes the best sandwiches around. If you're a sandwich guy like me, you would probably enjoy eating a Subway sub at least once a week. Fortunately, there are sites you can join that will allow you to earn free Subway gift cards.
You can join these sites to save money so that the next time you visit Subway, you won't have to shell out your own cash and just use the gift cards you've earned to pay for the meal. There are a few Get-Paid-To (GPT) and survey sites offering this kind of reward.
Since there are plenty of GPT and surveys sites around, it's a bit impractical to try every site you can find to see if you can earn Subway gift cards. So, let me guide you in the right direction with this list of legit sites that offer this reward.
The sites I will be listing down will all be free to join,so you don't have to worry about any registration fee.
Disclosure: Some articles on this website contain affiliate/sponsored links. Click for more info.
How to get free Subway gift cards?
If this is your first time hearing about a GPT site, then let me explain to you the basics. When you become a member of a GPT site, you will be given access to short tasks. Once you've completed these tasks, you will be rewarded with points or a certain currency.
The points or currency you've can then be exchanged for Subway gift cards. Of course, that won't be the only reward you can redeem.
Usually, there are several other options you can choose from. Plus, you can also often convert your rewards to cash and you can withdraw it usually via PayPal or direct bank transfer.
Earning Subway gift cards is relatively easy since the short tasks are very simple. You will usually only have to answer a survey, play a game, watch a video, answer a quiz or register to a site.
And since it won't cost you one bit to join these GPT sites, then it's really a win-win situation for you. All you have to invest is your time and effort.
As for survey sites, it's actually a bit simpler. All you have to do is answer surveys to earn rewards. The difference between a GPT and a survey site is, a survey site is limited to offering surveys as an earning opportunity while GPT sites offer surveys and other opportunities as well.
How many gift cards can you get?
With online rewards sites, especially GPT sites, the number of gift cards you can earn will mostly depend on the amount of time you are willing to spend on it. Obviously, the more time you invest, the more rewards you will earn.
It's just a question of whether you are being efficient with your time when earning from these sites.
That's why the sites I will be listing are all based on whether you can earn efficiently. These are the ideal sites to join because you don't have to invest a lot of time to earn your gift cards.
And later on at the end of this guide, I will give you a bonus tip on how to earn more Subway gift cards for free.
5 best sites to get free Subway gift cards
Before we get on with the list, take note that this list will not include all the sites you can earn Subway gift cards from.
Instead, it will be a list of, in my opinion and experience, the best sites you can join to earn gift cards efficiently so they will actually be worth it.
I will keep updating this list if there are any new good sites to join so make sure to bookmark this page.